Sale price
$49.00
Regular price
Unit price
per
Sale
Sold out
Eligible for free shipping
View full details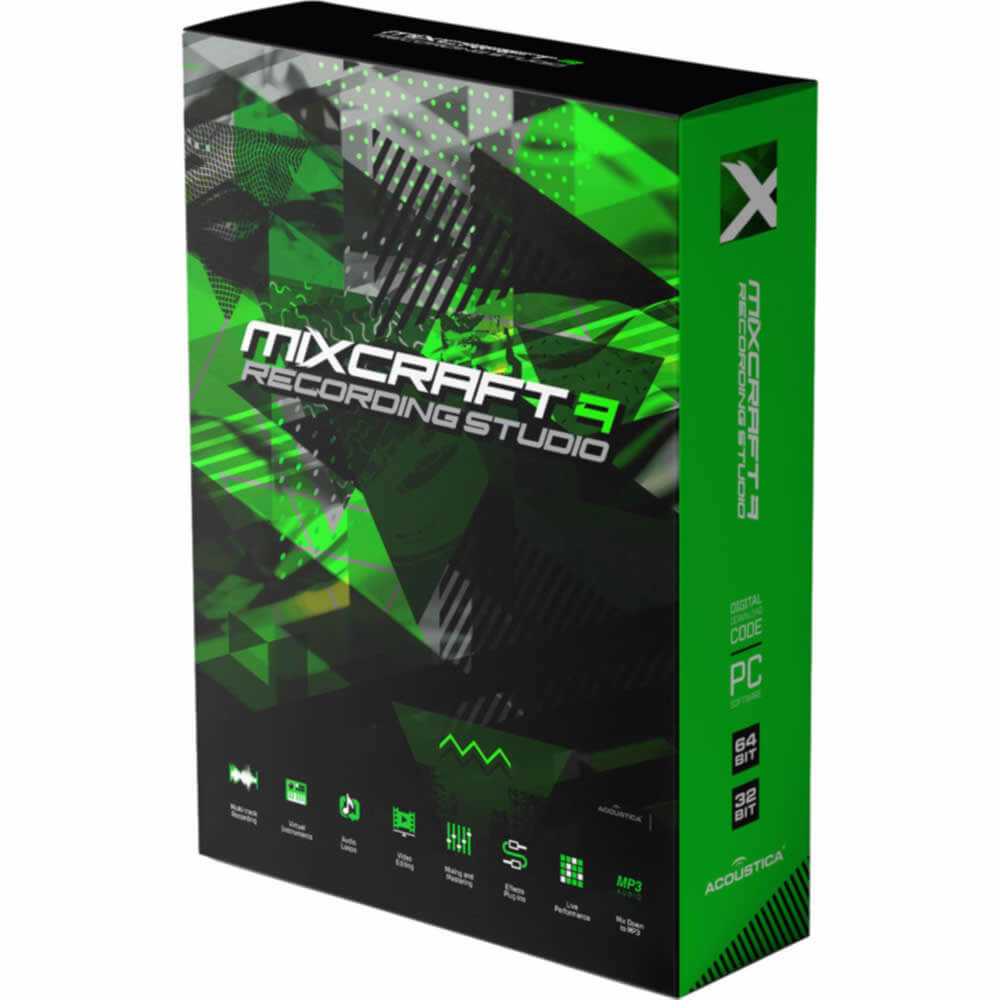 Academic Edition for sale to students, teachers, schools, non-profit organizations, and churches.
Electronic Software Download (ESD). This order will be delivered electronically. Customers ordering this item will receive an email message within a 24-48 hours of placement of their order with instructions on downloading the software.
Aimed at home and project studios, Acoustica Mixcraft 9 Recording Studio is a Windows-based music production workstation with unlimited audio and MIDI tracks, 7500 music loops, 36 effects, and 16 virtual instruments. Version 9 introduces a modernized look and new features such as detachable interfaces, curved automation, micro-fades, and many more, making it even better for recording audio, programming loops, remixing tracks, composing with MIDI and virtual instruments, scoring/editing video, and mixing/mastering your songs.
Mixcraft 9 Recording Studio utilizes a fast and improved sound engine, which offers advanced audio and MIDI routing, native sidechaining, and Audio Control, a feature which allows for easy control of effect and instrument parameters via audio from other tracks within a project. The software also supports VST3 plug-ins and MP4 video formats.
The flexible Performance Panel lets you jam along with audio or virtual instruments, while automatically synced to the groove. Record loops directly to the panel's grid locations for instant creation of layered, live loop performances, or produce mixes and mashups with audio warping and song slicing. New Toneboosters effects have replaced old Acoustica and Classic effects, and there are multiple new mixer panels including Gain, Drive, Compressor, Parametric EQ, Oscilloscope, and Spectrum Analyzer.
Mixcraft 9 Recording Studio lets you load and edit video files with ease. You can create crossfades and transitions, add titles, and score your clips. The Publishing function enables fast rendering and uploading of your music and video projects to social media sites such as YouTube, Vimeo, Facebook, and SoundCloud.
What's New in Acoustica Mixcraft 9:
New, modernized look throughout the software
Detachable/dockable interfaces
Curved automation envelopes and many other envelope improvements
Tempo envelope on Master Track
Pitch envelope on all audio clips
New vocoder tracks and vocoder effects
Audio tracks can be monitored and tuned without arming tracks
Micro-fades (in and out) available on all audio clips
New MIDI step sequencer
Many improvements to the MIDI piano roll editor
Major changes to effect dialogs, including the ability to add MIDI control, audio control, and LFO control directly in the effect window
New available mixer panels including Gain, Drive, Compressor, Parametric EQ, Oscilloscope, and Spectrum Analyzer
Old Acoustica and Classic effects have been replaced with new Toneboosters effects
Acoustica Mixcraft 9 ƒ?? Key Features:
Unlimited tracks
Over 7500 loops, sound effects, and samples
Sound engine offers increased flexibility for effect inserts and send tracks as well as extensive delay compensation for sample-accurate timing of internal audio paths
Audio Control feature elevates the sidechaining concept to a new level, allowing audio signals to control dozens of instrument and effect parameters
Supports VST3 instrument and effects plug-ins for comprehensive compatibility
Import and export MP4 video files for easy editing of videos directly from your camera or smartphone
Performance Panel now supports recording loops directly to grid locations for fast and fun creation of layered, live loop performances without stopping the music
Performance panel for creating mixes and mashups with audio warping and song slicing
Improved sound browsing for rapidly auditioning and adding sounds to projects; search and access over 325,000 sounds with built-in Freesound.org browsing and import functions
Effortlessly automate dozens of parameters with global automation recording feature
Use any MIDI hardware controller to automate and record dozens of mixer, virtual instrument, and effect parameters
Create and edit performances with the powerful piano-roll editor
Use the notation editor to write, view, publish, and print music scores
Load and edit video files and still images with ease, crossfade video clips, create transitions, and add video effects
Publishing function enables rendering, uploading, and distribution of music and video projects directly to social media sites such as YouTube, Vimeo, Facebook, SoundCloud, and more
Mix down to stems with flexible rendering options
Route MIDI from one track to another
MIDI auto-quantize feature
Transmit MIDI clock
Unlimited nested submixes
Configurable mixer
Select and group multiple tracks
Audio metering on all effect and instrument dialogs
Marker List for quick editing and navigation
Edit and view effects list directly on tracks and mixer
Dry, wet, and post-fader sends
Acoustica Mixcraft 9 ƒ?? Included Instruments:
Acoustica Instruments
Acoustica Expanded Instruments
Acoustica Studio Drums
Alien 303 Bass Synthesizer
Alpha Sampler
Combo Organ Model F
Combo Organ Model V
Journeys
Lounge Lizard Electric Piano
Messiah Version 1
Messiah Version 2
Minimogue VA
Omni Sampler
Renegade
VB3 Organ
Acoustica Mixcraft 9 ƒ?? Effects:
Acoustica Vocoder
TB Barricade
TB Broadcast Multiband Compressor
TB BusCompressor
TB Compressor
TB DeEsser
TB EZQ Equalizer
TB MultiFX
TB Parametric Equalizer
TB Reverb
EU ProMixEQ-10A
DTC-1 Compressor
ORB7000 Octave Reverb
Voxengo Amp Simulator
Voxengo Spectrum Analyzer
GTune Guitar Tuner
VocalZap
Pultronic Tube EQ
Shred Amp Simulator
GSnap Pitch Correction
Acoustica Mixcraft 9 ƒ?? Legacy Instruments and Effects:
Acoustica Chorus
Acoustica Compressor
Acoustica Delay
Acoustica Distortion
Acoustica EQ
Acoustica Flanger
Acoustica Reverb
Classic Auto-Filter
Classic Chorus
Classic Compressor
Classic Delay
Classic EQ
Classic Flanger
Classic Master Limiter
Classic Phaser
Classic Reverb
Impulse
Acoustica Mixcraft 9 ƒ?? System Requirements:
Windows 7 or Later
Memory Requirement - 8 GB
CPU Requirement - 1.8 GHz Dual-Core and Faster
Internet Connection Required