Sale price
$199.00
Regular price
Unit price
per
Sale
Sold out
Eligible for free shipping
View full details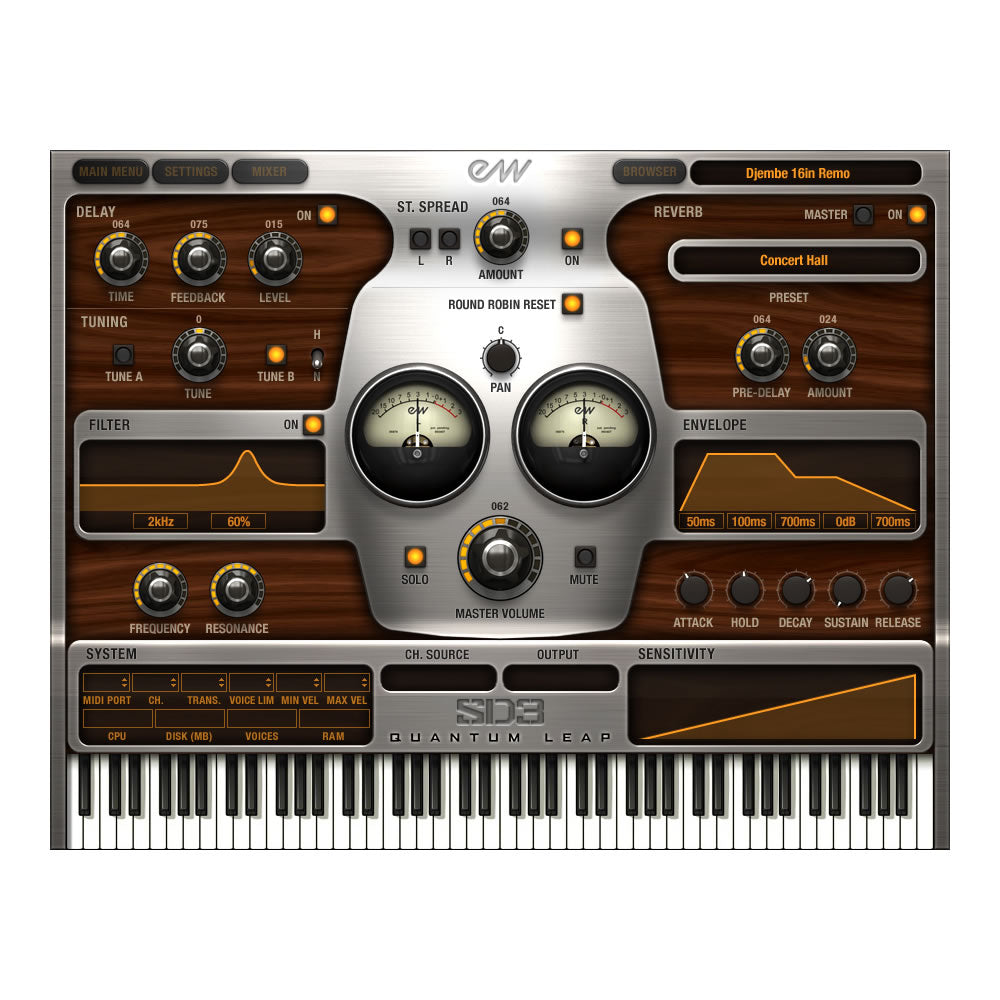 EastWest Stormdrum 3 Virtual Instrument (Download) is a virtual instrument comprising a sampled library of rare drum sounds, all of them selected from the private collections of Mickey Hart and Remo Belli. The samples were played by Mickey Hart, Greg Ellis, and Chalo Eduardo at EASTWEST Studio 1 and produced by Nick Phoenix. The virtual instrument can operate in both standalone mode and as a plug-in within a host digital audio workstation.
The user interface for the virtual instrument features a browser for selecting samples, a filter with frequency and resonance controls, and an envelope with attack, hold, decay, sustain, and release controls. Also included within the user interface is a virtual keyboard, as well as controls for drum-tuning, pre-delay, delay time, delay feedback and delay level.
This download includes EastWest's PLAY 4 software, which enables 64-bit AAX compatibility in Pro Tools 11. It also features a time-stretch application, optimized for loops, with the option of syncing to your host sequencer. A new mixer page speeds up background loading and offers sub-channels to change virtual microphone positions. Additionally, the Play 4 software includes a stereo reverb and a Solid State Logic FX section with EQ, dynamics channel strip, transient shaper, and a stereo bus compressor.
EastWest Stormdrum 3 Virtual Instrument (Download) - Features:
Round Robin Reset Button. Alternates between multiple samples that were recorded with the same parameters to make playback of samples sound more realistic
Stereo Spread. Allows you to pan signals in order to widen the stereo image
Big Drums. Includes large drums that are not part of the Taiko family including the Double Headed Tree drum, Lord Of Toms ensemble, and Dragon ensemble
Gongs Clocks Waterphones. Features a collection of gongs, waterphones played underwater, and patches recorded in six antique clock shops
Metals. Includes bells, deep bowls, chimes, cymbals, hammered copper pots, handmade doorstop drums, and instruments from around the World such as the Brazilian berimbau
Shakers. Features an eclectic collection of shakers including snake rattles, seed pods, deer hoofs, ganza, and rainsticks
Small Drum. Includes bongos, frame drums, tambourines, tuned Indian tablas, and the madal
Taiko Family. Features a wide range of Taiko drums, sampled individually and in ensembles from the top Taiko builders in Japan
Woods. Includes both unpitched sounds from wooden resonators and tuned chromatic instruments such as the marimba and the balaphone, as well as a gourd drum, a 12' redwood tree branch, and scraped sound such as from Thailand frogs
System Requirements:
Mac
Intel Core 2 Duo Processor, 2.1 GHz or higher (PPC not supported)
Mac OSX 10.7 or later
For plug-in use, host software that supports AAX Native, Audio Units, or VST formats
Windows
Intel Core 2 Duo or AMD Dual Core, 2.1 GHz or higher
Windows 7 or later
Sound Card with ASIO drivers
For plug-in use, host software that supports AAX Native or VST formats
General
86 GB free hard disk space
8 GB RAM (16 GB or more recommended)
7200 rpm or faster (non-energy saving) hard drive for sample streaming (SSD recommended)
iLok account for machine license or optional iLok key
Internet access for product download and one-time activation