Sale price
$399.00
Regular price
Unit price
per
Sale
Sold out
Eligible for free shipping
View full details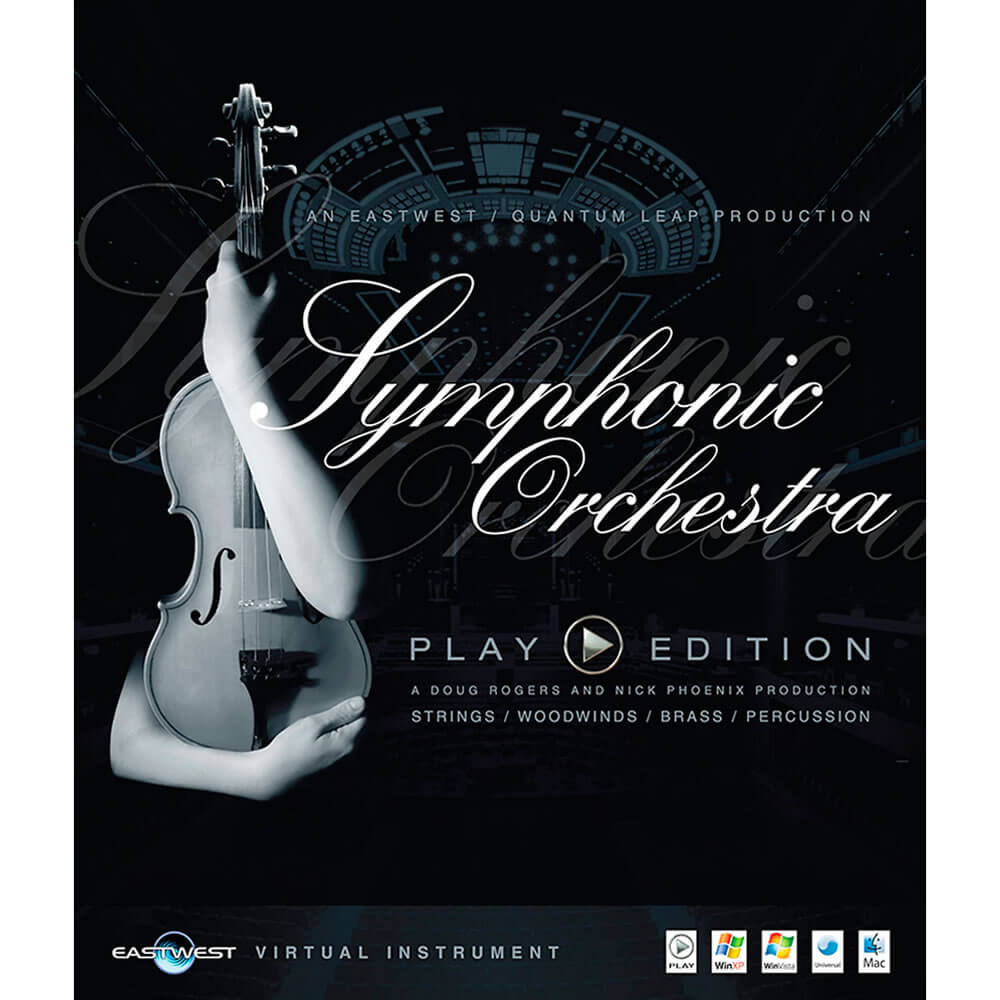 Electronic Software Download (ESD). This order will be delivered electronically. Customers ordering this item will receive an email message within a 24-48 hours of placement of their order with instructions on downloading the software.
EastWest Symphonic Orchestra Platinum Virtual Instrument (Download) - the complete Symphonic Orchestra experience.
Get the full Symphonic Orchestra experience with EastWest/Quantum Leap Symphonic Orchestra Platinum. We're talking about all the instruments, all the articulations, and all three mic positions (Close, Stage, and Hall), which you can blend to create the perfect acoustic environment for your compositions. A collection of about 117GB of samples recorded at 24-bit/44.1kHz resolution delivers every sound in exquisite detail. Of course, a sample collection like this requires serious programming to make it work, and the PLAY 6 sample player takes care of all the heavy lifting. Key switching, round-robin triggering, and other scripting goes on effortlessly in the background, while Symphonic Orchestra Platinum Complete's wealth of articulations are all right at your fingertips.
EastWest Symphonic Orchestra Platinum Includes:
All instruments and articulations
Includes Close, Stage, and Hall microphone positions
24-bit/44.1kHz sample resolution
117GB of total sample content
Includes the custom PLAY 6 interface
The EastWest/Quantum Leap Symphonic Orchestra Platinum includes the custom PLAY 6 advanced sample engine, designed to give you deep access to the sounds within. To begin with, there's the column-based browser, which is particularly useful when sorting through Symphonic Orchestra Platinum's massive sound library. This 64-bit interface (32-bit support available view PLAY 4) lets you load multiple instruments, so you can easily craft your own split and layered setups that make it effortless to perform with multiple instruments and entire instrument sections. It also allows you to go really deep with your sounds, such as adjusting envelopes and the addition of various sample reproduction tools for tweaking your instruments to perfection.
Simple control over complex articulations
Here's one of the most important things that EastWest's PLAY engine brings to Quantum Leap Symphonic Orchestra Platinum: brilliantly simplified articulations. There are several excellent-sounding symphonic virtual instruments out there, but few handle the control of advanced articulations as smoothly and intuitively as Quantum Leap Symphonic Orchestra Platinum. That's a really good thing, especially considering how intensely detailed you can get with these articulations. There's an Articulations List that serves as a reference for all of the available expressions for each instrument (no need for key-switching charts), plus PLAY gives you great performance styles too, including Portamento, Repetition, Legato, and Round Robin Reset.
Add breathtaking depth with onboard convolution reverb
In Quantum Leap Symphonic Orchestra Platinum, you get three extraordinary mic positions. Close is like studio miking, Stage is from the conductor's platform (the best seat in the house), and Hall is from out in the house. If you want to add room ambience or space to your performance? Before you go reaching for that processor-intensive reverb plug-in, check this out. EastWest built a fabulous convolution reverb right into their PLAY engine. This deceptively simple reverb lets you conjure up the perfect ambience to add extra life and realism to your tracks.
EastWest Symphonic Orchestra Platinum - Key Features:
A software instrument that puts you in command of a complete symphonic orchestra
Amazing realism, fantastic sound quality, and exceptional ease of use
Hundreds of strings, brass, winds, percussion, and other essential orchestral instruments
Platinum Complete includes 117GB of samples at 24-bit/44.1kHz resolution
Includes all 3 (Close, Stage, and Hall) mic positions, all instruments, and all articulations
PLAY 6 cross-platform sample player provides sophisticated performance options, reverb, and more
Intelligent Performance gives you advanced playing options, including portamento, repetition, and legato
Round Robin Reset makes repetitious notes sound realistic and natural
Highly detailed yet easy-to-use convolution reverb included in the PLAY engine
Intelligent release trail engine follows note-on samples volume at all times
Release trails and unaffected by mod-wheel crossfade program, and thus always match
Recall custom key-switches of unlimited sizes instantly