Sale price
$26.95
Regular price
Unit price
per
Sale
Sold out
Eligible for free shipping
View full details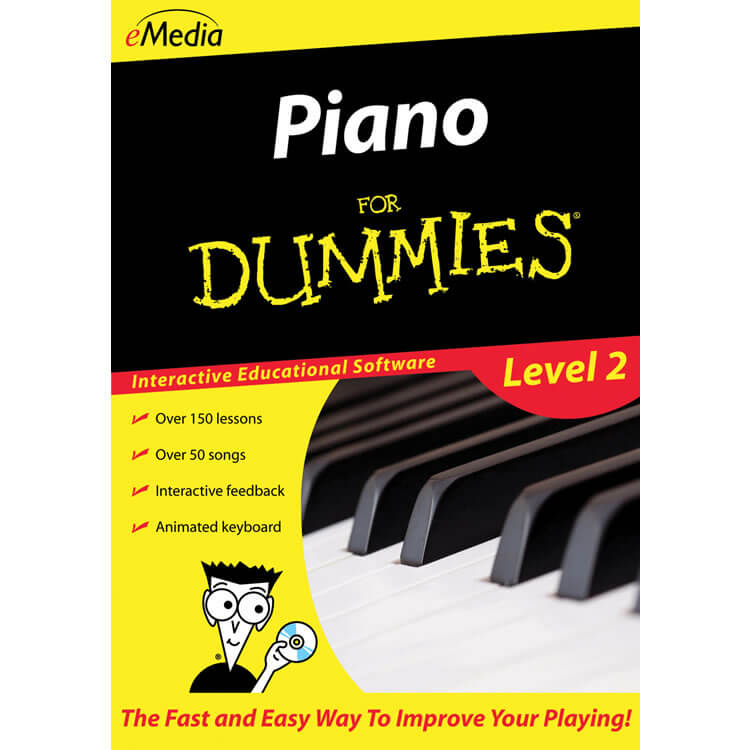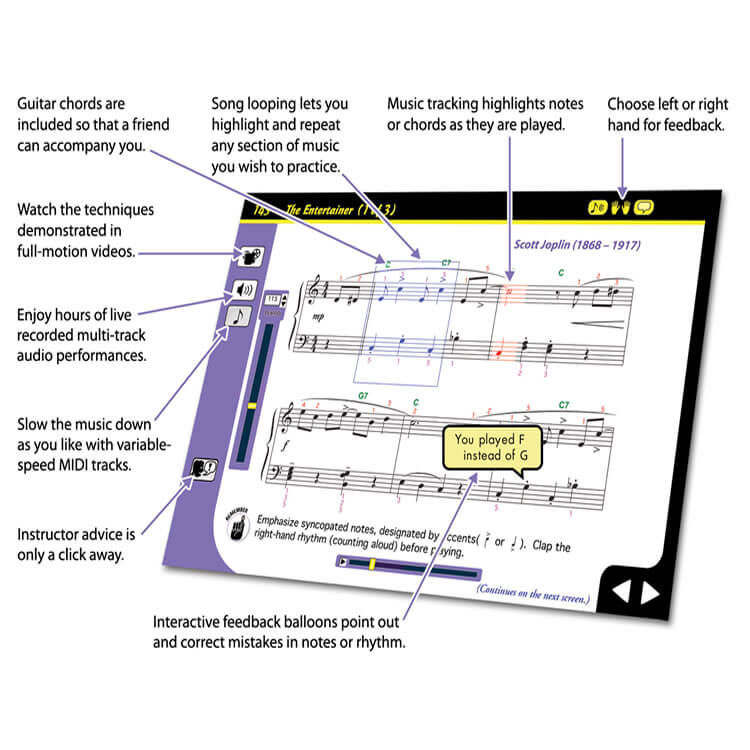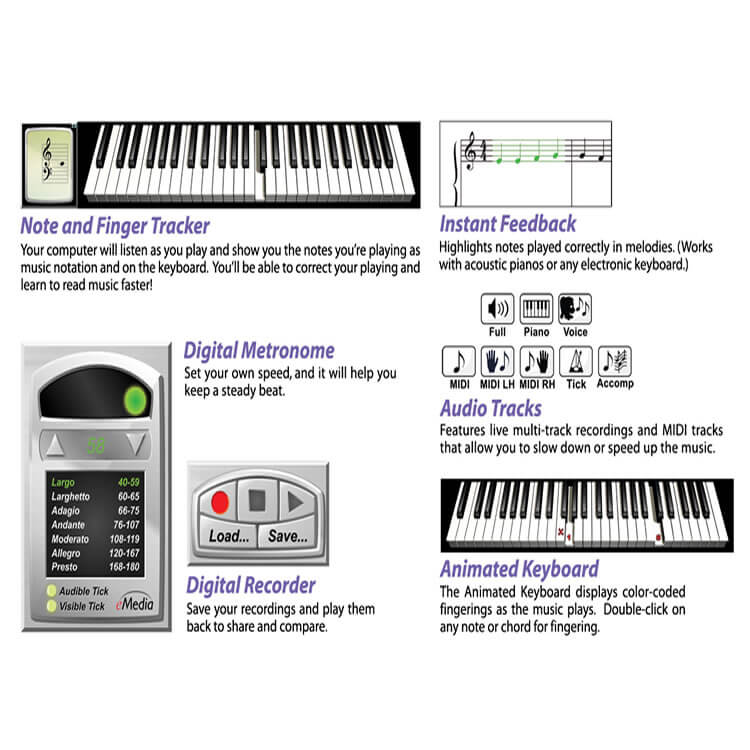 Electronic Software Download (ESD). This order will be delivered electronically. Customers ordering this item will receive an email message within a 24-48 hours of placement of their order with instructions on downloading the software.
eMedia Piano For Dummies Level 2 gives you everything you need to continue your journey toward being an accomplished piano or keyboard player! It is perfect for anyone who already knows some basic note reading, the middle C position and can how to play some melodies. Learn to play at your own pace from over 150 easy-to-follow interactive lessons with full-motion videos. New instant Instant feedback Feedback, for both acoustic pianos and electronic keyboards, highlights correctly played notes in melodies. Enjoy playing along with live recorded songs or have fun playing with accompaniments that you can slow down or speed up. Learn to play over 50 songs with recorded audio and variable-speed MIDI tracks.
Interactive Educational Software
ƒ?› Over 150 step-by-step audio- and video-enhanced lessons.
ƒ?› Over 50 songs with live recorded multi-track audio and variable-speed MIDI tracks.
ƒ?› Interactive feedback Feedback on playing mistakes (with when used with a MIDI keyboard).
ƒ?› Animated keyboard Keyboard displays fingerings as the music plays.
Your instructor is professional pianist and teacher Irma Irene Justicia, M.A., who has taught at the renowned Juilliard School of Music. The excellent teaching you receive in the over 150 lessons is an exceptional value. When using eMedia Piano For Dummies Level 2 with a MIDI keyboard it will tell you when you make mistakes, including an overall score for the song and even shows you what you should have played!
Learn from valuable lessons such as:
ƒ?› Triads and Chords
ƒ?› The G Position and Transposition
ƒ?› The F Position and Hanon
ƒ?› Extending the Hand Position and Playing Scales
ƒ?› G and F Major Scales, Chords and Arpeggios
ƒ?› A Short Trip into the History of Western Music
Learn songs and exercises from both the music notation and the animated Animated keyboard Keyboard that displays fingerings in time with the music. Songs and exercises are enhanced by live recorded audio, variable-speed MIDI keyboard tracks, and colorful MIDI accompanimentsPlay along with live recorded multi-track audio, variable-speed MIDI tracks. Perform with colorful MIDI accompaniments!. You will learn over 50 popular songs including Billy Joelƒ??s Piano Man!
Play Over 50 Hit Songs!
ƒ?› Piano Man - Billy Joel
ƒ?› Candle in the Wind - Elton John
ƒ?› La Bamba - made famous by Los Lobos
ƒ?› Tishomingo Blues - Spencer Williams
ƒ?› The Entertainer - Scott Joplin
ƒ?› Knockinƒ?? on Heavenƒ??s Door - Bob Dylan
ƒ?› ... and many more!
Interactive review and ear training screens help reinforce new concepts and develop your ear. Other accessories include a built-in digital metronome and a recorder. Piano For Dummies Level 2 includes large easy-to-read screens, enhanced audio & and video, and progress tracking.
Everything You Need to Get Started!
ƒ?› Digital Metronome
ƒ?› Digital Recorder
ƒ?› Reviews and Ear Training
ƒ?› Animated Fretboard
ƒ?› Note and Finger Tracker
ƒ?› Instant Feedback
ƒ?› Interactive Evaluation Feedback
ƒ?› (selectable) Audio Tracks (Full, Voice only, Piano only - MIDI, MIDI Left Hand, MIDI Right Hand, MIDI Accompaniment, Metronome Tick)
ƒ?› Progress Tracking
ƒ?› View optional guitar chords so a friend can accompany you
System requirements
Windows??:
Windows XP/Vista/Windows 7/Windows 8/Windows 10
CD-ROM or Download Connection
Internet connection recommended for online activation.