Sale price
$99.99
Regular price
Unit price
per
Sale
Sold out
Eligible for free shipping
View full details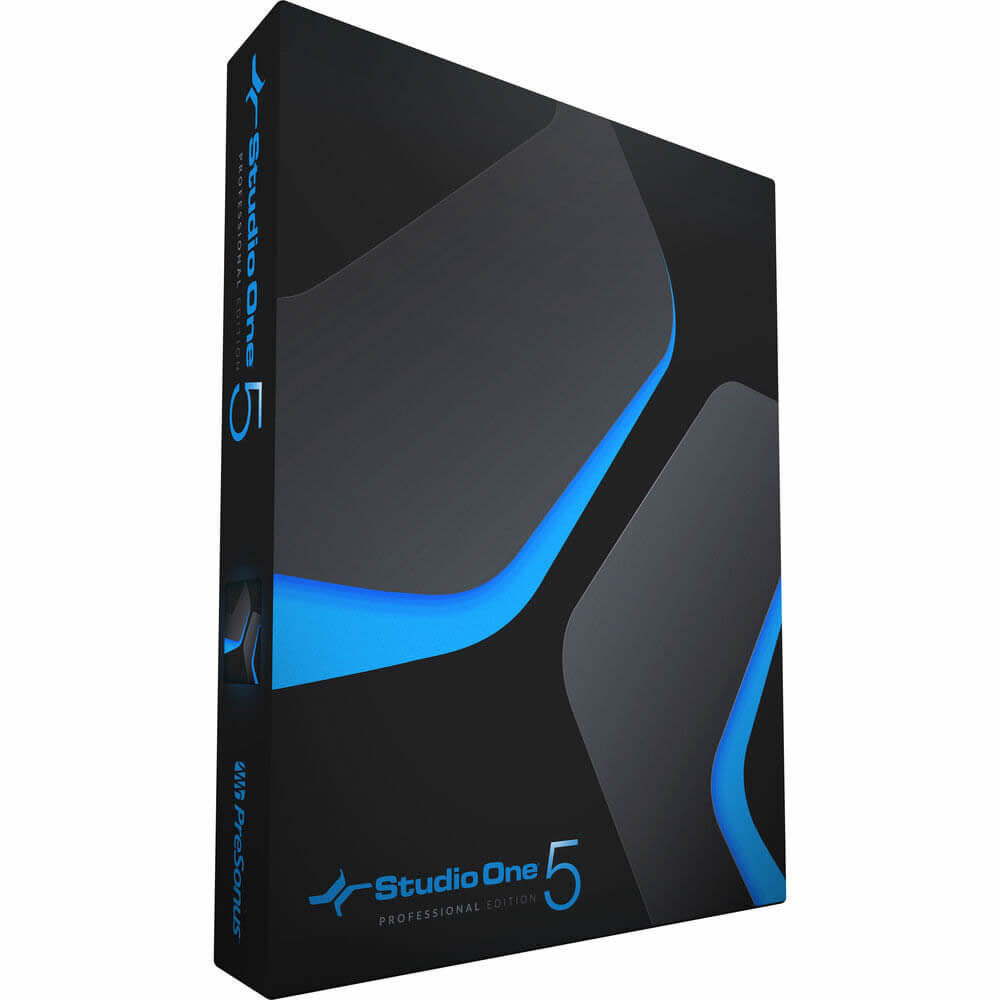 Electronic Software Download (ESD). This order will be delivered electronically. Customers ordering this item will receive an email message within a 24-48 hours of placement of their order with instructions on downloading the software.
PreSonus Studio One 5 Artist offers a powerful solution for producing music and podcasts in home setups and project studios. Featuring a flow-oriented, drag-and-drop interface, the software is built for intuitive use, speed, and efficiency. This latest version provides substantial updates including clip gain envelopes, aux channels, third-party plug-in and ReWire compatibility, and support for key switches and note controllersƒ??a little something for everyone.
Studio One 5 Artist is designed to deliver full audio and MIDI recording and editing capabilities and powerful mixing features. There are no limits on track count, so you can keep adding layers upon layers. It also provides 64-bit float WAV format for optimal recording and playback with interfaces that utilize 32-bit converters. When it comes to finishing your project, you can even export/publish directly to SoundCloud.
The software now supports Studio One Remote, allowing convenient remote control from your iPad or Android tablet. Perfect for Mac- and Windows-based production systems, Studio One 5 Artist is compatible with any ASIO, Windows Audio, or Core Audio compliant audio interface, including the entire line of PreSonus interfaces.
What's New in Version 5
Arrangement and Editing
Clip Gain Envelopes: The new Clip Gain Envelope is the perfect tool for correcting sections of audio that are either too loud or too soft, without adding a compressor or limiter plug-in. Add breakpoints to the Gain Envelope simply by clicking on the curve and dragging the point to your desired location or draw envelopes free-form using the Paint Tool. Changes to the clip gain are instantly reflected in the audio waveform, so you have a reliable visual reference of the overall level. Furthermore, Clip Gain Envelopes are sample-accurate, so they can be used for everything from entire voiceover takes to single clicks and pops. Clip Gain Envelopes are independent from event volume and fade. Theyƒ??re even better because the Gain Envelope is clip-based; gain adjustments are automatically applied to all audio events and parts that use that same audio clip. So, you only need to apply it once to apply it everywhere itƒ??s used in your session.
Keyswitch Support, Editing, and Mapping: Key Switch Articulations now have their own automation lane in Studio One, so you no longer need to worry about note edits or Note FX interfering with your Key Switches. Create and share custom maps for your virtual instruments, and save them as part of Instrument+FX presets for instant recall.
Poly Pressure and MPE Support: Studio One 5 now supports note controllers for more expressive playback of musical performances using virtual instruments and orchestral libraries. Note controllers affect individual notes in multiple dimensions if needed. This includes support for MIDI Poly Pressure and MPE (MIDI Polyphonic Expression) with compatible MIDI hardware and virtual instruments.
Plug-Ins and Instruments
A collection of 32 Studio One Native Effect plug-ins with a fresh new look and plenty of new features.
Analog Delay: State Space Modeling Drive stage and improved width control
Autofilter: State Space Modeling Drive stage
Beat Delay: Improved width control
Chorus: Improved width control
Compressor: Filter for external sidechain input
Expander: Filter for external sidechain input
Fat Channel XT: External sidechain input
Gate: Filter for external sidechain input and Threshold control consolidation
Limiter2. External sidechain input, alternative curve modes, and alternative attack modes (fast, normal, slow)
Multiband Dynamics: External sidechain input
Pedalboard: Improved Autopan modulation
Phaser: New Soft modulation mode and Stereo Spread control
ProEQ2: Additional phase-linear low-frequency EQ (fixed at 20, 50, and 80 Hz) with 12 and 24 dB modes, input meter display, new 12th-octave analyzer mode with keyboard overlay, adjustable meter range, and metering peak hold function for sidechain input.
Rotor: State Space Modeling Drive stage
Tricomp: State Space Modeling Drive stage, external sidechain input, and alternative attack modes (fast, normal, and slow)
VST and Audio Units support, and ReWire: Use third-party plug-ins, virtual instruments, and ReWire-enabled applications
Recording and Mixing
Aux Channels. Classic MIDI synths can now be incorporated into your digital productions as easily as virtual instruments. The new Aux Channel allows any external audio source to be fed into the Studio One mixer without the need to create an audio track that clutters your session. Add external instruments directly from the Studio One Browser using drag-and-drop to automatically create an Instrument track and the mapped Aux Channels, so you're ready to begin sequencing with real hardware, but with the ease of your favorite virtual instrument.
Recording and Playback in 64-bit float WAV format: With version 5, Studio One now supports recording in 64-bit floating-point WAV format, the recommended recording format for audio interfaces with 32-bit converters. With this format option, the maximum recording and processing precision now reaches 64-bit / 384 kHz.
Studio One Remote Support: Use the free Studio One Remote app for iPad and Android tablets to remotely control Studio One while youƒ??re away from your computer.
PreSonus Studio One 5 Artist - General Features
Main Software
Intuitive single-window work environment with quick and easy drag-and-drop functionality and multi-touch support
Unlimited audio and instrument tracks, virtual instruments, buses, and FX channels
Export/publish directly to SoundCloud
Integrated online Cloud Services including the PreSonus Shop and PreSonus Exchange
Patterns allow for intuitive drum and melody composition via familiar drum machine / sequencer style UI
Arranger Track with innovative Scratch Pads
Use Pro Tools, Cubase, Sonar, and Logic shortcut key commands or create your own
Compatible with ASIO-, Windows Audio-, and Core Audio-compliant audio interfaces
Plug-Ins, Loops, and Samples
Five powerful virtual instruments including Impact XT drum sampler, Presence XT virtual sample-player (14GB library included), Mai Tai polyphonic analog modeling synthesizer, Mojito monophonic subtractive synthesizer, and Sample One XT live sampler and sample editor
32 native effects with freshly redesigned UI
64-bit AU, VST2, VST3, and ReWire support
7GB of royalty-free bundled loop and musical content for quick inspiration