Sale price
$1,999.99
Regular price
Unit price
per
Sale
Sold out
Eligible for free shipping
View full details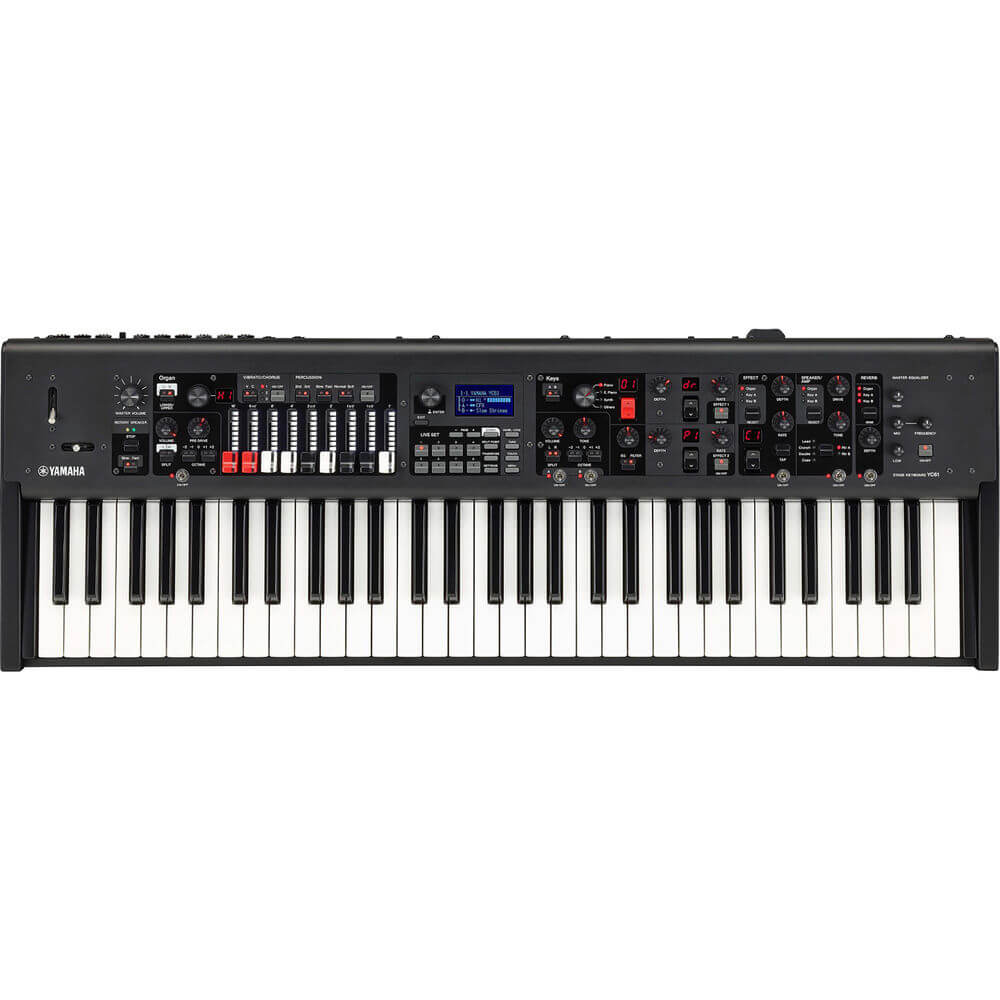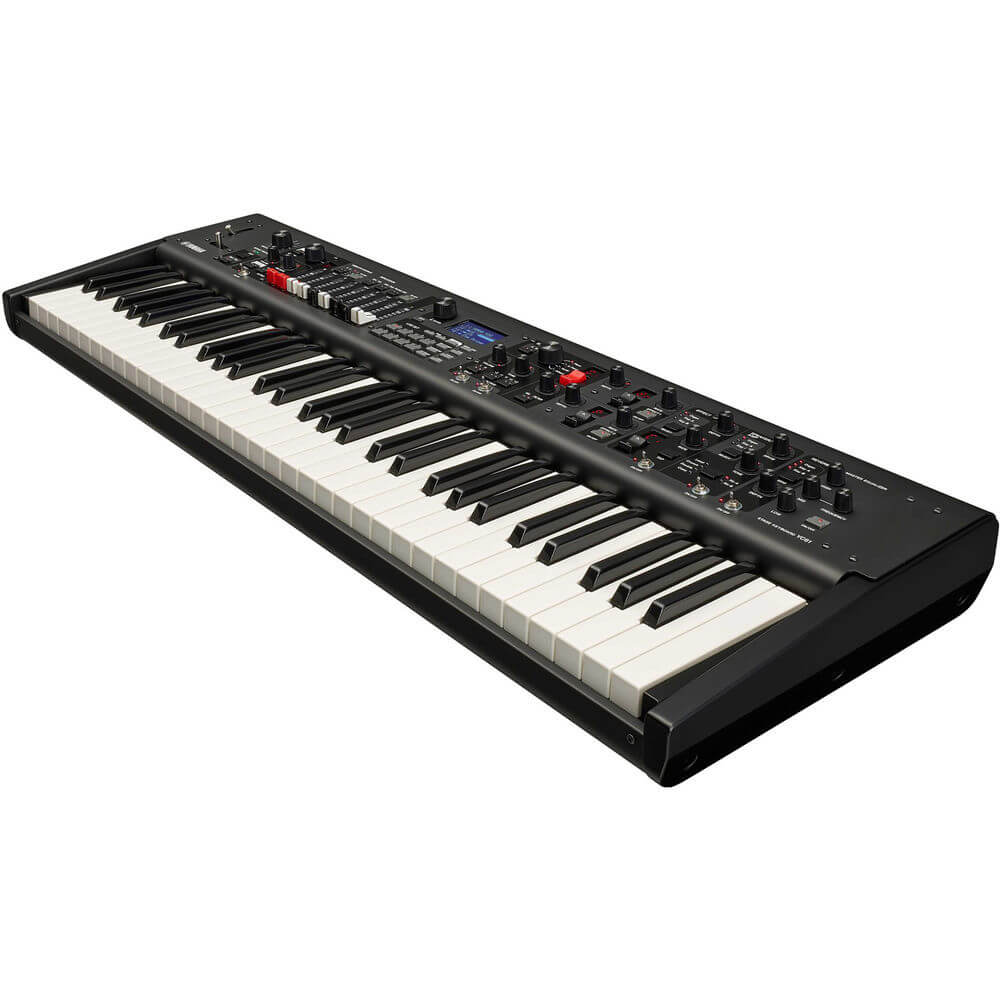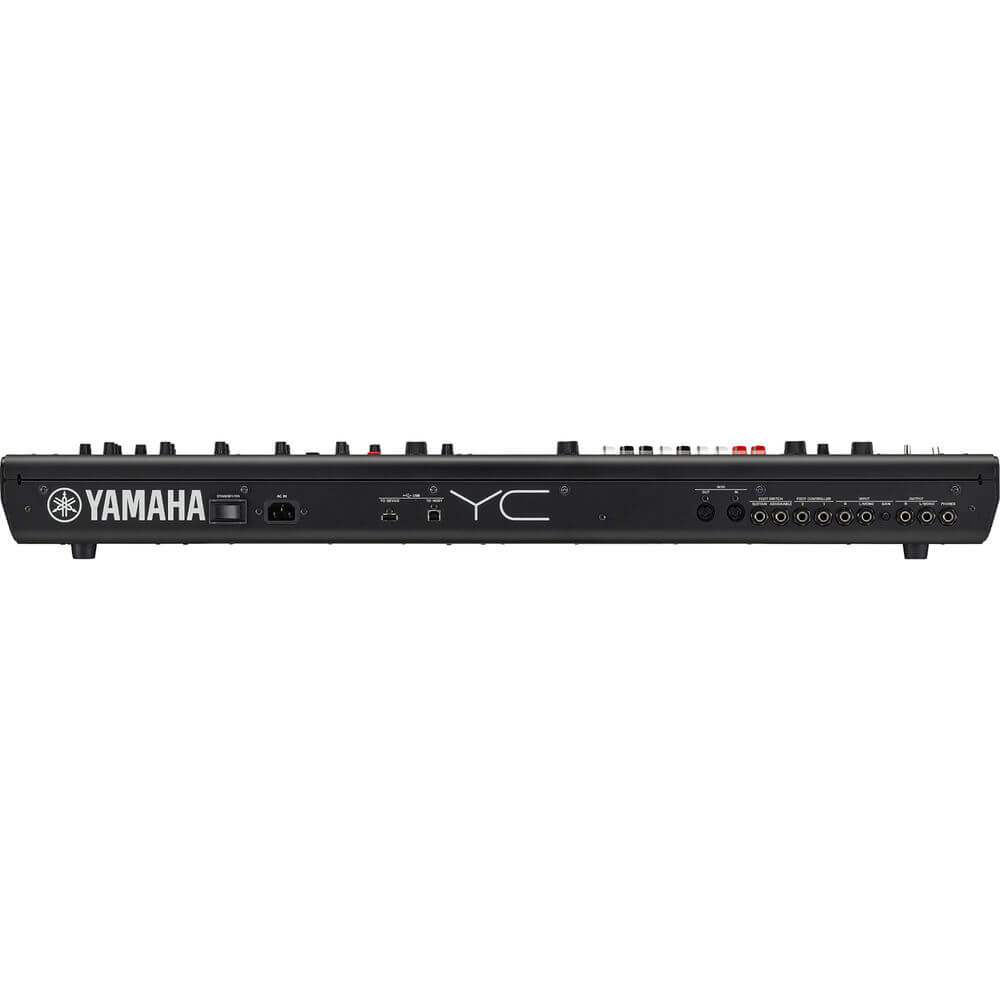 Get authentic, expressive, and versatile organ tones at any gig with the Yamaha YC61 61-Key Organ Focused Stage Keyboard. Its 61 semi-weighted waterfall keys, nine drawbars with customizable LED lighting, and extensive physical controls put you in total control of your sound without having to sort through menus.
Yamaha's VCM (Virtual Circuitry Modeling) empowers you with detailed recreations of analog circuits for the YC61's instruments and effects. You'll be able to call up classic sounds and create new ones in no time; choose from 145 organ, piano, and keyboard voices, treat them with a host of effects from reverb to ring modulation, and apply rotary speaker and amp simulation.
Comprehensive connectivity ensures that the YC61 can properly integrate with controllers and other audio/MIDI gear. The rear panel provides 5-pin MIDI I/O, jacks for footswitches and expression pedals, 1/4" stereo audio inputs and outputs, and a stereo headphone output. Additionally, there are two USB ports for hookup of a flash drive and a Mac/Windows computer or iOS mobile device.
Portable Organ and Stage Keyboard
Designed for gigging keyboardists, the YC61 features a newly designed Virtual Circuitry Modeling (VCM) organ engine with physical drawbars, extensive real-time controls, and authentic acoustic/electric Piano and FM synth sounds.
Models Analog Circuitry
Yamaha's proprietary Virtual Circuitry Modeling (VCM) recreates the circuits of vintage analog EQs, compressors, and phasers right down to the transistors and resistors to capture the subtleties that make all the difference. Whether you're playing grand piano, upright piano, electric piano, or more, the YC61 gives you authentic keyboard sounds for any genre of music.
VCM Organ
The YC61 models three organ vintagesƒ??just out of the box, well-traveled, and character-rich vintage. Need more? Go under the hood to adjust key click, leakage, rotary speaker speed, and more to get the one-of-a-kind organ tone for which you've been searching.
VCM Rotary Speaker
the YC61 brings you the authentic sounds of classic rotary speakers with no maintenance required. Choose from two faithfully modeled rotary speaker profilesƒ??clean and full, or dirty and aggressiveƒ??and adjust top or bottom rotor speed for total control.
VCM Effects
VCM recreates the sound and behavior of vintage effects and high-end studio signal processors by modeling the circuits down to the original analog component level.
FM Organ
In 1983, Yamaha introduced the iconic sounds of FM (frequency modulation) synthesis to the world with the launch of the DX7. The YC61 brings FM synthesis to the organ for a new generation of players. Simply switch to FM Organ and your drawbars control eight FM operators that send a pure sound with massive low end. Add rotary speaker or amp-simulation effects for character and vibe. Intuitive controls make it easy to discover new sounds. Or recreate classic transistor organ tones from warm, to reedy, to buzzy, by choosing one of three popular FM Organ modes.
Yamaha Premium Acoustic Pianos
CFX: With over 17 years of development, the CFX is Yamaha;s flagship 9ƒ?? concert grand piano. The CFX offers sparkling highs, powerful bass with incredible dynamic range, and the strength to project over a full symphony orchestra.
S700: The S700 is a handcrafted acoustic grand piano built by Yamaha master artisans. It has the power to cut through dense arrangements while remaining delicate and expressive in solo and sparse settings. The S700 was one of the most popular grand piano voices from the S90ES stage synthesizer and MOTIF ES music production synthesizer.
C7: The Yamaha C7 is one of the most recorded pianos in the world and known for being able to cut through a mix with power and clarity.
U1: The YC61's U1 voice features a vintage, well-used character, making it ideal for any music needing the vibe and sound of an authentic upright piano.
Electric Pianos
Yamaha CP80: Yamaha introduced the CP80 and CP70 electric grand pianos in 1978 to give musicians great grand piano sound that could cut through a live band. The CP80 sound on the YC61 is powerful and fat with wide, dynamic range.
78 Rd: The 78 Rd tine electric piano has wide dynamic range and high quality. It's well suited for effects and all genres of music.
75 Rd Funky: This has a dirtier, funkier tine electric piano sound, which is great for music requiring vibe and character.
73 Rd: The 73 Rd has a vintage, fat, and warm tine electric piano sound perfect for ballads and accompanying singers.
Wr: The Wr reed electric piano voice offers vintage and modern versions with wide dynamic range.
Waterfall Keyboard
The all new waterfall keyboard on the YC61 is the result of painstaking traditional organ keyboards research refined with feedback from top keyboard artists. The result is an authentic keyboard action designed to accommodate organ technique and expressive acoustic and electric pianos, synth leads, brass sections, and more.
Rugged Design
The YC61 isn't just designed to be played. It's made to be bumped, jostled, scratched, crammed in a van, stuffed in an overhead bin, and adored by players and fans, gig after gig. In short, it's built to last.
Drawbars
The nine drawbars on the YC61 have the footages and ratcheting you'd expect in an organ. Plus, their see-through drawbar stops with customizable LED light colors make it easy to see differences between simulated upper and lower configurations versus playing in split mode. It's like having a virtual set of drawbars to give you more sounds, more flexibility, and more choices.
Direct Sound Control
The YC61 is made for long jams, not long menus. The intuitive interface gives you fast and easy splits, layers, and sound-shaping directly from the front panel, proving that compact doesn't have to mean complex.
Mobility
The YC61 weighs under 16 pounds, which means it's compact and light enough for you to be your own roadie.
Computer/iOS Integration
The YC61 features a built-in USB stereo audio/MIDI interface for Mac/Windows computers and iOS mobile devices. With a single USB cable, you can record the YC61 audio and MIDI to a DAW, and play and monitor virtual instruments.