Sale price
$306.00
Regular price
Unit price
per
Sale
Sold out
Eligible for free shipping
View full details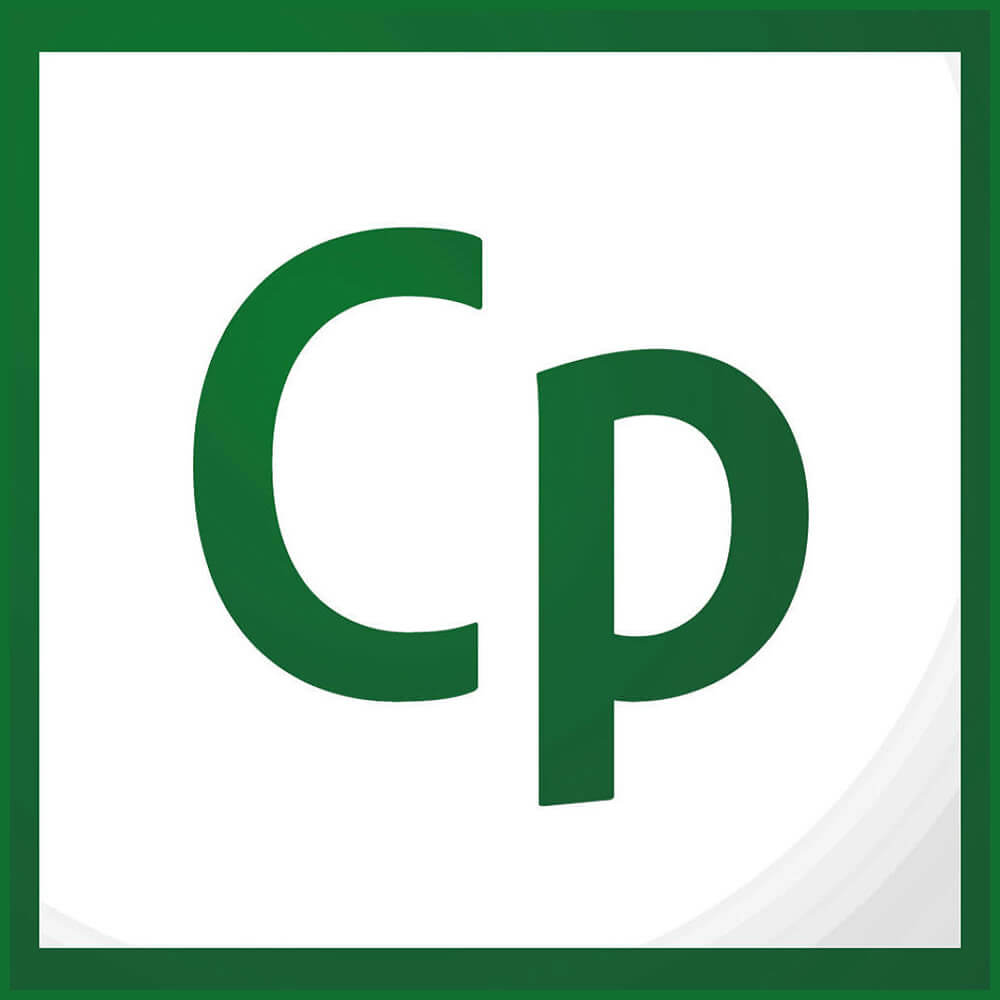 1-Year Subscription License
Adobe Captivate Creative Cloud- unlock the future of smart eLearning design.
Conquer new learning landscapes with a smart authoring tool that lets you create all kinds of fully-responsive eLearning content. Effortlessly design immersive learning experiences with VR and 360?ø media assets. Amplify video-based learning by easily adding interactivity to your videos.
Whatƒ??s New in Adobe Captivate Creative Cloud?
Virtual Reality: head-turning learning. Introducing 360?ø media support in Adobe Captivate Creative Cloudto help you deliver immersive learning experiences in VR that allow learners to navigate near real-life situations in a risk-free environment. Use VR to deliver experiences such as virtual tours, safety drills, product walk-throughs, first responder situations and more.
Interactive videos: play to learn. Record your webcam and computer screen or bring in YouTube videos, add questions and interactive elements and publish to HTML5. Save time, money and effort while you create or curate video learning modules for increased learner retention.
Responsive eLearning: learning that moves for learners who move. Use the newly enhanced Fluid Boxes to automatically author fully responsive eLearning content that works across all devices and browsers. Also, convert legacy desktop courses to mobile learning with a few clicks.
PowerPoint to mobile learning: from drab to fab. Easily convert your PowerPoint slides to interactive eLearning without any programming. Choose from 75,000+ free eLearning assets, characters, themes, quizzes and more, to deliver learning content that works on every device.
Advanced eLearning: power when you need it. Create everything from best-in-class simulations to complex branching scenarios and configurable conditional logic. Write your own scripts to effectively control learning outcomes.
Live device preview. See exactly how your eLearning content will play out on your learnersƒ?? VR devices. Use the live preview feature in Adobe Captivate to generate a QR code that you can scan using a mobile device and mirror the project real-time on your device browser. Once the initial connection is done, you can keep previewing all your work across projects as long as the Adobe Captivate session is active.
Automatic chroma key effects. Transform your videos by making their backgrounds transparent and replace them in just a few clicks without the need for any green-screen technology. Personalize your video background by adding images or videos of places, scenarios or on-slide content. Get your project on the road with free media assets shipped with Adobe Captivate or choose your own.
Smart video recording ƒ?? webcam + screen. Create studio-quality HD videos as you simultaneously record your webcam and on-screen content with just a few clicks. Adjust the talking-head video position and add persona to your training content. Easily edit the videos in Adobe Captivate and add interactivity to multi-screen video-based learning.
CSV question import template. Reduce authoring time and effort with the .csv Question Import template in Adobe Captivate, which helps you automatically create question slides in your Adobe Captivate Project. Include all question slide logic in the same .csv file such as marks, correct answers and feedback. You can also import format-compatible question banks from other authoring tools with just a few clicks.
Automatic device preview. Hit the play button to see your content automatically change shape and form factor across the full spectrum of device sizes. Get a holistic view of how responsive your content is on every screen size.
Overlay slides. Add a new dimension of interactivity to recorded or streaming videos with overlay slides in Adobe Captivate. Mark any slide as an overlay slide and insert it anywhere on your video timeline allowing you to add additional interactive layers for improved learner engagement.
Adobe Captivate Creative Cloudƒ?? Other Key Features:
Fluid boxes 2.0. Objects placed in Fluid Boxes get aligned automatically so that learners always get a fully responsive experience regardless of their device or browser. Use the pre-defined boxes in a responsive theme or draw your own. In the 2019 release of Adobe Captivate, Fluid Boxes get a productivity makeover - use the intuitive UI to control and customize your Fluid Boxes, view parent-child relations, distribute objects equally in a single click, define alignment properties in Static Fluid Boxes and more.
Multiscreen responsive eLearning authoring. Author as you always haveƒ??content automatically rearranges for the learnerƒ??s device. Use the in-product, device-specific preview to see how your project will appear. Publish as a single project and deliver a fully responsive experience to your learners.
Auto-migrate from non-mobile to mobile. Join the mobile age. Transform* legacy Adobe Captivate desktop-only courses into fully responsive modules using patent-pending technology from Adobe. Bring in existing Adobe Captivate projects and save them as responsive projects. When you relaunch them, logical object groupings are placed in Fluid Boxes, which you can accept or customize.
Adobe Typekit integration. Good typography makes for a great viewing experience only when itƒ??s consistent across devices and delivering that just got a lot easier. Choose the fonts you love from the Typekit library and use them across your courses to make a polished, easy-to-follow experience for learners.
Best-in-class screen capture. Generate robust software simulations with multiple learning modes in a single recording session by capturing all on-screen actions, including mouse movements, system audio, and keyboard activity. Create a single, responsive screen capture project that plays seamlessly across devices. Adobe Captivate detects screen activity in the recording window and pans to those areas to create screen capture output for tablet and mobile views.
Adobe Captivate Draft. Kick-start authoring the smart way with this free storyboarding app (Available only for iPad iOS from the App Store). Convert your ideas into interactive storyboards complete with eLearning elements such as content and question slides, branching logic, and more. Share storyboards for real-time, collaborative reviewing on the cloud; reviewers do not need to have either the app or Adobe Captivate. Simply import your storyboards into Adobe Captivate and publish them, to seamlessly generate responsive projects.
Roundtripping with Microsoft PowerPoint. Make a smart move and go beyond static slides to interactive eLearning. Import your PowerPoint slides into Adobe Captivate, bring in objects, animations, and multimedia, easily update the content, and keep your PowerPoint and Adobe Captivate projects in sync.
Asset store. Work smarterƒ??unlock value with in-product access to Adobe Stock and our library of 75,000+ free eLearning assets. Choose from a universe of royalty-free images, people cutouts, interactions, themes, games, scenarios, and much more. Find the perfect asset for your eLearning projects, and delight your learners with content that dazzles.
Responsive text support. Provide a superior experience to learners, even for text-heavy courses delivered on small screens. Long paragraphs are collapsed to just a few lines, and learners can click to view more.
Responsive themes. Choose from various themes that attractively blend backgrounds, styles, fonts, and layouts and incorporate Fluid Boxes. Fluid Boxes make it easy to render fully responsive content for multiple devices. Customize themes to meet your requirements, or create your own. Save themes for reuse across projects.
Responsive motion effects without programming. Create fluid object transitions that include motion paths and rotations, even in responsive projects. Now add effects to individual objects and groups of objects. Define linear, custom, and scribble motion paths to control the way objects move. Preview animations on hover, and see how effects play out on the integrated Effects and Project timeline. Deliver a superior responsive learning experience by designing different effects for different devices.
Customizable closed captions. Create courses that meet accessibility standards with closed captions generated from slide notes and for slide videos. These can be enhanced by controlling the way they look and where they appear.
Device-specific previews. Eliminate the guesswork. Preview exactly how your content will look on specific devices by selecting from a preset device menu. Add new devices to the menu, as needed.
Shared advanced actions. Enable conditional or multiple actions in an interaction or across projects, and create shared action templates to use with other modules and projects. Enhance shared actions with variable parameterization, and create a looping algorithm from within an advanced action. And now you can have one or more decision or conditional tables.
Publish to Adobe Captivate Prime and other LMSs. Set up a smart learning ecosystem and deliver a superior experience to your learners thanks to tight integration between Adobe Captivate and Adobe Captivate Prime LMS. Publish your courses with a single click to Adobe Captivate Prime or to other leading LMSs.
Multistate objects. Power up your eLearning with less elbow grease using object states on steroids. Improve retention by enabling learners to interact with objects in ways never seen before. Make complex workflows achievable with just a few clicks by triggering an unlimited number of custom or in-built states for each object, including smart shapes, images, text, buttons, and more. Easily edit states using the States timeline.
Roundtripping with Adobe CC. Work with the worldƒ??s best creative apps and roundtrip seamlessly with Adobe Photoshop, Adobe Illustrator, Adobe Audition and more in Adobe Creative Cloud. Preserve layers in imported Photoshop files, and edit or animate individual layers in Adobe Captivate for just the right effect. Edit and enhance audio files in Adobe Audition and then bring them back into Adobe Captivate.
Intuitive user interface. Call on the power-packed functionalities of Adobe Captivate from an intuitive UI that makes authoring easy and efficient. Enjoy authoring with an interface that is simple enough for subject matter experts and powerful enough for experienced users.
Comprehensive quizzing. Take the smart route to create attractive quizzes by customizing out-of-the-box quiz templates. Include question types like matching, short answer, and fill-in-the-blanks. Keep learners on track with knowledge check questions embedded in your course. Improve the percentage of successful outcomes using the remediation workflowƒ??when answering a quiz question incorrectly, let learners revisit the relevant section, understand the concept correctly, and retry the question.
Accessibility support. Expand your outreach to defense, government, and educational organizations. Easily create simulations and demonstrations that address accessibility standards, such as Section 508 and Web Content Accessibility Guidelines 2.0 (WCAG 2.0). To help ensure that everyone can access your content, define text equivalents, insert clickable areas that allow keyboard access, and more.
Text to speech. Keep learners tuned in to your content thanks to automatic voiceover functionality that turns text into high-quality speech in a few clicks. Need to change the text? Just click once to update the audio.
Best-in-class HTML5 publishing. Import your PowerPoint project into Adobe Captivate and retain text, shapes, audio, and animations when you publish them directly to HTML5. Make your eLearning content more mobile with full support for scalable HTML5, mobile themes, play bar, and the ability to pause and resume anywhere, anytime, and on virtually any device. Also publish HTML5 courses directly to Adobe Captivate Prime LMS or Adobe Connect.
SVG support. Create high-quality projects with vector images that scale across devices and sizes with no loss of quality. Define complex shapes and bring them into Adobe Captivate as SVG graphics. Convert images to auto shapes and use them as buttons or feedback captions. Roundtrip with Adobe Illustrator to edit the images. Images are automatically added to the library for reuse across projects.
iOS device capture. Record your device screen as a full resolution HD video. Make your video richer by adding mobile-specific gestures, such as swipe, tap, and pinch to zoom. Select from a range of audio sources, such as system audio, device audio, and microphone input, to customize your video demo.
Geo-location support. Utilize the GPS capabilities of mobile devices to deliver timely, location-aware content to learners. Create assessments that require learners to be at a particular geo-location. Set location parameters easily using the integration of Google Maps with Adobe Captivate.
Native app publisher. Simultaneously publish your course as an app to multiple mobile platforms, such as iOS, Android, and Windows RT (Metro apps), with a single click right from within Adobe Captivate using the Adobe PhoneGap service (Requires separate purchase of PhoneGap).
Audio-video support and synchronization. Record system audio along with narration or import video in a wide variety of formats (AVI, MOV, FLV, MPEG). Synchronize audio or video with slides and timed objects. Edit audio to correct mistakes, add an external track, or attach sound effects to individual objects. Make your eLearning more personal by providing audio responses to interactions and enabling in-course YouTube video streaming.
Responsive drag-and-drop interactions. Make eLearning fun with drag-and-drop games, quizzes, and learning modules that can run on any device. Choose from a variety of relationships between the drag item and drop target to implement learning outcomes more visually. Provide customizable audio feedback to every drag-and-drop attempt.
In-product LMS preview. Eliminate the guesswork from content-LMS integration, get fine-grained control over all aspects of your course, and reduce dependency on your LMS administrator. Preview courses in Scorm.com to gauge LMS compatibility, and get error logs to identify those portions of the course that need attention.
Master slides. Use master slides to easily create and maintain well-formatted and consistent-looking content that meets your corporate guidelines. Define styles and apply them to selected objects for quick and consistent formatting across a project.
System Requirements:
Windows
2 GHz or faster Intel processor
Windows operating systems - Microsoft Windows 7 with Service Pack 1, Windows 8.1, or Windows 10
Windows 64-bit operating system is supported.
8 GB RAM
10GB of available hard-disk space for installation; additional free space required during installation (cannot install on removable flash-based storage devices)
Adobe Flash Player 10 (or more) for viewing multimedia content
1024x768 display (1280x1024 recommended) with WebGL compatible Graphics Cards
Mac OS
Multicore Intel processor
Mac OS X v10.13.5 (or later); iOS 11.4 (or later)
8 GB RAM
10 GB of available hard-disk space for installation; additional free space required during installation (cannot install on a volume that uses a case-sensitive file system or on removable flash-based storage devices)
Adobe Flash Player 10 (or more) for viewing multimedia content
1024x768 display (1280x1024 recommended) with WebGL compatible Graphics Cards