Sale price
$126.00
Regular price
Unit price
per
Sale
Sold out
Eligible for free shipping
View full details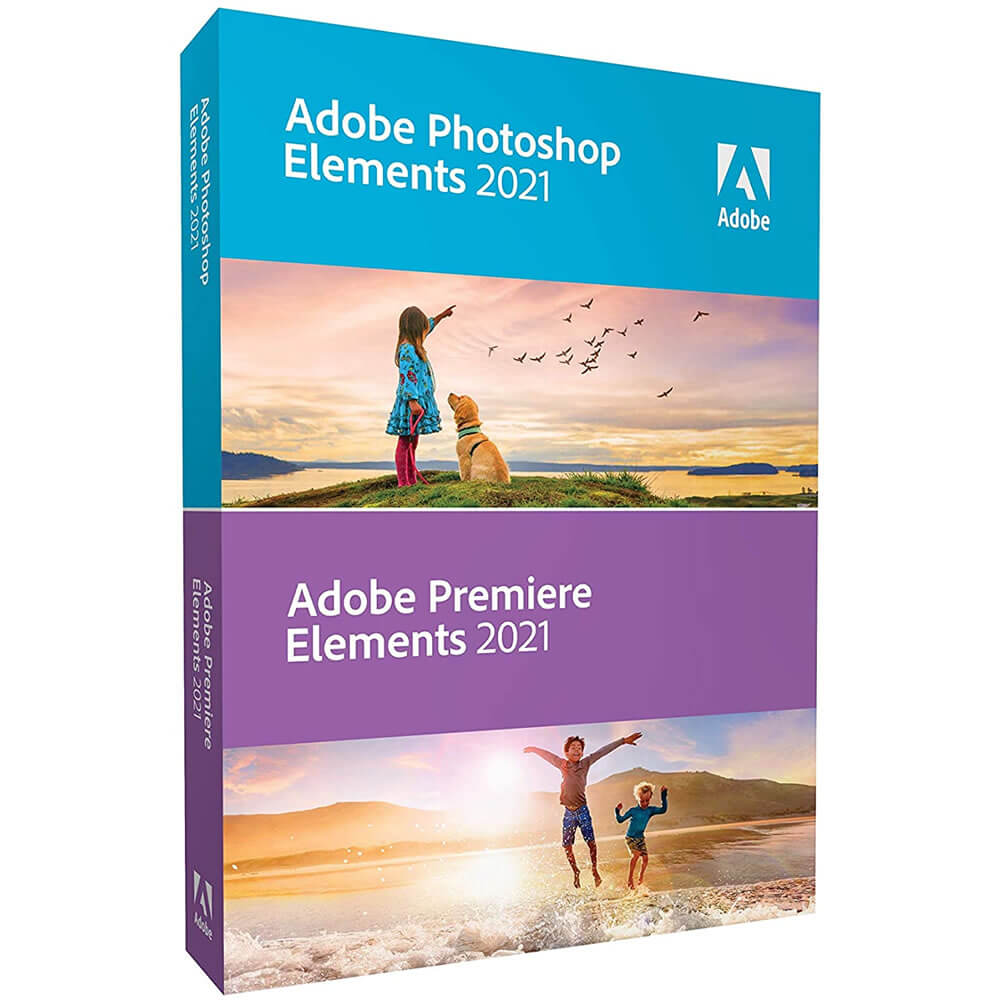 A comprehensive suite of photo and video editing software, Adobe Photoshop Elements & Premiere Elements 2021 bundles the two applications to help handle your multimedia post-production needs.
Adobe Photoshop Elements 2021
Designed for fun and ease-of-use, Adobe Photoshop Elements 2021 is a simple-but-effective image editing and organization application. Revolving around the use of Adobe Sensei AI technology, automated editing and organization is possible to simplify and expedite the post-production process. This technology can apply quick fixes to common image flaws, such as opening closed eyes, and can also aid in making clean and accurate selections for compositing images. It can even add motion to still images for producing dynamic animated GIFs.
Beyond just making automated corrections, this technology also works in conjunction with a series of Guided Edits to help refine and improve your own editing skills. Sensei AI can also be used to sort through your library of images, and automatically cull images according to selected presets or just based on recognized faces and image quality. Additionally, automated capabilities also help in producing dynamic image and video slideshows and collages for sharing your work. Rounding out the feature-set, a variety of exporting options are possible, ranging from in-app production of wall art, prints, and gifts to sharing your finished image compositions to social media.
Adobe Photoshop Elements 2021 ƒ?? Key Features:
Add motion to still images and transform your photos into moving, animated GIFs with 2D and 3D camera motion.
Perfect for social media, apply quote graphics on top of images for adding motivational or personalized messages using preset templates with customizable options and even animations.
Enhance your landscape shots by replacing skies, reducing haze, and erasing unwanted objects from the scene using updated Adobe Sensei-powered Guided Edits.
Add some style to images with customizable duotone effects that render your images in distinct two-color palettes. This new Guided Edit also incorporates pre-set social media sizing guides and gradient effects, too.
Get step-by-step help with moving, scaling, and duplicating objects to easily and naturally change selection positions, sizes, and more.
Perfect your portraits by fine-tuning the tilt angle and position of people's faces. Powered by Adobe Sensei, this automatic correction helps to ensure everyone in the photo is looking in the right direction.
Promoting organization and workflow efficiency, your catalog structure can now be automatically backed up in order to maintain your album structures, keywords, tags, and labeled people, places, and events, all synchronized for easy recovery.
Start Your Creativity
A dynamic home screen quickly gets you working and helps you follow your creative impulses while also highlighting fun editing tricks, newly added features, and other inspirational ideas and tutorials.
Expedite your process using Auto Creations, which is powered by Adobe Sensei AI technology, for quickly making polished slideshows, collages, and other finished formats with creative effects.
Intelligent Editing
Intelligent editing and automated creation modes are aided by the powerful Adobe Sensei AI technology, which helps process imagery, apply corrections, and create finished products.
Automatically colorize your black-and-white photos to give a new dynamic appearance.
Easily select subjects with a single click; Adobe Sensei intelligently makes isolated selections to help cleanly remove your subject or background from an image.
Optimize portraits by adjusting facial features, including automatically opening closed eyes, whitening teeth, and turning frowns upside down, and by automatically smoothing skin textures.
Easily and automatically apply common photo edits, including make skies bluer, remove haze, adjust tilted photos, and correct tone with a tool that remembers favorite looks.
Choose one of five perfect effects to apply to photos, based on the subject, color, and lighting of your shot, or, pick your own fun filter and customize the look to suit your personal taste.
Reduce camera shake with the dedicated Shake Reduction tool, which automatically minimizes unwanted blur for sharper-looking photos.
Guided Edits
There are 58 distinct Guided Edits available, which are unique interactive tutorials to help you gain editing skills while working on your own images. Some of the edits include:
Erase distractions, such as power lines, people, and other unwanted objects, in order to redirect focus on your intended subject.
Replace backgrounds by simply selecting the subject and placing it on a new background to change the overall mood and setting.
Add an illustrated sketch effect to an image by brushing on the look of your choice, including pencil, colored pencil, old paper, and old photo.
Use selective color within a black-and-white photo for a dynamic pop; highlight a single color or a specific object, then turn the rest of the image to black-and-white.
Merge multiple shots into one image in order to perfect the exposure, remove distracting elements, or to just create unique compositions or panoramic effects.
Brush on fun patterns, like hearts or stars, for a simple and creative flourish.
Design a visual text effect, which features different photos inside each letter, then adjust and resize your photos to make names or other words with a unique and personalized style.
Blend two photos using the double exposure effect for a creative translucent look.
Apply text and borders to images for a bit more of a design touch that is perfect for sharing.
Organize
Automatically organize numerous folders of photos using a visual view of your images sorted by date, subject, people, and places. Once in place, your chosen catalog structure is also automatically backed up for easy recovery.
Use Smart Tags to automatically tag photos based on recognized subjects, such as sunsets, birthdays, and even by the people in photos, to help easily located specific photos later on.
Auto Curate intelligently selects your best photos based on quality, faces, subjects, Smart Tags, and other criteria to help you save time searching for the standouts.
Sharing
For users in the USA, a built-in prints and gifts service lets you easily order wall art, accessories, and other photo creations via FUJIFILM Prints & Gifts service, which is integrated right into the Elements interface.
Create collages using just a few clicks and select from an array of templates, pan or zoom within your photos, and even replace backgrounds when needed.
Adobe Premiere Elements 2021
Adobe Premiere Elements 2021 is a consumer-level video editing software with large collections of basic and elaborate features. Premiere Elements allows you to edit manually or choose from different auto options. On the home screen, you can toggle between tabs to choose the option that works for you, whether the manual option or one of the auto options. However, you don't need to remain in just one workspace. Your project is available to you in any of the workspaces, and you can seamlessly toggle between the different spaces and continue working on the same project. What's more, even in the manual workspace, you have the choice of using certain auto options to complete different aspects of a feature.
To make the auto features flow smoothly and intelligently, Premiere Elements uses Adobe Sensei AI and machine learning technology to highly improve the design and delivery of auto features, such as automatically extracting photos from video footage or finding the right video clips from your video library by facial recognition. Adobe Sensei AI is a big part of Adobe Elements and even extends to advanced editing options such as selecting and editing specific areas of your video.
A key aspect of Premiere Elements 2021 is Guided Edits. There are 25 Guided Edits that lead you step-by-step through applying basic adjustments as well as elaborate features to achieve fun animations, transitions, and artistic effects. As you use these Guide Edits, you also learn the steps that you're guided through, and you can apply them manually the next time around. Guided Edits include the new double exposure edit where you can play a video within a photo by fusing the two together. Guided Edits also help you create dynamic timelapse videos, create freeze frames and add motion titles to them, make a segment of your video run forward and backward repetitively and then export the "bounce-back" effect as an animated GIF, and much more.
Other auto features include one-click editing tools, photo/video slideshow creation, Instant Movie creation with selected clips, themes, music, titles, and effects, and many more.
Among the new features in Premiere Elements 2021 are 21 new music scores, bringing the audio collection to a total of 73 music scores and 268 sound effects. Premiere Elements 2021 is a nonlinear video editing software with a timeline and large sets of effects, transitions, titles, and other standard NLE features.
Home Screen
Auto-generated creations delivered right to you upon launch
Jump to features to try, see what's new, and discover inspiration, help, and tutorials
Easily Find Your Photos and Videos
(New) Automatically back up your catalog structure
Find videos faster with automatic people recognition
Find videos faster with automatic Smart Tags
Search based on a combination of factors
Find videos based on the place you shot them
Find videos based on what you were doing when you shot them
Visual tags
Quick and Easy Editing
Reduce noise effect to improve grainy videos
Fully redesigned Quick Edit mode
Touch-enabled Quick Edit
Candid Moments to auto-extract photos from footage
Automatic Smart Trim
Video collages
Haze removal
Automatically remix music
Automatic Face Detection in pan, zoom, and Smart Trim
Auto-fix shaky footage
Instant themed movies
Step-by-Step Guided Edits
(New) Double Exposure
(New) Animated Mattes
Timelapse, Animated Sky, and Fill Frame
Glass Pane Effect and Luma Fade Transition
Freeze Frame with Motion Title, Bounce Back Effect, Animated Social Posts, and Fix Action Cam Footage
Adjustment Layer, Pop Color, Slow Motion, and Fast Motion
Stylish Effects
Motion tracking
Cartoon looks, graphics, transitions, animated titles, motion menus, and polished credits
Advanced Editing Options
(New) Select and edit specific areas of your video
(Updated) See effects in real time thanks to GPU acceleration
(Updated) 73 music scores (including 21 new options) and 268 sound effects
4K editing and viewing
High DPI and retina display support
Auto-balance audio elements, easily fix audio problems, adjust color, and combine elements from different videos
Support for HEIF and HEVC formats (Windows only)
Share the Way That Works for You
Auto Creationsƒ??photo and video collages and slideshows
One-click photo and video slideshows
Multi-format export including 4K
Automatic export recommendations
Animated GIFs
Share to Vimeo and YouTube
DVD burning (Windows only)