Sale price
$74.00
Regular price
Unit price
per
Sale
Sold out
Eligible for free shipping
View full details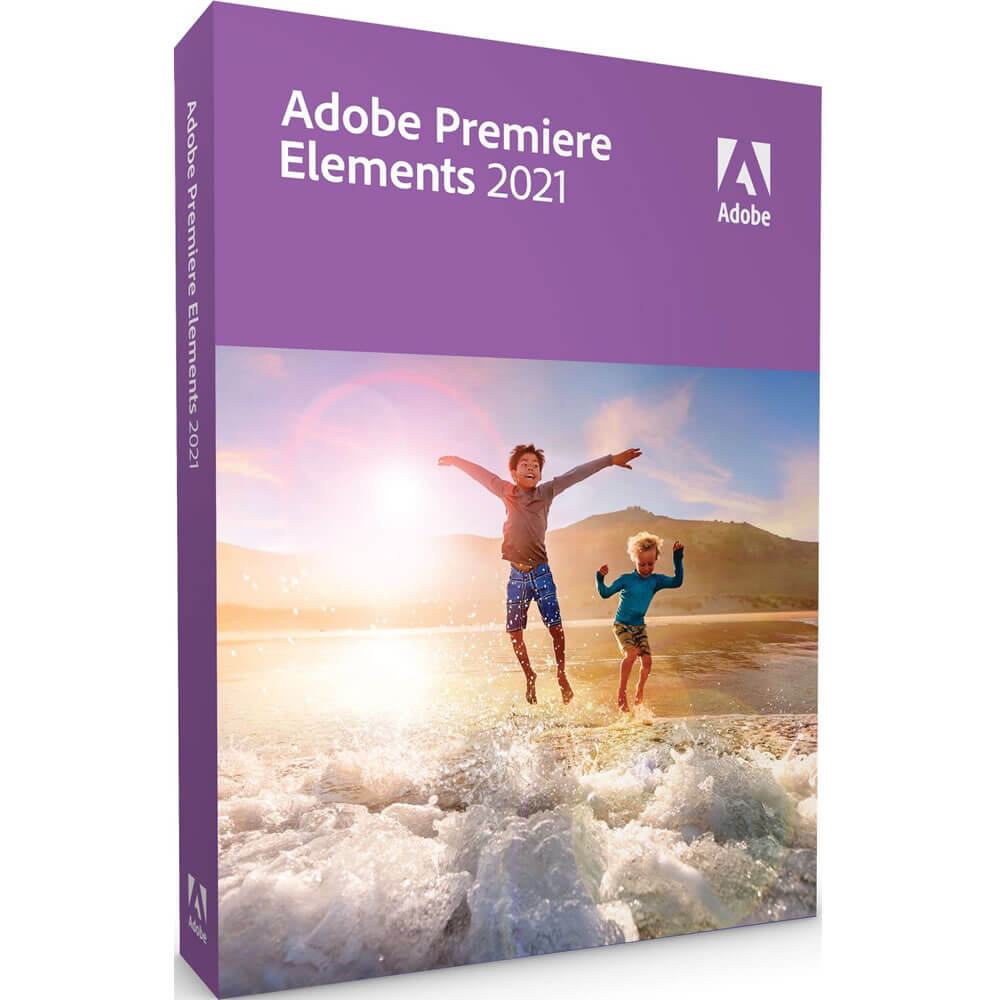 Adobe Premiere Elements 2021 is a consumer-level video editing software with large collections of basic and elaborate features. Premiere Elements allows you to edit manually or choose from different auto options. On the home screen, you can toggle between tabs to choose the option that works for you, whether the manual option or one of the auto options. However, you don't need to remain in just one workspace. Your project is available to you in any of the workspaces, and you can seamlessly toggle between the different spaces and continue working on the same project. What's more, even in the manual workspace, you have the choice of using certain auto options to complete different aspects of a feature.
To make the auto features flow smoothly and intelligently, Premiere Elements uses Adobe Sensei AI and machine learning technology to highly improve the design and delivery of auto features, such as automatically extracting photos from video footage or finding the right video clips from your video library by facial recognition. Adobe Sensei AI is a big part of Adobe Elements and even extends to advanced editing options such as selecting and editing specific areas of your video.
A key aspect of Premiere Elements 2021 is Guided Edits. There are 25 Guided Edits that lead you step-by-step through applying basic adjustments as well as elaborate features to achieve fun animations, transitions, and artistic effects. As you use these Guide Edits, you also learn the steps that you're guided through, and you can apply them manually the next time around. Guided Edits include the new double exposure edit where you can play a video within a photo by fusing the two together. Guided Edits also help you create dynamic timelapse videos, create freeze frames and add motion titles to them, make a segment of your video run forward and backward repetitively and then export the "bounce-back" effect as an animated GIF, and much more.
Other auto features include one-click editing tools, photo/video slideshow creation, Instant Movie creation with selected clips, themes, music, titles, and effects, and many more.
Among the new features in Premiere Elements 2021 are 21 new music scores, bringing the audio collection to a total of 73 music scores and 268 sound effects. Premiere Elements 2021 is a nonlinear video editing software with a timeline and large sets of effects, transitions, titles, and other standard NLE features.
Home Screen
Auto-generated creations delivered right to you upon launch
Jump to features to try, see what's new, and discover inspiration, help, and tutorials
Easily Find Your Photos and Videos
(New) Automatically back up your catalog structure
Find videos faster with automatic people recognition
Find videos faster with automatic Smart Tags
Search based on a combination of factors
Find videos based on the place you shot them
Find videos based on what you were doing when you shot them
Visual tags
Quick and Easy Editing
Reduce noise effect to improve grainy videos
Fully redesigned Quick Edit mode
Touch-enabled Quick Edit
Candid Moments to auto-extract photos from footage
Automatic Smart Trim
Video collages
Haze removal
Automatically remix music
Automatic Face Detection in pan, zoom, and Smart Trim
Auto-fix shaky footage
Instant themed movies
Step-by-Step Guided Edits
(New) Double Exposure
(New) Animated Mattes
Timelapse, Animated Sky, and Fill Frame
Glass Pane Effect and Luma Fade Transition
Freeze Frame with Motion Title, Bounce Back Effect, Animated Social Posts, and Fix Action Cam Footage
Adjustment Layer, Pop Color, Slow Motion, and Fast Motion
Stylish Effects
Motion tracking
Cartoon looks, graphics, transitions, animated titles, motion menus, and polished credits
Advanced Editing Options
(New) Select and edit specific areas of your video
(Updated) See effects in real time thanks to GPU acceleration
(Updated) 73 music scores (including 21 new options) and 268 sound effects
4K editing and viewing
High DPI and retina display support
Auto-balance audio elements, easily fix audio problems, adjust color, and combine elements from different videos
Support for HEIF and HEVC formats (Windows only)
Share the Way That Works for You
Auto Creationsƒ??photo and video collages and slideshows
One-click photo and video slideshows
Multi-format export including 4K
Automatic export recommendations
Animated GIFs
Share to Vimeo and YouTube
DVD burning (Windows only)
Adobe Premiere Elements 2021 ƒ?? System Requirements:
Windows
Intel 6th Generation or newer processor or AMD equivalent with SSE4 support
Microsoft Windows 10 version 1903 or later (version 1909 recommended); 64-bit versions only; Windows 7 and Windows 8.1 is not supported
HEIF/HEVC import supported only on Windows 10 version 1903 or later. Visit www.adobe.com/go/preheifinfo for more details
6.9GB of available hard-disk space to install applications; additional 10GB to download all optional content; additional free space required during installation (cannot install on a volume that uses a case-sensitive file system or on removable flash storage devices)
8GB of RAM
1280x800 display resolution (at 100% scale factor)
DVD-ROM drive (for installation from DVD)
Internet connection required for product activation and content download
Microsoft DirectX 12 compatible sound and display driver
Windows Media Player (required if importing/exporting Windows Media formats)
Compatible DVD burner required to burn DVDs
Internet connection required for product activation and content download*
Supported browsers: Microsoft Internet Explorer 9 through 11, Mozilla Firefox 4 or later, or the latest version of Google Chrome
macOS
Intel 6th Generation or later processor
macOS 10.14 through 10.15 or macOS 11
8GB of available hard-disk space to install applications; additional 10GB to download all optional content; additional free space required during installation (cannot install on a volume that uses a case-sensitive file system or on removable flash storage devices)
8GB of RAM
1280x800 display resolution (at 100% scale factor)
DVD-ROM drive (for installation from DVD)
Internet connection required for product activation and content download