Sale price
$119.00
Regular price
Unit price
per
Sale
Sold out
Eligible for free shipping
View full details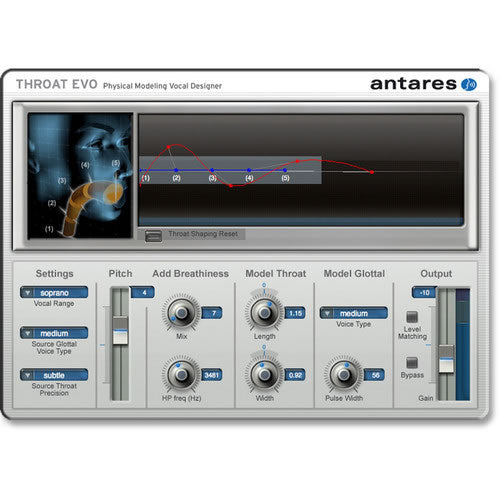 Antares Throat Evo Vocal Designer Plug-In
Electronic Software Download (ESD). This order will be delivered electronically. Customers ordering this item will receive an email message within a 24-48 hours of placement of their order with instructions on downloading the software.
THROAT Evo from Antares is a plug-in tool that allows for processing a vocal through a meticulously crafted physical model of the human vocal tract. The software begins by neutralizing the effect of the original singer's vocal tract and then providing the ability to specify new characteristics of a modeled vocal tract.
Specifically, the software controls allow the user to modify the voice's glottal waveform, as well as globally stretch, shorten, widen or constrict the modeled vocal tract. For even more detailed control, the graphical Throat Shaping display allows for individually adjusting the position and width of 5 points in the vocal tract model - from the vocal chords, through the throat, mouth and out to the lips.
THROAT Evo's Breathiness controls let the user add variable frequency noise to the model, resulting in a range of vocal effects from a full rasp, to subtle breathiness, and on to a full whisper. Also possible is pitch shifting the voice up or down an octave to create a wide range of alternative vocal characters.
Functioning as an Audio Units, RTAS or VST plug-in for Mac OS X or Windows based audio software, the range of controls found within THROAT Evo also allow for the creation of vocal tract models well beyond the limits of physical human anatomy.
System Requirements - Mac
RTAS:
Pro Tools HD or Pro Tools LE 7.x or later
Pro Tools HD 7.2 or Pro Tools LE 7.3 or later required for Graphical Mode sync
OS X 10.4.11 or later as required by user's version of Pro Tools
VST:
Host program that supports the VST plug-in format
OS X 10.4.11 (or later as required by the host)
Audio Units:
Host program that supports the Audio Units plug-in format
OS X 10.4.11 (or later as required by the host)
System Requirements - PC
RTAS:
Pro Tools HD or Pro Tools LE 7.x or later
Pro Tools HD 7.2 or Pro Tools LE 7.3 or later required for Graphical Mode sync
Windows XP or Vista as required by user's version of Pro Tools
VST:
Host program that supports the VST plug-in format
Windows XP or Vista as required by the host