Sale price
$2,495.00
Regular price
Unit price
per
Sale
Sold out
Eligible for free shipping
View full details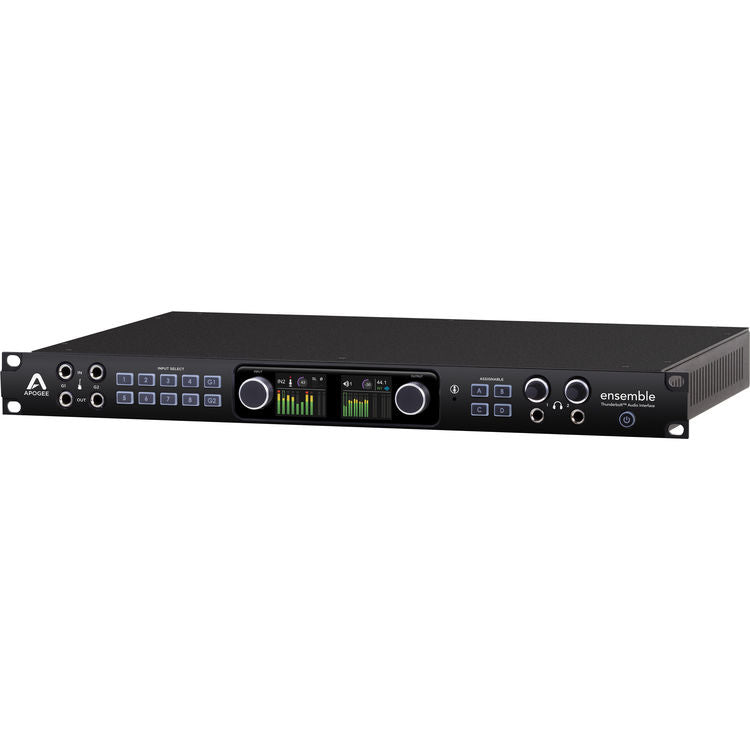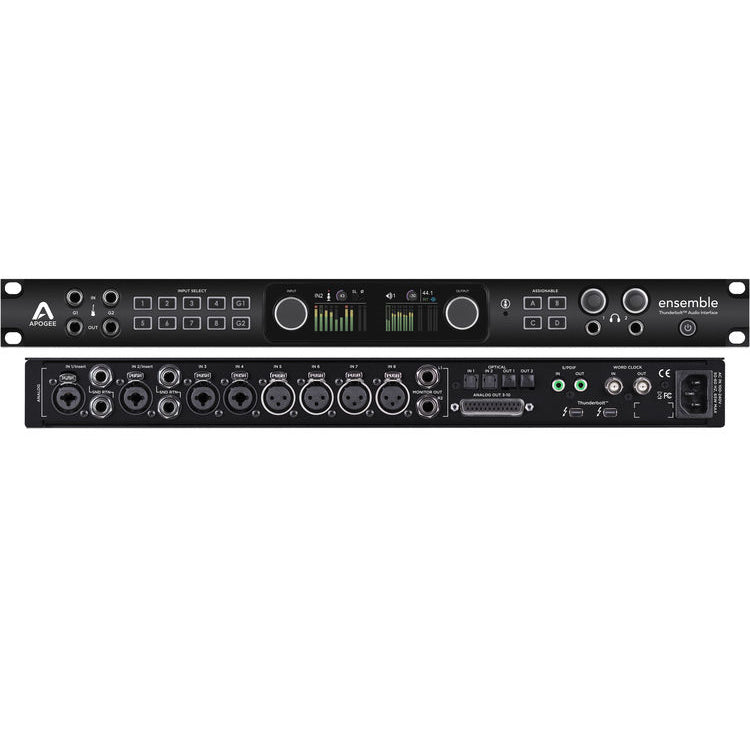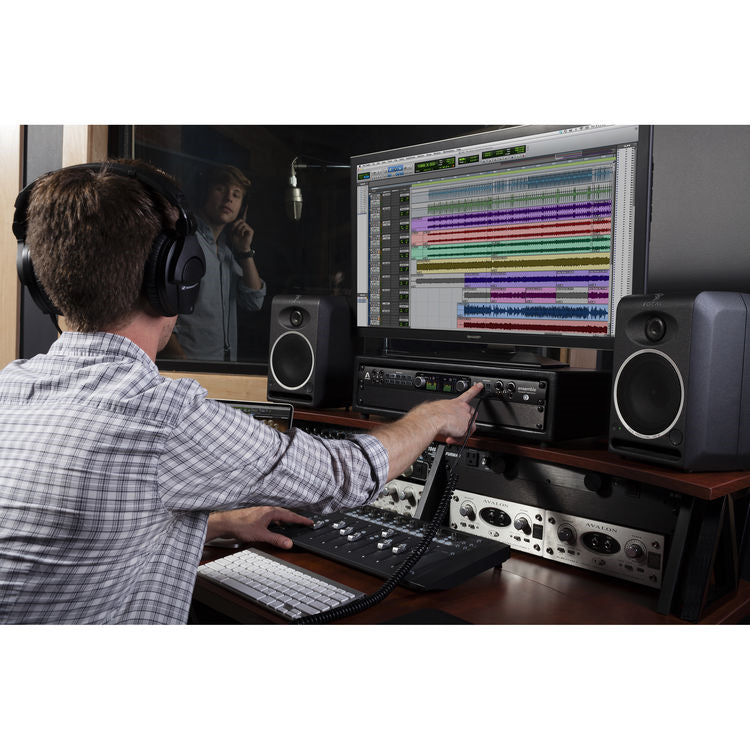 Limited Period Promotion! Buy the Apogee Ensemble Thunderbolt 30x34 Audio Interface before 06/30/2018, and get an Apogee Control Hardware Remote for Element & Ensemble absolutely FREE with your order - a $195 value! Free Apogee Control will be automatically shipped to you when you order this product.
Combining design elements from the company's other products, the Apogee Ensemble Thunderbolt 30x34 Audio Interface builds upon their reputation for high-gain preamplifier design and improves upon their transparent analog-to-digital and digital-to-analog conversion with the addition of an ultra-low latency 1.1 ms (96 kHz / 32 buffer) 32-bit playback Thunderbolt signal path.
For inputs, the 1U rackmountable interface features eight microphone preamps with up to 75 dB of available gain using the company's Advanced Stepped Gain Circuitry - four rear panel XLR-3F connectors and four rear panel ?¬" TRS/XLR-3F combo connectors. The preamps include line level Input channels 1 and 2 also included 1/4" send and return loops.
The inputs include FET-based Soft-Limiting which can be enabled in the Apogee Control software and prevent digital clipping by instantaneously rounding off transient peaks before hitting the analog-to-digital converter. This allows several more decibels of apparent level to be recorded while also subtly proving an analog-tape-like warmth to the sound. Inputs can be selected using the front panel's grid of soft LED illuminated buttons. Pressing and holding the input select buttons will adjust parameters such as input type, +48v phantom power, Soft Limit, grouping, polarity invert, and hi-pass filtering.
The front panel features two Guitar I/O channels with class-A JFET inputs in a bootstrapping circuit design to reproduce the feel of vintage tube amplifiers and preserve the tone and high frequency response of connected instruments by providing an ultra-high impedance load. Beneath the front panel guitar inputs are a pair of dual mode re-amp outputs for connecting to external effect processors such as stomp boxes or guitar amplifiers.
The dual mode switching allows you to easily record your direct guitar signal while also listening through an amplifier. You can then play the recorded guitar signal back through the amplifier to adjust tonality and microphone placement.
A built-in microphone capsule within the interface can be used for archiving your session, recording a crushed room sound when tracking drums, or for talkback when tracking musicians. Rear panel Word Clock IN and OUT connectors enable syncing other digital audio gear to the interface's high quality master clock.
For outputs the interface features 16 rear panel analog outputs in the form of two balanced 1/4" TRS monitor outputs and eight balanced line outputs on a D-Sub 25-pin connector. The front panel features two PurePower headphone outputs with separate volume controls for monitoring mixes. Monitoring can be configured between the two 1/4" outputs, one of three stereo speaker sets, or a 5.1 surround system.
The speaker and headphone levels are controlled with the dedicated knobs on the unit's front panel OLED display or with your Mac's volume controls. Four configurable buttons labeled A, B, C, and D can be assigned using a software drop-down menu to functions such as muting outputs, dimming outputs, engaging talkback, engaging a speaker set, or clearing meters.
With the addition of the unit's rear panel S/PDIF I/O and dual ADAT I/O connectors, the interface is capable of a total 30 inputs and 34 outputs. The interface also features optional direct hardware monitoring through the Apogee Control software, with only 0.6ms of latency (at 96 kHz with a 32-sample buffer).
The extraordinarily round trip latency of the converter is made possible by a proprietary Thunderbolt driver that was built from the ground up for Mac OS X Mavericks. Even in sessions that require higher buffer settings for DSP requirements, the ultra-low latency of the interface prevents the compromise between power and speed.
The driver uses a 32-bit signal path from the output of the DAW into the unit's ESS Sabre32 32-bit Hyperstream DAC with Time Domain Jitter eliminator for low distortion audio with significant headroom and dynamic range. The interface also employs a Direct Memory Access (DMA) engine to more efficiently read and write data directly to Mac memory independently of the CPU.
Directly reading and writing a 32-bit signal from memory increases the driver's efficiency, lowers latency, provides a higher resolution signal, and frees up more CPU power for plug-ins. Apogee-designed power regulators are used throughout the interface's mic pre, A/D, and D/A circuitry for ultra-low noise operation.
The Ensemble Thunderbolt features the Apogee Control software with the Essentials Control Strip window, which offers extensive flexibility to customize your workflow and adapt to your creativity. The software lets you connect two Ensemble Thunderbolt interfaces to your Mac to double your analog inputs and outputs, and connect any Apogee Element interface to expand your system with Ensemble-quality I/O.
The interface's dual rear-panel Intel Thunderbolt ports allow you to connect multiple high bandwidth peripherals to your Mac such as hard drive arrays, video capture devices, and Thunderbolt monitors with up to 4k resolution from a single port. The interface is designed in California and assembled in the U.S.A.
Apogee Ensemble Thunderbolt 30x34 Audio Interface ƒ?? Key Features:
Custom Low Latency Driver. Enables 1.1ms round trip latency with a 96 kHz 32 buffer setting
32-Bit Signal Path. Provides improved headroom and dynamic range with reduced noise
Direct Memory Access Engine. Reads and writes data directly to Mac memory independent of the Mac CPU for lower latency, higher signal resolution, and more available CPU power for plug-ins
Dual Thunderbolt Ports. Expands system functionality by allowing multiple high bandwidth peripherals such as hard drive arrays, video capture devices, and Thunderbolt monitors up to 4 kHz in resolution
ESS Sabre32 DAC Technology. Uses 32-bit filter processing for significantly lower noise, distortion and artifacts
Time Domain Jitter Elimination. Removes clock inconsistencies from the incoming data so the converted analog outputs preserve the clarity and soundstage details of the original source
Dynamically Optimized Mic Preamps. Utilizes Apogee's Advanced Stepped Gain architecture to provide a gain range of 0 to 75 dB with superior bandwidth and minimal distortion
Soft Limit Protection From Digital Overs. Uses a FET-based analog design to prevent digital clipping by rounding off transient peaks before they hit the analog-to-digital converter and provide an analog-tape-like warmth to the sound
Custom Power Regulation. Uses Apogee-designed power regulators for ultra-low-noise operation
Analog Inputs. Features four combo (1/4" and XLR) inputs as well as four XLR inputs for connecting up to eight microphones or a combination of instruments, external mic preamps, and other analog audio devices
Line Level Bypass Relay. Allows the microphone preamplifier to be bypassed to preserve the purest unity gain signal path for line level sources
Analog Outputs. Includes two balanced monitor outputs on 1/4" TRS connectors and eight balanced line outputs on one D-Sub 25-pin connector
Headphone Outputs. Provides two independently controlled front panel headphone outputs for driving even high impedance headphones with ultra-low distortion throughout the level range
Guitar I/O. Enables direct connection of guitars and other instruments through two Class A JFET circuits to produce the feel and tone of vintage tube amps and the tone and high frequency response of connected instruments
Dual Mode Re-Amping. Allows you to record a direct guitar signal while listening through an amplifier, then play the recorded signal back through the amp to refine settings and microphone placement as well as connect external effect stomp boxes
Built-In Microphone. Allows you to capture ideas, archive sessions, record a crushed room sound, and perform talkback functions
Analog Inserts. Enables integration of external hardware such as compressors or EQs in mono or a stereo pair
Digital I/O. Provides up to 18 channels of digital I/O in ADAT, SMUX, S/PDIF optical, and S/PDIF coaxial formats to expand the system with hardware synthesizers and digital effects
Wordclock. Allows for syncing to other digital audio gear and using the interfaces clock as a master
Dual High Resolution Displays. Shows visual feedback for recording and monitoring including levels, grouping, polarity, muting, phantom power, and soft limit on all inputs and outputs
LED-Illuminated Input Control Selection Buttons. Selects a desired input for recording and monitoring functions such as input type, +48V phantom power, Soft Limit, grouping, polarity invert, and hi-pass filter
Monitor/Output Controls. Allows for choosing between two 1/4" monitor outputs, one of three stereo speaker sets, or a 5.1 surround sound system
Assignable Buttons A, B, C, and D. Allows assignment from a drop-down menu for functions such as engage talkback, mute outputs, dim outputs, sum to mono, clear meters, or engage speaker set
Speaker Set Selection. Switches between up to 3 pairs of speakers, allowing the interface to function as a monitor controller
Apogee Control Software:
Modern, streamlined Apogee Control interface with Essentials Control Strip window ƒ?? offers extensive flexibility to customize your workflow and adapt to your creativity
Real-time FX Send lets you use your DAWƒ??s reverb and other effects with Apogee Controlƒ??s low-latency mixer
Select Ensemble built-in mic, analog input or Macƒ??s built-in mic for talkback ƒ?? activate via software to communicate with musicians over headphones
Configure the Main output for multi-speaker systems up to 9.1 surround
Connect two Ensemble Thunderbolt interfaces to your Mac to double your analog inputs and outputs
Connect any Apogee Element interface and expand your system with Ensemble-quality I/O
Control unit with free Apogee Control Remote for iOS app (iPad, iPhone or iPod touch) ƒ?? provides wireless control of the hardware settings included in the Apogee Control Essentials Window
Compatible with Apogee Control hardware remote (available separately)
System Requirements:
Computer: Thunderbolt-equipped Mac (iMac, MacBook Pro, MacBook Air, Mac Pro)
Memory: 2 GB RAM Minimum, 4 GB recommended
OS: 10.9.3 or later
Connection: Any available Thunderbolt port on a Mac