Sale price
$499.00
Regular price
Unit price
per
Sale
Sold out
Eligible for free shipping
View full details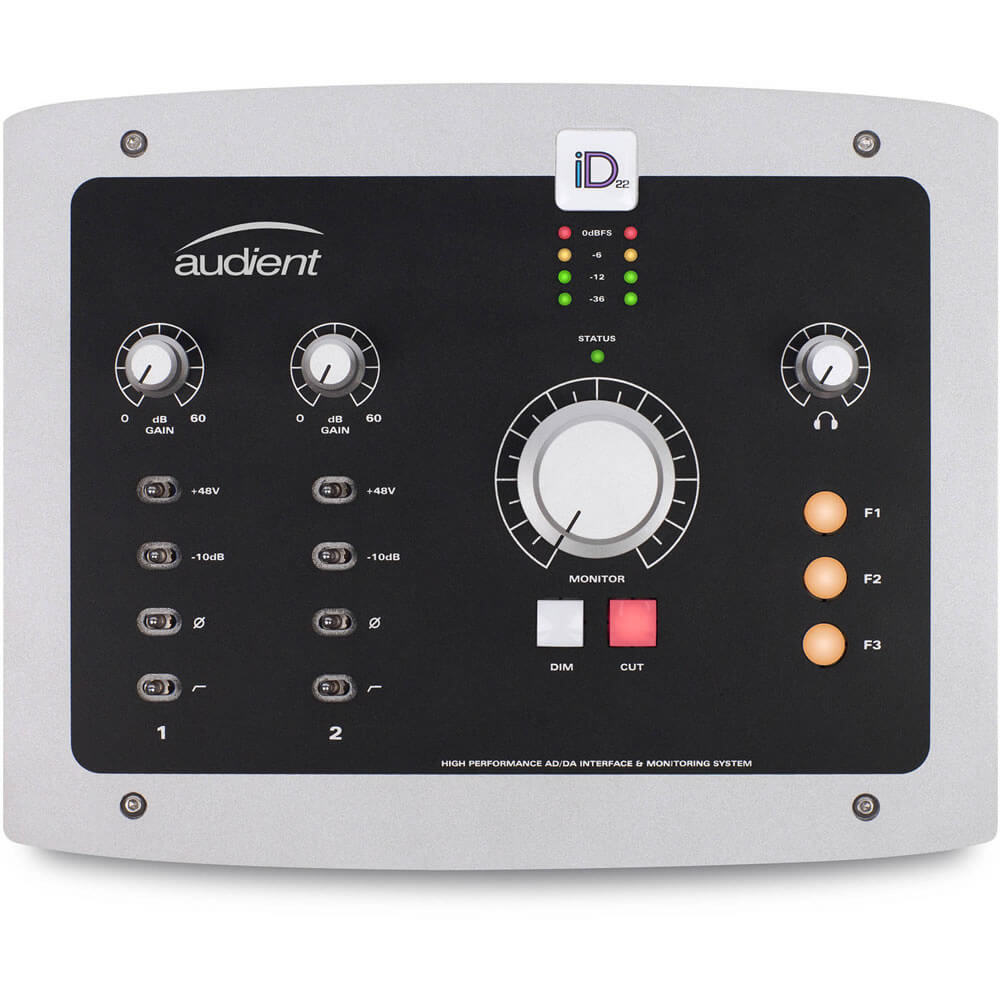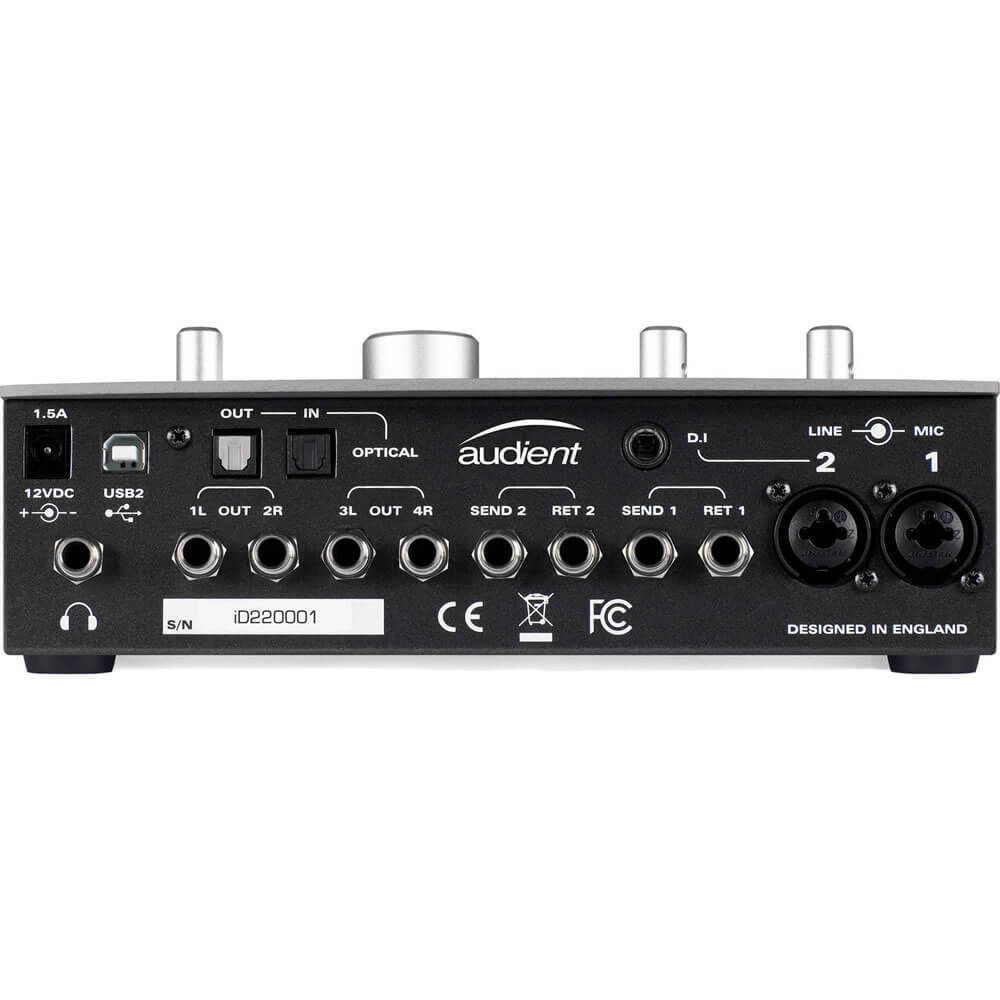 The Audient iD22 High Performance AD/DA Interface & Monitoring System was designed to cater to engineers and studio profressional who want to integrate the recording interface into a larger studio setup while still leveraging two of the company's renown Class-A console grade microphone preamplifiers. Housed in a desktop style chassis, it transforms your DAW into a world-class recording system by connecting directly to your microphones, computer and monitors. Our focus is on producing the very best audio quality while keeping all of the functions simple and intuitive - enabling you to concentrate on the creative process.
Overview
10-in, 14-out Desktop Interface
2-in, 6-out high performance 24-bit/96 kHz AD/DA converters
2 superb class-A mic preamplifiers & 1 discrete JFET instrument input
Fully balanced insert points for integrating outboard gear
High current headphone amplifier fed by an independent DAC
Low latency DSP mixer for artist mixes
Main and alternative stereo outputs
User defined monitoring functionality with hardware control
USB 2.0 class compliant connectivity - Mac OS X 10.6.8 or later
Multi-application ASIO and WDM drivers for Windows 7 and later
Microphone Preamps
Provides two classic hybrid console-grade microphone preamplifiers with a class-A front end to provide clean and musical signature.
Both input channels have a pad to handle hot levels, phantom power for condenser microphones, a high pass filter to remove unwanted low frequencies and a polarity switch to help you phase align your inputs. Channel two features a discrete JFET DI input for you guitars, synths and other instruments
I/O
Expands via the optical input and output connectors, supporting both ADAT and SPDIF. When tracking drums you can expand up to ten inputs via an eight-channel mic pre such as our ASP880 into the iD22 via ADAT. When working with your favorite outboard reverb, this can be connected in stereo via S/PDIF and integrated via the mixer app offering you a practical and flexible desktop package
Converter Technology
Provides you with high performance AD-DA converters from Burr Brown
Software Mixer
Enables internal routing, mixing and configuration of the interface in software. You can even label your channels 'console-tape' style for that authentic studio experience
Console Style Monitor Controller
Features built-in console style monitor control functions - Mono, polarity, dim, cut, speaker switching, talkback & cue mix monitoring
Expansion
The two fully balanced insert points give you the chance to add your processing prior to conversion. Insert your favourite compression and EQ to build vocal chains that rival the very best. The insert return also gives you direct access to the analogue to digital converters - providing the cleanest signal path possible, making it great for print-backs or integrating outboard line level sources
Control
Allows you to assign the functions you need to the three hardware function keys and allow the creativity to flow. The solid aluminum control knobs look and feel great, and the dedicated DIM and CUT controls give you the hands-on control that's familiar to large format console users
Durability
Features all-metal construction, hand finished aluminum knobs and high grade component selection, that will stand up to countless late nights in the studio and days on the road
Audient ID22 Specs
System Requirements
Mac Requirements:
Mac: Any Apple Mac running Mac OSX 10.8.5 or later
Windows Requirements:
PC or laptop manufactured after January 2006
Intel Core 2 @ 1.6 GHz, or AMD equivalent
1 GB main memory
Supported Operating Systems: Windows 7 (32 bit), Windows 7 x64 (64 bit), Windows 8 (32 bit), Windows 8 x64 (64 bit)
Input
Gain:
Microphone: -10 to +60 dB (-10dB Pad)
Line Level: -20 to +40 dB (-10 dB Pad)
D.I.: -16 to +54 dB (-10 dB Pad)
Phantom Power: 48 V ?ñ4 V at 10 mA/channel
EIN: < -125 dBu
CMRR: > 80 dB at 1 kHz
Maximum Input Level:
Mic: +22 dBu (+32 dBu with Pad)
DI: +16 dBu (typical), +22dBu
Input Impedance:
Mic: > 3kOhm Balanced
Line: > 10 kOhm Balanced
D.I.: 1 MOhm Unbalanced
Frequency Response:
Mic/Line: +/-0.5 dB, 10 to 100,000 Hz
D.I.: +/-0.5 dB, 10 to 50,000 Hz
Crosstalk: <-90 dBu at 1 kHz & 10 kHz
THD+N:
Mic: 0.0015% (-96 dBu)
D.I.: <0.03% (-70 dBu)
SNR:
Mic: 96 dB
D.I.: 93 dB
HPF: -3 dB at 100 Hz, 2nd Order (12 dB/Octave)
XLR / Phone Jack: Pin 2 (Hot), Pin 3 (Cold) & Pin 1 (Shield)
Phono (1/4"): TIP (Hot), RING (Cold) & SLEEVE (Shield)
Insert:
Max Output Level: +22dBu
Output Impedance: <100 Ohm Balanced
1/4" Jack: Tip (Hot), Ring (Cold), and Sleeve (Shield)
A/D - D/A Conversions
Maximum:
A/D: +18 dBu
D/A: +18 dBu
Reference:
A/D: 0 dBu = +18 dBFS
D/A: 0 dBu = +18 dBFS
Frequency Response:
A/D: ?ñ 0.5 dB at 10 Hz to Fs/2
D/A: +/-0.5 dB 5 Hz to Fs/2
Impedance:
A/D: >10 kOhm Balanced
D/A: < 100 ohm balanced
Crosstalk:
A/D: -100 dBu at 1 kHz and 10 kHz
D/A: -110 dBu at 1 kHz and 10kHz
THD+N:
A/D at -1 dBFS (1 kHz): < 0.002% (-94dB)
A/D at -6 dBFS (1 kHz): < 0.0015% (-97 dB)
D/A: <0.0008% (-101 dB)
Dynamic Range:
A/D: 117 dB un-weighted 120 dB A-weighted
D/A: 110 dB un-weighted 114dB A-weighted
Jack: Tip (Hot), Ring (Cold) & Sleeve (Shield)
Headphones
Maximum Output Level:
+18 dBu
Into 30 ohms: +8 dBu
THD+N: 0.0032%
2.75 Vpk
Power: 250mW or Pavg 125mW
Into 60 ohms: +11dBu
THD+N: 0.0022%
Power: 4.3Vpk, 300mW or Pavg 150mW
Into 600 ohms: +17.2 dBu
THD+N: 0.0013%
Power: 7.94Vpk, 105mW or Pavg 52.5mW
Reference Level: 0 BFS = +18 dBu
Output Impedance: < 50 Ohms Unbalanced
Frequency Response: +/-0.5dB 5Hz to Fs/2
Crosstalk: -100 dBu at 1 kHz & 10 kHz
THD + N: <0.0008% (-101dB)
Dynamic Range:
110 dB un-weighted
114 dB A-weighted
Jack: TIP (Left), RING (Right) and SLEEVE (Shield)
Digital Audio I/O
I/O:
8-CHANNEL ADAT: 44.1 to 48 kHz
4-CHANNEL ADAT: 88.2 to 96 kHz SMUX
STEREO S/PDIF / TOSLINK 44.1 to 96 kHz (Stereo)Input Channels: 2 x Analog
USB:
Input Channels: 10 (2 analog, 8 digital)
Output Channels: 14 (6 analog, 8 digital)
DSP:
Mixer Latency: 44.1 kHz: 1.43 ms
48.0 kHz: 1.31 ms
88.2 kHz: 0.719 ms
96.0 kHz: 0.656 ms
Power Supply
Power: 12VDC Centre Positive DC Adapter > 1.5 A
Internally conditioned to provide +48VDC, +/-15VDC & low voltage rails for digital processing core & converters
General
Dimensions: 8.9 x 7.1 x 3.5" (22.7 x 18.1 x 8.8 cm)