Sale price
$239.00
Regular price
Unit price
per
Sale
Sold out
Eligible for free shipping
View full details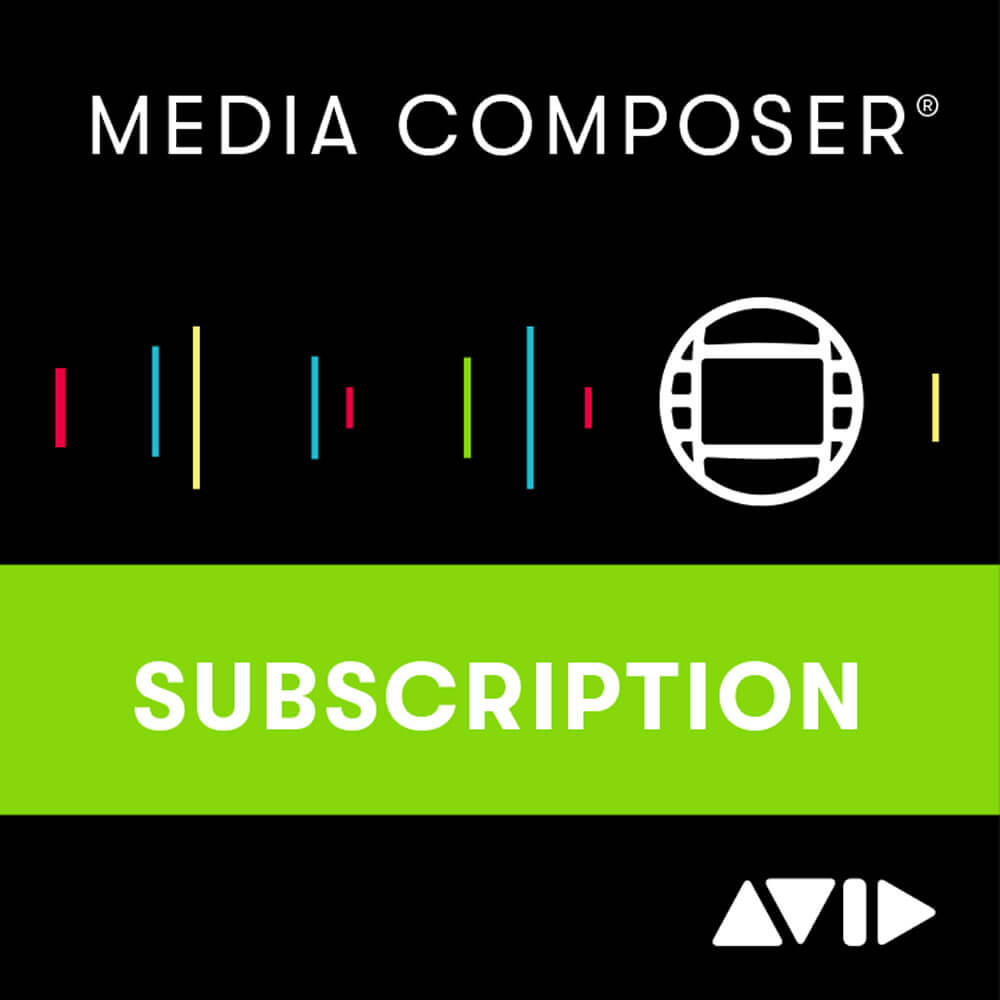 Electronic Software Download (ESD). This order will be delivered electronically. Customers ordering this item will receive an email message within a 24-48 hours of placement of their order with instructions on downloading the software.
Annual Subscription License.
Avid Media Composer professional video editing software is designed with ACE-certified tools and timesaving workflows and allows you to edit everything from SD to 8K and higher, HDR, stereoscopic 3D, and a wide range of file formats, camera formats, and codecs without transcoding.
Offering 64-bit performance, Avid DNxHR and Avid Resolution Independence technologies, and background rendering and transcoding, Media Composer allows you to work with high-resolution, high frame rate media efficiently. The program features 24 video tracks, visual effects, green screen composites, motion effects, transitions, color correction tools, and graphical titles and animations. It allows you to preview clips before committing them to a project, edit multicamera projects, and automate non-creative media tasks such as transcoding, consolidating, and relinking.
The application also lets you record, edit, and mix up to 64 audio tracks in 7.1 channel surround sound, create groups to mix dialog, Foley, music, and sound effects more easily, and polish soundtracks using the same audio effects and sound processors used in the popular Avid Pro Tools audio application.
Avid Media Composer includes a variety of plug-ins and supports many more. Users of Media Composer get access to the Avid Marketplace directly from the software. Here you can purchase additional plug-ins, add-on options, stock footage, and more. Add-on options include the Symphony Option and ScriptSync Option. Media Composer also supports multiple control surfaces and other hardware add-ons for a more advanced and professional workflow.
Avid Media Composer Standard ƒ?? Key Features:
Bins - Unlimited, volume, favorite
Video and Audio Plug-In Support - All AVX and AAX plug-ins
Transcoding - Yes
Consolidation - Yes
Video Tracks - 24
Audio Tracks - 64
Data Tracks - Fully supported
Linked File Support - Full encode and decode SD, HD, >HD
Project Formats - SD PAL, SD NTSC, 720, 1080, 2K, UHD, 4K, custom
Frame Rates - 23.978p, 24p, 25i/p, 30i/p, 50i/p, 59.94i/p, 60p
Native Compression - JFIF, DV, ProRes (encode on Mac only), XDCAM, AVC-I, IMX, DNxHD, DNxHR, XAVC-L, AVC-LongG, J2K
Color Spaces - 601/709, RGB 709, S-Log3, SMPTE-2084, DCI-P3, Rec. 2020, ACES proxy
Desktop Display LUTs - Rec. 709, DCI-P3, sRGB, Rec. 2020, ACES proxy
Audio Resolutions - 32, 44.1, 48, and 96 kHz; 16- and 24-bit
Audio Channels - Mono, dual mono, stereo, 5.1, and 7.1
Multicam Editing - Group Clips, MultiGroup, 4-Way Split Display, 9-Way Split Display, MultiCam Editing mode, MultiCam Accelerator keys, Swap Banks, Previous/Next in Group, Group by Audio Waveforms
Video Effects - Full core set, Source Side Motion Effects, TimeWarp, TimeWarp Fluid Motion, Stabilize
FrameFlex - Yes
Timecode Tool - Yes
Print Timeline - Yes
List Tool - Yes
Film Workflows - Yes
Stereoscopic 3D - Yes
Color Correction - CC effect, predefined CC effects, HSL controls, hue offsets, luma range, curves, color info, channels, (secondary and relationships are available through the Symphony option)
Audio Editing - Audio tool, Audio Ducking, Audio Punch-In, Audio Subframe Slip, audio grouping, read audio timecode, Audio MultiMix, change sample rate
Audio Effects - Full core set
Workspaces - Custom, Single View, Source/Record Editing, Full Screen Playback, Effects Editing, Color Correction, Audio Editing, Capture
Titles - Classic title tool, marquee tool
Background Render, Transcode, and Consolidate - Yes
Settings - Full user settings, multiple user settings, site settings, project settings
Keyboard Mapping - Full
Source/Record Color Differentiation - Off by default
Snap to Edit - Off by default
Auto-Launch Effects Editor - Off by default
Video and Audio Plug-In Support - All AVX and AAX plug-ins
Ingest - Source browser, drag-and-drop import, drag-and-drop link, Photoshop with layers, capture, dynamic media folders, AAF import, EDL import, ALE import, shot log import, SCC import, edit while capture
Export - QuickTime (.mov), graphic, AAF, ALE, AFE, shot log, SCC, TTML, AMA, DPX, AS-11 MXF OP1a, DNxHD MXF OP1a, DNxHR MXF OP1a, J2K MXF OP1a, export to device
Supported Hardware Interfaces
Avid Artist | DNxIQ, Avid Artist | DNxIV, Avid Artist | DNxIP, Avid Artist | DNxID, Avid and third-party audio interfaces, third-party video interface
Supported Control Surfaces
Pro Tools | Control, Pro Tools | Dock, Artist Control, Artist Mix, Artist Color, Artist Transport
Included Plug-Ins
BF76 - Add character to sounds with an emulation of the classic solid-state 1176 compressor
DC Offset Removal - Remove pops and clicks caused by miscalibrated analog-to-digital converters
D-Verb - Add studio-quality reverb and ambience to tracks, from spacious halls to intimate rooms
Duplicate - Copy all selected audio in place, ideal for consolidating multiple clips into one
Dynamics III Compressor/Limiter - Control every aspect of a track's dynamic levels, from attack to release
Dynamics III De-Esser - Reduce sibilants with control over the frequency and range
Dynamics III Expander/Gate - Eliminate unwanted background noise or produce creative new effects
EQ III 7-Band - Shape sounds with seven bands of EQ, each with its own set of filters
Gain - Smooth out sounds by boosting or lowering a selected clip's amplitude by a specific amount
Invert - Reverse an audio clip's polarity to modify frequency response or fix out-of-phase audio
Lo-Fi - Crush down a track's audio quality intentionally to create a "low-quality" retro effect
Normalize - Optimize the volume level of an audio selection, with all dynamics preserved
Pitch Shift - Change pitch up or down without affecting the clip duration
Recti-Fi - Alter sounds to create bold effects with super- and sub-harmonic synthesis
Reverse - Replace an audio selection with a reversed version, ideal for creating sound effects
Sci-Fi - Add analog synth-type ring modulation, frequency modulation, and frequency resonators
Signal Generator - Calibrate audio interfaces and other studio gear with this test tone generator
Time Shift - Stretch or contract time and shift pitch with high-quality results
Trim - Attenuate individual channels of a multichannel track, from infinity to +6 or +12 dB
Avid Media Composer ƒ?? System Requirements
Click here to review Avid Media Composer System Requirements