Sale price
$619.00
Regular price
Unit price
per
Sale
Sold out
Eligible for free shipping
View full details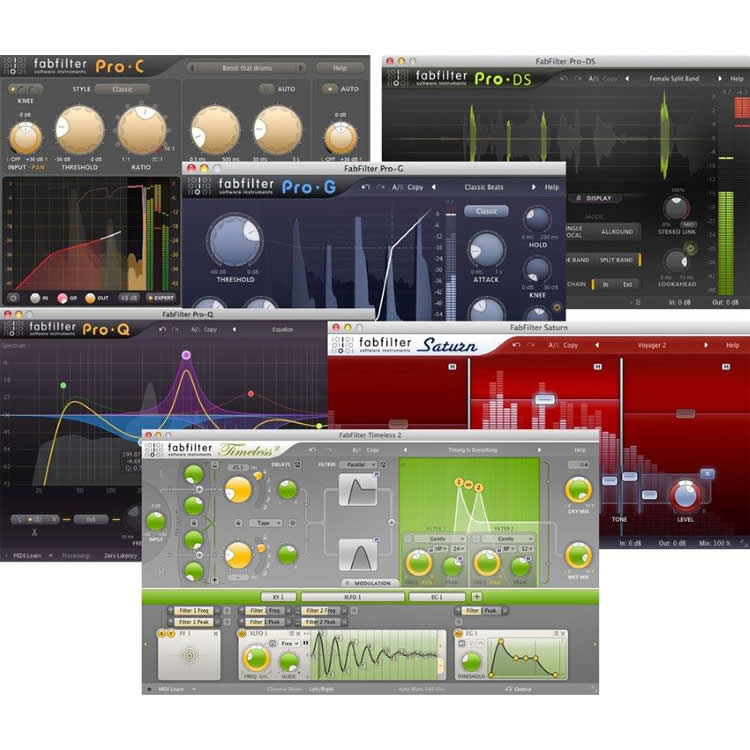 Electronic Software Download (ESD). This order will be delivered electronically. Customers ordering this item will receive an email message within a 24-48 hours of placement of their order with instructions on downloading the software.
The Mixing Bundle gets you FabFilter's effect plug-ins that are a must-have for every mixing engineer: our professional EQ, compressor, de-esser and gate/expander, and our inspiring and creative distortion/saturation and delay plug-ins. The FabFilter Mixing bundle contains 6 plug-ins -
FabFilter Pro-Q 2 - High-quality EQ plug-in. FabFilter Pro-Q 2 is an allround EQ plug-in for mixing and mastering, with up to 24 bands and a gorgeous interface for easy and precise editing.

FabFilter Pro-C - Professional compressor plug-in. FabFilter Pro-C is a professional compressor plug-in with versatile routing and side chain options, high quality sound and an innovative interface.

FabFilter Pro-DS - Intelligent de-esser. Highly intelligent and transparent de-essing plug-in, perfect for processing single vocal tracks as well as entire mixes.

FabFilter Pro-G - Flexible gate/expander plug-in. FabFilter Pro-G is a professional gate / expander plug-in, with beautifully fine-tuned algorithms, highly flexible side-chain control and precise metering.

FabFilter Saturn - Multiband distortion/saturation plug-in. FabFilter Saturn is a high-quality multiband distortion and saturation plug-in, with a user-friendly drag-and-drop modulation.

FabFilter Timeless 2 - Creative tape delay plug-in. FabFilter Timeless 2 is an ultra-flexible tape delay plug-in with time stretching, the best possible filters, and user-friendly drag-and-drop modulation.