Sale price
$169.00
Regular price
Unit price
per
Sale
Sold out
Eligible for free shipping
View full details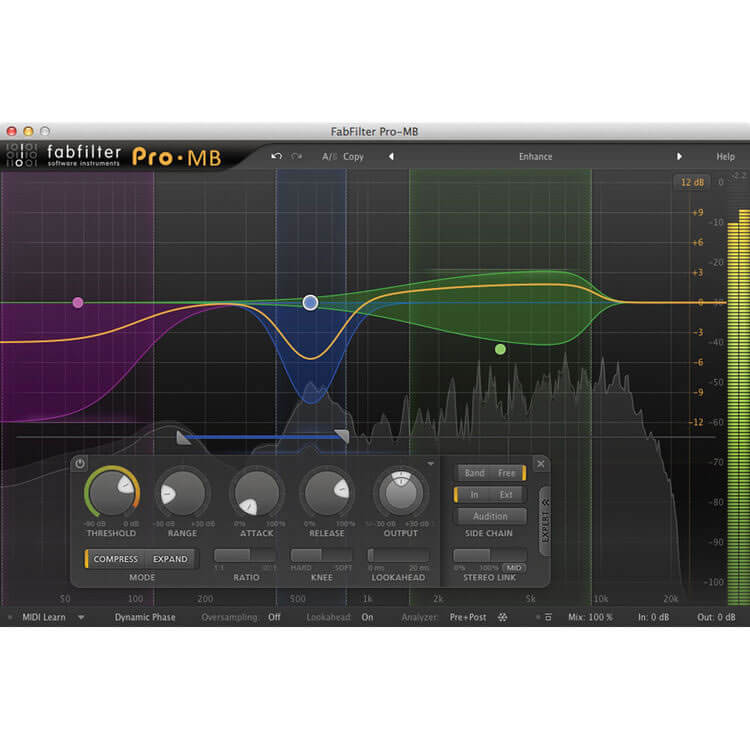 Electronic Software Download (ESD). This order will be delivered electronically. Customers ordering this item will receive an email message within a 24-48 hours of placement of their order with instructions on downloading the software.
Fabfilter Pro-MB is a professional multiband compressor/expander with six processing bands that can be freely placed anywhere in the audio spectrum. It can be used for audio mixing and mastering applications such as studio recording, post production, and more. Instead of conventionally splitting the entire spectrum with crossovers, Pro-MB enables you to create a new band at the frequency range in which you wish to work. The interactive multiband display clearly shows what the rest of the spectrum is which stays untouched, and, if desired, you can snap bands together to recreate a traditional crossover system. Each band is fully customizable with a threshold, range, attack, release, output gain, ratio, variable knee, lookahead, variable stereo linking, mid-or side-only processing, and much more.
The Pro-MB has a Dynamic Phase processing mode that features much of the same frequency response as traditional multiband processors but doesn't introduce latency or pre-ringing. Additionally, it only introduces minor phase changes when the gain actually changes. Also included are a Linear Phase mode and a Minimum Phase mode. The combination of professional processing with interactive multiband display can help you to optimize your workflow.
The Pro-MB software has comprehensive MIDI specs, including MIDI learn, Smart Parameter Interpolation for smoother parameter transitions, and supports common Pro Tools hardware control surfaces. The software also offers an extensive interactive help feature, and AltiVec and SSE optimization. The plug-in is available in VST, VST 3, Audio Units, AAX Native and AudioSuite formats (both 64- and 32-bit), and RTAS (in 32-bit).
Unique Dynamic Phase processing mode featuring zero latency, no static phase changes and no pre-ringing artifacts
Handles any form of dynamics processing, from highly transparent compression, limiting and expansion to pumping upward compression and punchy gating
Each band is customizable with features such as threshold, range, attack, release, output gain, ratio, variable knee, lookahead (up to 20 ms), variable stereo linking, mid- or side-only processing, external side chain input, triggering on a separate frequency range
Steepness of each crossover slope can be freely adjusted between 6 dB/oct and 48 dB/oct
Global dry/wet mix from 0 to 200% to easily scale the total effect of the plug-in
Accurate and smooth real-time frequency analyzer with pre- and post-processing options and 'freeze' feature
Up to four times linear-phase oversampling
GPU-powered graphics acceleration
Undo/redo and A/B comparison
System Requirements:
Windows System Requirements
32-bit: Windows 8, 7, Vista or XP
64-bit: Windows 8, 7 or Vista (x64)
VST 2/3 host or Pro Tools
Mac OS X Requirements
32-bit: OS X 10.5 or higher
64-bit: OS X 10.6 or higher
AU or VST 2/3 host or Pro Tools
Intel processor