Sale price
$34.95
Regular price
Unit price
per
Sale
Sold out
Eligible for free shipping
View full details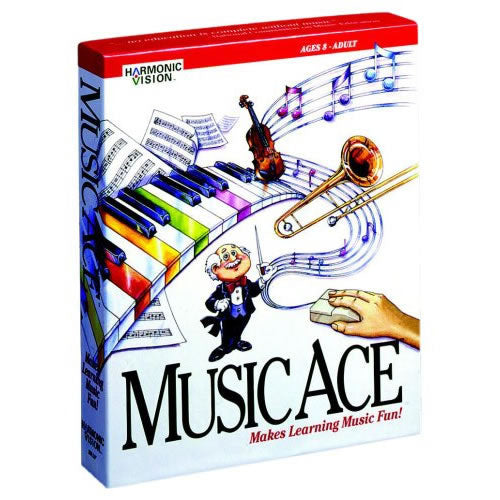 Harmonic Vision Music Ace ƒ?? Fun, Interactive Music Education Software
Harmonic Vision Music Ace provides a fun and comprehensive introduction to music fundamentals for beginning music students, of any age. Following the friendly guidance and directions of our Maestro Max animated teacher, and his animated friends, the Singing Notes, students participate in 24 truly engaging lessons and challenging games, plus compose and perform to their own original music using our innovative Music Doodle Pad. This version of Music Ace focuses on the basics of pitch recognition, learning key signatures, basic ear training, the single staff and Grand staff, sharps and flats, and much more.
GAMES
24 exciting games (one per lesson) sharpen music skills and improve retention of important lesson concepts. Colorful animated graphics, digitized sound effects, bonus points and high scores provide fun, arcade-like entertainment.
TRACKING PROGRESS
Special feature allows individuals to track progress through lessons and games. A "completion count" provides the number of times the user has gone through each section of a lesson, and "games progress" provides high scores.
MUSIC DOODLE PAD
Unique feature allows individuals to easily compose their own music using a variety of instrument sounds. These creative compositions can be saved and played back for others, showcasing the knowledge and skills acquired from the lessons and games. Users can also listen to and modify popular music selections from the Jukebox section of the Music Doodle Pad.
POINTS OF DISTINCTION
Winner of 28 awards and honors
Ideal for beginning and intermediate music students, young or old - any instrument
Accelerates learning music fundamentals - develops and reinforces essential aspects of learning music
Exceptional value - affordable combination of lessons, games and a composition feature
Excellent motivational tool - excites students about learning music
Users develop real musical skills, not just an introduction to music
Entertaining, highly interactive, easy to use - point and click navigation with the mouse
No expensive MIDI keyboard required (keyboard optional)
Saves teachers valuable time - ideal supplemental learning tool for group or individual music instruction
Educator editions include helpful Teacher's Guide
Maestro Max and his colorful, animated singing notes
Music Doodle Pad with Jukebox and Sound Palette for easy composition
Harmonic Vision Music Ace ƒ?? Key Features:
24 engaging, self-paced lessons that accelerate development and reinforce fundamental music skills and an understanding of music theory. Lessons cover:
Staff & keyboard relationship
Pitch identification
Note reading
Listening skills
Sharps & flats
Intro to key signature
Keyboard basics
Major scales
Octaves
Treble, bass & grand staff
Whole & half steps
Much more
Harmonic Vision Music Ace ƒ?? System Requirements:
Windows:
Windows 98/2000/Me/NT4/XP/Vista/7
Pentium 166 MHz or faster
32 MB free RAM
640x480 256-color display
50 MB free hard disk space
16-bit sound
CD-ROM drive and mouse
General MIDI keyboard OPTIONAL.
Macintosh:
PowerPC/Intel Mac/G3/G4/G5
System 8.1 - 9x and OS X (native mode)
32 MB free RAM
640x480 256-color display
50 MB free hard disk space
CD-ROM drive and mouse
General MIDI keyboard OPTIONAL.