Sale price
$53.95
Regular price
Unit price
per
Sale
Sold out
Eligible for free shipping
View full details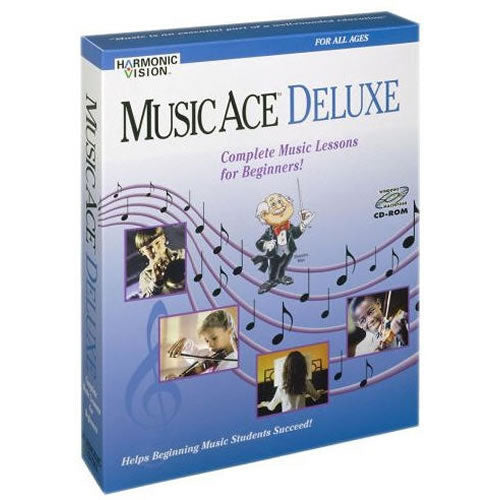 Harmonic Vision Music Ace Deluxe - Fun music education software
Music Ace Deluxe combines 36 of the highly-engaging music lessons from the award-winning Music Ace and Music Ace 2 products into a single, carefully sequenced product.
Designed by music education professionals, Music Ace Deluxe is a comprehensive series of music lessons and games that teach beginning music students of all ages the basics of music theory, rhythm, pitch, note reading, listening, and the keyboard. No previous musical experience or instrument is required.
Under the guidance of animated tutor Maestro Max, students are led through a carefully sequenced series of music lessons. Used alone or as a complement to traditional music lessons, this program will challenge, engage and motivate music students and help them succeed by mastering important music concepts and skills.
Harmonic Vision Music Ace is a combination of music theory lessons and challenging games that introduces students to music. Through the use of fun, interactive games that entertain as well as teach, Music Ace will teach children difficult music theories without the hassle of traditonal teaching restraints. Music Ace offers 36 engaging, self-paced lessons to keep students' attention. Music Ace even allows kids track their own progress throughout the lessons, providing progress reports as games progress. Kids want learning to be fun, and Harmonic Vision Music Ace is just that!
Harmonic Vision Music Ace Deluxe ƒ?? Key Features:
Gives children a well-rounded education: In a fast-paced, changing world, giving your child a well-rounded education is more important than ever. A foundation in music and the arts has long been a respected part of a complete education, and Music Ace is here to do just that.
Each of 36 offered lessons helps kids learn while having fun. Lessons include pitch identification, note reading, listening skills, octaves, whole and half steps, major scales, sharps and flats, and much more. Also, game charactrers such as Maestro Max, singing notes, and other interactive characters give Music Ace a game-like quality. It's the fun way to introduce your child to music.
Brings education to your home. Parents, now you can add music to the subjects that children learn at home. Music Ace lessons are self-paced and can be used as supplements to schoolroom music classes (or when no music courses are available).
Music Doodle Pad adds creativity to music education. Unique feature allows individuals to easily compose their own music using a variety of instrument sounds in Music Ace. These creative compositions can be saved and played back for others, showcasing the knowledge and skills acquired from the lessons and games. Users can also listen to and modify popular music selections from the Jukebox section of the Music Doodle Pad.
Harmonic Vision Music Ace Deluxe Summary:
Music Ace Deluxe also includes the creative Music Doodle Pad that allows beginners to easily compose and hear their own musical creations. The Music Doodle Pad alone provides many hours of fun and learning.
Easy to use, self-paced learning
Complements traditional music instruction
Appropriate for students of any instrument
Create and play your own music
Compatible with General MIDI keyboards (keyboard optional)
Tracks progress of 10 users
Harmonic Vision Music Ace Deluxe ƒ?? System Requirements:
WINDOWS:
Windows 98/2000/Me/NT4/XP/Vista/7
Pentium 166 MHz or faster
32 MB free RAM
640x480 256-color display
60 MB free hard disk space
16-bit sound
CD-ROM drive and mouse
General MIDI keyboard OPTIONAL.
MACINTOSH:
PowerPC/Intel Mac/G3/G4/G5
System 9 or OS X (native mode)
32 MB free RAM
640x480 256-color display
60 MB free hard disk space
CD-ROM drive and mouse
General MIDI keyboard OPTIONAL.