Sale price
$99.99
Regular price
Unit price
per
Sale
Sold out
Eligible for free shipping
View full details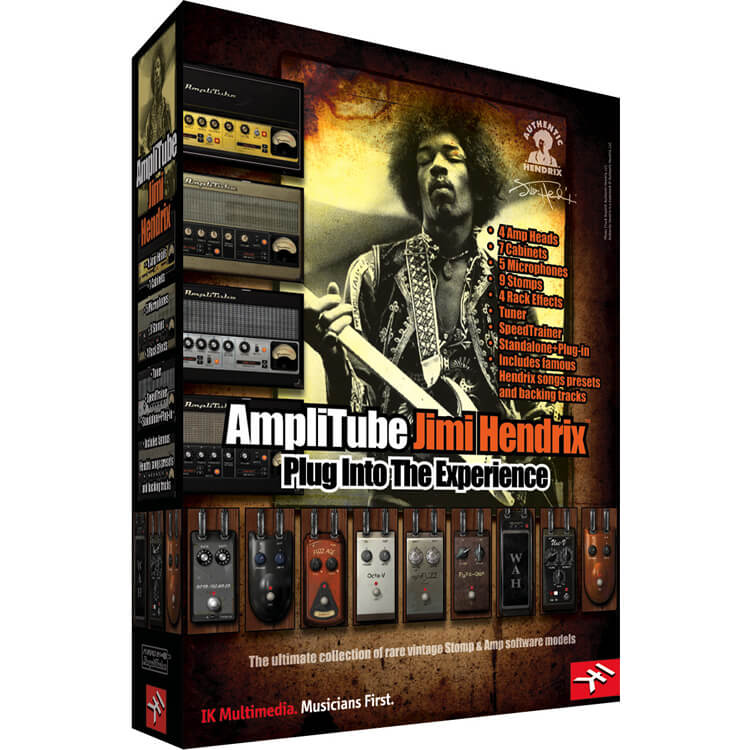 IK Multimedia AmbliTube Jimi Hendrix (Download) is an officially licensed collection of software emulations for much of the gear used by Jimi Hendrix in the studio and on tour. The collection provides emulations in five separate modules for 11 stomp effects, 7 amplifier heads, 7 cabinet models, 5 microphone models, and 4 rack effects, for a grand total of 34 pieces of vintage Hendrix gear with ample presets to choose from. These elements can be configured in up to eight serial or parallel configurations. The software uses dynamic saturation modeling and volumetric response modeling technologies to recreate a vintage sound that can be used on sources such as drums, keyboards, vocals and more on WAV, AIFF, SD2, Apple CAF, FLAC, and MP3 audio file formats.
It includes SilverTwelve, offering gritty distortion and a clean tone; JH Gold, Jimiƒ??s favorite Marshall from 1968 on; JH 1200, a high-powered tube bass head used by guitarists and bassists; and EP Tape Echo, which gives you the sound of one of the most famous echo units of all time. You can use the collection as a standalone application complete with a 4-track recorder and speed control, or as a tone powerhouse plug-in for your favorite DAW. Using the SpeedTrainer function, imported tracks can be sped up or slowed down to work within your composition.
AmpliTube Jimi Hendrix Anniversary Collection features the same controls and function as IK Multimediaƒ??s AmpliTube 3 software (sold separately). You can also add Hendrix gear through the AmpliTube Custom Shop feature thatƒ??s built into every AmpliTube product.
IK Multimedia AmbliTube Jimi Hendrix (Download) ƒ?? Features:
Discography: The Hendrix Presets. Includes tone presets from Jimi's discography, covering the sound settings for virtually every part of every song from his studio recordings
Signal Chain. Offers 8 different series / parallel routing options available that give you total signal chain control, allowing you to configure tones for every possible playing scenario. You can select different configurations on the fly as you see fit. For example, dual pedal boards running into a single amplifier head split to 2 cabs with different mic sets for each running into a single rack with a compressor and graphic equalizer
Speaker, Mic, and Room Control. features a detailed cabinet, microphone, and room module that lets you virtually recreate your favorite recording space. You can mic your cabinet with 2 mics and freely place the mics around the speaker to find the suitable spot. You can also control the mix between mic 1 and mic 2, and change the overall depth of the cabinet itself. Then, you can control the room reflection and ambience utilizing the room mic positioning tool. All of the mic placement options are freely movable (just click and drag)
Universal MIDI Control. Supports IK dedicated guitar interface and controllers such as StompIO or StealthPedal (sold separately) with direct programming of the controller using AmpliTube graphical interface, or you can quickly configure it to be used with any traditional MIDI controller by associating patches to MIDI program changes and knobs, switches, pedals to MIDI continuous controller, using the included MIDI learn function
Stand Alone or Plug-In Operation. Works as a 64-bit plug-in for the most popular DAW (such as Pro Tools, Logic, GarageBand, Cubase, Live, Reaper (all sold separately) or can be used in standalone mode in Mac OS X and Windows. The plug-in and standalone versions offer the same function and sound, but the standalone version also offers a built-in 4-track recorder with a speed control so you can learn complicated licks, or capture your ideas at the moment of inspiration
System Requirements:
Mac
1.5 GHz Intel processor
64 bit CPU, 32 or 64 bit Mac OS
1 GB of RAM
Mac OS X 10.6 or later
High Speed Internet Access
Windows
32 and 64 bit
Intel Pentium 4 2.4 GHz or Intel Core Duo or AMD Athlon 64
1 GB of RAM, Windows XP, Windows Vista, Windows 7, or Windows 8