Sale price
$149.99
Regular price
Unit price
per
Sale
Sold out
Eligible for free shipping
View full details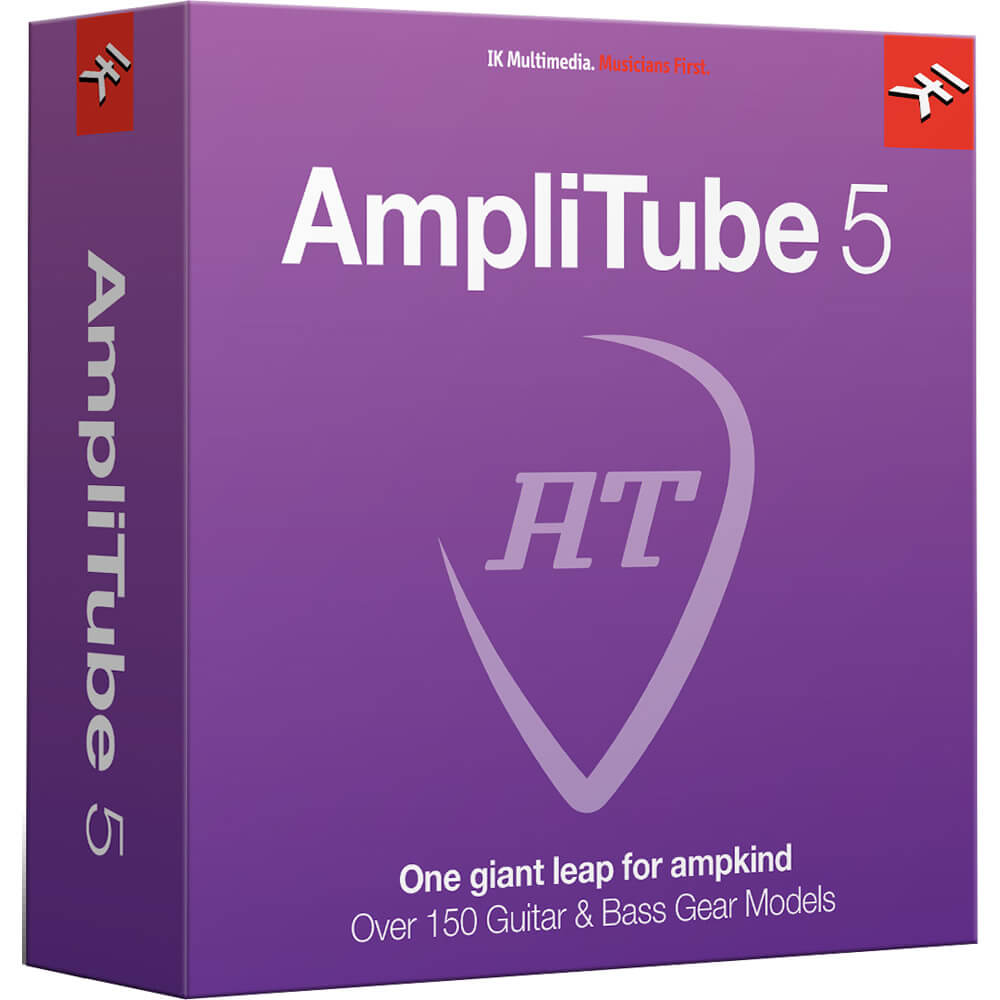 Academic Edition is for sale to students, teachers, and schools.
Electronic Software Download (ESD). This order will be delivered electronically. Customers ordering this item will receive an email message within a 24-48 hours of placement of their order with instructions on downloading the software.
IK Multimedia AmpliTube 5 Virtual Amp Studio Just Got Even Better
IK Multimedia's AmpliTube 5 has upped the ante for recording guitar and bass through a DI. This killer tone studio can function as a plug-in for your DAW or as a standalone application, thanks to it's baked-in DAW software. AmpliTube's newest version boasts a fully redesigned and scalable interface, new amps, stompboxes, a Volumetric Impulse Response (VIR) cabinet engine, and many more features that will enhance the way you record guitar and bass. You also get 29 all-new gear models, new rooms, and rack effects (some of which are reimagined T-RackS effects). IK Multimedia's groundbreaking VIR engine that uses 143,000-plus IRs to precisely shape your plugged-in tone. Packed with stellar sounds and easier-than-ever functionality, IK Multimedia's AmpliTube 5 is a must-have tool for bassists and guitarists everywhere.
What's New in IK Multimedia AmpliTube 5?
Fully redesigned user interface
5 amp models
2 stompboxes
19 rack FX
Volumetric Impulse Response (VIR) cabinet engine
Custom IR loader
Customizable signal chains
Expanded rig and FX capacity
100-plus recaptured cabinets
19 mixing effects derived from T-RackS
Mixer for combining amps, cabs, and DI signals
Route it your way
AmpliTube 5 provides users with a customizable gear chain with drag-and-drop functionality. The new signal chain can handle 57 simultaneous models (including Amps, Cabs, Racks, and Stomps), which means that any signal configuration you can dream up is now on the table. Mono to stereo; series and parallel; and even wet-dry-wet signal paths are possible. Once you get your signal set up, record straight into the newly redesigned Mixer. It makes it easy to blend the sound from the available mics, cabinets, and DI into one unified tone. Within the tool, take advantage of panning, busses, and 19 baked-in effects to shine a studio polish on your tracks.
VIR technology gives you extra sonic diversity
IK Multimedia pulled out all the stops when they created AmpliTube 5's re-engineered Cabinet section. It's outfitted with all-new Volumetric Impulse Response (VIR), which utilizes 600 IRs per speaker to give musicians a 3D arrangement of mic placement options ƒ?? all with a handy grid and snap-to function. Plus, IK Multimedia came up with a process for capturing the interaction between the speakers, cabinet, and flooring for an unbelievably lifelike feel. And if revolutionizing cab simulation wasn't enough, IK Multimedia remeasured more than 100 cabinets for AmpliTube 5. All together, AmpliTube 5 provides more than 143,000 IRs for you to choose from. With enough digging, you'll guaranteed to dial in a sound that's all your own.
Dynamic, amp-like playing experience
The most important thing to a guitar player is how an amp sounds and feels, and AmpliTube nails it. A common complaint from guitarists is that software just doesn't respond like an amp does, but AmpliTube gives you such a realistic playing experience that you won't believe you're playing through a virtual amp! Plus, you can add room ambience and adjust your virtual mics to dial in your sound just they way you want it. AmpliTube 5 is a dynamic tool that will help you achieve your perfect guitar tone.
Onboard 8-track Recorder/DAW in standalone mode
When used as a standalone application, AmpliTube 5's onboard 8-track DAW makes recording your musical ideas easy. It features robust, sequencer-like waveform editing that's ideal as a sketchpad for new ideas, or as a full-fledged recording solution. Any way you use it, you'll be productive right from the get-go. Each track features standard treble, midrange, and bass EQ; pan control, level, mute, solo, and record enable; plus an FX enable button.
IK Multimedia AmpliTube 5 ƒ?? Key Features:
Game-changing virtual amplification for guitar and bass
5 new amps
2 new stomps
19 new Rack FX units
2 new rooms
Redesigned gain structure and power amp to speaker interaction adds realism
Volumetric Impulse Response (VIR) engine offers a 3D area for mic positioning
Completely customizable signal chain (up to 57 models)
Redesigned and scalable GUI makes operation easier than ever
UltraTuner ƒ?? precise digital tuning accurate to 1/100th of a cent
Individual speaker selection
Speaker interaction modeling
Cabinet mixer for mics, room, DI, and master level
8-track DAW/recorder
Infinitely expandable via IK's Custom Shop (Note: Some presets are dependent on in-app purchases)
System Requirements
AmpliTube is a 64-bit application and requires a 64 bit CPU and Operating System.
Mac (64-bits)
Minimal: Intel Core 2 Duo, 2 GB of RAM (4 GB suggested), macOS 10.7 or later.
Supported Plug-in formats (64-bit): Audio Units, VST 2, VST 3, AAX.
Internet connection is required as all of the Custom Shop operations are web based.
Windows (64-bits)
Minimal: Intel Core 2 Duo or AMD Athlon 64 X2, 2GB of RAM (4 GB suggested), Windows 7, Windows 8 or Windows 10. Requires an ASIO compatible sound card.
Supported Plug-in formats (64-bit): VST 2, VST 3, AAX.
Internet connection is required as all of the Custom Shop operations are web based.