Sale price
$249.99
Regular price
Unit price
per
Sale
Sold out
Eligible for free shipping
View full details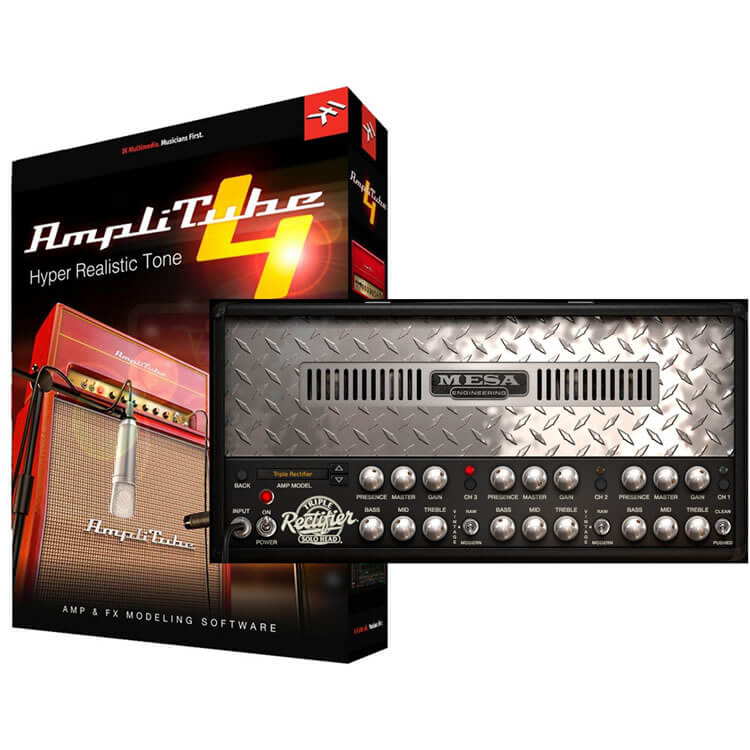 Electronic Software Download (ESD). This order will be delivered electronically. Customers ordering this item will receive an email message within a 24-48 hours of placement of their order with instructions on downloading the software.
Want the latest and greatest version of AmpliTube AND the official version of the world's most iconic high gain amplifiers? With AmpliTube Power Duo, you get just that!
IK Multimedia AmpliTube MESA Boogie Power Duo gives you the best of both worlds - the newest version of AmpliTube (AmpliTube 4), the world's most popular guitar and bass tone studio AND AmpliTube MESA/Boogie, the officially certified collection of the world's most popular and iconic high gain amps.
AmpliTube 4 is the major upgrade to AmpliTube and brings with it completely new ways to sculpt your tone. You'll be amazed at the new multi-section speaker cabinet room with individual speaker model selection, new room environments, 3D mic placement, new gear, new effects loop, standalone 8-track DAW, 4-Track Looper and more.
Plug into a MESA/Boogie amp and it will change your ideas about tone and your playing forever. Seriously, it really will. From the moment you first plug into a MESA, you'll experience new levels of responsiveness, feel, nuance, and sound and you'll quickly understand why MESA has always referred to their amplifiers as "Instruments"ƒ?? because they are!
After experiencing your guitar coupled with the effortless and empowering playability and a new freedom to express emotion through attack and sustain characteristics that seem to read your passionƒ?? for most, there is no going back to "an amp".
It's hard to put into words the feeling of reward you get when all the hours of practice are suddenly supported and embellished and your playing jumps to a whole new plateau. But it's REALLY great, and as soon as you plug in, you get it. The instant attack morphs stylistically under your command, the layers or rich harmonics create dimension and the newfound, willing sustain grant you access to the next level in your own development as a player.
The MESA experience will leave a permanent mark on the musical part of your brain and you'll find you're smilingƒ?? saying under your breath, "damn this sounds good." It's that sound you've heard in your head and searched for all your playing life and yet, never attained until now. That's a Boogie.
And now you can have the essence of Boogie on your laptop.
AmpliTube MESA/Boogie includes officially certified models of:
Amplifiers
Mark III Combo
Mark IV Combo
Dual Rectifier Head
Triple Rectifier Head
TransAtlantic TA-30 Combo
Cabinets
1x12" Mark III Combo
1x12" Mark IV Combo
2x12" Rectifier Horizontal
4x12" Recto Traditional Slant
2x12" TransAtlantic TA-30 Combo
IK Multimedia AmbliTube MESA Boogie - Features:
Standalone and plug-in software for Mac/PC
5 of the most influential guitar amps of all time
5 original matching cabinets
Incredible tonal flexibility: mix and match amps, cabinets, mics and more
Sound-certified and approved by MESA/Boogie
5 separate modules: Tuner, configurable Stomp pedal board, Amp head, Cabinet+Mic and Rack Effects
2 fully configurable rigs with up to 32 simultaneous effects
Expandable with more gear models via Custom Shop
System Requirements
AmpliTube is a 64-bit application and requires a 64 bit CPU and Operating System.
Internet connection is required as all of the Custom Shop operations are web based.
Mac (64-bits):
Minimal: Intel Core 2 Duo, 2 GB of RAM (4 GB suggested), Mac OS X 10.7 or later.
Supported Plug-in formats (64-bit): Audio Units, VST 2, VST 3, AAX.
Windows (64-bits)
Minimal: Intel Core 2 Duo or AMD Athlon 64 X2, 2GB of RAM (4 GB suggested), Windows 7, Windows 8 or Windows 10. Requires an ASIO compatible sound card.
Supported Plug-in formats (64-bit): VST 2, VST 3, AAX.