Sale price
$399.95
Regular price
Unit price
per
Sale
Sold out
Eligible for free shipping
View full details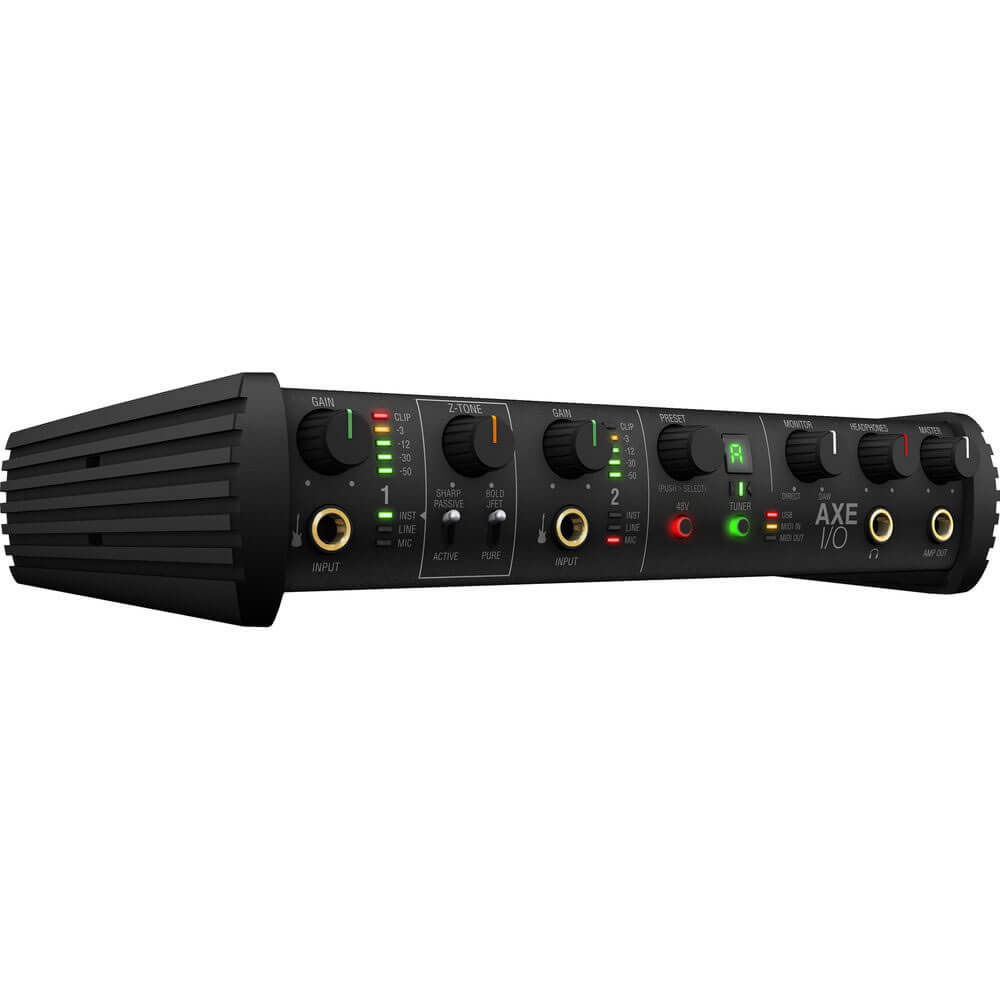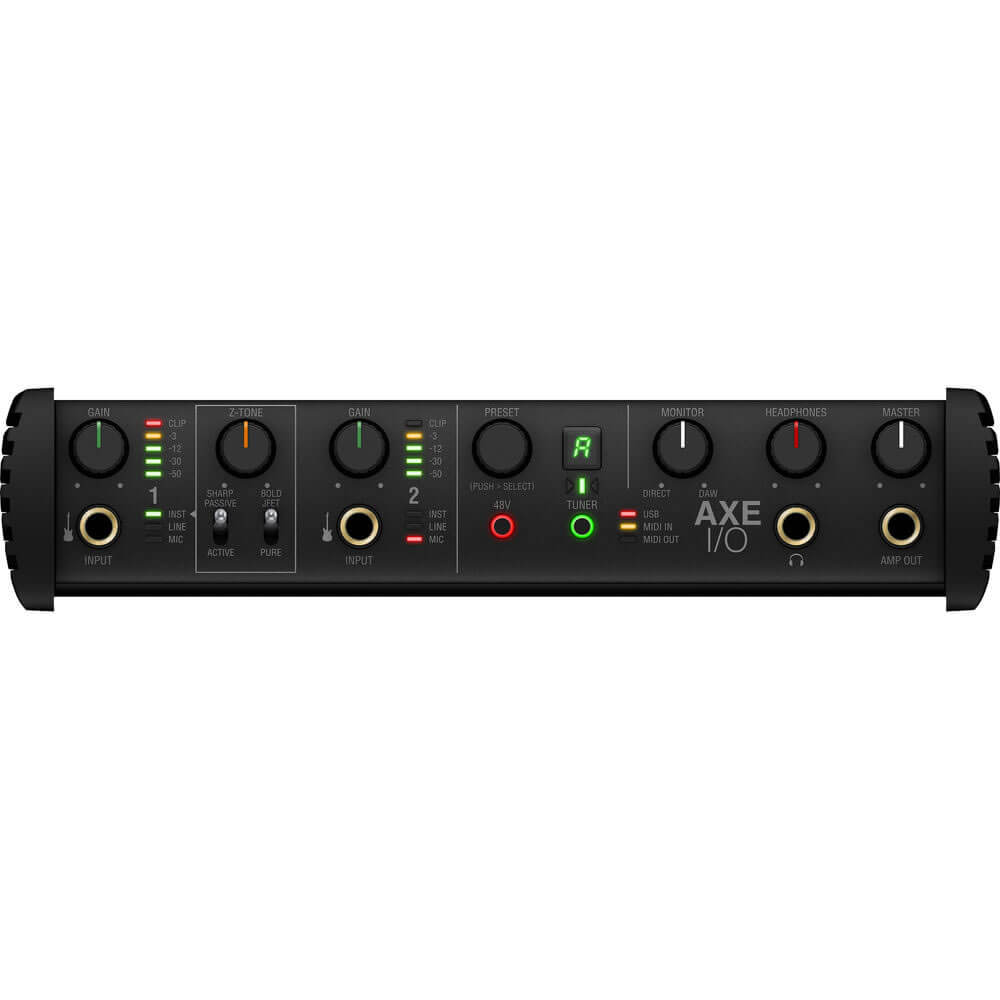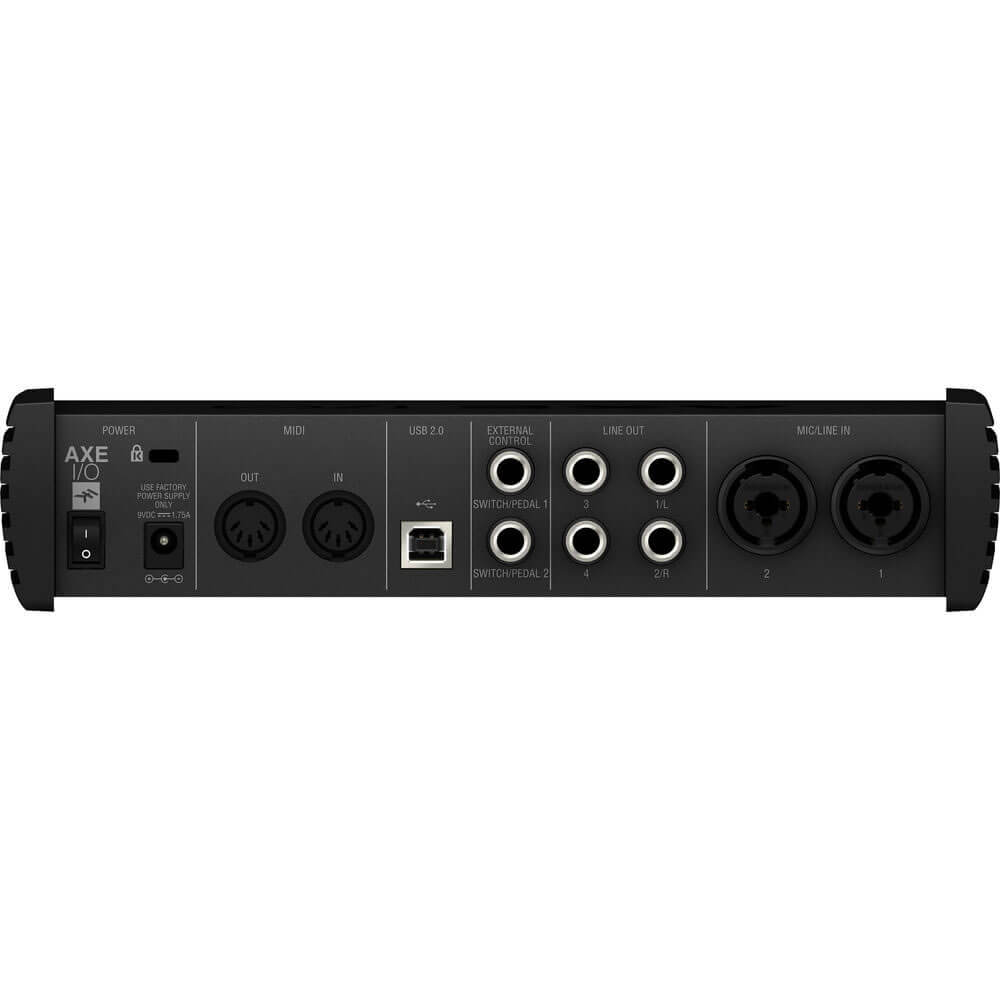 The IK Multimedia AXE I/O Premium Audio Interface (IP-INT-AXEIO-IN) is a professional 2-in/5-out audio interface and controller designed for the recording guitarist. It can be used with Mac or Windows computers and offers best-in-class sound quality, which makes your guitar recordings faster, easier, and better in DAW applications.
The AXE I/O offers triple-topology, fully discrete input circuits with both PURE and JFET input stages. This allows you to go from transparent to tubelike with just a single switch. The Z-Tone impedance-adapting circuit interacts with your guitar's pick-ups to give you a large range of tonal flexibility. When it comes to recording with microphones, AXE I/O offers two combo XLR-1/4" inputs with +48 phantom power.
Furthermore, AXE I/O features a dedicated amp output so you can process your recording with real guitar amps and stomp boxes without the need for external accessories. The low-noise 1/4" output eliminates ground loops and is built on the front panel for easy access. Just record a track with a clean copy of your guitar's signal. Now you can use the amp output to experiment with different amp, stompbox, and microphone settings, or swap out a whole new rig. It is designed to keep high-gain reamplification as quiet as possible.
The AXE I/O integrates with the included AmpliTube 4 Deluxe software to select presets and control values via the front input knob. Set behavior, MIDI channel, MIDI CC#, minimum and maximum values, and more, to dial in the best settings for whatever application you want to control. This lets you connect pedals and switches to get the most from your virtual rig without taking your hands off your guitar. The AXE I/O Audio Interface with Advanced Guitar Tone Shaping is a full-blown analog in-the-box studio, out of the box. An onboard tuner is also included.
IK Multimedia AXE I/O Premium Audio Interface (IP-INT-AXEIO-IN) ƒ?? Key Features:
2-input/5-output USB audio interface
Discrete Class-A microphone preamps
24-bit / 192 kHz maximum sample rate
3 Hz to 35 kHz frequency response
>117 dB dynamic range
Very low latency
Ultra-low jitter clock for transparent, world class sound
Top of the line converters
High-current balanced outputs
High-current professional headphone amplifier
Includes guitar & bass, mixing and mastering software
AmpliTube 4 Deluxe: Over 140 ultra-realistic models of iconic guitar amps, cabs, FX, and more
10 T-RackS Singles for mixing instruments, including EQs, compressors, reverb, delays, mic modeling, and more
Ableton Live 10 Lite recording software