Sale price
$269.95
Regular price
Unit price
per
Sale
Sold out
Eligible for free shipping
View full details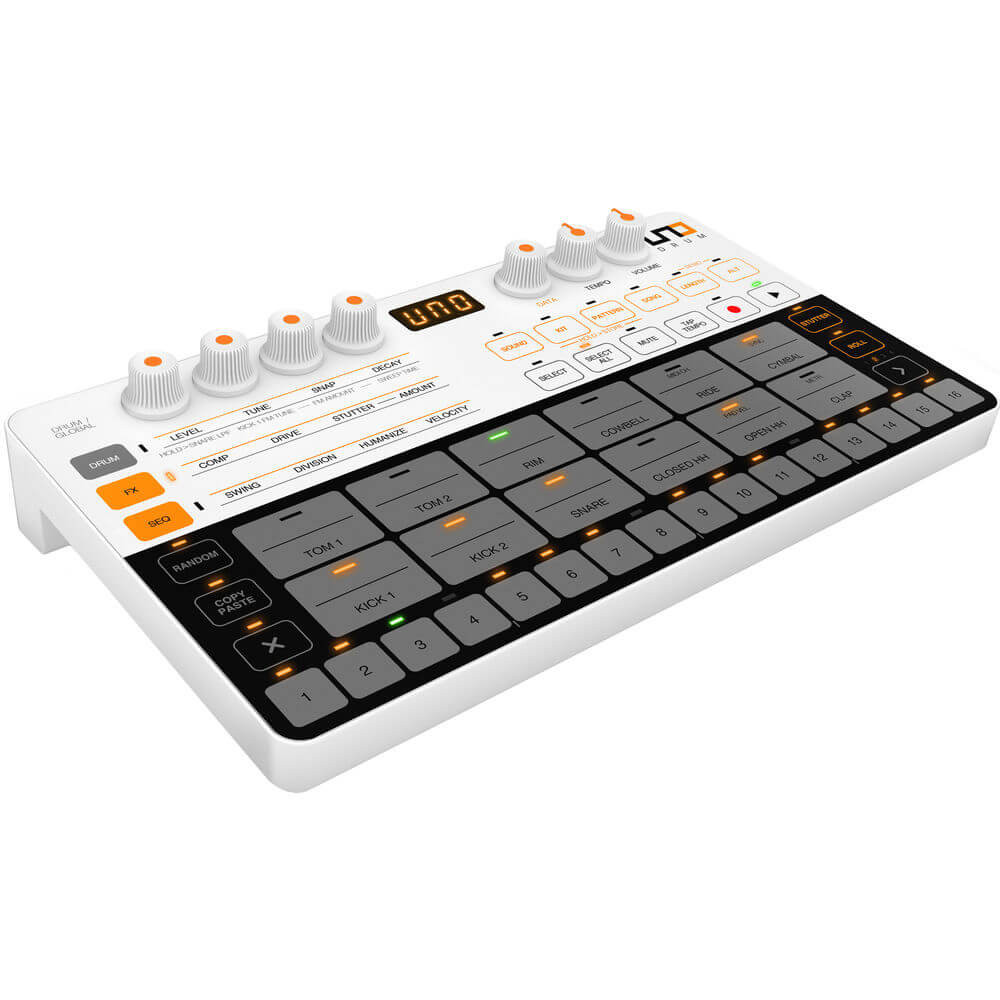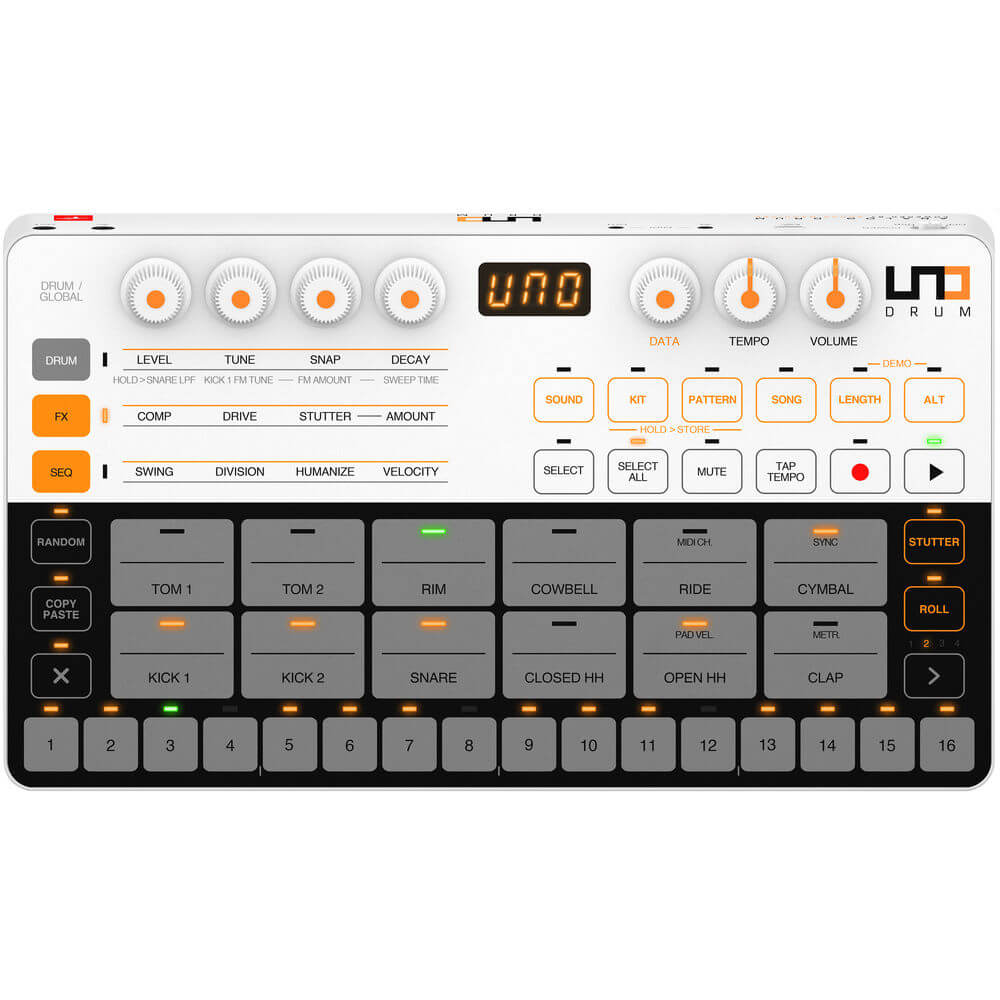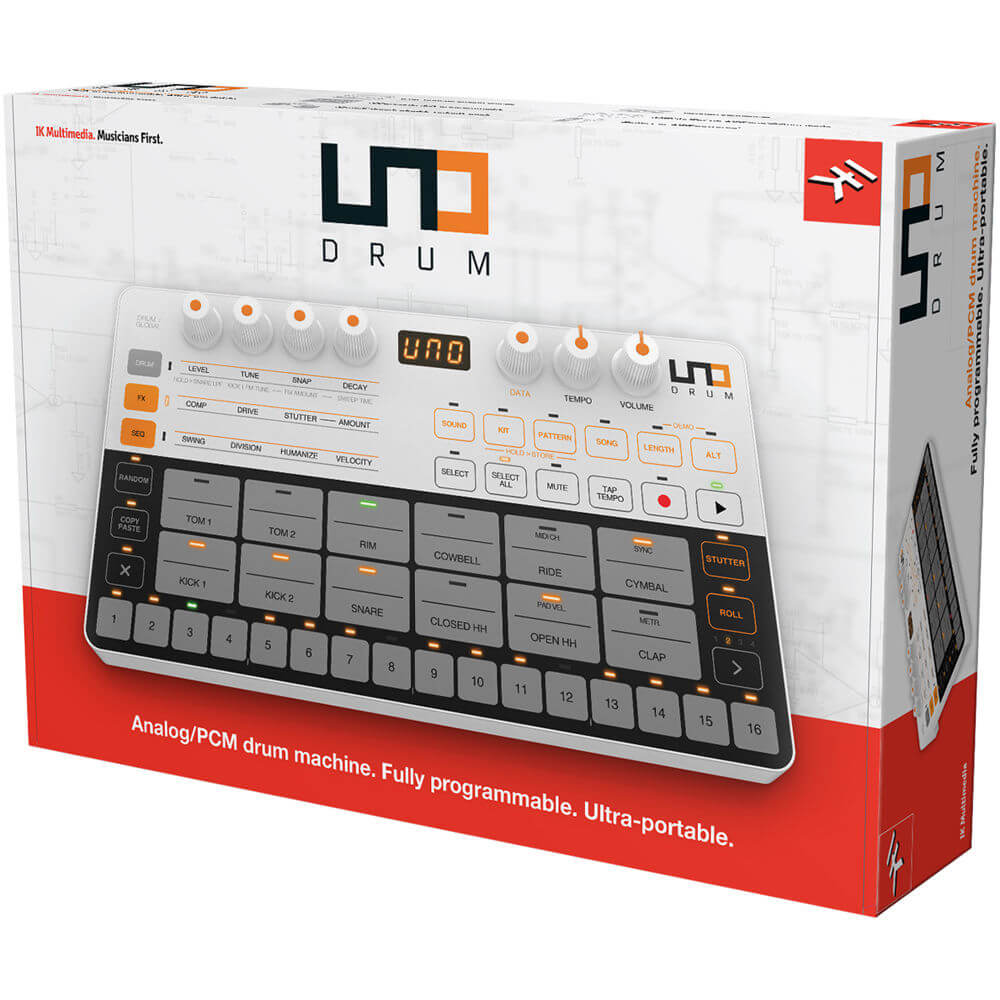 Enjoy full programmability and punchy sounds anywhere you go with the IK Multimedia UNO Drum Portable Analog PCM Drum Machine, a lightweight, ultra-portable drum machine well suited for beatmakers, producers, and electronic musicians across an array of musical genres. Utilize the 100 presets kits to get started right away, or select up to 12 drum elements from the six analog voices and 12 PCM voices to build your own custom kit. The UNO Drum offers 11-voice polyphony and 12 multi-touch, double-velocity pads to deliver easy playability of your drum elements.
An integrated sequencer provides support for up to 64 steps, real-time and step recording, 100 patterns, and comprehensive parameter recording. Performance effects such as stutter, roll, and random allow you to add excitement to your grooves at the push of a button. Plus, you can enhance the tone and sonic impact of your tracks via the analog drive and analog compressor master effects.The UNO Drum's 2.5mm MIDI I/O ports and supplied 2.5mm to 5-pin MIDI cables are ideal for integration with your favorite keyboard, synth, or music production software. 3.5mm audio I/O jacks on the rear panel accommodate daisy-chaining other gear such as the IK Multimedia UNO Synth (available separately) or simply routing to headphones or an external audio recorder. The UNO Drum can be powered via batteries or a USB source, and includes four AA batteries and a micro-USB to USB cable.
IK Multimedia UNO Drum Portable Analog PCM Drum Machine ƒ?? Key Features:
Wide Sonic Palette
The UNO Drum lets you freely swap analog and digital elements, so you never have to feel limited by predefined combinations. Between the analog engine designed by SoundMachines and samples drawn from IK's award-winning SampleTank sound & groove workstation, the diverse collection of sounds encourages fresh ideas and unique creation for beatmakers, producers, electronic musicians, and DJs.
Performance-Friendly Controls
12 touch-sensitive pads line the center of the UNO Drum, offering two velocity zones for more expressive live playing and easier programming. These can be used to play entire beats live with a pad-style feel, or to easily add your own live flare on top of pre-programmed rhythms.
With the help of UNO's sound editing controls, options are always available for the key parameters of each sound element. Tweak the Tuning of your kicks for sub-rattling hip-hop, adjust Snap for punchy EDM drums, push the Decay for thundering industrial sounds, and so much more. The UNO Drum's in-depth control encourages experimentation to take your drum tracks far beyond the usual.
Built-In Effects
Switch up your performance every time you play with five performance effects: Roll, Fill, Random, Swing and Humanize, and Stutter. Tone-enhancing analog drive and compression are also on hand; turn up the drive to make your grooves hit harder with an aggressive edge, and add compression to glue your rhythm together with increased punch.
Fully Programmable
Whether you prefer 808s or MPCs, the UNO Drum makes it easy to program the way you want. The step sequencer lines the bottom of the UNO Drum, showing 16 steps and four pages. Tap a step and hit a pad to add a hit to that selected step, or use the record button play within a pattern. The sequencer also allows you to automate up to eight parameters per step for radically different sounds on each beat.
Song mode allows you to chain up to 64 patterns together to create extended grooves. In this mode, each step is its own pattern, so you can trigger any of the stored sequences live, on the fly in any order you want.
Easy Integration
Use the UNO Drum at home, in the lab, in the DJ booth, and beyond. UNO offers USB and traditional MIDI via 2.5mm jacks (cables included) to integrate with both your Mac/Windows computer, iOS device, or traditional outboard MIDI gear.
The UNO Drum also offers 3.5mm audio in to daisy-chain with other gear such as the UNO Synth. It even allows you to apply compression to the audio input to help glue your mix of instruments together.