Sale price
$229.95
Regular price
Unit price
per
Sale
Sold out
Eligible for free shipping
View full details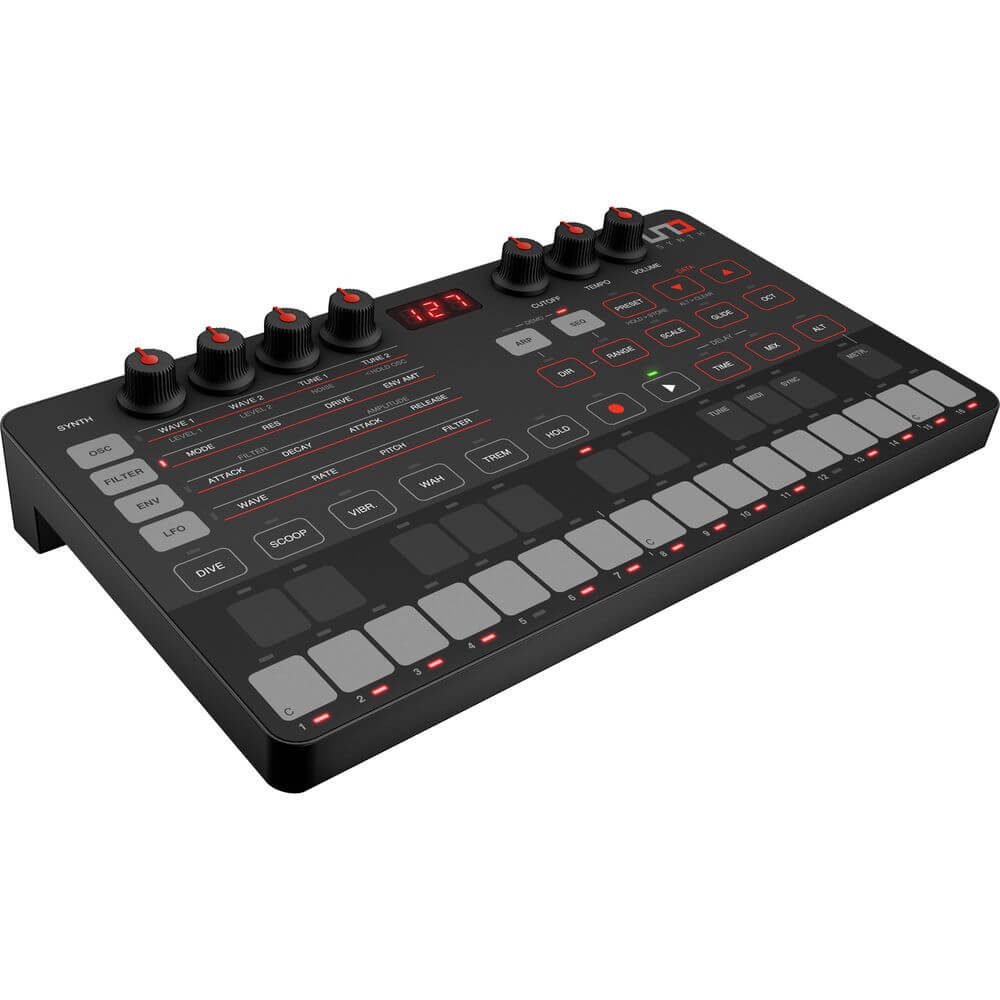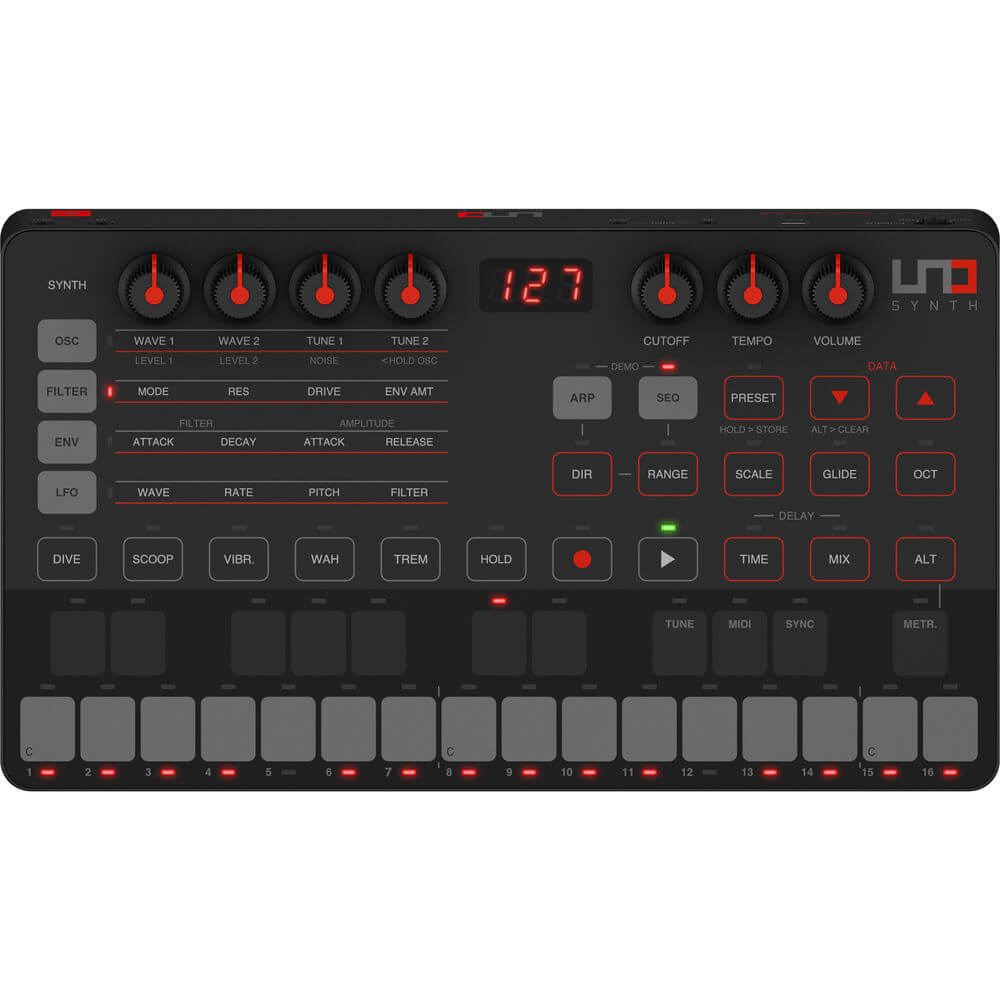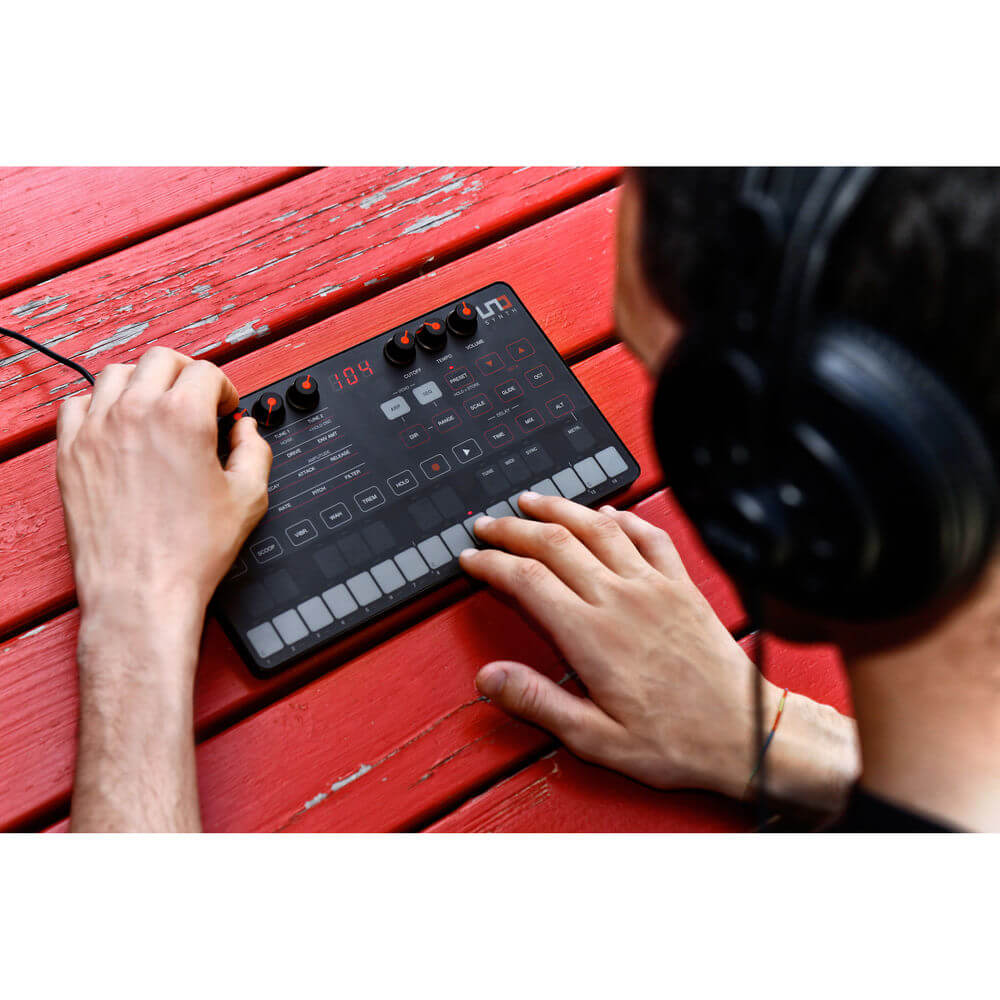 Musicians, DJs, and synthesizer aficionados will rejoice over the IK Multimedia UNO Synth Portable Monophonic Analog Synthesizer, an ultra-portable, true-analog synthesizer made to deliver a massive analog sound but with a simple programming interface at a remarkably affordable price. Designed in conjunction with Italian boutique synth maker, Soundmachines and IK's synth guru, Erik Norlander, the UNO provides instant satisfaction for anyone who is new to synthesis, while seasoned professionals will appreciate the advanced features with both classic and modern sound capabilities.
The UNO is a single voice, dual-oscillator synthesizer with a multimode filter, two envelopes for the VCA and VCF, and a multi-waveform LFO. Each independent VCO offers saw, triangle, and pulse waveforms with variable shape, including pulse-width modulation (PWM). Additionally, a white noise generator can be added for noises sweeps, percussive sounds, and sound FX. The 2-pole OTA-based filter offers analog resonant modes with LP, BP, and HP selections. Other advanced features included a real-time and step-edit sequencer with 20 automatable parameters, as well as a 10-mode, 4-octave arpeggiator.
The onboard multitouch 27-note keyboard offers 14 scales plus a chromatic mode. To round out the instrument, a synchronized delay and 5 performance effects offer simple, yet effective, results. The UNO is self-tuning with auto-tune calibration. The rear panel offers USB MIDI via micro-USB and standard MIDI connectors via two (in/out) 5-pin DIN adapters. For audio connections, the UNO provides two 1/8" (3.5mm) connectors for input and output, allowing the unit to work with external gear, while connecting to headphones or a PA.
Complete MIDI implementation with all parameters and clock can be controlled via MIDI CC, while the Mac/Windows software editor/librarian allows you to create, store, and recall your own custom patches to any of the 80 onboard user preset slots. The IK Multimedia UNO can be powered by battery or via USB and includes four AA batteries, a micro-USB to USB cable, and two MIDI adapters.
IK Multimedia UNO Synth Portable Monophonic Analog Synthesizer ƒ?? Key Features:
All-analog audio path with 2 VCOs with continuously variable waveshape, noise generator, resonant multimode VCF, and VCA
2 independent analog VCOs with Saw, Triangle, and Pulse waveforms with continuously variable shape including PWM of the square wave and a separate white noise generator
A 2-pole multimode OTA-based sweepable analog resonant multimode filter with LPF, HPF, and BPF
LFO with Sine, Triangle, Square, Up Saw, Down Saw, Random, and Sample-and-Hold to modulate Pitch, Filter, and Amp
AD (Filter) + AR (Amp) envelopes (full ADSR control available via MIDI CC or software editor)
40 onboard controls and LED display
10 mode, 4-octave arpeggiator
Real-time and step edit 16-step sequencer with 20 automatable parameters
Onboard multi-touch 27-note chromatic and scale keyboard with 15 scales
Sync Delay audio effect and 5 performance effects
Self-tuning with auto-tune calibration
USB MIDI and 2.5mm jack MIDI IN/OUT (cables included)
Audio In to daisy chain other audio devices with no need for a mixer
Mac/PC software editor/librarian
Complete MIDI implementation with all parameters and clock can be controlled via MIDI CC
Battery (4 x AA) or USB powered
Ultra-portable and lightweight
Designed and made in Italy