Sale price
$79.00
Regular price
Unit price
per
Sale
Sold out
Eligible for free shipping
View full details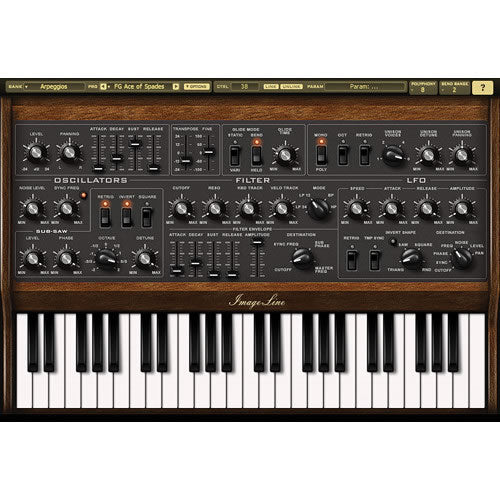 Image Line Sawer
Electronic Software Download (ESD). This order will be delivered electronically. Customers ordering this item will receive an email message within a 24-48 hours of placement of their order with instructions on downloading the software.
To expand your sound palette we offer a complete range of extra plugins, synths and effects. These plugins are highly respected instruments, using state of the art technology that can be ordered separately.
Meticulous designed filters and envelopes
Sawer pays homage to the envelopes and filters of a rare 1980's Soviet analog synthesizer, Polivoks.
Maxx has devoted meticulous attention to the detail of Sawer's filter and envelope designs, ensuring Sawer delivers a unique sonic character reminiscent of the Polivoks hardware.
But Polivoks, like all analog synthesizers, wasn't without its problems. Keeping the oscillators stable and in tune has been likened to 'moving a pile of live frogs, by wheelbarrow', impossible!
As Sawer is algorithmic, this solves the problems of tuning and stability, however, in the same way electrical component instability makes analog gear unique (if not cranky), Sawer benefits from the 21st century equivalent, a coding error.
While programming the SAW oscillator, Maxx accidentally set some incorrect variables and immediately the sound gained bass, acquired some light but pleasing noise on the attack and an overall richer sonic spectra. Maxx realized this was no mistake but a discovery and built on this, adding some frequency modulation to give it a touch of analog authenticity and so 'Sawer' was born.
Sawer Key Features:
Main oscillator for subtractive synthesis: SAW shape with Sync frequency.
Sub oscillator (-2 to +2 octaves) with level, phase & detune controls.
1 NOISE Oscillator.
Variable polyphony (1 to 24 voices).
8 voice UNISON with user-adjustable stereo panning, detune and 'Octaver'.
SYNC & RING frequency modulation.
2 ADSR envelope generators (one user-assignable to modulation parameters).
4 FILTER modes - low pass (24 & 12 dB/Oct), band pass and high pass.
Chorus, Phaser, Delay & Reverb effects
Muti-mode Arpeggiator.
250+ high quality factory sounds.
Sawer System requirements:
PC:
Windows 7, Vista, XP (SP2) - (32 & 64 Bit OS)
2Ghz AMD or Intel Pentium 3 compatible CPU with full SSE1 support
512Mb RAM.
20Mb free disc space.
DirectSound or ASIO compatible soundcard.
Mac:
OSX v10.4 (Universal Binary)
G4 1.5 GHz or Intel Core Duo family.
512Mb RAM.
20Mb free disc space.
CoreAudio drivers.