Sale price
$99.95
Regular price
Unit price
per
Sale
Sold out
Eligible for free shipping
View full details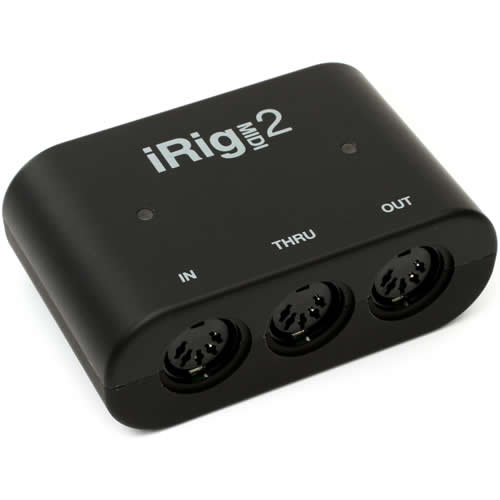 iRig MIDI 2 Core (IP IRIGMIDI2-IN)
The ultra-compact IK Multimedia iRig MIDI is a standard core MIDI interface that connects any MIDI compatible device to the iPhone, iPad or iPod touch. Musicians, sound techs, producers, lighting technicians, audio engineers and music enthusiasts can use the iRig MIDI to hook-up MIDI keyboards, drum machines, drum pads, synthesizers, pedal boards and many other MIDI instruments and devices. The iRig MIDI comes with the free SampleTank app, but you can use your iPhone, iPad or iPod touch to get hundreds of other apps including GarageBand. Once you've got the app you want, the iRig MIDI lets you use that app with the MIDI device you've connected via the iRig MIDI. The connected MIDI device can control whichever MIDI-compatible app you choose. Plus, you can also use iOS apps to control external MIDI equipment such as sound modules, digital audio workstations (DAWs), and even lighting systems. The iRig MIDI makes all of this possible with your iPhone, iPad or iPod touch!
The iRig MIDI features three MIDI ports: one input, one output and one thru jack. The other side of the iRig is equipped with a male Apple 30-pin dock connector, which plugs right into your Apple mobile device's docking interface. The iRig's three ports can be connected to your MIDI devices using the two included 5.2' (1.6 m) cables. One end plugs into the iRig port and the other end plugs into your MIDI device with a 5-pin DIN MIDI interface. The iRig even features dual LED lights that indicate MIDI activity on the IN and OUT ports. There's also a micro USB port on the iRig MIDI, which connects to any standard USB power supply (USB cable included). This means that the iRig can stay fully powered no matter how long your sessions last.
iRig MIDI Key Features
Unique Core MIDI Interface for iPhone / iPad / iPod touch. The iRig MIDI is an ultra-compact, standard Core MIDI interface that can connect any MIDI hardware device to Core MIDI-compatible apps like SampleTank, GarageBand and the iRig MIDI Recorder App
Direct Connect MIDI Instruments. Using Included Cables Directly connect MIDI keyboards, synthesizers, drum machines, drum pads, pedal boards and so much more using the two included 5.2' (1.6 m) line to MIDI 5-pin DIN cables
Three MIDI Ports & Two LED Indicators. The iRig MIDI features three MIDI ports. There's one input, one output and one thru port. Plus, the device is equipped with dual LEDs that indicate MIDI IN and MIDI OUT activity
USB Charging Port with Included USB Cable. An integrated micro USB port can charge the iOS device while in use. Plus, the iRig MIDI comes with a USB cable, so you're ready to go right-out-of-the-box
iRig MIDI Includes Two Free Apps Available from the App Store
iRig MIDI Recorder App (Free)
iRig MIDI Recorder is a simple app that can be used to record and playback any MIDI sequence from and to any kind of MIDI-equipped musical instrument. It's the perfect companion to the iRig MIDI Core MIDI interface. The iRig MIDI Recorder App allows you to: record realtime MIDI performances from keyboards, pedal-boards, drum machines, drum pads or any other type of MIDI controller; record data dumps from your MIDI devices in order to backup and restore their contents and settings on your mobile device or to another unit; monitor the incoming MIDI signal to troubleshoot a MIDI setup or check what is being transmitted by MIDI devices
SampleTank Pro-Quality Sound & Groove Module App (Free)
The SampleTank App for iPhone, iPad and iPod touch is the mobile version of IK's SampleTank for Mac and PC. Finally, the leading virtual sound workstation for the studio is available for your iOS mobile device. It's designed for live performance as well. The SampleTank App is a four-part multi-timbral instrument with a sound set of over 750MB of samples for over 400 acoustic, electric and electronic instruments (including a selection of the best workstation sounds from SampleTank, orchestral sounds from Miroslav Philharmonik and synths sounds from SampleMoog) plus a selection of over 900 melodic and rhythmic patterns that span every musical genre. SampleTank for iOS brings the power of the most popular computer sound module to your iOS device. It even includes 20 studio quality insert effects that are applied to each individual instrument (up to four insert effects per part). These effects provide the best models of both classic and modern analog or digital outboard gear.