Sale price
$59.95
Regular price
Unit price
per
Sale
Sold out
Eligible for free shipping
View full details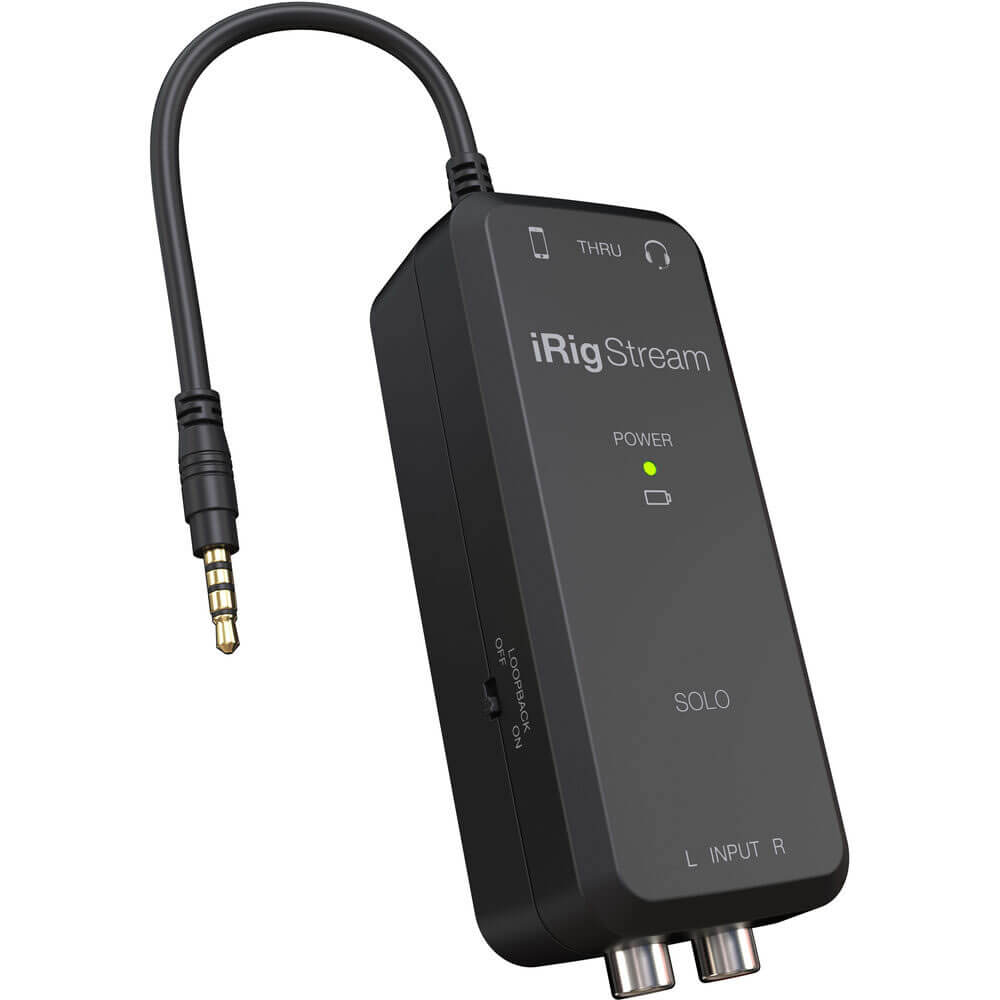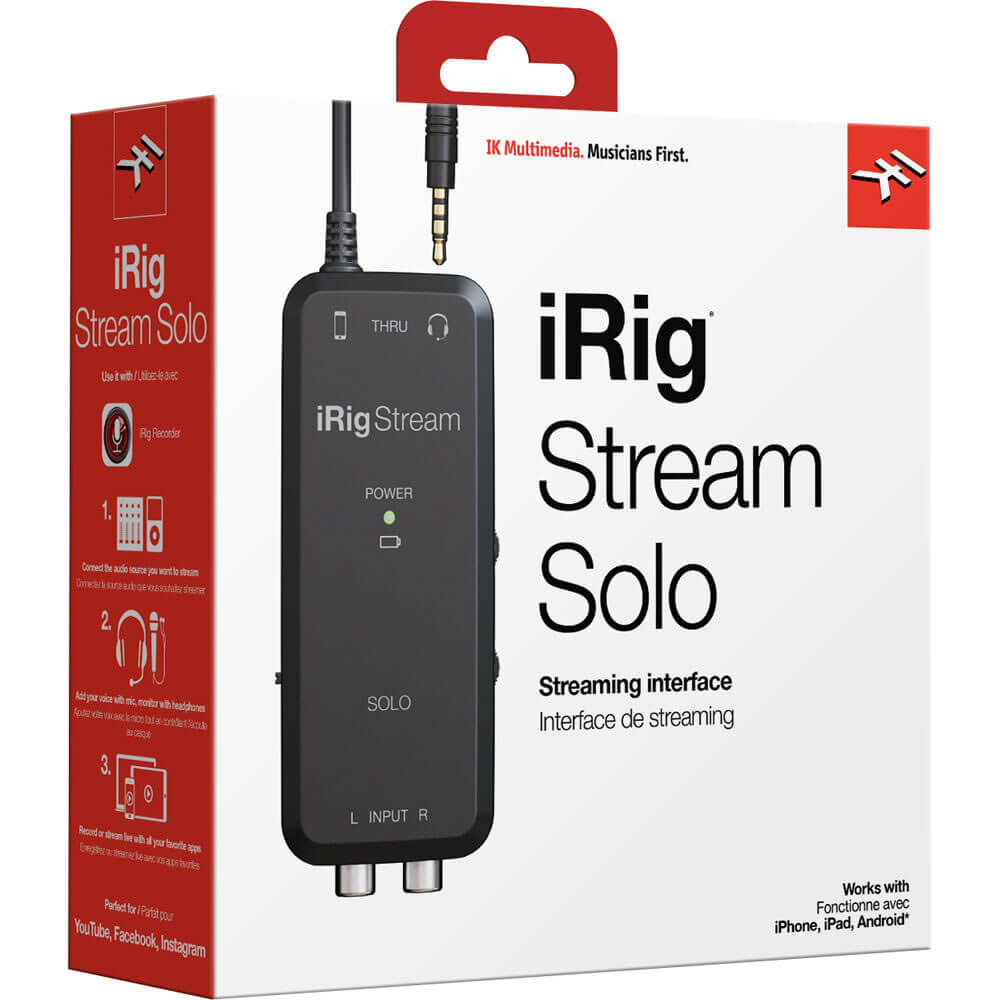 Effortlessly stream up to three sources simultaneously to your online audience with the IK Multimedia iRig Stream Solo Streaming Interface for iPhone/iPad and Android (IP-IRIG-STREAMSL-IN), an ultracompact, battery-powered, 3x1 audio interface designed for plug-and-play compatibility with smartphones and tablets equipped with headphone jacks. Equally useful for DJs, podcasters, and social media video creators, the iRig Stream Solo features straightforward connections and simple controls for refreshing ease of use.
The interface's stereo RCA input lets you hook up a feed from a DJ mixer, mixing console, keyboard, or drum machine, and its 3.5mm TRRS port lets you talk over the stereo input when you connect a headset, headphones with a built-in mic, or other IK Multimedia devices such as the iRig Mic Lav, iRig Mic, or iRig Pre 2 (all available separately). There's also a loopback function that merges your device's output with the iRig Stream's input and routes it back to your deviceƒ??perfect for singing/jamming along to a backing track or narrating a video.
Mix and Stream up to 3 Audio Sources
iRig Stream Solo makes it easy to connect all your audio sources and route them to a streaming or recording app. Send the audio output of your smartphone or tablet into iRig Stream Solo, mix it with external audio sources like mixers, DJ decks, keyboards, and more. Add your voice from earbuds (or an iRig Mic), and send all three signals back to your device to popular apps like Instagramƒ??or just use your built-in camera app.
Connect All Your Gear
Two line-level RCA inputs are perfect to connect DJ or multichannel mixers, but are also great for keyboards, synth and drum machine setups, and more. Whether you're looking to stream your DJ set, record band practice, jam along with your favorite song, or even host a podcast, iRig Stream Solo lets you connect an array of gear.
Use a Headset or Mic
The 3.5mm TRRS headphone/microphone jack is wired just like your smartphone, so you can listen and talk over the other audio inputs simultaneously. It works with most headphones with a built-in mic and also with separately available IK products like iRig Mic Lav, iRig Mic, and iRig Pre 2, giving you a wide range of options for any situation.
The overall input signal level (line plus mic) is controlled with a single thumbwheel and optimized for streaming before being sent to your device and favorite apps.
Mix Audio from Your Device
A special Loopback switch lets you route the audio output of your digital device (iPhone, iPad, or Android) back into iRig Stream Solo to be mixed in with the other audio signals. This is perfect to jam or sing along with backing tracks and stream to another app, all on a single device.
Designed for Apps
If you've ever tried streaming or sharing audio on social media, you know many apps only support mono signals. So iRig Stream Solo sums everything together to a single channel, ensuring you won't lose anything panned to one side.
Get Connected, Stay Connected
iRig Stream Solo is easy to use with a captive 3.5mm TRRS cable to connect to the headphone port on your smartphone or tablet; iPhone, iPad, and Android devices without headphone ports require separately available adapters Lightning or USB Type-C to headphone jack adapters.
The iRig Stream Solo's 3.5mm mono thru line output lets you send your audio to additional devices such as cameras, mixers, and more. With two included AA batteries, you can enjoy up to 50 hours of reliable performance anywhere.
Comprehensive Compatibility
iRig Stream Solo works with any app that records or streams audio or video, so you'll never stop finding new ways to use it. To get you started, it includes iRig Recorder 3 LE (iPhone/iPad/Android), an easy-to-use, high-quality audio and video recording app. Record, trim, edit, and share, right from your device.