Sale price
$199.00
Regular price
Unit price
per
Sale
Sold out
Eligible for free shipping
View full details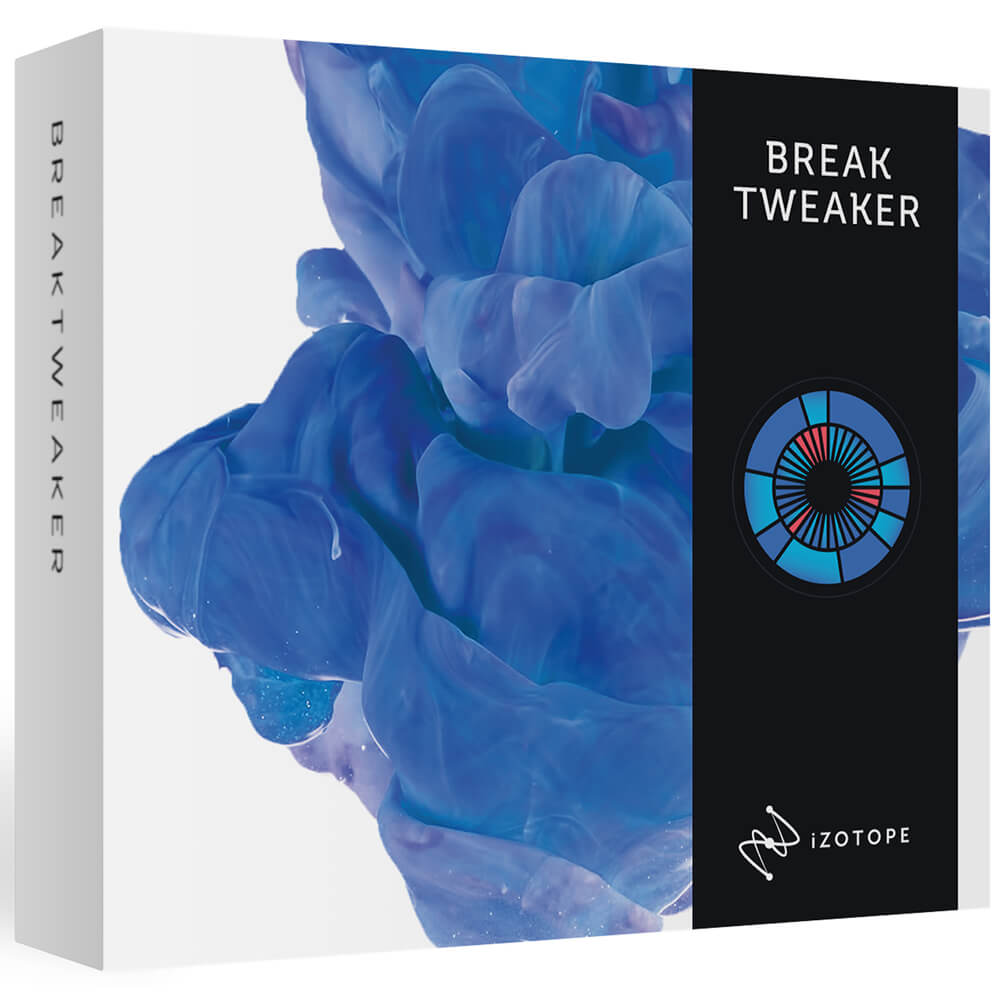 Electronic Software Download (ESD). This order will be delivered electronically. Customers ordering this item will receive an email message within a 24-48 hours of placement of their order with instructions on downloading the software.
If you've ever devoted hours upon hours trying to re-create the sonic alchemy your favorite electronic musicians use to create wild and organic rhythmical effects, then iZotope BreakTweaker is going to blow your mind. Designed by BT, this unique plug-in instrument combines three powerful modules (the Sequencer, the Generator, and the MicroEdit Engine) to make creating wild and compelling grooves in your DAW freakishly easy. Whether you're tapping into the goldmine of presets that come with the BreakTweaker's Factory Library or coming up with entirely new creations of your own, you're going to love this crazy virtual instrument.
Make beats you've never heard before. Built on a futuristic MicroEdit Engine, BreakTweaker turns everything you know about rhythm on its head. Explore a new era of rhythmic possibilities with this forward-thinking and forward-sounding instrument!
Reinvent any beat by controlling pitch, rhythm, and textureƒ??BreakTweaker allows you to shred, splice, and alter each individual note you place in the drum grid. You can blend drum samples with robust synthesis features to generate compelling hybrid sounds, and even melodic ideas!
iZotope BreakTweaker ƒ?? Key Features:
MicroEdit
Traditional sequencing is so 1984. With BreakTweaker, you can slice and manipulate audio at a resolution that would blow MIDIƒ??s mind (and your DAWƒ??s). Thanks to the MicroEdit Engine within BreakTweaker, each step can be repeated or chopped at an infinitesimally small rate, allowing you to create buzzing musical harmony, texturize a step with extra rhythms, or even use rhythm as a synthesis tool, locking drum hits to individual pitches. Even the most ordinary of drum hits can be transformed into a thing of the future.
Glitch and revolutionize any drum sample or rhythm with hi-res pitch, arp, and texture controlƒ??all the way down to a micro-slice level.
Take a wild ride through the audio space/time continuum by dividing a single sequenced event into up to thousands of unique slices that pulse with sonic movement, as defined by Division, Pitch, Time or Speed.
Create the most unique drum sound youƒ??ve ever heard: add tension, slopes and curves to shape the contour and rotation of the slices, then apply additional FX.
Quickly change the entire sound of a beat with the Randomize feature, which automatically MicroEdits the selected step in your Sequencer pattern.
Sequencer
Whether youƒ??re working with drums, bass, or abstract noises, BreakTweaker is driven by the patterns you define in the Sequencer. Freed from the constraints of a pre-defined time signature, BreakTweakerƒ??s Sequencer can program anything from basic patterns to unique tracks of patterns with individual lengths and speeds.
Build exciting beats with the 32-step Sequencer, with up to 24 patterns synced to your DAW. Launch, trigger, latch, and switch your way to full-fledged drum sample and synth productions.
Evolve and transform your patterns by giving each Sequencer track a unique tempo and step length, allowing the entire beat pattern to develop into new musical ideas over time.
Create entire productions, then route the individual Sequencer tracks to separate outputs for optimum mixing with BreakTweakerƒ??s Multi-Out mode.
Generator
The Generator is a powerful tool for drum synthesis. At its core are two Morphing Wavetable Oscillatorsƒ??capable of reproducing anything from the simplest to the most complex sounds a synth can pump out. An entire library of custom waveforms by BT and other top producers gives you the building blocks you need to make compelling synthesized timbres.
Sculpt the next generation of drum sounds with unique-sounding wavetables, including BT's prized wavetables (never before available!).
Go far beyond traditional synth texturesƒ??choose from five wavetable synthesis modes: Single, Additive, Ring Modulation, Amplitude Modulation (AM), or Frequency Modulation (FM).
Morph and modulate away with quadruple LFO and Envelope modulation routing, perfect for adjusting pitch, wavetables, amplitude and more.
Get a start on advanced drum design with inbuilt Generator presets that you can tweak and adjust to taste.
Effects and Modulators
BreakTweakerƒ??s custom-designed LFO and Envelope provide some of the most creative modulation youƒ??ll find anywhere. Each modulation source can manipulate the settings of any Generator parameter, moving the parameter between a modulation range of two values. BreakTweaker's Generators also come fortified with an array of distortion effects, as well as vintage-modeled New York and Tokyo filters for shaping your sound.
Modulate anything in the Generator window with one of four LFOs or Envelopes. Assign up to two Modulators per parameter to create new movement, add harmonics, and enhance your productions.
Create previously unheard textures with innovative wavetable LFO control, featuring LFO shapes that have never before been available for synthesis.
Smooth samples and meld layers together with the custom-modeled, analog-style New York and Tokyo High Pass, Band Pass, and Low Pass filters.
Distort, mangle, and transform with dual-stage distortions inspired by the iZotopeƒ??s cult classic Trash 2, featuring algorithms such as Warm, Transistor, Hard, Digital, Raw, and Aliasing.
Enhance width, add stereo space and create lush drum hits with individual Chorus effects for every sequenced step via the MicroEdit Engine.
Library
BreakTweaker comes with an extensive Factory Library of samples to choose from for building your next custom kit.
BreakTweaker System Requirements
Operating Systems:

Mac ƒ?? OS X 10.6.8 Snow Leopard - macOS 10.13 High Sierra
PC ƒ?? Win XP (32-bit Service Pack 3) - Win 10

Plug-in Formats:

AAX (64-bit), AU, RTAS (32-bit), VST, VST3

Supported Hosts:

Ableton Live 9 - 10, Cubase 9.5, Digital Performer 9, FL Studio 12, Logic Pro X, Nuendo 8, Pro Tools 10 - 12, Reaper 5, Reason 10, Studio One 3 - 4