Sale price
$99.50
Regular price
Unit price
per
Sale
Sold out
Eligible for free shipping
View full details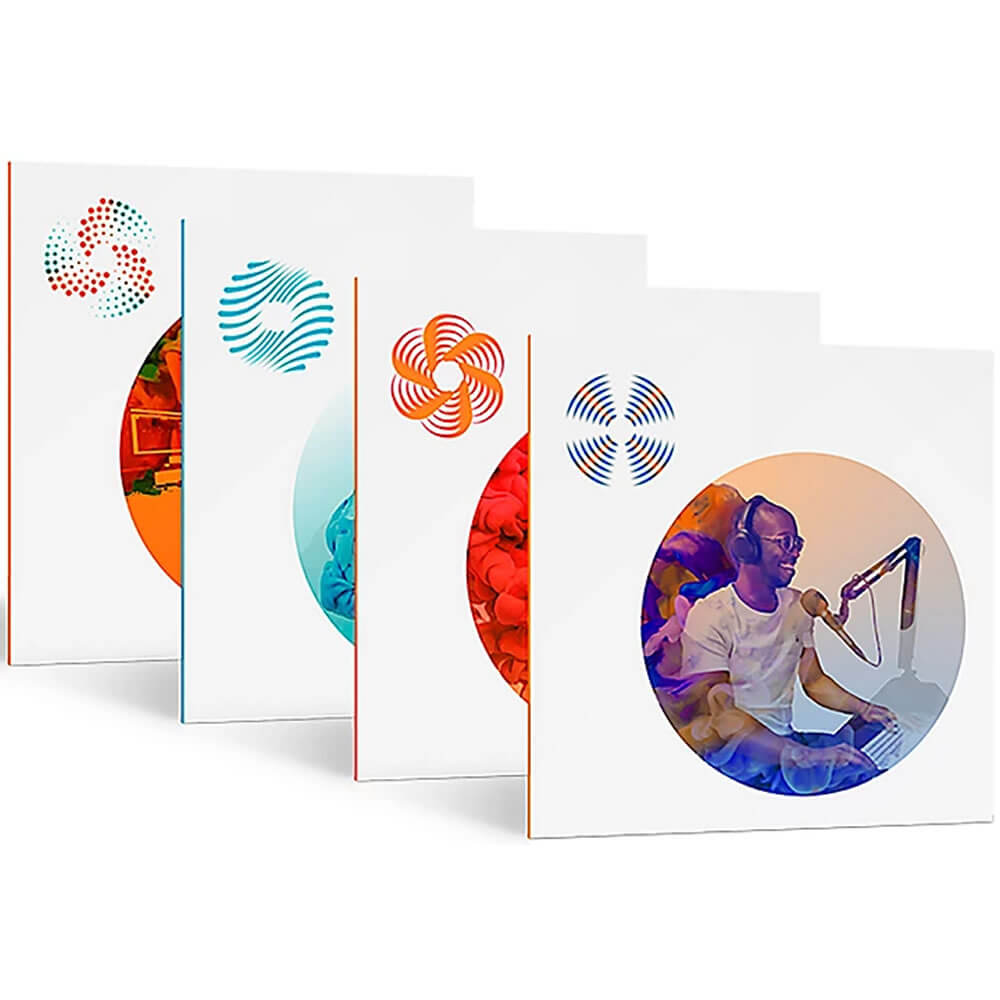 Electronic Software Download (ESD). This order will be delivered electronically. Customers ordering this item will receive an email message within a 24-48 hours of placement of their order with instructions on downloading the software.
Academic Discounted license for sale to students, teachers, schools, non-profit organizations and churches. Proof of academic or non-profit status required.
iZotope Elements Suite v6 - everything you need to repair, mix, and master.
The iZotope Elements Suite is a carefully selected collection of products designed to give you everything you need to mix, master, and repair in the most affordable package possible. For hobbyists and home studios, the Elements Suite is the fastest way to elevate your audio production to inspire you to develop your own creative style.
We're repairing, mixing and mastering a track using
iZotope RX Elements
iZotope Neutron Elements
iZotope Nectar Elements
iZotope Ozone Elements
iZotope RX Elements
Recording in your home studio is convenient. But unfortunately, you don't always get the luxury of recording in perfect conditions. Various background noises may get caught in your recordings: neighbors, cars driving by, the hum of the fridge, or other unwanted sounds.
RX Elements is your best friend for repairing audio recordings. The built-in Repair Assistant can analyze your takes and automatically repair any of your recordings, removing noise, clipping issues, clicks, and hum. Additionally, you have access to each of those individual plug-ins, meaning you can get more in-depth with each of their controls to achieve the desired results.
iZotope Neutron Elements
Mixing can be frustrating. Where one track may sound exceptional on its own, in context it may create a lot of mud and masking issues in your mix as a whole. This is where Neutron Elements can come to save your day. Neutron Elements includes four mixing processors: an EQ, Compressor, Transient Shaper, and Exciter, giving you all the control at your fingertips. It also comes with Track Assistant, which automatically detects the instrument content of your track and set up all the necessary components and settings to make it sound great. And if that wasn't enough, it comes packed with hundreds of professionally designed presets to let you achieve just the sound you're looking for.
iZotope Nectar Elements
Getting pro sounding vocals can take a lot of time spent on adjusting various plug-ins. Nectar Elements can quickly impart professional clarity and polish. The Vocal Assistant analyzes and adapts to your vocal sound, giving you a choice of three vibe modes: Vintage, Modern, or Dialogue, along with three intensity levels. Once you select your desired sound, Nectar will analyze your vocal content and do its magic behind the scenes. What you're presented with are only six super easy to use faders for controlling dynamics (compression), de-essing, clarity through EQ, pitch correction, tone, and reverb. All of that wrapped in one easy-to-understand interface.
iZotope Ozone Elements
Finally, what many of us consider to be a dark art: mastering. Getting your master channel output to sound exceptional, full but also clear, exciting yet balanced, and loud without being dynamically squashed is a difficult task, to say the least. Particularly when you're working on a deadline and on a budget. Ozone Elements has become my best friend in delivering excellent-sounding songs without having shed a single drop of sweat. Just like every one of the other Elements plug-ins, Ozone Elements features a brilliant assistant which will do a lot of the heavy lifting for you.
System Requirements
Operating Systems:
Mac: macOS Mojave (10.14.6) - macOS Big Sur (11.6) [Supported on Intel-based Macs or Apple Silicon ARM-based Macs in Rosetta only]
Windows: Windows 10
Plugin Formats:
AU, AAX, AAX Audiosuite, VST2, VST3.
All plug-in formats are 64-bit only.
RX 9 Spectral Editor & RX 9 Music Rebalance AU ARA plug-ins are compatible with Logic Pro.
RX 9 Ambience Match, RX 9 Dialogue Isolate & RX 9 De-rustle plug-ins are available as AAX Audiosuite plug-ins in Pro Tools.
Supported Hosts:
Logic Pro, Pro Tools 2021, Ableton Live 11, Cubase 10.5 ƒ?? 11, Nuendo 11, Studio One 5, Reaper 6, FL Studio 20, Audition CC, Premiere Pro CC.