Sale price
$199.00
Regular price
Unit price
per
Sale
Sold out
Eligible for free shipping
View full details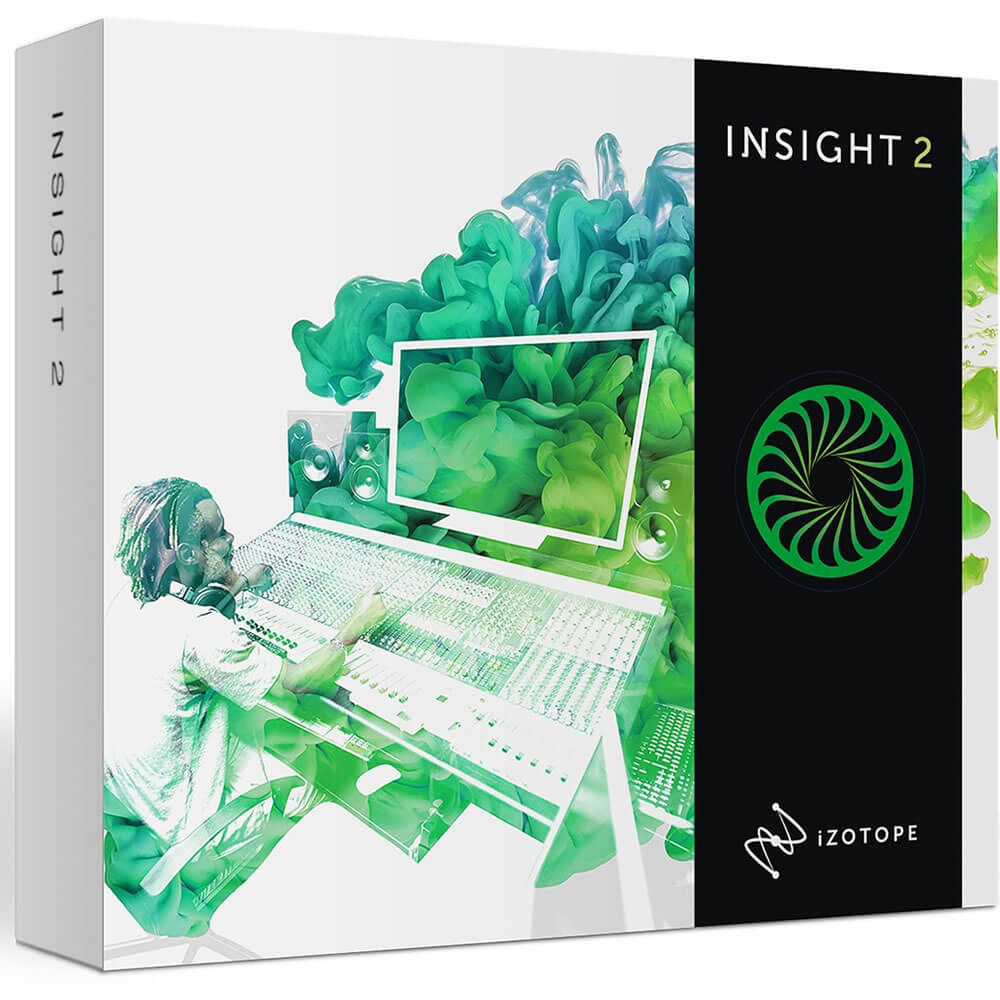 Electronic Software Download (ESD). This order will be delivered electronically. Customers ordering this item will receive an email message within a 24-48 hours of placement of their order with instructions on downloading the software.
iZotope Insight 2 is a comprehensive metering and audio analysis plug-in that is a trusted component of award-winning post production and music studios.
Get Insight into any mix
Get a complete set of meters that can be customized and form fit to any session. Gain valuable perspective on any aspect of your mix, from loudness, intelligibility, spectral balance, and more.
Whether youƒ??re measuring loudness for broadcast compliance, ensuring clear dialogue for film, or managing a complex 7.1.2 Dolby Atmos session, Insight 2 is the metering tool for the job.
Let your dialogue be heard
Donƒ??t let your dialogue get lost in the mix! Insight 2ƒ??s new Intelligibility Meter takes the guesswork out of setting dialogue levels and provides you with a clearer picture of how an audience will experience the dialogue, no matter their listening environment. Mix with confidence using visual benchmarks that confirm your dialogue is sufficiently clear.
iZotope Insight 2 ƒ?? Key Features:
Loudness & True Peak Metering
By evaluating audio levels in terms of how the human ear perceives loudness, loudness meters are used to ensure a mix complies with broadcast regulations, like those specified by the Advanced Television Standards Committee and European Broadcasting Union. Fully compliant with the ITU-R BS.1770-1/2/3/4, and EBU R128 standards, Insight provides the tools you need to be confident that your audio meets regulations.
See important values at a glance with Loudness Meter Readouts that show Momentary, Short-term, Integrated, and Loudness Range calculations, as defined by BS.1770 metering guidelines.
Ensure no audio will clip during analog playback with BS.1770-4-compliant True Peak Meters.
Define your own loudness and clipping thresholds and be quickly alerted to overs with Adjustable Loudness and True Peak Targets.
Document and archive a project's loudness data with an exportable log or graph, perfect for when you need to verify or retrace your steps for clients!
Quickly configure Insight to reflect the loudness settings in your region with Insight's Loudness Presets.
Levels
Let Insight have the final say in your level references. Precisely measure your audio in standard Peak + RMS format, or using the special K-weighted system that helps preserve musical dynamic range. You can even set your own peak target where Insight will give clipping feedback, helping you stay within your chosen loudness standard.
Compatible with surround formats up to 10 channels
Customize peak hold time to conform to different metering conventions
Choose between K-Weighted or Peak/RMS metering types
Customize meter colors - from greyscale to green/red
Sound Field - Stereo Vectorscope
Insight's Stereo Vectorscope provides useful display options for examining the stereo image of your mix.
Rapidly diagnose mono and/or stereo phase compatibility issues within the Sound Field partition.
Choose between Lissajous and Polar modes for multiple visualizations of stereo field activity and activity history.
Check the balance between Left and Right channels with Stereo Balance Meters.
Compare the similarity between Left and Right channels with Stereo Correlation Meters.
Sound Field - Surround Scope
Insight's innovative Surround Scope helps you visualize how your surround project will be spatially perceived by your audience during playback, and keeps you aware of any potential technical problems with your audio's alignment.
Display up to 7 channels of surround data.
Quickly deduce how a surround mix will be perceived in the surround space with a 360 degree Surround Amplitude Meter.
Be instantly aware of any potential phase issues with the Correlation Meter, which indicate when there's a chance of signal cancelation during summing or playback.
Easily pinpoint the overall surround location of a signal in Surround mode (up to 7 channels).
Spectrogram
Unlike typical "waterfall" plots, Insight 2ƒ??s unique real-time 3D spectrogram creates a detailed topographical map of audio using iZotope's high-resolution spectrogram capabilities. Unfamiliar with a spectrogram?
Choose between a 2D or 3D scrolling Spectrogram.
Perform detailed inspections with Freeze and Zoom modes.
*NEW!* Using iZotope Relay (included with Insight 2), visualize any individual trackƒ??s spectral content against the spectrum of your entire mix!
Customization Highlights
With a wealth of options for personalizing your metering experience, Insight lets you visualize your audio in a way that's perfect for any project or session.
Make the most of your screen real estate: keep Insight compact when space is limited, or maximize it to full screen when you need to see more.
Pick and choose which meters you want visible, then adjust each partition size to your preference.
Configure each meter precisely to your needs with a variety of per-meter display options and settings.
Perform deeper analysis with flexible zooming, scrolling, scaling, and freezing of meter data.
Easily save your favorite meter settings and recall them later, or cycle through various views within the same session as you move through different workflows.
Try out common metering views with 30+ Insight presets, and choose metering options based on the loudness standards in your region.
System Requirements:
Operating Systems:

Mac: OS X 10.8.5 (Mountain Lion) Pro Tools 10 only; OS X 10.9.5 (Mavericks) - macOS 10.14 (Mojave)
Windows: 7 - 10

Plug-in Formats:

AU (32 & 64-bit), AAX (64-bit, real-time), AAX-AS (64-bit, Audiosuite). RTAS (32-bit, real-time), DPM-AS (32-bit, Audiosuite), VST2 (32 & 64-bit), VST3 (32 & 64-bit)

Supported Hosts:

Ableton Live 9 - 10, Cubase 9.5, Digital Performer 9, FL Studio 12, Logic Pro X, Nuendo 8, Pro Tools 10 - 12, Reaper 5, Reason 10, Studio One 3 - 4