Sale price
$499.00
Regular price
Unit price
per
Sale
Sold out
Eligible for free shipping
View full details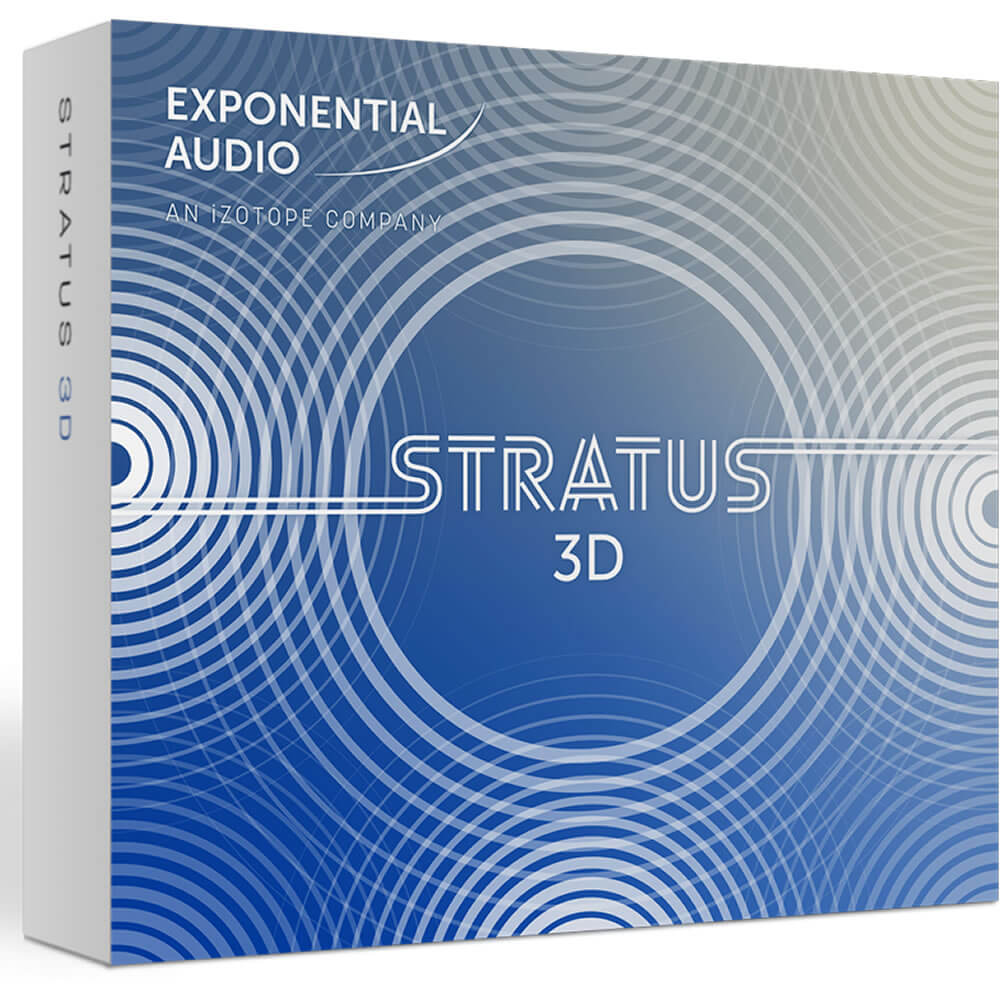 Electronic Software Download (ESD). This order will be delivered electronically. Customers ordering this item will receive an email message within a 24-48 hours of placement of their order with instructions on downloading the software.
iZotope Stratus 3D - natural reverbs for surround and immersive formats. Create immersive surround environments with unrivaled clarity using Stratus 3D. With up to 24-channel support, over 1,700 surround presets, and intelligent multichannel reverb controls, use Stratus 3D to get just the right amount of depth and dimension in any post production job.
Impeccable reverb tone for ever-expanding audio environments
With the growing prevalence of immersive surround formats like Atmos, Auro, and beyond, there are more sonic possibilities for visual media than ever before. Stratus 3D is the perfect reverb engine for these new production formats. Aside from producing reflections with stunning clarity for up to 24-channel surround, Stratus 3D provides you with precise parameter controls to help you shape and refine the perfect spatial tone, channel by channel.
Uncompromising surround and 3D support
With support for up to 24 channels, including Atmos and Auro 3D, Stratus 3D is right at home in any multichannel workflow. Generate clean, articulate room feel, or capitalize on the 3D height expansion capabilities for wide, cavernous reflections.
Detailed gain and filter parameters
Independent input, early reflection, and reverb tail EQ filters let you decide which parts of the reflections are most present in the mix, so you control the resulting tone of your reverb on every level.
Channel-specific delay and level controls
By specifying the placement and timing of the separate vertical and horizontal reflections in each channel with the Balance module, Stratus 3D helps you craft the most enthralling, realistic sound environment for your audience.
iZotope Stratus 3D ƒ?? Key Features:
Natural reverb support up to 24 channels, including Atmos, Auro 3D, NHK, and more
Channel-specific Balance controls for top and main signals in Atmos and other immersive formats
Advanced control of reverb tail and early reflections
Pre-delay and reverb delay adjustable by tempo
Warp controls with compression and overdrive
3D controls link multiple plug-in instances
Over 1,700 presets (rooms, plates, halls, chambers, and more)
EuControl support
iZotope Stratus 3D ƒ?? System Requirements:
Operating Systems

Mac: OS X 10.8 Mountain Lion - macOS 10.14 Mojave
PC: Win 7 - Win 10

Hardware Requirements

CPU: Multicore processor, 2 GHz or greater
RAM: 4 GB or greater
Display: 1440 x 900 or greater

Plug-in Formats

AAX, AU, VST, VST3 (all formats 64-bit only)

Channel Formats

Mono, Stereo, LCR, LCRS, Quad, 5.0, 5.1, 6.0, 6.1, 7.0, 7.1, SDDS

Authorization

iLok License Manager required
iLok2, iLok3, or iLok Machine License
Exponential Audio products are not available in iZotopeƒ??s Product Portal