Sale price
$199.00
Regular price
Unit price
per
Sale
Sold out
Eligible for free shipping
View full details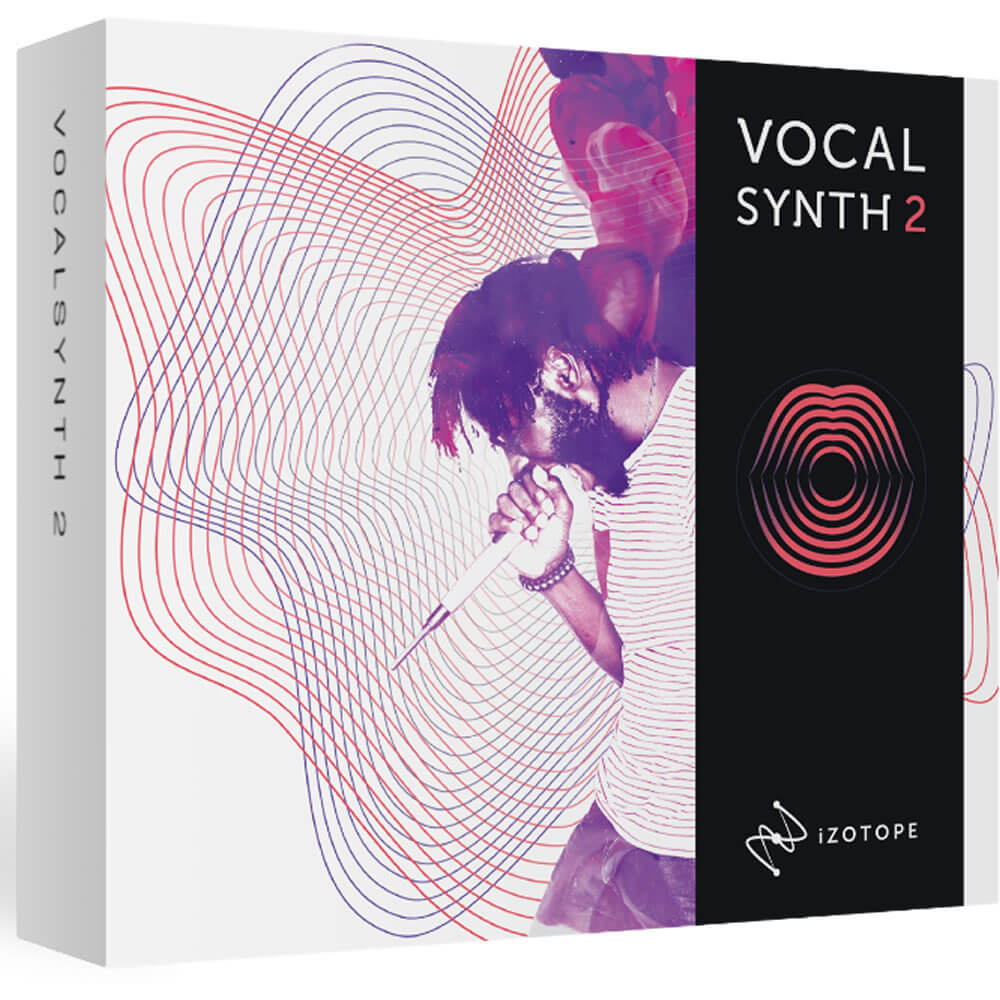 Electronic Software Download (ESD). This order will be delivered electronically. Customers ordering this item will receive an email message within a 24-48 hours of placement of their order with instructions on downloading the software.
iZotope VocalSynth 2 - Vocals, Evolved. iZotope VocalSynth 2 is an immersive vocal experience that adapts and evolves with your unique style and opens up a world of vocal possibilities.
The evolution of vocals
Elevate your vocal productions with iZotope's most unique plug-in experience for vocals. Quickly get old-school sounds you need, or create a new school of vocal sounds. Get lost in layers, textures, effects, blending, and morphing in an experimental vocal playground, and finally find that secret something that makes your vocals stand out. Choose and meld five unique vocal tools, or pick from hundreds of presets for quick impact.
Amazing sounds right out of the box
VocalSynth has been reimagined to get you a better sound faster than ever. With improvements across nearly every aspect of the plug-in, you'll have no trouble finding your unique sound, no matter your chosen genre!
Interactive visualization
Meet the Anemone, VocalSynth 2ƒ??s colorful animation that moves and grows with the shape of your audio signal. Driven by an advanced spectral analysis that reacts to the sonic characteristic of vowels, the Anemone blends fun interaction with a unique metering experience.
Inter-plugin Communication
VocalSynth 2 works within the ecosystem of iZotope products through inter-plugin communication. Like Neutron, Ozone, and Tonal Balance Control, VocalSynth 2 allows seamless integration with essential tools for music production and analysis. VocalSynth 2 can be seen within Neutron 2ƒ??s Visual Mixer and Masking Meter and also within Tonal Balance Control, allowing you to interact and get visual feedback in real time.
iZotope VocalSynth 2 ƒ?? Key Features:
Biovox. Using scientific modeling of a human vocal tract, adjust human vocal characteristics like nasality, vowel shapes, and formants for a smooth, textural vocal treatment to any audio signal.
Vocoder. A long-loved and indispensable vocal tool, the Vocoder gives you the flavorful vocal sounds you know and love with the flexibility to create something new.
Compuvox. Compuvox gives you a range of glitchy, computerized sounds to play with, perfect for space age hooks or crushed digitized vocals.
Talkbox. Say hello to VocalSynth's funkiest module: Get that chunky, unmistakable sound of a talkbox without the learning curve or hardware setup.
Polyvox. Create beautiful, rich harmonies or add subtle character to vocal tracks with Polyvox. Instantly add body to your vocal with realistic doubles.
iZotope VocalSynth 2 ƒ?? Whatƒ??s Included:
7 stompbox-style effects - further enhance your production with a custom drag-and-drop vocal effects chain. VocalSynth 2's effects section now lets you change the order of the modules!
Distort - Great for adding subtle overdrive, gnarly grit, or high-gain distortion!
Filter - Use high and low-pass filtering in a variety of models, from smooth to aggressive.
Transform - Dial in amp convolutions and speaker models to add unique texture to your vocal.
Shred - An evolution of our beat-repeating tech; turn it up for all the glitchy, funky sounds you can handle.
Delay - A wide stereo delay with filtering to bring a dynamic element to your signal.
Ring-Mod - Add subtle (or extreme) strangeness with Ring Mod, VocalSynth 2's otherworldly new effect.
Chorus - VocalSynth 2 introduces a new Chorus module to add movement and character to your vocal.
iZotope VocalSynth 2 ƒ?? System Requirements:
Operating Systems:

Mac ƒ?? OS X 10.8 Mountain Lion - macOS 10.14 Mojave
PC ƒ?? Win XP (32-bit Service Pack 3) - Win 10

Plug-in Formats:

AAX (64-bit), AU, RTAS (32-bit), VST, VST3

Supported Hosts:

Ableton Live 9 - 10, Cubase 9.5, Digital Performer 9, FL Studio 12, Logic Pro X, Nuendo 8, Pro Tools 10 - 12, Reaper 5, Reason 10, Studio One 3 - 4

Note: A graphics card with Open GL 2.0 support is required to display the visualizations in VocalSynth 2.