Sale price
$379.99
Regular price
Unit price
per
Sale
Sold out
Eligible for free shipping
View full details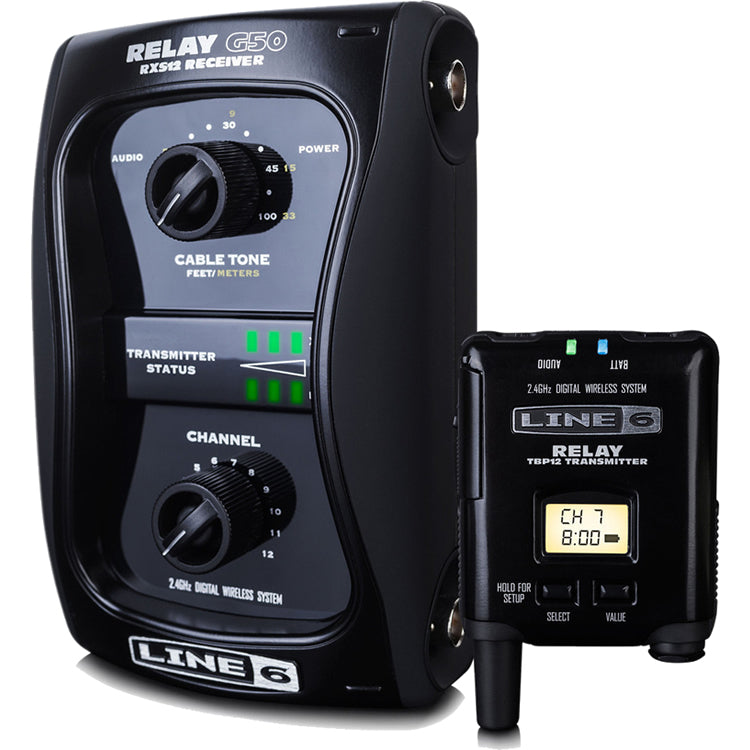 Line 6 Relay G50 Digital Wireless Guitar System - Wireless Freedom, Cable-grade Sound!
You're a guitarist. So, what do you want from a wireless system? You want your rig to feel and sound like you're playing through a cable! Fortunately, Line 6 gets that ƒ?? and that's why the Relay G Series is for you. Each member of the series ƒ?? the Relay G30, the Relay G50, and the Relay G90 ƒ?? offers up Line 6's impressive "Virtual Wire Transmission" technology. In short, it means these systems are designed to give you the full-range sound, response, and range you expect from your guitar rig... just like a high-quality guitar cable. There's even a Cable Tone Simulator feature that lets you match the sound of your Relay wireless system to the sound of your favorite cable... so now you don't have to compromise your tone just to go cable-free. What else do you need to know about the Relay G?
Well, the Relay G50 system ƒ?? the one you're looking at right now ƒ?? is the most robust pedal-style system in the lineup, and it's a can't-beat value for the serious guitarist. It features 12 compatible channels - plenty of channels for your weekend gigs and even most festival shows with tons of other guitarists. The Relay G50 also gives you 200 feet line-of-sight to move about the stage ƒ?? that's more than enough to get interactive with the crowd and the rest of your band.
All in all, the Relay G50 system gives you a rock-solid wireless solution. Plus, you really can't go wrong with Line 6. These guys know how to make guitar gear that's built for day after day use - and tour abuse.
Line 6 Relay G50 Wireless Guitar System Features at a Glance:
Includes a transmitter and a pedal-style receiver
Features 12 compatible channels and a 200-foot range
Incorporates Line 6's Virtual Wire Transmission technology for great dynamic response
Cable Tone Simulator matches the sound of your favorite guitar cable
Designed to be compander free so your signal stays true
Low-noise system with high-quality 24-bit A/D conversion
Works for approximately 8 hours on just two AA alkaline batteries
Simple set of controls makes it easy for anyone to use