Sale price
$400.00
Regular price
Unit price
per
Sale
Sold out
Eligible for free shipping
View full details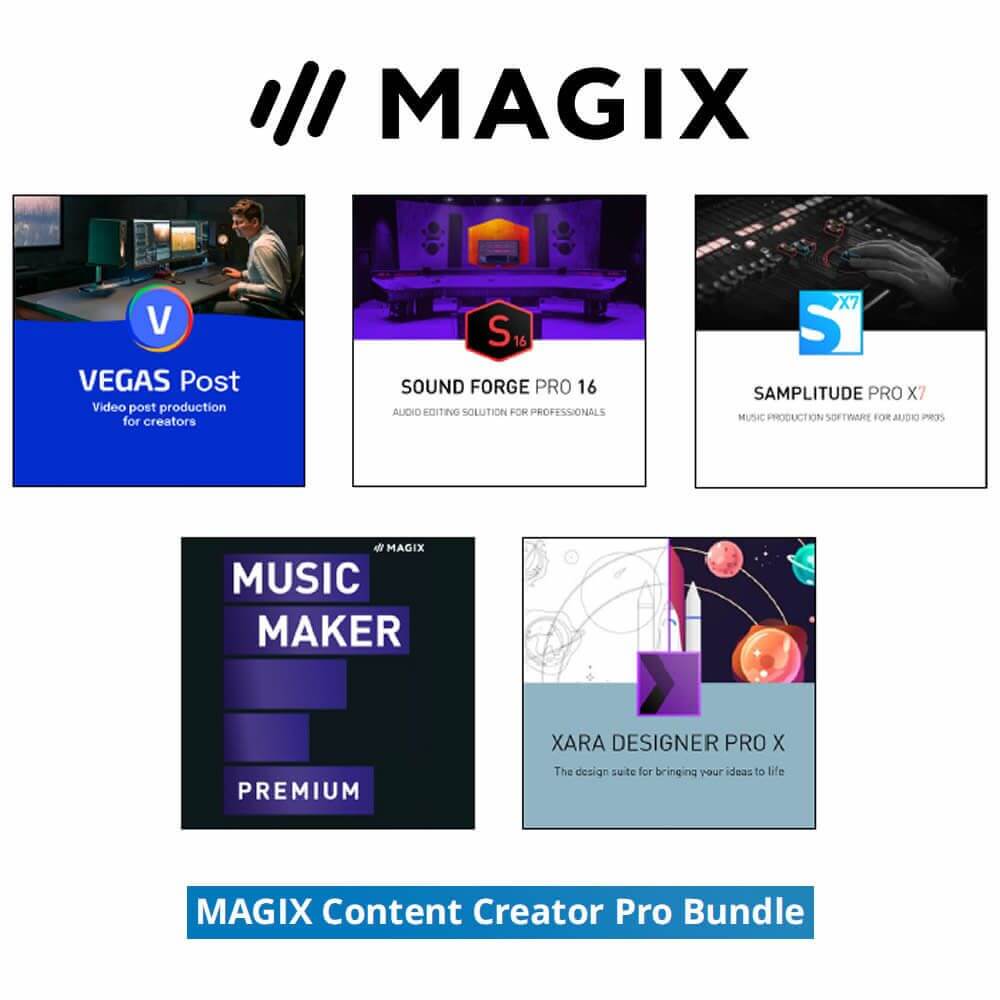 10-User License for sale to Schools and Non-Profit Organizations.
1-Year Annual Subscription License.
The MAGIX Content Creator Pro Bundle includes full versions of Magix solutions for ƒ??
‹?ú Video Editing. Our video editing software programs enable anyone to create professional videos. With intuitive editing tools and workflows, getting started on a new project is simple. The new video engine allows for seamless, uninterrupted editing of 4K Ultra HD material on any PC.
‹?ú Music Production. The surprisingly easy way to create music. Drag & drop to arrange sounds and loops, or program your own beats. Making music this way is tons of fun and you can achieve professional results, fast. Useful tools are included to make music production simple and help users find new inspiration too.
‹?ú Graphic & Web Design. Create and publish one-of-a-kind photos, designs and websites. Customize projects and concepts any way you want. Design your website your way, without any of the limitations of normal website building block programs.
The MAGIX Content Creator Pro Bundle includes ƒ??
MAGIX VEGAS Post 20:
The ultimate toolset for the modern creator VEGAS Post is a complete production suite with seamless integration. Edit video with VEGAS Pro, create motion graphics with VEGAS Effects and export frames to VEGAS Image. With VEGAS Stream you can then live stream to your favorite platforms with ease.
MAGIX SOUND FORGE Pro 16:
SOUND FORGE Pro 16 is the ideal software for musicians, producers and sound designers. The SOUND FORGE audio engine has been further developed and ensures ultra-precise results for sample accurate editing, restoration, post-production & mastering. A wide range of effect processors and fast, performance-enhancing workflows let you achieve seamless results.
MAGIX Samplitude Pro X7:
Develop new ideas entirely from inception all the way to the finished arrangement in Samplitude. Enjoy access to a wide range of sounds and virtual instruments to help you transform your ideas into sound: Whether solo artist or band ƒ?? youƒ??ll always prepared for the best take. Give your projects the decisive advantage in quality during mixing and mastering. Be the composer, producer and sound engineer. With Samplitude Pro X7. The master of pro audio.
MAGIX MUSIC MAKER 2023 Premium:
More music, more creative possibilities ƒ?? MUSIC MAKER PREMIUM: Match professional loops and melodies from any musical genre with Song Maker AI. Make your drums sound even fatter with the wide range of authentic sounding beats and sounds in Beatbox Pro 2. The effect packs included in MUSIC MAKER PREMIUM open new creative possibilities: Give your songs more depth, add reverb, and mix and master just like in the studio. This help you create music like real pros ƒ?? no previous experience required.
MAGIX XARA Designer Pro X 19:
Xara Designer Pro X delivers a unique combination of desktop publishing, web design, image editing and graphic design in a single workspace thatƒ??s like no other. The integrated Online-Content-Catalog offers a huge range of web and print templates, stock photos, graphics, illustrations, photo filters, animations and effects. Powerful design tools are combined in an incredibly intuitive program interface that will revolutionize your workflow.