Sale price
$399.00
Regular price
Unit price
per
Sale
Sold out
Eligible for free shipping
View full details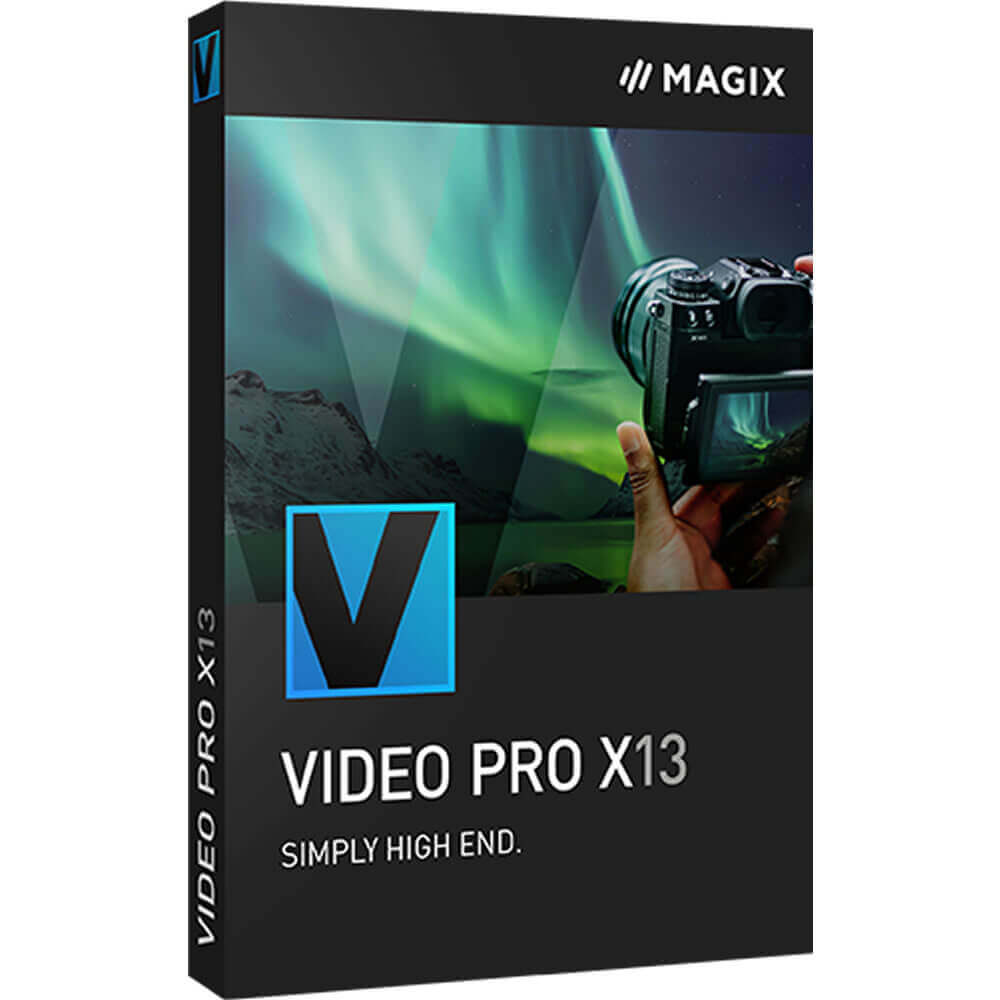 Electronic Software Download (ESD). This order will be delivered electronically. Customers ordering this item will receive an email message within a 24-48 hours of placement of their order with instructions on downloading the software.
MAGIX Video Pro X 13 - Simply High End. MAGIX Video Pro X 13 makes professional video production accessible for everyone. With its clearly structured interface and intuitive functions, getting started with Video Pro X is much easier than with other professional editing software. Video Pro X also delivers cutting-edge technology for video editing with a new INFUSION Engine 3 that ensures smooth playback and cutting in real time, even for high-resolution 8K UltraHD recordings.
3 reasons to choose Video pro X
Video editing made simple Video. MAGIX Video Pro X lets you get started right away. The sleek interface is uncomplicated in terms of use and lets you achieve great results in no time at all.
Films that create an impression. With a range of professional tools, you can make each and every one of your ideas a reality ƒ?? while benefiting from the latest technology.
More flexibility on each track. The one-of-a-kind multimedia timeline processes video, audio and graphics on the same track, meaning that you can enjoy maximum creative freedom.
New in Video Pro X13
INFUSION Engine 3: Give your videos the ultimate boost The brand-new INFUSION Engine 3 enables you to edit even complex projects in up to 8K with super smooth playback, and it harnesses the full speed of your GPU to export your videos.
Easily design your own animations. Adjusting both the position and scale of video objects directly in the program monitor is now flexible and simple. Just use the mouse and the rotation point to easily control the center of each rotation.
Large preview pictures for an enhanced overview. Discover a timeline that's clearer than ever before thanks to the new panorama storyboard. Large thumbnails make the subject of your video appear in the center of the screen and help you keep a clear overview even of more complex projects.
Sophisticated effects for impressive result. FXhome Ignite Keying & Flares includes all the essential effects for compositing work. With integrated lens reflection effects and tools for green screen recording, you can truly unleash your creativity.
MAGIX Video Pro X13 ƒ?? Key Features:
Split and trim. With the new "split and trim" tool including dynamic preview, previewing and cutting video footage is easier than ever before. Simply move the tool along the timeline and click to make edits using the realtime preview in the video monitor. For precise, direct trimming of video clips.
Full track handling. Tracks can now be reordered, deleted and copied ƒ?? even retroactively. Using the active target track, you can import media such as video or music with absolute precision to the position you want on the timeline. New track and object color schemes provide a clearer overview of items.
J and L cuts. Audio and video can be independently trimmed using shortcuts. Documentaries and interviews are now easier than ever before to edit thanks to a fluid workflow and overlapping objects.
Find and close gaps. The new split and trim tool locates all gaps on the timeline ƒ?? you can then simply close them with a single click. All clips merge correctly without leaving any black frames.
"Move object content" mouse mode. Video object contents can now be easily selected in a manner which maintains the editing rhythm.
Multi-track & multi-format timeline. The multi-track & multi-format timeline enables you to import and edit different video formats in SD, HD and UHD resolution without having to convert files into a proprietary intermediate format.
Three and four-point editing. Precisely inserting video clips into the timeline using the three and four-point editing features is easy. You can define start and end positions by placing in and out points in the video monitor and timeline.
Time stretching. In MAGIX Video Pro X, you can change the length of your video and audio objects simply by stretching and contracting the object in the timeline. Audio objects maintain their original pitch.
Beat-based editing. Using the new snap markers, you can now cut music to perfectly fit the scenes in your movie.
Advanced search for gaps. MAGIX Video Pro X features a special tool that searches for any unwanted black areas between clips. Simply start a search and the program will list all gaps in the arrangement. These can then be individually selected and edited if necessary.
Nested Sequences. Save time so you can focus on what matters most. With nested sequences, you can add finished sequences to your movie as entire objects. Effects are then applied to the entire object and no longer need to be carried over to each scene in the sequence.
Multicam editing. Multicam mode allows image control in real time on up to nine tracks, depending on system performance. Clicking on the preview videos let you change perspective live and mark all edits precisely and organically. By analyzing the audio material, multicam recordings can be automatically synchronized and added before editing.
Action templates. Discover a large selection of movie and editing templates in Video Pro X. Templates are an efficient way to create great movies in just a short space of time and without too much effort.
Complete package for 360?ø video. With its new, fully automatic 360 image stabilization feature, special 360 transitions and integrated stitching, Video Pro X is your all-in-one solution for 360 editing. Video Pro X can handle 360 videos from all standard 360 cameras in up to 4K quality.
Vertical videos. Video Pro X offers vertical project and export templates, which are especially useful for smartphone recordings and social media posts. Videos filmed in portrait mode are automatically recognized and adjusted in Video Pro X.
Color picker. Pick the perfect color nuance with a single click. The color picker contains a wide spectrum of colors and works in realtime, so finding the exact shade you need is a cinch. You can now also use it for color design directly within the OFX effect plug-ins and title editor. It's easy and saves a ton of time.
8K Ultra HD support for AVC and HEVC videos Video Pro X offers full 8K support. AVC or HEVC videos can be played back in realtime using INTEL, NVIDIA and AMD graphics cards.* This spares you the time-consuming task of converting recordings to proxy files. For images even higher in resolution.
HDR support. With HDR10, Video Pro X supports the latest standards and color gamut BT.2020 and 10-bit color depth in HEVC codec. HDR maintains natural contrasts and accurately reproduces the original variations in brightness, even for very bright or dark footage. Impressive color extraction lets you make every detail shine and create a lasting impression.
MAGIX Video Pro X13 ƒ?? System Requirements:
Processor: Double core processor with 2.4 GHz (recommended: Intel quad-core processor with 2.8 GHz or better)
RAM: 4 GB (8 GB recommended)
Graphics card: Onboard, min. resolution 1280 x 1024, 512 MB VRAM and DirectX 11 support (recommended: Intel Graphics HD 520 or better for MPEG2/AVC/HEVC)
INFUSION Engine 3 supports video acceleration and export for AVC and HEVC* on Intel, NVIDIA or AMD GPUs with 1GB VRAM or higher; for example: Intel Graphics HD 630, NVIDIA Geforce GTX 1050, AMD Radeon RX470
Available drive space: 2 GB for program installation (10 GB recommended)
Sound card: Onboard (multi-channel sound card recommended for surround sound editing)
Program languages: English, Deutsch, Fran??ais, Nederlands
Internet connection: Required for registering and validating the program, as well as for some program features. Program requires one-time registration.