Sale price
$289.00
Regular price
Unit price
per
Sale
Sold out
Eligible for free shipping
View full details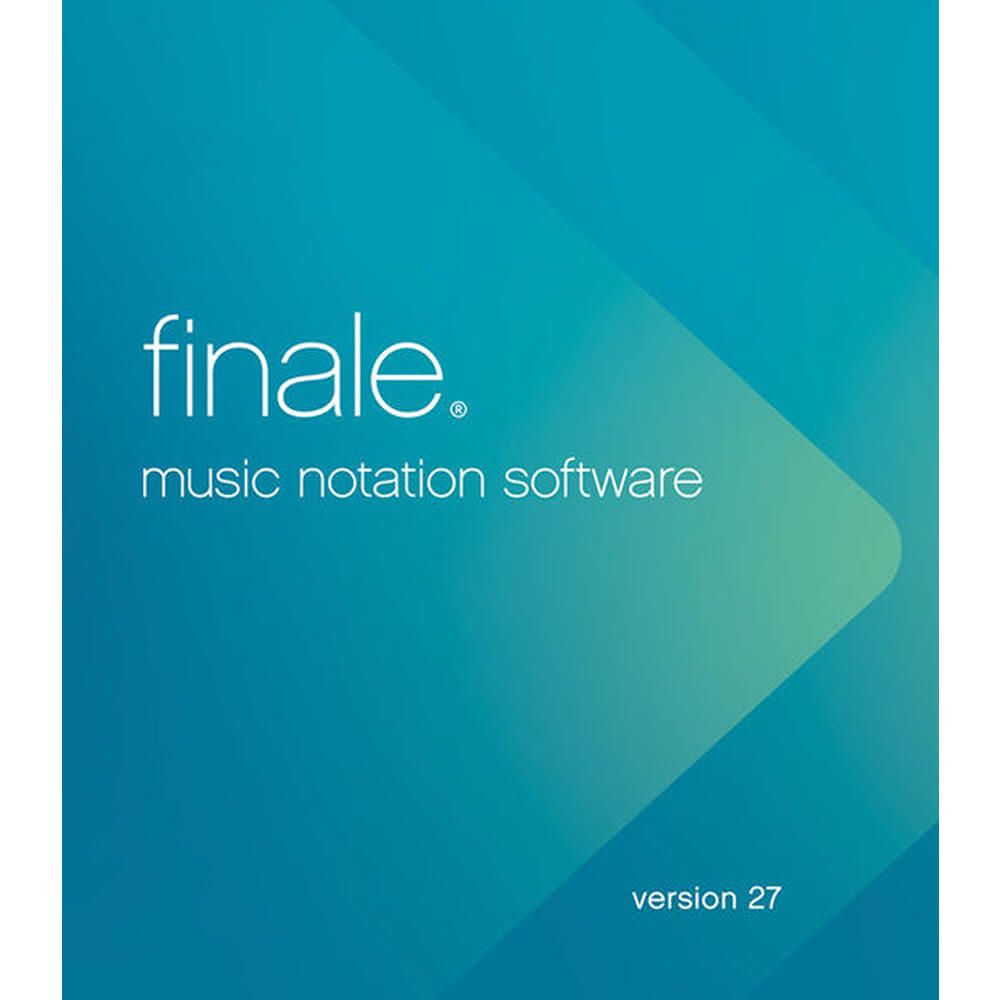 This software is sold and shipped as a Download Card - with printed instructions on how to download and install the software and a serial key to register and authenticate it. Great way to gift wrap and deliver this digital product to somebody as a gift!
Academic Edition is for sale to currently enrolled students, teachers, schools, churches and non-profit organizations only.
Makemusic Finale 27 - Everything You Need for Professional Music Notation
MakeMusic Finale 27 notation software makes it easy to generate publisher-grade music notation that plays back with world-class sounds. Featuring over 500 premium Garritan instruments and Human Playback, your music becomes a lifelike performance. Customize your workflow with flexible note entry options that include mouse and computer keyboard, MIDI keyboard, and importing from a broad range of file types. Share your creations as sheet music, audio files, MusicXML and MIDI files, and PDF files.
Why music pros use Finale
For professional composers, every scoring project comes with suffocating deadlines ƒ?? and thereƒ??s no room for mistakes. Thatƒ??s why music pros use Finale. Finale is battle tested and continually evolving with new, smart features requested by power users who know what it takes to get the job done. Finale 27 ƒ?? the result of decades of sophisticated development ƒ?? lets you turn the music in your head into bulletproof sheet music. It also gives you complete control over the creative process, adapting to how you want to work. At every rehearsal or recording session, youƒ??ll be confident that your parts are ready, you have clearly communicated your musical vision, and that your score will sound great!
Makemusic Finale 27 ƒ?? Whatƒ??s New:
Advanced sharing functionality: Finale 27 lets you quickly and easily share your music notation with anyone. You can upload and share privately or publicly, without ever leaving the app.
Support for Standard Music Font Layout (SMuFL): SMuFL is a growing comprehensive standard that organizes musical characters into a common layout so music fonts are displayed correctly across every notation program that supports it ƒ?? so you can spend more time creating and less time searching for music symbols.
Revised instrument list: Finale 27 sports a revised and expanded instrument list that ensures your notation looks great ƒ?? no matter what instrument youƒ??ve selected ƒ?? and that you hear the proper sounds when playing back a document.
MusicXML 4.0: The latest version of MusicXML captures more information then ever, giving you even more control when transporting your compositions, so youƒ??ll be able to confidently and efficiently move files between todayƒ??s major music software apps.
Quality-of-life updates: From quirky installer behavior and unusable display scaling to unexpected crashes and problems with printing, MakeMusic has addressed known issues that can slow down your creative process. The result is that Finale 27 is extremely stable and runs smoothly on both macOS and Windows platforms.
Makemusic Finale 27 ƒ?? Key Features:
Note entry via MIDI keyboard, computer keyboard and mouse, and file import (a variety of file types supported)
Supports real-time MIDI performance capture
A massive and varied library of 500+ premium Garritan instrument sounds
Human Playback renders your music with stunning realism
Powerful features such as Linked Parts, Music Educator Resources, TempoTap, and more
Free technical support, video tutorials, and top-notch Help resources
Finaleƒ??s exclusive SmartMusic accompaniments
64-bit support
ARIA Player
Transposed note entry
ReWire support
Improved Human Playback
Tall time signatures
Contoured dashed slurs
Expanded MusicXML 4.0 import and export
Makemusic Finale 27 ƒ?? System Requirements:
Windows:
Windows 8.1 or Windows 10 (64-bit Intel or AMD processors only)
4 GB of RAM minimum
1280x800 minimum monitor resolution
High-speed Internet connection required for download, authorization, updates, sharing features, and help resources
1 GB hard drive space required for software with an additional 8 GB hard drive space required for Garritan Instruments for Finale
ASIO, DirectSound, or WASAPI audio support
macOS:
10.14 Mojave/10.15 Catalina/macOS 11 Big Sur, Intel-Based processors and Apple Silicon M1 (through the use of Rosetta 2 only, Apple Silicon native support currently not available)
4 GB RAM Minimum
1280x800 minimum monitor resolution
High-speed Internet connection required for download, authorization, updates, sharing features, and help resources
1 GB hard drive space required for software with an additional 8 GB hard drive space required for Garritan Instruments for Finale
CoreAudio or ASIO audio support