Sale price
$2,899.00
Regular price
Unit price
per
Sale
Sold out
Eligible for free shipping
View full details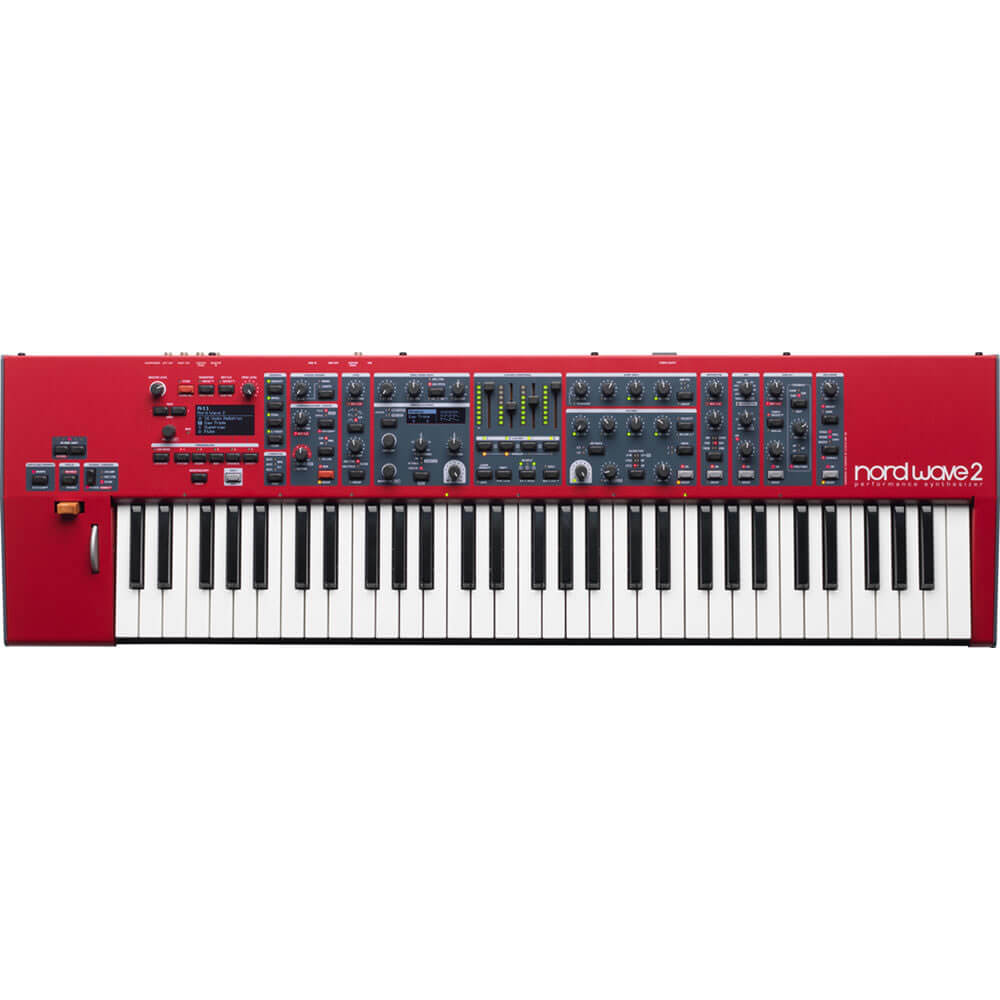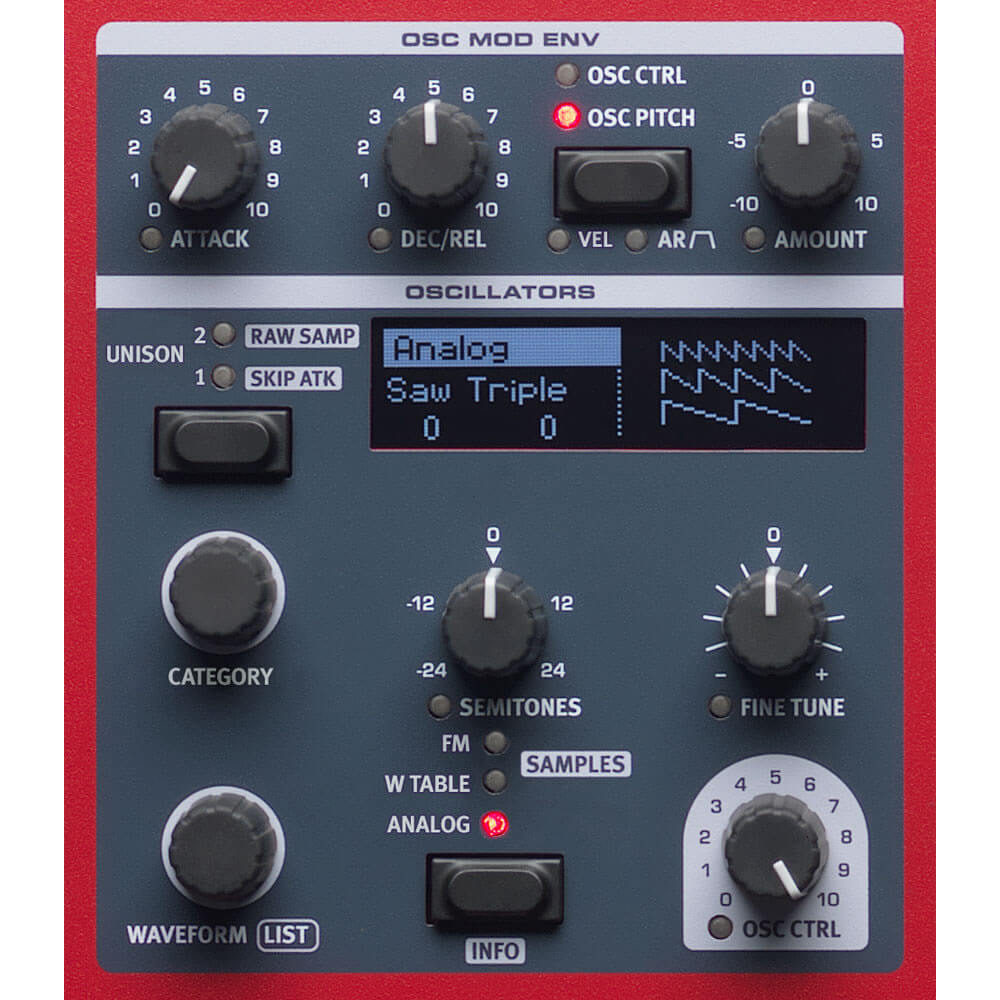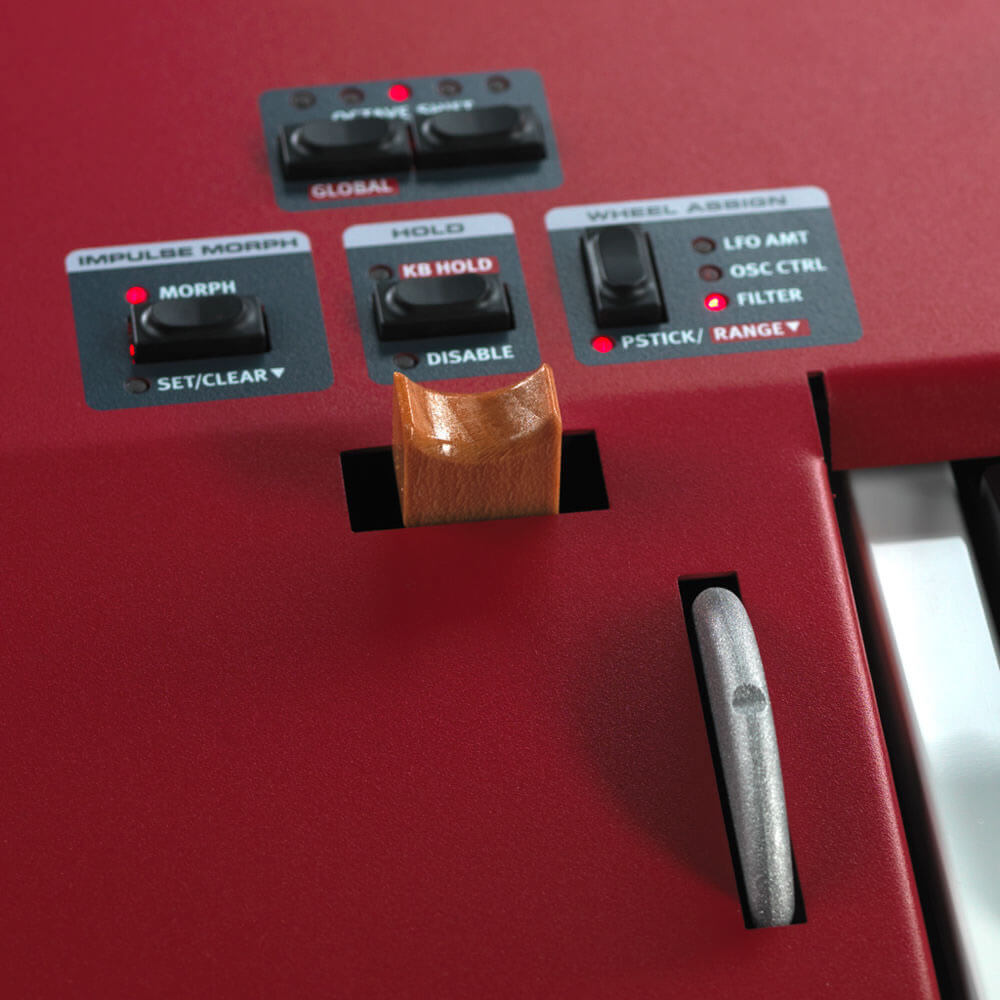 Designed for musicians, producers, and sound designers, the hand-built Nord Wave 2 61-Key Wavetable and FM Synthesizer AMS-NWAVE2 is a powerful 4-part performance synthesizer equipped with a 61-note keyboard with aftertouch, 48-voice polyphony, and an advanced sound engine, which harnesses the power of samples, virtual analog waveforms, FM, and wavetables to create mind-bending sounds for any style of production.
Up to four oscillators can be assigned to each part giving you a massive 16 total oscillators per patch. Create breath-taking textures and evolving sounds using layers, keyboard splits, and the latest group mode, which easily combines up to four layers and lets them share the same filter, envelope, arpeggiator, LFO, and effects settings for complex, multilayered sounds that can be edited as one coherent sound.
Additionally, each layer features its own arpeggiator, capable of powerful rhythmic patterns. With classic, polyphonic, and gate modes, you'll never be short on inspiration. Create your own patterns quickly and easily and synchronize everything with the master clock. There's a tap-tempo feature for locking LFO's, effects, and more, to a drummer or click track.
The latest Nord Sample Library 3.0 application (Mac / Windows) easily helps you customize sample instruments. The software analyzes, maps, loops, and transfers samples to the Wave 2 in one simple motion. The Wave 2 ships with 1GB of memory and allows you to replace the onboard samples with your own. With a mass of knobs, switches, and controls, the Wave 2 offers 1:1 control over most parameters, allowing for fast and intuitive programming and performance with advanced layering and tweaking on-the-fly.
Nord Wave 2 61-Key Wavetable and FM Synthesizer AMS-NWAVE2 ƒ?? Key Features:
Layers
Program Layer:

Includes faders for easily controlling the volume or pan for all 4 layer parts at once
Provides handy features for quick layer focus, pan control, solo and multi-editing

Group Mode: Allows for grouping up to 4 layers

Share the same filter, envelope, arpeggiator, LFO, and effect settings
Great for creating complex multilayered sounds that can be edited as one coherent sound
Oscillators
Each of the 4 layers offers 4 modes: Virtual Analog, Wavetable, FM, and Samples
Easily browsed with new direct category mode
Oscillator Control features additional control over shape, sync or detune
Oscillator Categories

Virtual Analog: an extensive range of waveforms from classic analog to extended, harmonically rich new additions.
Basic: Saw, Pulse, Pulse Width, Sine, Square with basic tuning controls.
Shape: Waveforms where Osc Control will alter the Shape of the waveform
Multi: Two or more waveforms combined where the Osc Control will adjust amount of detune and spread
Sync: Soft- and hard-synced configurations, where Osc Control controls Sync Frequency
Noise: White noise

Samples:

High-quality samples from our Nord Sample Library 3.0
Add your own custom samples using the Nord Sample Editor 3
Use the embedded sample presets for instantly playable dynamic sounds
Sculpt your own sound from scratch with the Raw Samp mode

Wavetable:

Large number of advanced wavetables covering a wide range of tonal characteristics

FM

2, 3, and 4 operator configurations with harmonic and inharmonic variations

Unison: Powerful multi-oscillator Unison effect with true Superwaves simultaneously generating hundreds of waveforms for extremely thick and fat sounds
Compatible with Nord Sample Library

1GB of memory
Loaded with a wide selection of quality samples including Strings, Brass, Guitars, Choirs, Chromatic Percussion
Exclusively licensed sounds of the Mellotron and Chamberlin
All sounds are easily replaceable using the Nord Sound Manager
Create and transfer your own samples
Nord Sample Editor 3 for Mac and Windows lets you map, loop, and transfer samples to your Nord Wave 2
Filter Section
6 Filter Types

Classic 12 dB Low Pass
Classic 24 dB Low Pass
High Pass
High Pass / Low Pass
Band Pass
Accurate Transistor Ladder Low Pass

Modeling captures true character and response of the classic analog instruments
Flexible and precise sound design
Equipped with full ADSR envelope
LFO & Modulation Section
Dedicated LFO for each layer
Choice of waveforms
AD/AR Modulation Envelope with dedicated velocity setting and Invert mode
Several morphable parameters
Rate can be synchronized to the Master Clock
Amplifier Section
Full ADSR envelope
Powerful Transient Attack mode for adding more punch to your sounds
Morphing and Impulse Morph
Extensive range of morphable parameters
Control Sources:

Velocity
Aftertouch
Wheel
Control Pedal

Sources can be quickly assigned to control multiple parameters simultaneously
Impulse Morph: Instantly change any sound parameter
Wheel Assign: Instantly assign LFO, Oscillator Control, or Filter to the Modulation Wheel
Advanced Polyphonic Arpeggiator with Gate
Classic arpeggiator and a polyphonic mode
Directly editable patterns
Polyphonic Mode:

Retrigger all held keys either straight or patterned
Features different inversions for exciting harmonic variations

Gate mode:

Chops sound up in a rhythmic pattern with adjustable depth

Pattern Mode:

Wide selection of Rhythmic Patterns
Easy editing for creating your own custom patterns
Synchronization
Master Clock

Allows the LFO, Arpeggiator, and various effects to be synchronized, either internally or by an external MIDI clock
Synchronize 4 layers with individual patterns, in sync with Delays and LFO's
Tap Tempo allows you to easily tap to the tempo of a drummer or to playback tracks
Effects
Separate Effect section for each layer
Features wide selection of instantly tweakable high-quality stereo effects modeled after classic stomp boxes
Modulation Effects

Tremolo
Pan
Ring Modulato
Chorus
Ensemble
Vibe

Rate and amount control
Controllable via control pedal (or other morph sources)
Can also be synchronized to the Master Clock for rhythmic effects
EQ & Drive

EQ with Bass and Treble control
1 Band Sweepable EQ
Sparkling Tube Drive emulation is also available

Delay

Advanced stereo Delay effect
Ping Pong mode
Analog Mode
Tap Tempo
Creative feedback options for adding ensemble, chorus, and vibe, as well as HP/LP and BP filter in the feedback loop

Reverb

Booth
Room
Stage
Hall
Cathedral
Add ambience to your sounds
Amount is morphable
Bright and Dark modes for either extended or reduced treble
Chorale effect adds a lush modulation effect
Splits & Layers
Split mode offers three split points providing up to 4 zones with optional crossfades
Flexible Hold functionality lets you latch and hold slots independently in the background while playing something else on top
Sound Manager
Compatible with the Nord Sound Manager software for OS X and Windows
Easily reorganize, back-up, and transfer programs