Sale price
$199.99
Regular price
Unit price
per
Sale
Sold out
Eligible for free shipping
View full details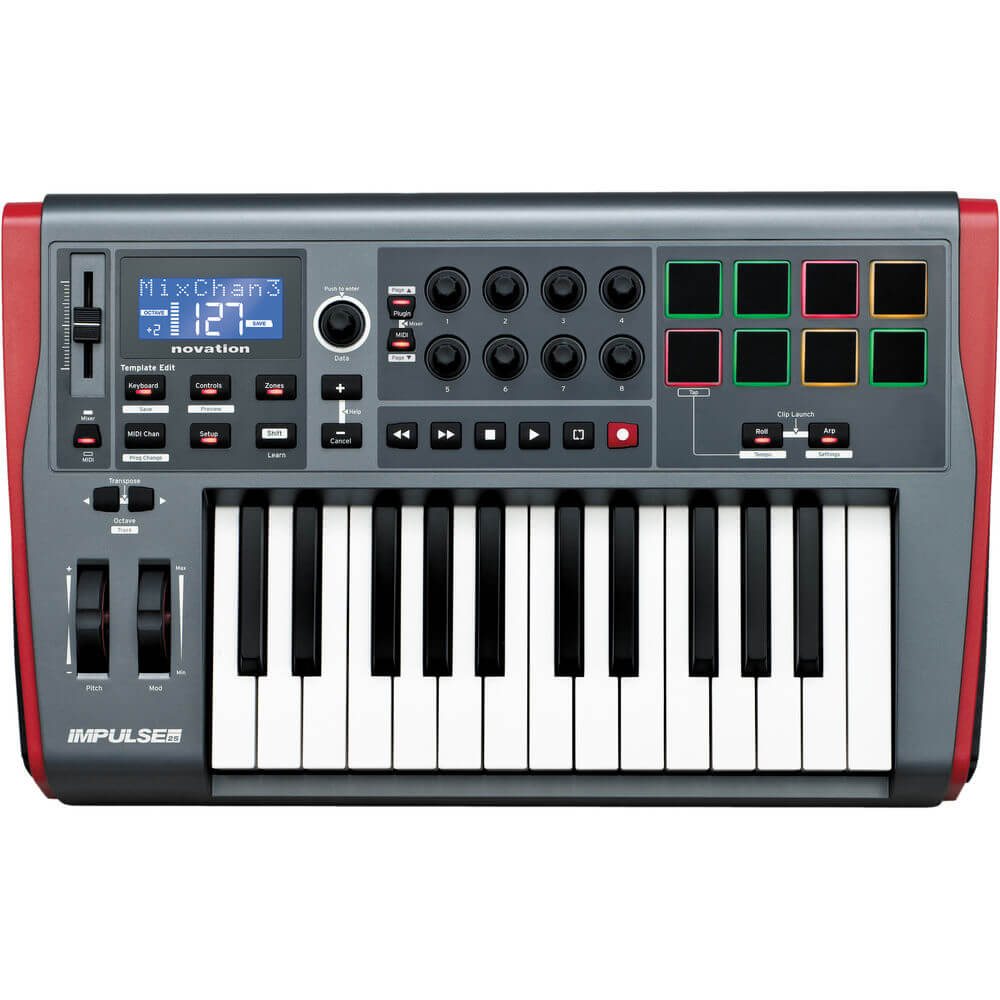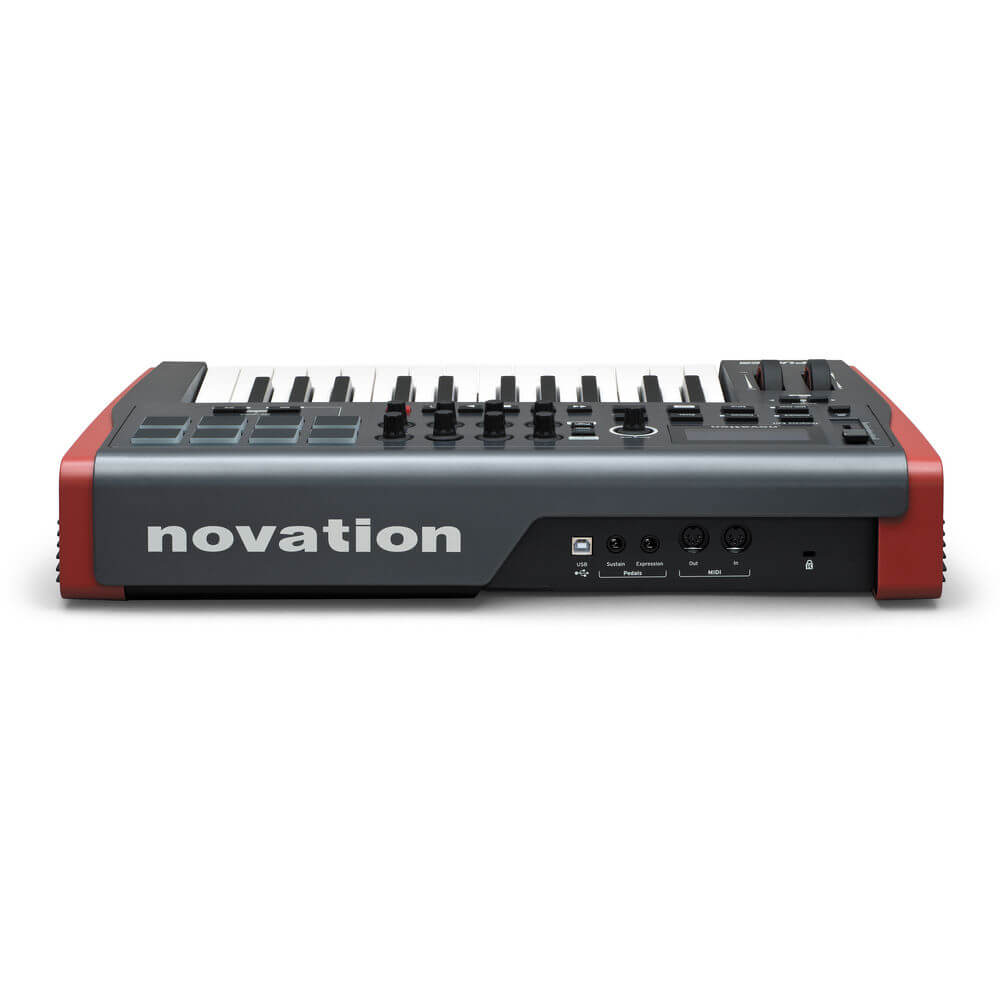 Novation Impulse 25 25-Key USB & MIDI Keyboard Controller is a USB MIDI keyboard controller featuring 25 semi-weighted keys with assignable aftertouch. It was designed to feel like an instrument rather than a computer peripheral and responds more accurately, and in a musical manner, when triggering a synthesizer or software instrument.
In addition to the keys, the controller features eight rotary controls and eight backlit drum pads, along with the obligatory pitch and modulation wheels. The controls allow for hands on manipulation of DAW functions, virtual instruments, and plug-ins. The included Automap control software takes the hassle out of assigning the controllers with its instant mapping feature.
The Automap software edit page looks just like the Impulse control surface. This labels what each knob, fader, and button is controlling. Once an automapping is finished, the window can be hidden. Control is available over the mixer, transport, and plug-ins of all major DAWs, as well as plug-in instruments and effects that don't come with a DAW, like products from Native Instruments, Waves, or FXpansion.
The 8 drum pads are velocity-sensitive and respond to aftertouch. They are also backlit with 3-color LEDs to indicate the status of the associated clip. A built in arpeggiator takes advantage of the pads by enabling the performer to warp arpeggios. By switching the 8 pads in or out, the rhythm of the arpeggio can be changed in real-time. The shape, syncopation, and gate time of the arpeggio can also be changed.
Free XLN Addictive Keys Virtual Instrument
Available for existing and new customers, the Addictive Keys virtual instrument from XLN Audio is included when you register your controller keyboard. One full license per account gives you one Addictive Keys instrument. Pick from:
Modern Upright
Studio Grand
Electric Grand
Mark One
4GB Loop Library from Loopmasters
A 4GB Loopmasters sample library is included with every Novation product and is packed with professional-quality, royalty-free loops, and one-shots. The library offers a huge range of electronic and acoustic instrumentation and encompasses all contemporary genres, from blues, funk, and hip-hop to bass, techno, and all flavors of house. It's everything you need to start making music.
Novation Impulse 25 25-Key USB & MIDI Keyboard Controller ƒ?? Key Features:
Precision 25-note semi-weighted keyboard with aftertouch
Provides full control of a DAW including mixer, transport, and plug-in instruments and effects
8 rotary encoders
Arpeggiator with pad-based rhythm editor
8 large tricolor backlit trigger pads allow for warping arpeggios and improvising with rhythm patterns. They also launch clips in Ableton.
Roll mode on drum pads with aftertouch control of amplitude
Automap control software makes it fast and simple to assign knobs, faders, and buttons to the music software.
Large LCD screen displays control information with direct feedback from your DAW.
Comes with Ableton Live Lite, Novation Bass Station synthesizer, and Loopmasters sample pack.
USB powered, with expression and sustain pedal inputs, as well as MIDI in and out ports for connecting external MIDI instruments.
Learn with Melodics
Free keys and pad drumming lessons with Melodics helps you get the most out of your controller straight out of the box.
Control of 3rd Party Software
Ableton (Ableton Live Lite included with Impulse)
Mixer control - all channels
Transport control
Clip launch using Impulse's back-lit drum pads
Scene launch
Plug-in/Device control - instant control of Ableton's own devices as well as 3rd party VST/Audio Units plug-ins
Cubase
Mixer control - all channels
Transport control
Plug-in instrument/effects control - instant control of whatever VST instrument or effect is in focus
Logic
Mixer control - all channels
Transport control
Plug-in instrument/effects control - instant control of Logic's own plug-ins and 3rd party VST/Audio Units plug-ins
Pro Tools
Mixer control - all channels
Transport control
Plug-in instrument/effects control - instant control of Pro Tools' own plug-ins and 3rd party RTAS plug-ins
Reason/Record
Mixer control - all channels
Transport control
Instant control of rack devices (Thor, Dr. Octo Rex etc.)
Sonar (Windows only)
Mixer control - all channels
Transport control
Plug-in VST instrument/effects control