Sale price
$1,599.99
Regular price
Unit price
per
Sale
Sold out
Eligible for free shipping
View full details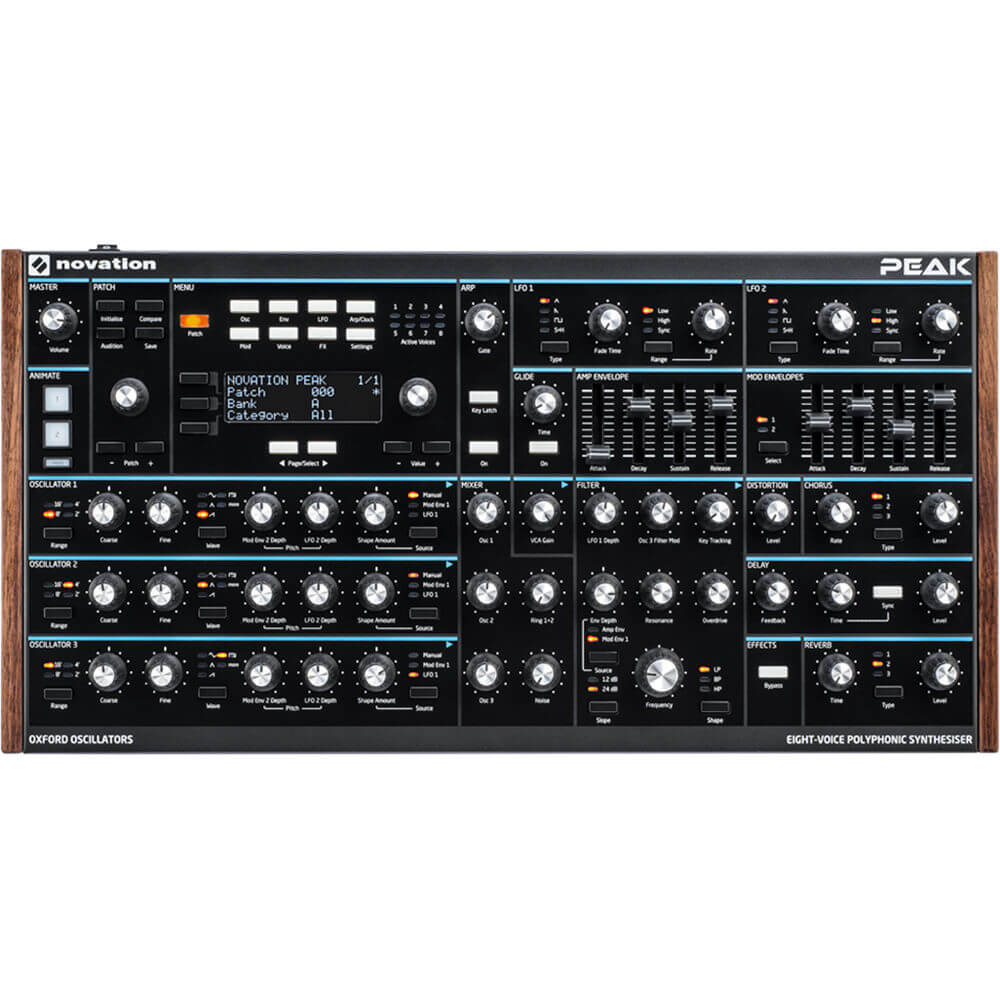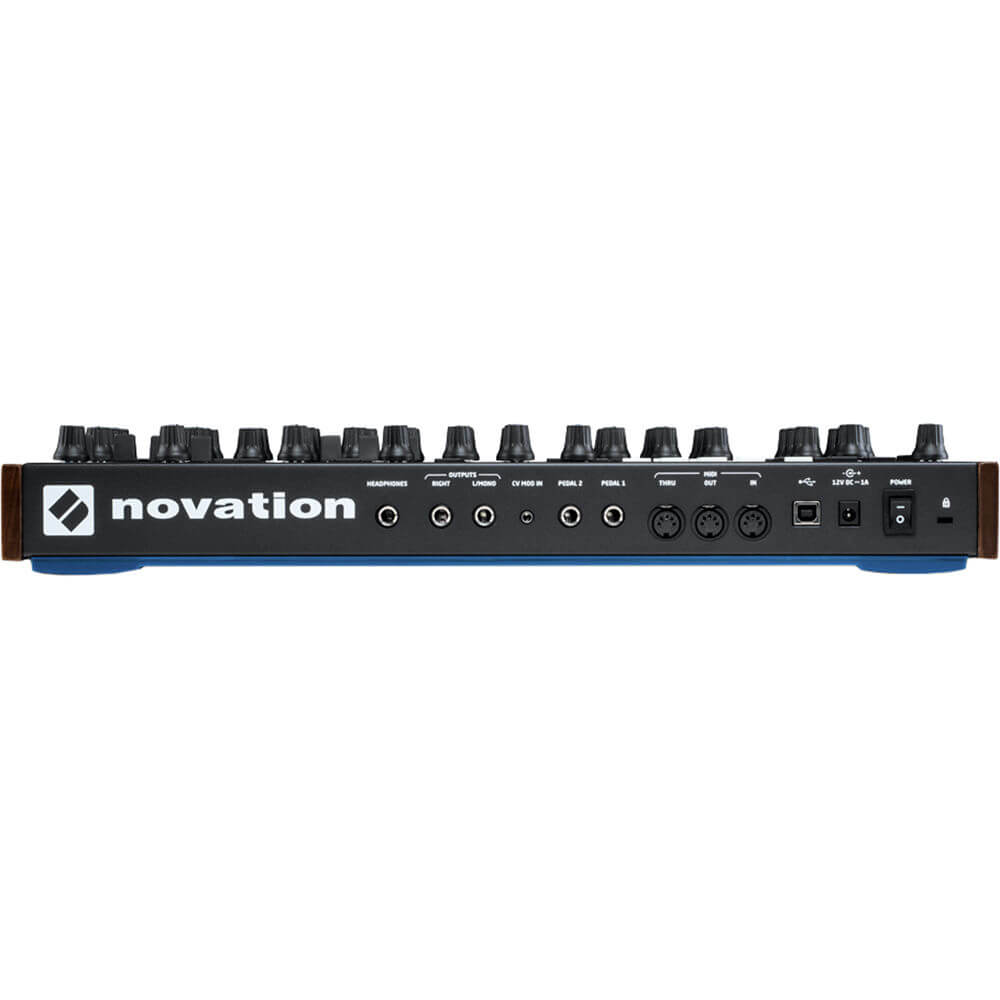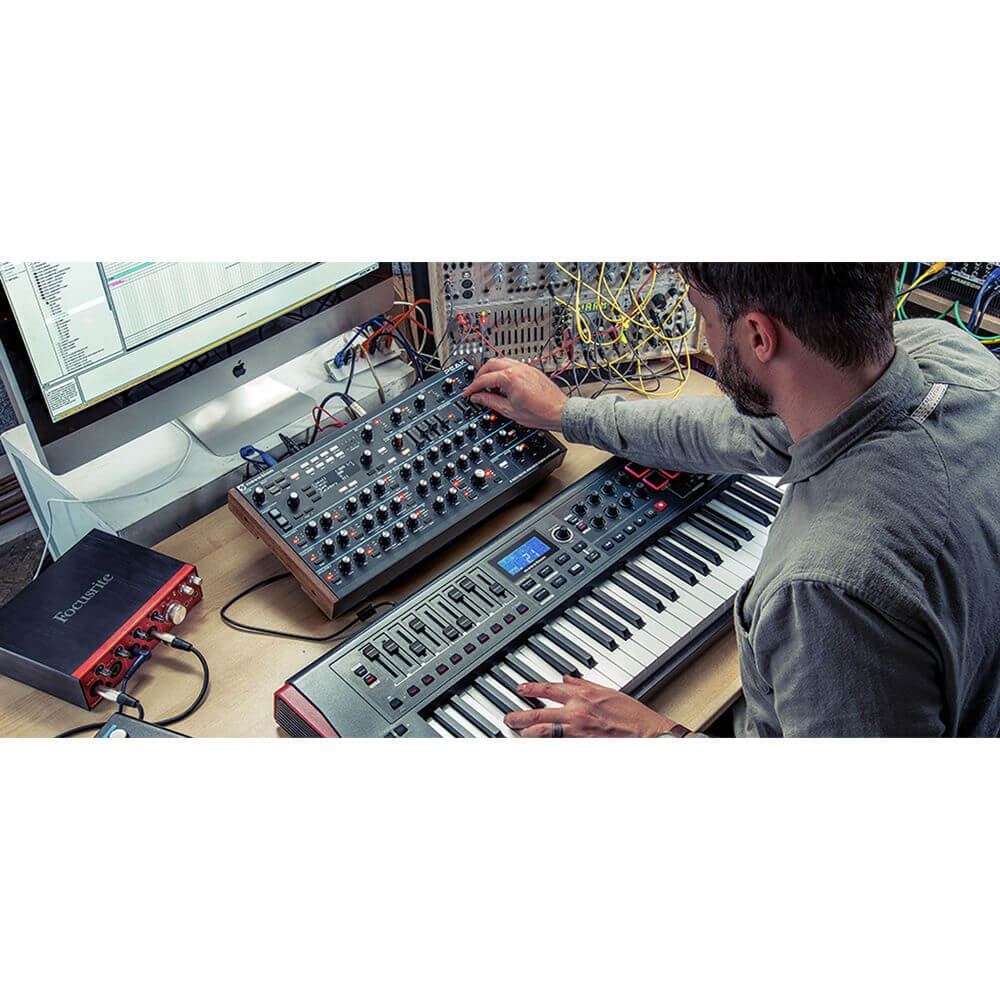 The Novation Peak 8-Voice Polyphonic Synthesizer is an 8-voice polyphonic synthesizer based on the Novation Bass Station II analog monosynth; it is well suited for musicians, sound designers, and synthesizer enthusiasts. The instrument features analog-sounding NCOs (numerically controlled oscillators), which include 3 new Oxford oscillators per voice, as well as a flexible digital domain with 17 digital wavetables. The instrument also features a multi-mode, analog state-variable OTA filter with high-pass, band-pass, and low-pass selections with 12/24 dB slopes. Peak's sound engine is rounded out by the true analog distortion and digital effects including chorus, delay, and reverb.
At the heart of the synthesizer lies the high-powered processor component called a field programmable gate array (FPGA), which far surpasses traditional DSP chips. Each of Peak's eight voices has an independent oversampling digital-to-analog converter (DAC). These DACs are oversampling at over 24 MHz (24 million times per second), using a simple RC (resistor-capacitor) filter on their output in the analog domain. Peak's ability to generate waveforms at the oversampling frequency (up to 512 times the traditional rate) ensures that Peak's waveforms are pure at all frequencies and free from digital artifacts, no matter how aggressively the pitch is modulated.
The front panel of the synthesizer provides a variety of controllers for 1:1 control over most of its parameters. There are 42 control knobs, 8 sliders, 2 data encoders, 46 total function buttons, 2 Animate buttons, 90 indicator LEDS, and a crisp OLED display. What's more, most of the control knobs, switches, and sliders transmit continuous controller data for recording and playing back automation from your sequencer of choice.
The rear panel offers a 1/4" headphone output, stereo (left & right) 1/4" outputs, two 1/4" pedal inputs, and an 1/8" CV modulation input for incorporating modular synthesizers. Additionally, the instrument features MIDI In, Out, and Thru via standard 5-pin DIN connectors. The on-board USB port is class compliant and transmits system and MIDI data. Peak includes a 12 VDC power supply, USB cable, and a download card for Ableton Live Lite 9 and Loopmasters sample content.
Novation Peak 8-Voice Polyphonic Synthesizer - Key Features:
FPGA-based numerically controlled oscillators (NCOs) running at 24 MHz generate waveforms indistinguishable from those produced by analog oscillators
Eight-voice polyphony
Three multi-waveform oscillators per voice
Waveform shaping on all waveform types
Analog signal path (filters, distortions, VCA)
Traditional, dedicated-function rotary controls
LP/BP/HP filter with variable slope, resonance, overdrive, and modulation options
Two independent LFO sections
Separate Amp and Mod envelope sections with ADSR fader controls
Ring modulator inputs (Osc 1 and 2)
Versatile arpeggiator with wide range of patterns
Glide (portamento) with dedicated time control
Pre-loaded with 256 brand new patches
Memory for 256 additional user patches
Two Animate buttons for adding spot effects in live performance
Powerful effects including distortion, delay, chorus, and reverb
Class-compliant USB port (no drivers required), patch dump, and MIDI
OLED display for patch selection and parameter adjustment
External DC input (for supplied AC PSU)
External CV input for integration with other analog equipment
Headphone output
Supports any two pedals (sustain or expression)
Kensington security slot
Optional stand available
Synth Engine
Structure

8-note polyphony (dependent on voices used per note)
Mono-timbral
5 voice modes (Mono, MonoLG, Mono2, Poly, Poly2)

Per voice

3 oscillators
1 noise generator
1 ring modulator
2 LFOs
1 Amp envelope and 2 Mod envelopes
1 filter

Waveforms include sine, tri, sawtooth, square/pulse, plus 17 wavetables of 5 waveforms per row
Filter

1 x state-variable OTA filter per voice
12/24 dB slope
Low-pass / band-pass / high-pass
Pre-filter overdrive
Post-filter distortion

Modulation

16 modulation slots per patch
Each slot has 2 sources to 1 destination

Mod sources

Direct (depth)
Modulation wheel
Aftertouch (polyphonic and channel)
Expression pedal 1
Expression pedal 2
Keyboard velocity
LFO1 positive
LFO1 bi-polar
LFO2 positive
LFO2 bi-polar
Amp envelope
Mod envelope 1
Mod envelope 2
Animate 1
Animate 2
CV mod input bi-polar

Mod destinations

Oscillator 1-3 frequency, v-sync level, shape amount, and level
Noise source level
Ring modulator output level
Overall synth output level
Filter drive, distortion, cut-off frequency, and resonance
LFO 1 and 2 frequency
Amp env / Mod env 1 / Mod env 2 attack, decay, and release
FM osc 1 -> osc 2, osc 2 -> osc 3, osc 3 -> osc 1, and noise -> osc 1
Osc 3 -> filter cutoff frequency
Noise -> filter cutoff frequency

Effects

Analog distortion
Chorus - 3 types
Delay with 16 types of delay sync, LP and HP damping, slew, and stereo
Reverb - 3 types

Miscellaneous

Arpeggiator w/ key latch ƒ?? 33 patterns
Patch storage - up to 512 on hardware (ships with 256 factory patches)
Glide
All knobs (excl. volume), sliders and most buttons transmit and receive MIDI cc commands for external control and mapping
Sound Collective
The Sound Collective is a platform that will provide a free third-party software instrument or creative effect to all registered Novation hardware users every two months
Register your Novation hardware to access innovative software every couple of months courtesy of the Sound Collective
Free and discounted synthesizers and effects available every two months when you purchase and register any Novation product