Sale price
$149.99
Regular price
Unit price
per
Sale
Sold out
Eligible for free shipping
View full details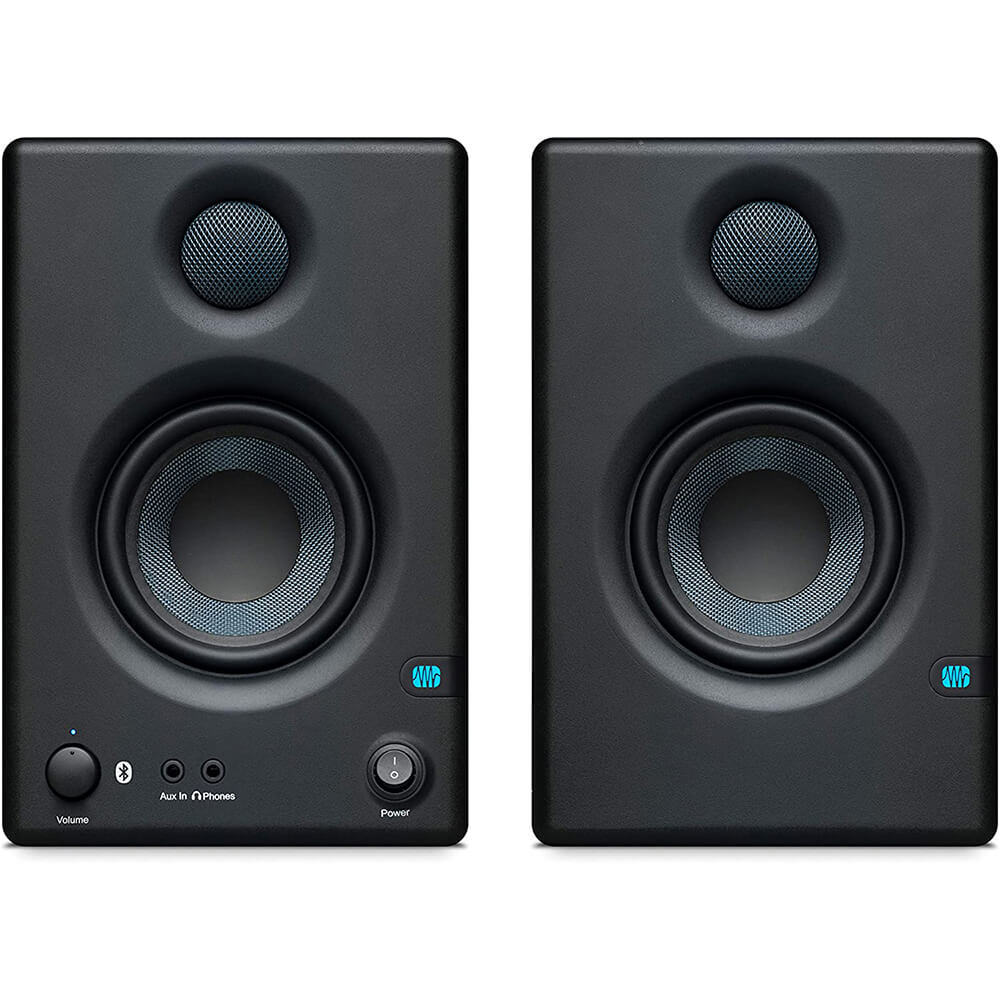 Compact Studio Monitors for all Applications
Choosing the right pair of monitors for your home studio can turn a good mix into an incredible track. That's where the PreSonus 3.5 Eris Series Active Bluetooth Monitors come in. Whether you're gaming, mixing, or mastering, these compact monitors create accurate sound reproduction without the cables! These monitors have 4 different types of audio connections (1/4" TRS, RCA, 1/8" stereo, and Bluetooth) that let you dish out audio from almost any source, including smart devices. You'll also find manual acoustic tuning knobs on the back of the units to optimize them for your acoustic environment. To make sure you get the most out of your monitors, choose the Eris 3.5 Active Bluetooth Monitors from PreSonus.
Dual drivers deliver superior accuracy
Accuracy is important in creating good mixes. To achieve that, PreSonus loaded the Eris 3.5 with a 3.5" woven composite low-frequency driver and 1" silk dome high-frequency driver. Thanks to the rear ports, the woven composite low-frequency driver provides clear sound dispersion with a strong bass response. The silk tweeter showcases smooth highs with a wide sweet spot that can be heard throughout your studio.
Easily tune your monitors to your environment
The way a speaker responds is directly affected by where it's placed in your space and the acoustics of the room. If placed badly, your monitors can sound muddy and force you to repeatedly adjust their locations. Wouldn't it be nice to have monitors that you can tune to fit the acoustics of your space? With the Eris monitors, this isn't just possible, it's easy! On the back of the left monitor, you'll find two acoustic tuning controls for bass and treble. Each knob can adjust its parameter by ?ñ6dB! Once you've perfected your tuning, use the volume knob on the front panel to listen in total comfort.
PreSonus 3.5" Bluetooth Eris Series Monitors Features:
Compact footprint fits almost anywhere
3.5" woven composite low-frequency driver produces tight, powerful bass response
1" silk dome high-frequency driver provides a wide sweet spot
?ñ6dB acoustic tuning control tailors your monitors to your room
Bluetooth 5.0 connectivity lets you play audio from smart devices or go cord-free
Multiple input configurations let you connect to almost any audio source
Front-mounted headphone output allows you to work without disturbing others
Soft Start feature prevents popping while powering-up