Sale price
$149.99
Regular price
Unit price
per
Sale
Sold out
Eligible for free shipping
View full details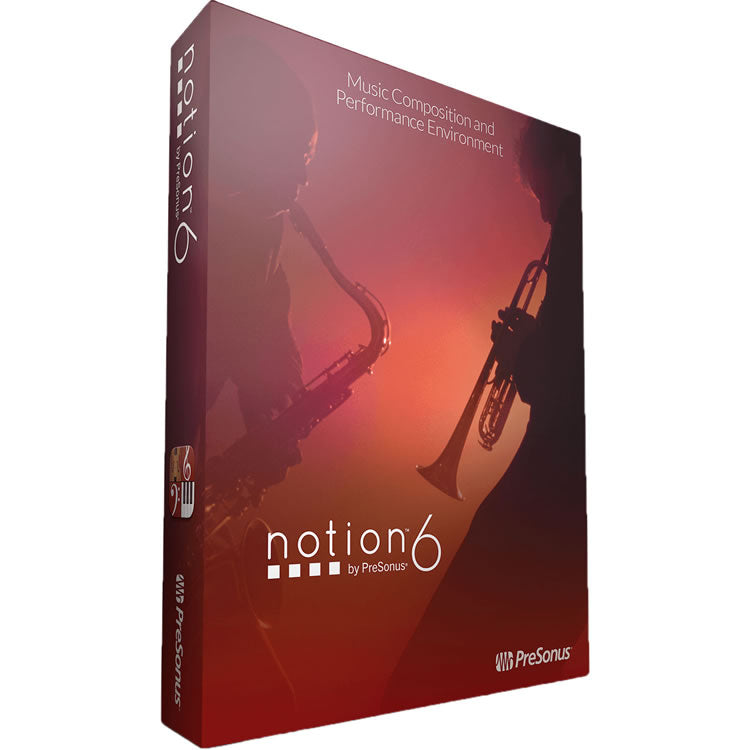 Presonus Notion 6 is a music composition and performance environment using notation software to bring musical ideas to life. Compose traditional notation, tablature, or lead sheets easily and seamlessly on a Mac, Windows, or mobile device, even using handwriting. Create music directly on the staff, record or enter notes quickly with a MIDI instrument, or use the integrated virtual keyboard, fretboard, or drum pad.
Playback can be realized using samples recorded by the London Symphony Orchestra at Abbey Road Studios, and guitars by Neil Zaza, electric bass by Victor Wooten and a drum kit by Roy "Future Man" Wooten. Other samples include Olympus Micro Choir and Lakeside Pipe Organ by Soundiron. Enhanced VST support and bundled PreSonus effects add further functionality.
Projects can be integrated with any professional DAW via ReWire, or the use of audio/MIDI streaming, along with close integration with PreSonus Studio One. Film scoring is possible with the included advanced video capabilities. New layout controls allow for polishing the appearance of the scores and MusicXML support facilitates transfer between other notation and music apps. Export WAV or MP3 files with instant SoundCloud sharing.
Presonus Notion 6 ƒ?? Key Features:
Easily compose, play back, and edit music
Playback using orchestral samples recorded by the London Symphony Orchestra, and more
Perform scores using Notion as a live instrument and save performances
Process audio with PreSonus Native Effects Limiter, Compressor, and Pro EQ plug-ins
Create a score on a Mac or Windows computer and continue to edit on iPhone/iPad and vice versa, with Notion for iOS (available separately)
Write parts by hand and watch them convert to digital notation
Send audio and MIDI data directly to and from Studio One anywhere on the network
Compose to picture with the video window (import video in a variety of formats)
Import/export files to/from Finale and Sibelius via MusicXML
Native 64-bit support
Audio and MIDI ReWire support (host and slave)
See notation and MIDI data on the same staff
Comes with the Notion Score Library, a collection of scores in Notion format
Presonus Notion 6 ƒ?? System Requirements:
Mac System Requirements:
Intel Core 2 Duo processor (Intel Core i3 or better recommended)
OS X 10.8.5 or later
Windows System Requirements:
Intel Core 2 Duo or AMD Athlon X2 processor (Intel Core i3 or AMD Athlon X4 or faster recommended)
Windows 7 x64/x86 SP1 + platform update, 8.1 x64/x86, 10 x64/x86
General Requirements:
1 GB RAM (2 GB or more recommended)
8 GB free hard-drive space