Sale price
$999.99
Regular price
Unit price
per
Sale
Sold out
Eligible for free shipping
View full details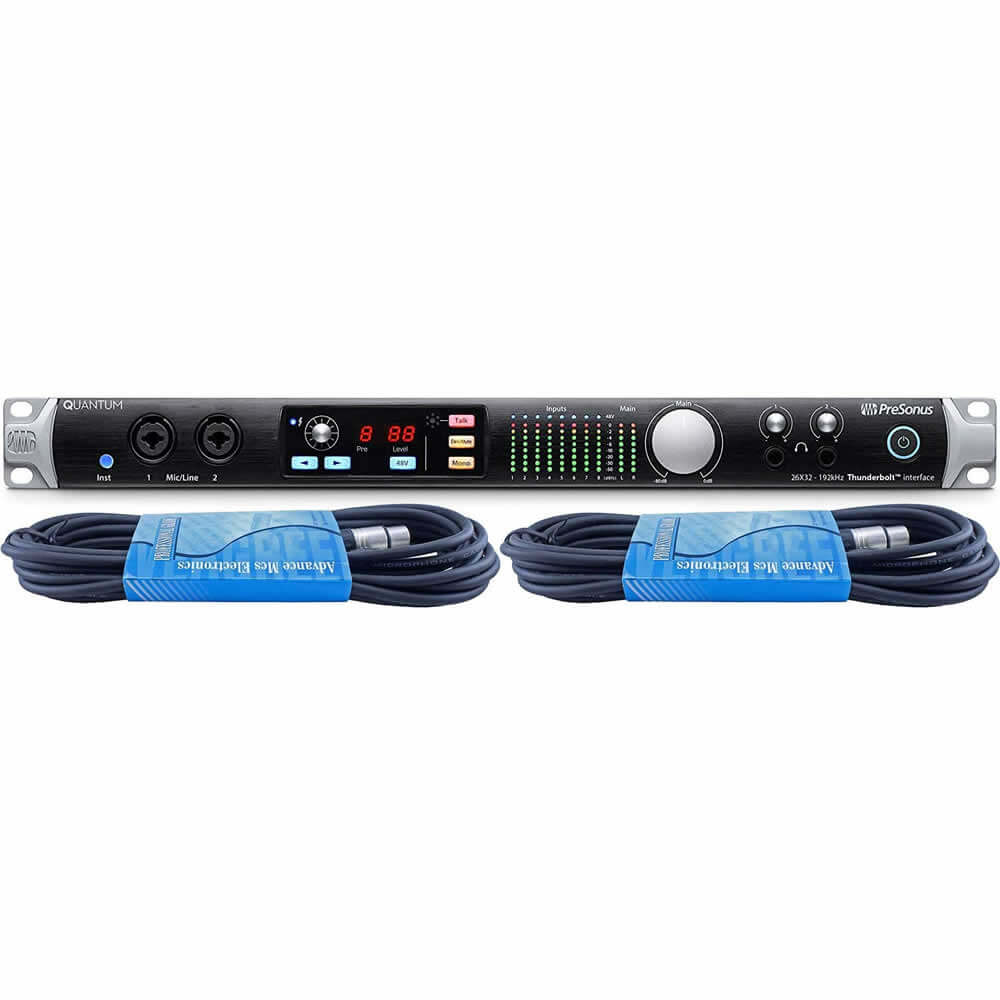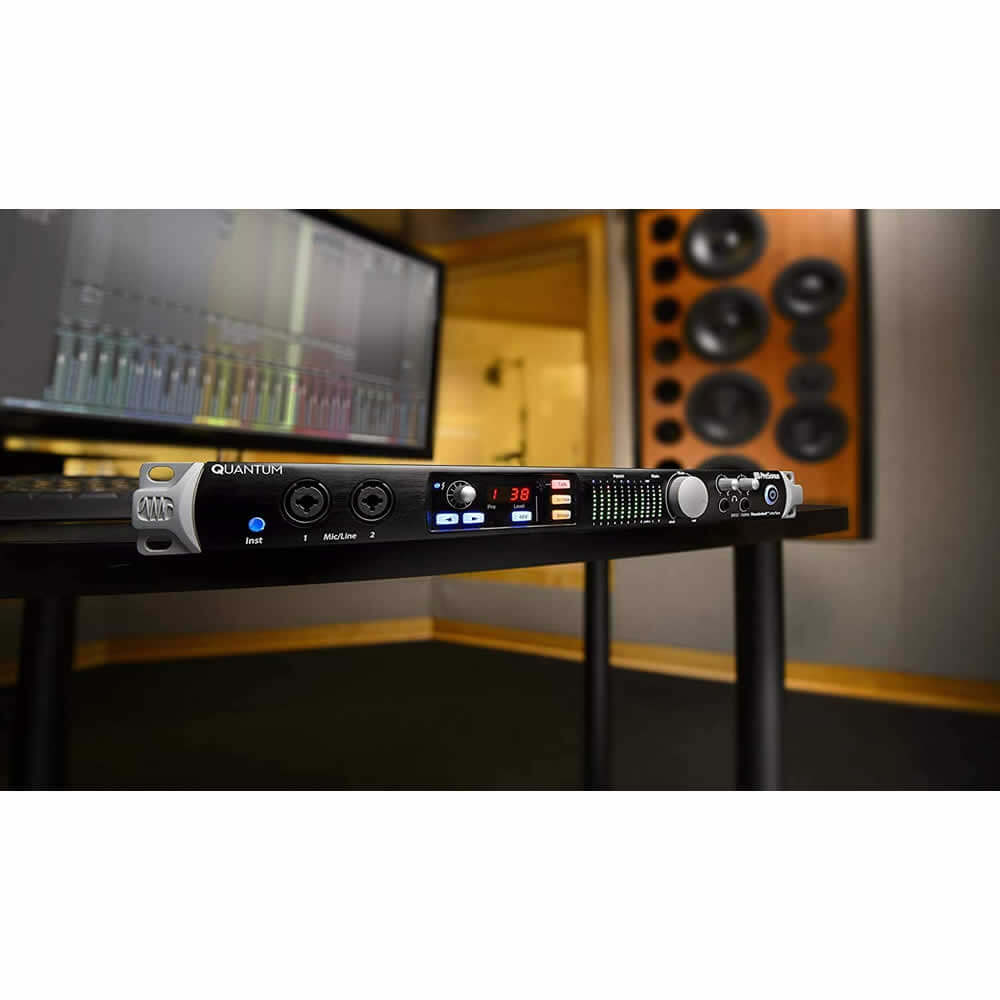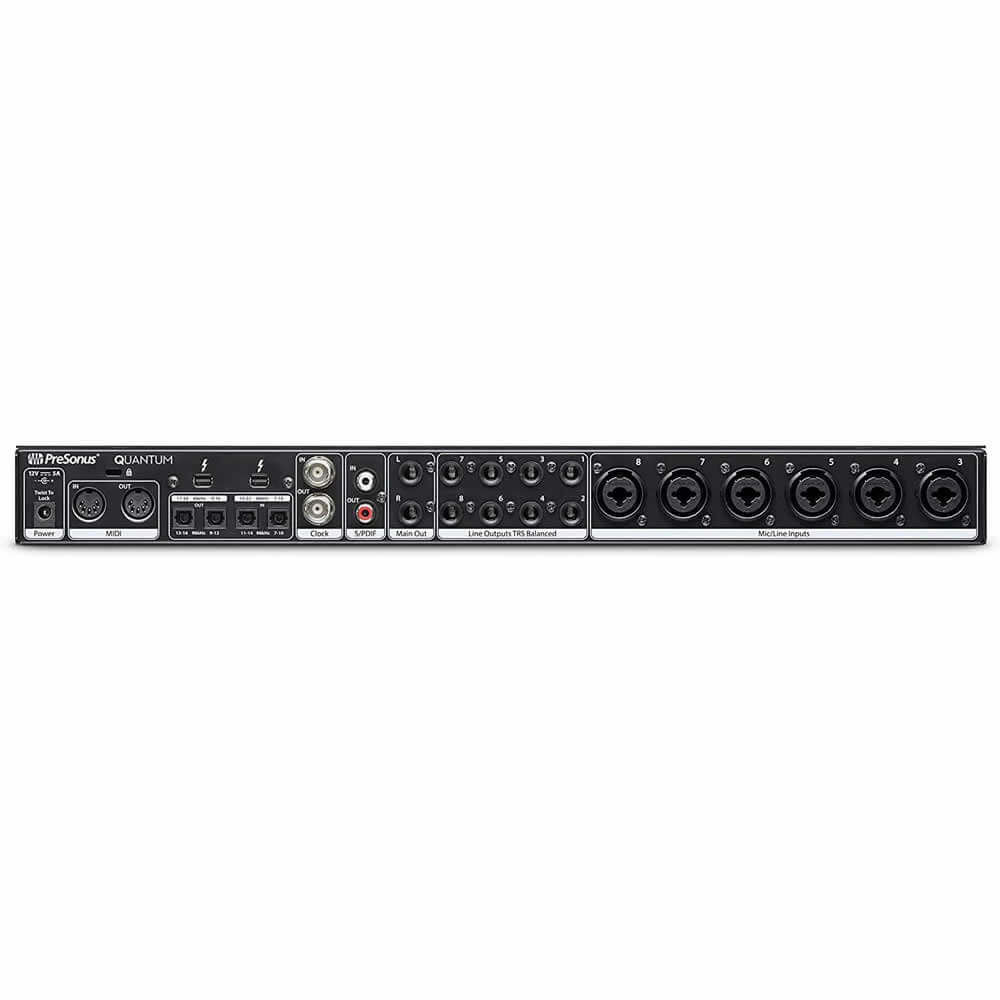 This Great Bundle Includes: 1 x Presonus Quantum 26X32 Thunderbolt 2 Computer Audio Interface, and 2 x 15ft XLR Cables.
Taking full advantage of the high-speed Thunderbolt 2 bus and ADAT Optical I/O, the Presonus Quantum 26X32 Thunderbolt 2 Audio Interface delivers up to 26 inputs and 32 outputs, with extremely low latency. Boasting superb audio quality; 24-bit, 192 kHz recording and playback; recallable XMAX microphone preamps; and the ability to expand your system as your needs grow, itƒ??s a great choice for a wide variety of professional and semi-pro producers and electronic musicians.
Presonus Quantum 26X32 Thunderbolt 2 Audio Interface ƒ?? Features:
We cut the wait. Every design decision during Quantumƒ??s engineering was made with one goal in mind: speed. Quantum sports high-speed Thunderbolt 2 connectivity and a no-frills, direct-to-DAW architecture, with no DSP. The result is our leanest, fastest, lowest-latency interface to date. Cutting-edge 24-bit, 192 kHz converters with 120 dB of dynamic range and a surprising amount of expandability and software control options round out the package.
Expandable when you need more I/Oƒ??up to 96 in and out. The Quantum offers two combo mic/line/instrument inputs and six combo mic/line inputs, each with a digitally-controlled XMAX preamp and individual +48V phantom power. You also get two ?¬-inch TRS main outputs, eight ?¬-inch TRS aux outputs, and two independent headphone outs with dedicated volume controls. But thatƒ??s just the start. With ADAT Optical I/O and S/PDIF stereo digital I/O, you can have up to 18 digital inputs and outputs. And if you need even more I/O channels, you can stack up to four Quantum interfaces via Thunderbolt to create a monster system with up to 96 in and out. BNC word clock I/O ensures your Quantum and other digital audio devices operate in tight sync. And of course you get MIDI I/O, too.
Superior sound. Audiophile-grade digital converters, low-jitter clocking, and recallable preamps add up to a superior recording and listening experience. The Quantum operates at up to 192 kHz for ultra-high-definition mixing and recording. High-quality converters on every input and output provide 120 dB of dynamic range to capture complex musical harmonics smoothly and naturally with no audible distortion. And our recallable XMAX Class A analog microphone preamps deliver incredibly high headroom, deep lows, smooth highs, and a rich overall sound so youƒ??ll hear every breath, transient, and detail in your recordings.
A superior choice for any production environment. With its pro features and abundant I/O, the Quantum fits into any recording and production environment. You get two main and eight auxiliary balanced line-level outputs, as well as Mute/Dim and Mono controls. The onboard talkback mic can be routed to any mix, and you can listen to any mix from either of two independent headphone amps. All 10 analog outputs are DC coupled so they can provide control voltage to external analog equipment. Add that to Quantumƒ??s expandability, flexible software suite, blazing speed, and superb sound quality, and you have a recording system that will be the heart of your dream studio for years to come.
Tight integration with Studio One. With the Quantum, your audio interface is an integrated extension of your recording environment. Launch Studio One??, and youƒ??ll find full preamp control integrated into your recording environment. Need to track away from your computer? Launch Studio One Remote on your iPad??.
Remote control with UC Surface, too! The Quantumƒ??s onboard features can also be controlled in PreSonusƒ?? free UC Surface control software, so even if you use third-party recording software, you can remotely access them. We even included a real-time analyzer to monitor your audio streams. UC Surface has rapidly won accolades for an intuitive mixing interface that provides quick access to everything you need.
Now includes Studio Magic Plug-in Suite. This suite of plug-ins adds a wealth of fresh sounds and effects to Studio One. Cherry-picked from the first names in virtual instruments and effects, each plug-in brings a different flavor of practical magic to your songs. These plug-ins arenƒ??t gimmicky one-trick ponies ƒ?? these are real-deal workhorses that youƒ??ll rely on for countless mixes.
Presonus Quantum 26X32 Thunderbolt 2 Audio Interface - Specifications:
26x32 Thunderbolt 2 ultra-low-latency audio interface
PreSonusƒ?? fastest interface; record direct to DAW (no DSP)
Stack up to four Quantum interfaces via Thunderbolt for a monster system
Talkback switch and internal Talkback microphone
Mute/Dim and Mono switches
Assignable output level control
10 8-segment LED meters (8 input, 2 output)
Integrated Software:
Tight integration with included Studio One?? Artist DAW software (Mac/Windows) for multitrack music production and studio command features
Wireless control over preamp levels from free UC Surface touch-control software (Mac??/Windows??/iPad??) and from free Studio One Remote for iPad
Compatible with most recording software for Mac and Windows
Flexible Connectivity:
Simultaneous I/O up to 26 inputs/32 outputs (at 44.1 or 48 kHz)
2 front-panel combo microphone/instrument/line inputs
6 rear-panel combo microphone/line-level inputs
8 XMAX remote-controllable, Class A mic preamps with individually switched 48V phantom power
2 balanced ?¬ƒ?� TRS line-level main outputs
8 balanced ?¬ƒ?� TRS line-level outputs
Line outputs are DC coupled for sending control voltages for analog gear
ADAT Optical/Dual SMUX inputs/outputs: 16x16 channels at 44.1 or 48 kHz; 8x8 channels at 88.2 or 96 kHz
Stereo S/PDIF coaxial input and output
2 high-volume headphone outputs with dedicated volume controls
Digitalia:
Thunderbolt 2 high-speed bus
24-bit resolution and up to 192 kHz sampling rate
Top-quality 120 dB A/D/A converters
BNC word clock input and output with low-jitter clocking
MIDI I/O on 5-pin DIN connectors
Physical:
Road-rugged construction with all-metal chassis and metal knobs
1U rack-mountable
12 VDC external power supply (included)