Sale price
$199.99
Regular price
Unit price
per
Sale
Sold out
Eligible for free shipping
View full details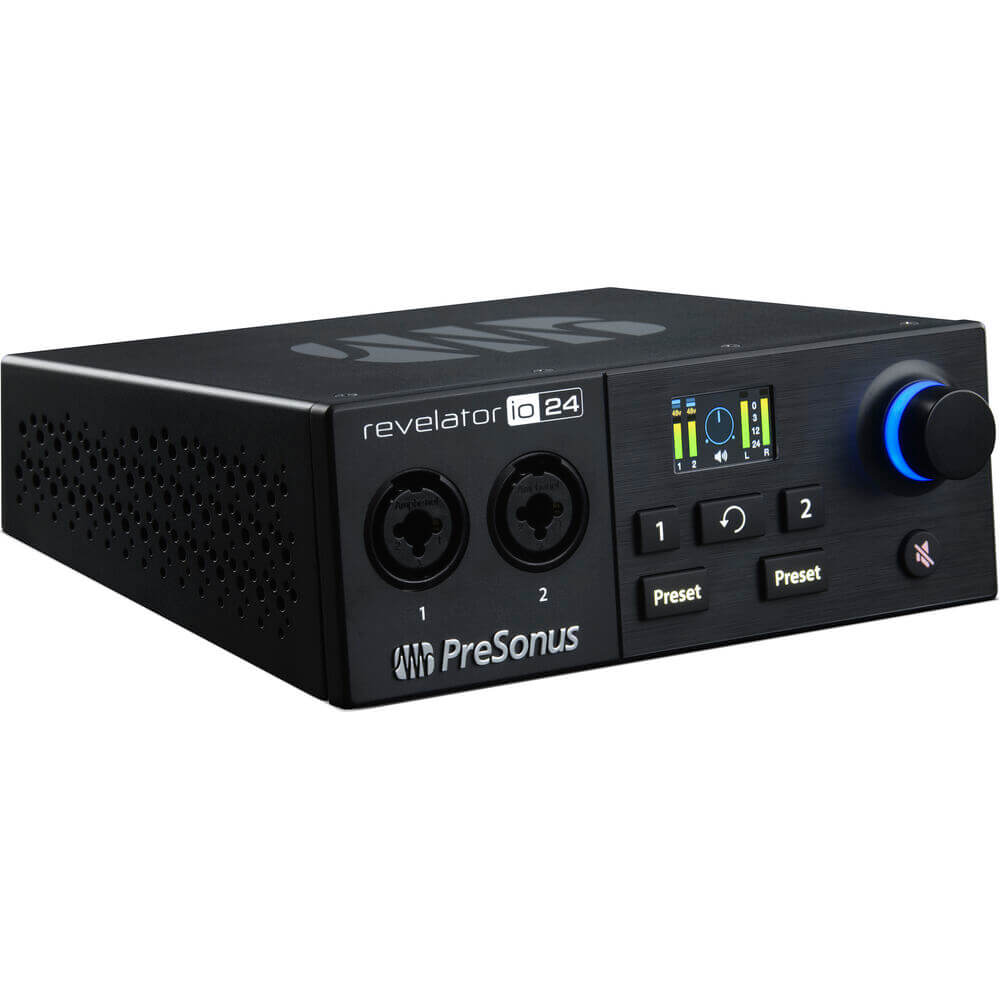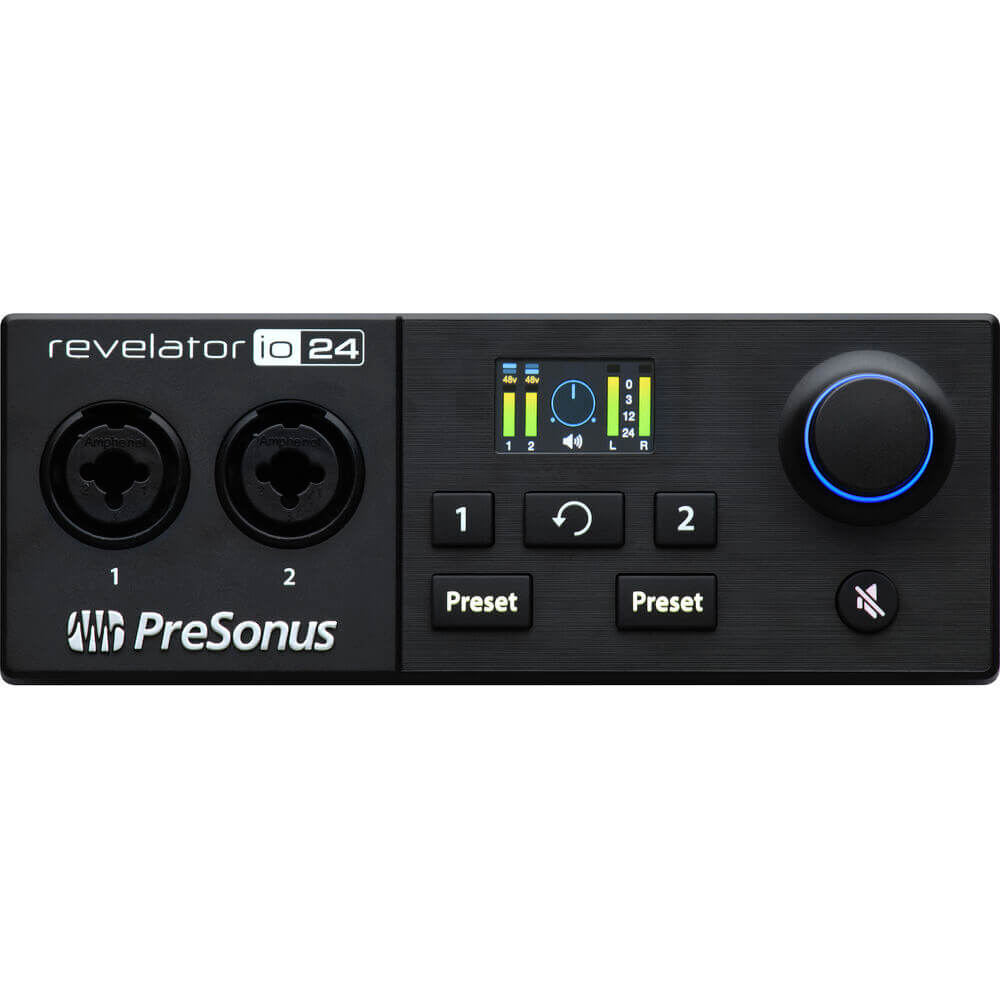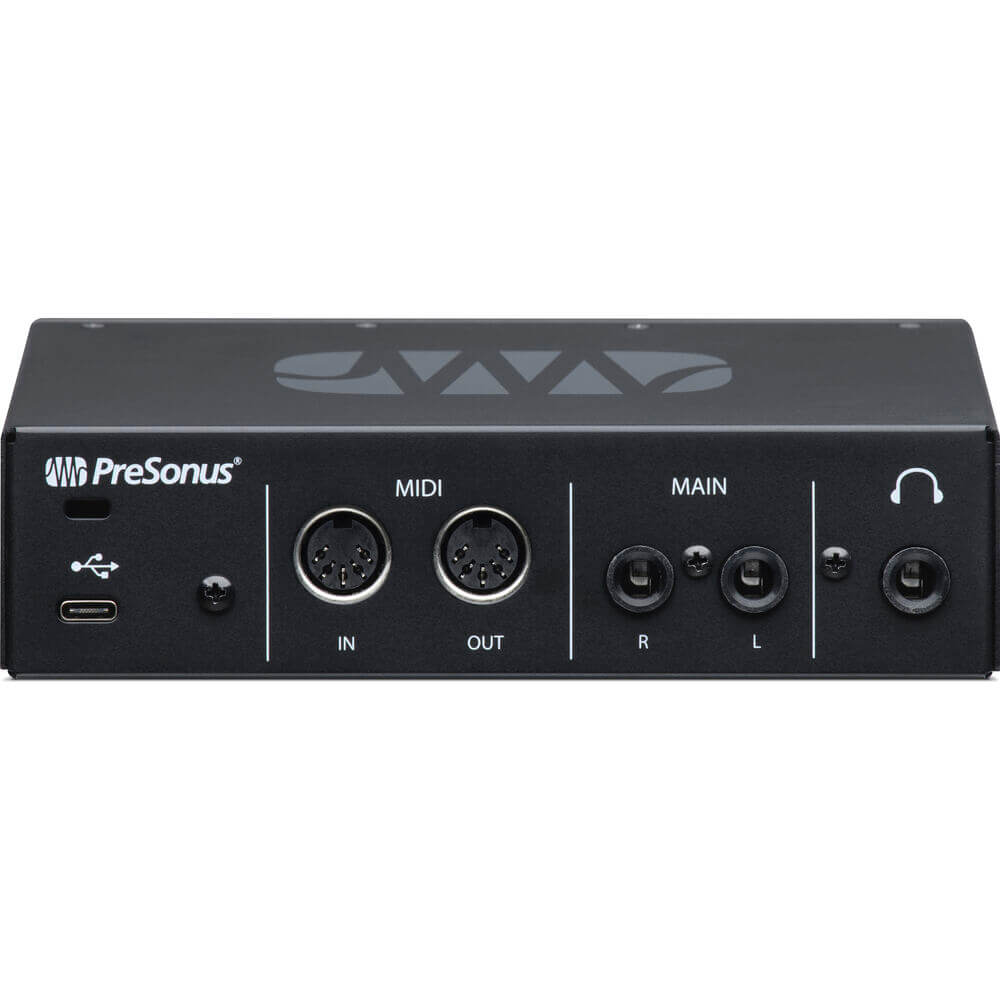 Loaded with onboard DSP, loopback channels, and complete configuration for streaming at the click of a button, the PreSonus Revelator io24 desktop 2x4 USB Type-C audio/MIDI interface blends studio-quality sonic performance and refreshing ease of use, so podcasters, live streamers, content creators, and musicians can get great sounds in a hurry. Plus, it comes with a powerful software package that includes two DAWs, a slew of virtual instruments, plug-in effects, loops, samples, and much more.
On the hardware side, the two XMAX-L preamps and 24-bit / 96 kHz converters deliver clarity and natural tonality for mics, instruments, or line-level sources. Whether you use the factory presets or create your own, the built-in Fat Channel processing offers pro-level impact without ever taxing your computer. Use the two loopback channels and integrated mixer to pipe in backing tracks or a call-in guest, and feed independent mixes to the main and headphone outputs. There's even a 5-pin MIDI I/O to allow simple hookup of a MIDI controller, synthesizer, or groovebox, making the Revelator io24 advantageous for beatmakers, keyboardists, and electronic music producers as well.
Built to 'Cast
Flexible and versatile, the bus-powered Revelator io24 is designed for both recording and streaming. Get polished, professional results thanks to PreSonus XMAX-L microphone preamps and onboard processing that will make your stream, podcast, or recording stand out. Revelator io24's intuitive loopback mixer makes adding backing tracks, sound effects, or Skype interviews quick and easy. Quickly record Zoom calls for your podcast, add backing tracks to your live stream performance, and more.
Stream Mix Mode
Produce a great mix for your stream fast by engaging Stream Mix mode. And with the click of a button, your complete DSP mixƒ??analog inputs, loopback channels, reverb, and effectsƒ??is patched to the USB stream, where you can easily send it to your streaming softwareƒ??no complex routing or extra hardware required. Whether you're producing your latest YouTube video or streaming your music live on Facebook, Revelator io24 is built to 'cast.
No-Fuss Loopback Audio
Revelator io24's simple loopback mixer makes it easy to add backing tracks to your live stream performance or conference in a Zoom caller to your podcast. With two dedicated stereo channels just for loopback audio on both macOS and Windows, you'll mix and record the audio from two different applications along with both channels of your Revelator io24, all at the same time. Stream and record to Studio One (or your application of choice) simultaneously.
Great Sound Made Easy
Polish your sound with dedicated onboard processing featuring the same State-Space modeled sonic enhancements as the award-winning StudioLive Series III mixers. Professionally crafted presets make your voice or guitar stand out with a single click. Additional effects let you emulate concert halls, AM radio, or Venusian armadas to completely transform your sound.
Proven, Professional Preamps
There are 25 years of studio-grade design experience inside Revelator io24. Two XMAX-L mic preamps capture even the most complex musical harmonics smoothly and naturally, with no audible distortion; your microphones can sound their best. Instrument and line inputs let you connect all your gear, and a stereo link option provides even more flexibility.
Stress-Free Recording
When you have the right tools, any job is easier and faster to finish. That's why PreSonus included high-resolution input and output metering on the Revelator io24, allowing you to keep an eye on your input and mix levels when you're recording by yourself.
Remote Control
Wireless remote control via UC Surface for iPadOS, Windows, and Android devices means you get touchscreen control over all of your Revelator io24's features, processing, and loopback mix, at your fingertips. Just connect your favorite tablet to the same network as your computer, and you're good to go.
Tools that Grow with You
PreSonus includes Studio One Artist production and recording software that makes it easy to polish your recordings with its lightning-fast drag-and-drop workflow and fully featured production environment. Whether you're recording a complete album or just adding bumpers to your podcasts, Revelator io24 and Studio One Artist give you everything you need to get professional results.
Hear Better
Revelator io24's easy-to-use mixer also lets you create a custom zero-latency monitor mix fast. Independent levels for the headphone and the main outputs (plus a mute option for the latter) make it easy to switch between mixing on studio speakers and monitoring on headphones. You can even create a separate mix just for your headphones.
Wherever Sound Takes You
Want to take your sound with you on a gig or go mobile with an SD recorder or DSLR? No problem. Just save your favorite presets onboard your Revelator and you can use its preamps and your customized settings just like you would on your computer. Since the processing onboard the Revelator io24 is built in, you'll have your presets wherever sound takes you.
Studio Magic Plug-In Suite
The Studio Magic Plug-In Suite for Mac and Windows includes Ableton Live Lite, tutorials from Melodics, sound libraries from Ghost Hack, access to Soundsnap sound effects, seven virtual instruments, and nine popular plug-ins in VST, AU, and AAX formats.
Arturia Analog Lab Intro
Brainworx bx_opto
Brainworx bx_rockrack
Cherry Audio Surrealistic MG-1 Plus
Cherry Audio Voltage Nucleus
iZotope Neutron Elements
Klanghelm SDRR2tube
KV331 Audio Synthmaster Player
Lexicon MPX-i Reverb
M??ag Audio EQ2
Native Instruments REPLIKA
Output Movement
SPL Attacker Plus
UJAM Virtual Bassist ROWDY
UVI Model D