Sale price
$1,299.99
Regular price
Unit price
per
Sale
Sold out
Eligible for free shipping
View full details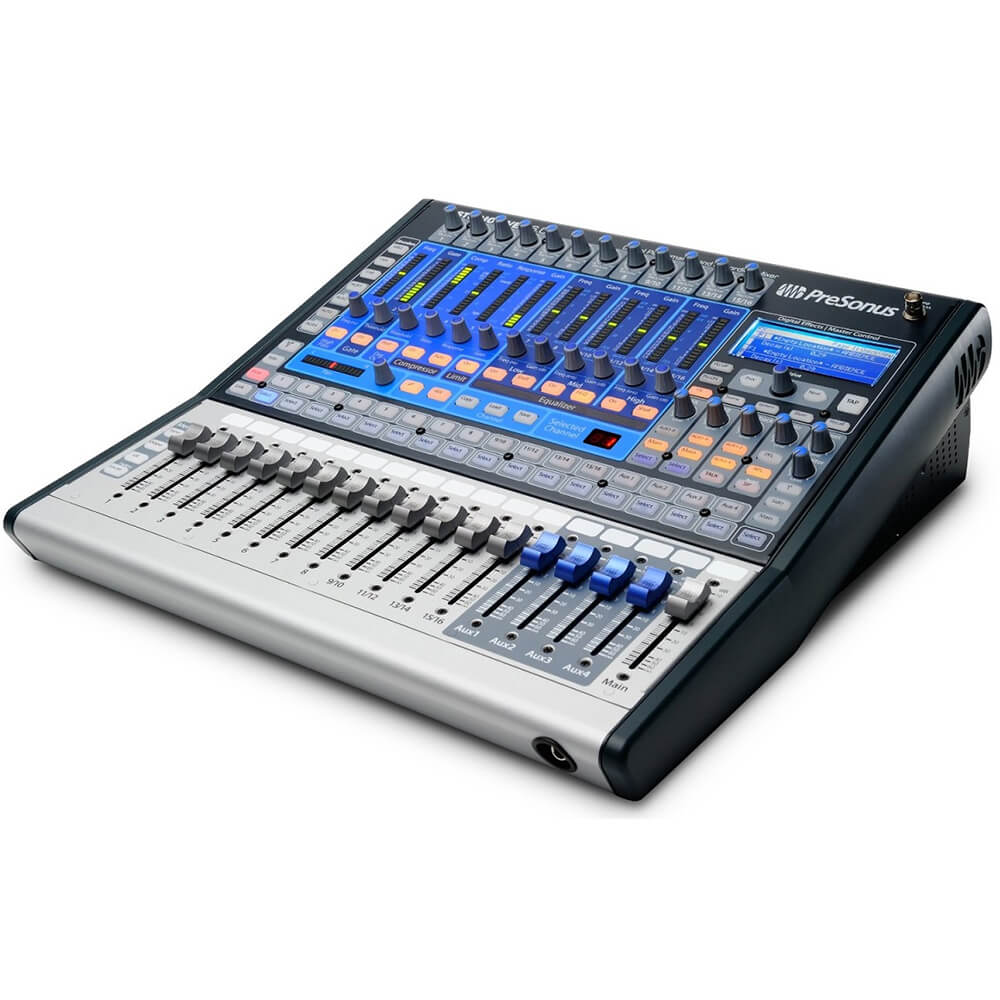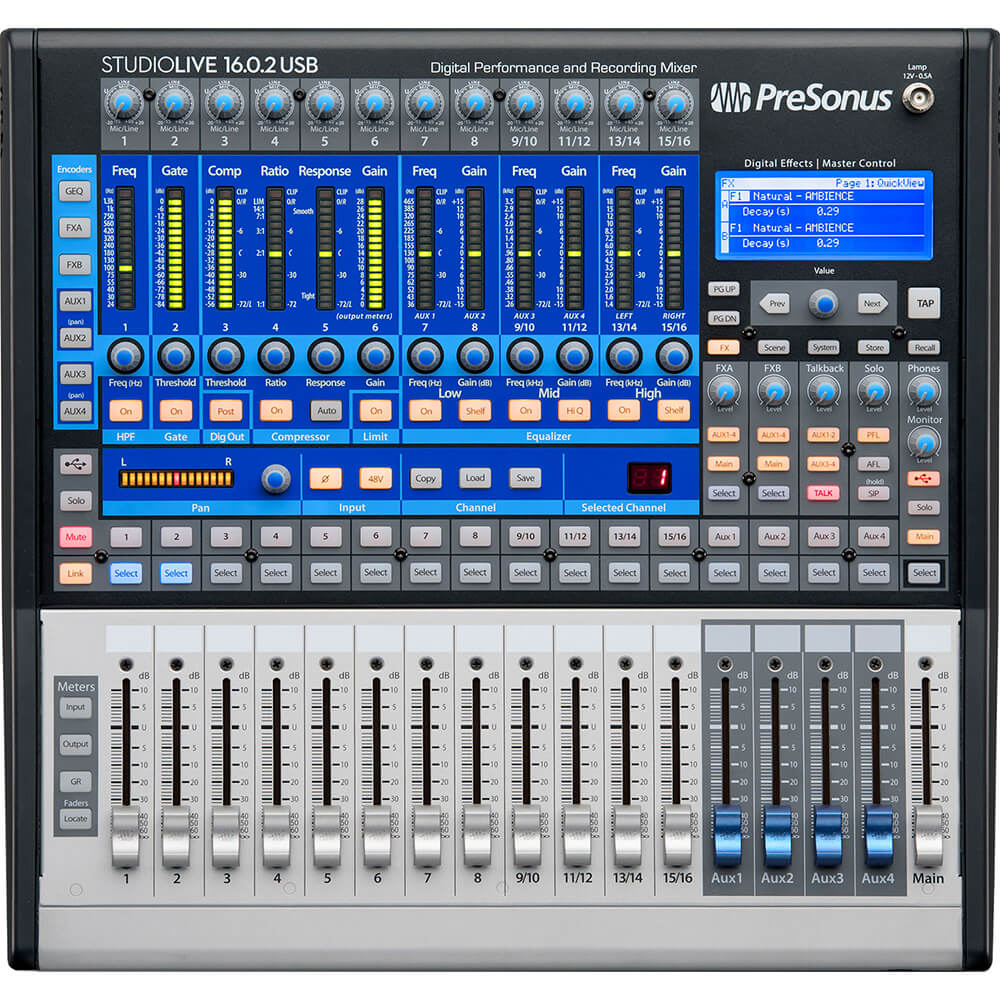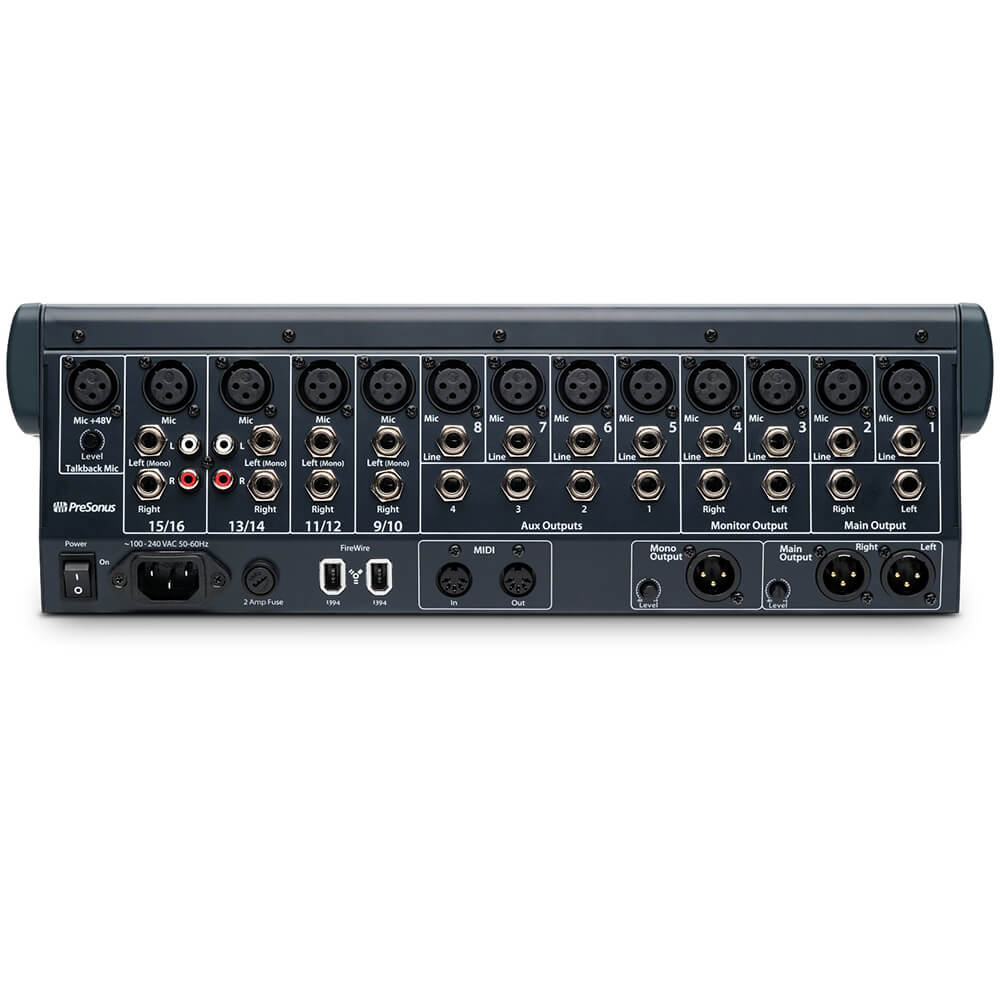 Presonus Studiolive 16.0.2 16-Channel Digital Mixer
The PreSonus StudioLive 16.0.2 is an excellent-sounding compact digital mixer with a flair for connectivity and extensibility. You get unprecedented freedom to work the way that works best for you. StudioLive technology certainly lives up to its name: a powerhouse in the studio - with stunning live capabilities that give us more than a glimpse into the future of live mixing. The PreSonus StudioLive 16.0.2 even offers QMix wireless aux mix control software for your iPhone and iPod Touch!
Pristine preamps for stellar recordings
The StudioLive 16.0.2 gives you 12 crystalline XMAX Class-A mic preamplifiers (13, if you include the talkback), 16 line inputs, 4 aux mix buses, and MIDI I/O. Now throw in a 16x16 FireWire interface, and PreSonus' acclaimed Fat Channel signal processing, and you've got your proverbial 800-pound audio chihuahua. Essentially a mammoth console in a minuscule package, Fat Channel is fitted with a highpass filter on every channel and aux; phase reverse for each channel strip; and a gate, compressor/limiter, and 3-band parametric EQ on every channel, aux output, FX bus, and main output.
Onboard effects helps you say goodbye to your live sound rack
A treasure trove of onboard effects give you the tools to artfully sculpt your musical inspirations. PreSonus has armed the 16.0.2 with two programmable 32-bit floating point stereo DSP effects engines packing 50 reverb, delay, and time-based effects presets. The reverbs sound opulent and highly detailed, the delays are precise, and the slap echo harkens back to good ol' tape delay. On top of all this, you get a 31-band stereo graphic EQ strapped across the main outs, enabling you to adjust for room acoustics and loudspeaker response.
Wirelessly control your aux mixes with your iPhone or iPod Touch
PreSonus StudioLive mixers feature QMix, which lets you control your mixer's aux sends from up to ten Apple iPhones or iPod Touches! You can even let the performers create their own custom monitor mixes from individual iPhones. With the "Wheel of Me," you can choose multiple "Me" channels and tweak their levels simultaneously. All you need is a Mac or PC running PreSonus Virtual StudioLive software.
Fat Channel gets you a great sound fast
To give you effortless access to all this processing power, the Fat Channel has clearly labeled physical knobs, a slick multifunction 16-ladder LED display, highly visible Selected Channel readout - and even a separate horizontal pan display. Visible feedback always lets you know what's afoot. And so you don't have to remember a zillion-and-one settings, StudioLive never forgets. Store and Recall lets you save Scenes that include every setting, across-the-board. Or save just the Fat Channel settings. Copy-and-paste settings across multiple channels and buses or save individual DSP effects. This means that for fixed applications like clubs, churches, or auditoriums, you can always rely on getting the same sound. Fine-tune Scenes for different songs and call them up in an instant. The world is your sonic oyster.
A powerful mixing solution
Given its powerful performance and jaw-dropping features, you'd expect the PreSonus StudioLive 16.0.2 to cost a bundle, but, happily, it doesn't. All the more reason to get chummy with a mixer that gives us a crystal-ball into the future.
Universal Control v1.6 update gives you "Smaart" tools to fight feedback, and more
Universal Control v1.6 is a big update for the StudioLive series, adding the Rational Acoustics Smaart real-time analysis tools. Smaart displays are integrated into the Virtual StudioLive software environment, giving you visual indicators when feedback is imminent. It makes it easy to adjust the appropriate band of the graphic EQ to eliminate feedback. Universal Control v1.6 also lets you control talkback on/off and signal routing with Virtual StudioLive, and also adds support for the StudioLive Remote 1.3 app update.
PreSonus StudioLive 16.0.2 Features:
16 channel inputs (8 mono input channels and 4 stereo channels) with 60 mm faders
Universal Control v1.6 update gives you Smaart analysis tools from Rational Acoustics to fight feedback, plus enhanced Virtual StudioLive functionality
13 Class A XMAX solid-state mic preamplifiers (12-channels + talkback)
4 auxiliary buses (pre/post-fader send) and 2 internal FX buses
2 stereo 32-bit digital effects processors
QMix wireless aux mix control software for your iPhone and iPod Touch!
Fat Channel signal processing on all channels and buses: 3-band semi-parametric EQ
Dynamics: gating, compressor, downward expander, and limiter
Stereo, 31-band graphic EQ on the main bus
16-in/16-out FireWire recording interface (24-bit/44.1kHz and 48kHz)
Scene and individual settings store and recall
PreSonus StudioLive 16.0.2 Tech Specs:
Type: Digital
Channels: 16
Inputs ƒ?? Mic: Preamps 12 x XLR
Inputs ƒ?? Line: 16 x TRS, 4 x RCA
Inputs ƒ?? Other: XLR Talkback mic
Inputs ƒ?? Digital: none
Outputs ƒ?? Main: 2 x XLR L/R, 1 x XLR Mono, 2 x TRS L/R
Outputs ƒ?? Direct: 4 x TRS Aux, 2 x TRS Monitor
Outputs ƒ?? Other: none
Outputs ƒ?? Digital: 16 via FiireWire
Headphones: 1 x TRS 1/4"