Sale price
$399.99
Regular price
Unit price
per
Sale
Sold out
Eligible for free shipping
View full details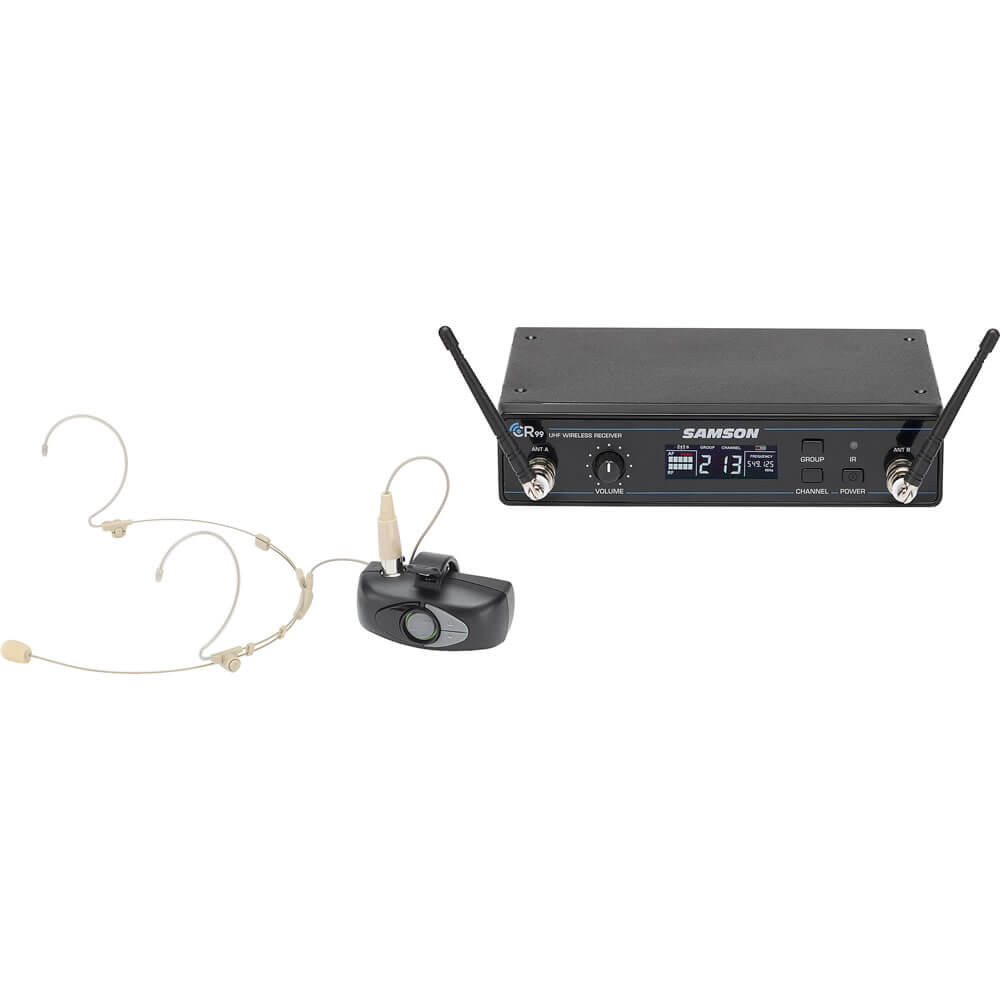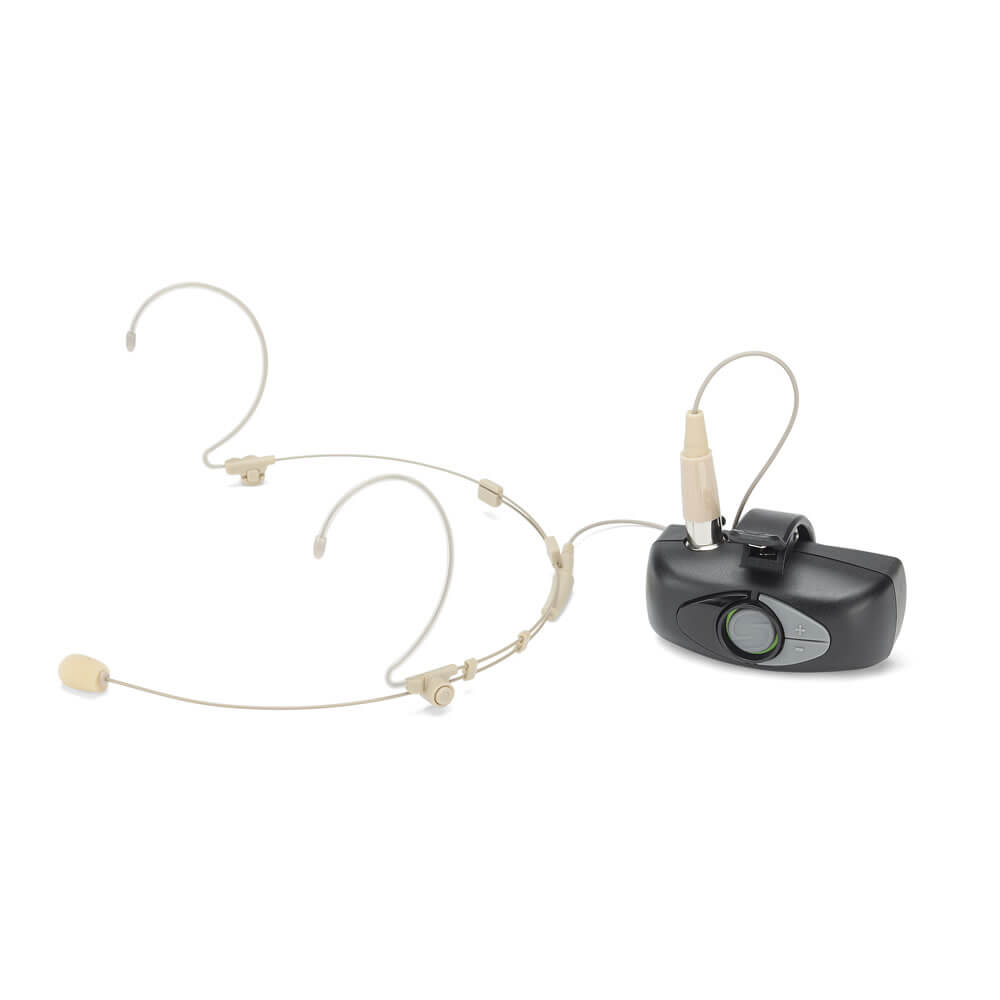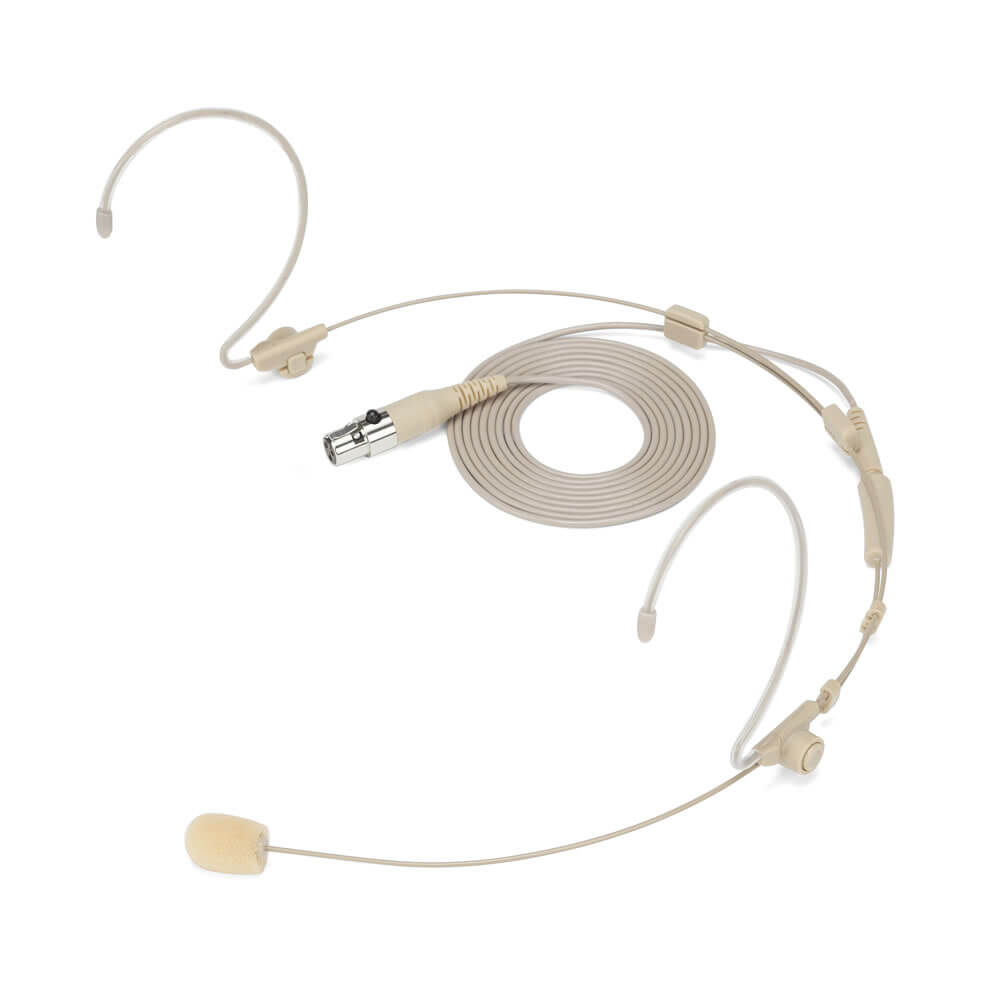 The Airline AHX Wireless UHF Headset System from Samson features a CR99 UHF receiver, an ATX transmitter, and a DE10 miniature condenser, dual-ear headset microphone. The frequency-agile UHF system can be used to capture audio in various environments and offers up to 300' of reliable performance for singers and other active performer applications.
The transmitter is small enough to fit in the palm of your hand and is built with a rechargeable battery. It clips to your belt or shirt pocket and connects via a P3 mini-XLR connector to the low-profile DE10 omnidirectional headset microphone, which provides clear reproduction regardless of the position of the capsule relative to the sound source.
The system's rack-mountable CR99 receiver provides 80 selectable channels of performance and is equipped with a true RF diversity design that minimizes dropouts. Built with tone key technology, the receiver prevents unwanted noise when your transmitter is off or out of range.
Tech Specs
Microphone
Element: Back electret condenser
Polar Pattern: Omnidirectional
Frequency Response: 20 Hz to 20 kHz
Sensitivity: -45 ?ñ3 dB 1 V/Pa/at 1 kHz
Output Impedance: 2 kOhms ?ñ 30%
Maximum SPL: 120 dB
Operating Voltage: 1.5 to 12 VDC
Connector: Mini-XLR (P3)
System
Frequency Band: K: 470 to 494 MHz
Working Range: 300' (100 m), line-of-sight
Frequency Response: 50 Hz to 15 kHz
Total Harmonic Distortion (THD): <1% (@AF 1 kHz, RF 46 dBu)
Dynamic Range: >100 dB, A-weighted
Signal to Noise: >95 dB
Operating Temperature: 14 to 140?øF (-10 to 60?øC)
Tone Key: Frequency: 32.768 kHz
Wireless Receiver
Audio Output Level: Balanced: +9 dBu, Unbalanced: +14 dBu
Audio Output Impedance: Balanced: 240 Ohms, Unbalanced: 810 Ohms
Sensitivity: -100 dBm / 30 dB sinad
Image Rejection: >50 dB
Operating Voltage: 15 VDC 200 mA
Dimensions (L x W x H): 7.87 x 5.9 x 1.6" (200 x 150 x 42 mm)
Weight: 2.08 lb (0.95 kg)
Transmitter
Input Connector: Mini-XLR (P3)
Input Impedance: 3 kOhms
Gain Range: Input: 20 dB
RF Power: 10 mW EIRP
Power Requirements: 3.6 V 500 mAh
Battery: Lithium Ion rechargeable battery
Battery Life (approx.): 6 hours
Dimensions (L x W x H): 5.9 x 6.7 x 3.9" (150 x 170 x 100 mm)
Weight: 0.13 lb (60 g)
Includes
Samson Airline AHX Wireless UHF Headset System (K: 470 to 494 MHz)
CR99 UHF Receiver
D10 Headset Microphone
ATX UHF Transmitter
4 x Windscreens
Rackmount Kit
AC Adapter