Sale price
$299.99
Regular price
Unit price
per
Sale
Sold out
Eligible for free shipping
View full details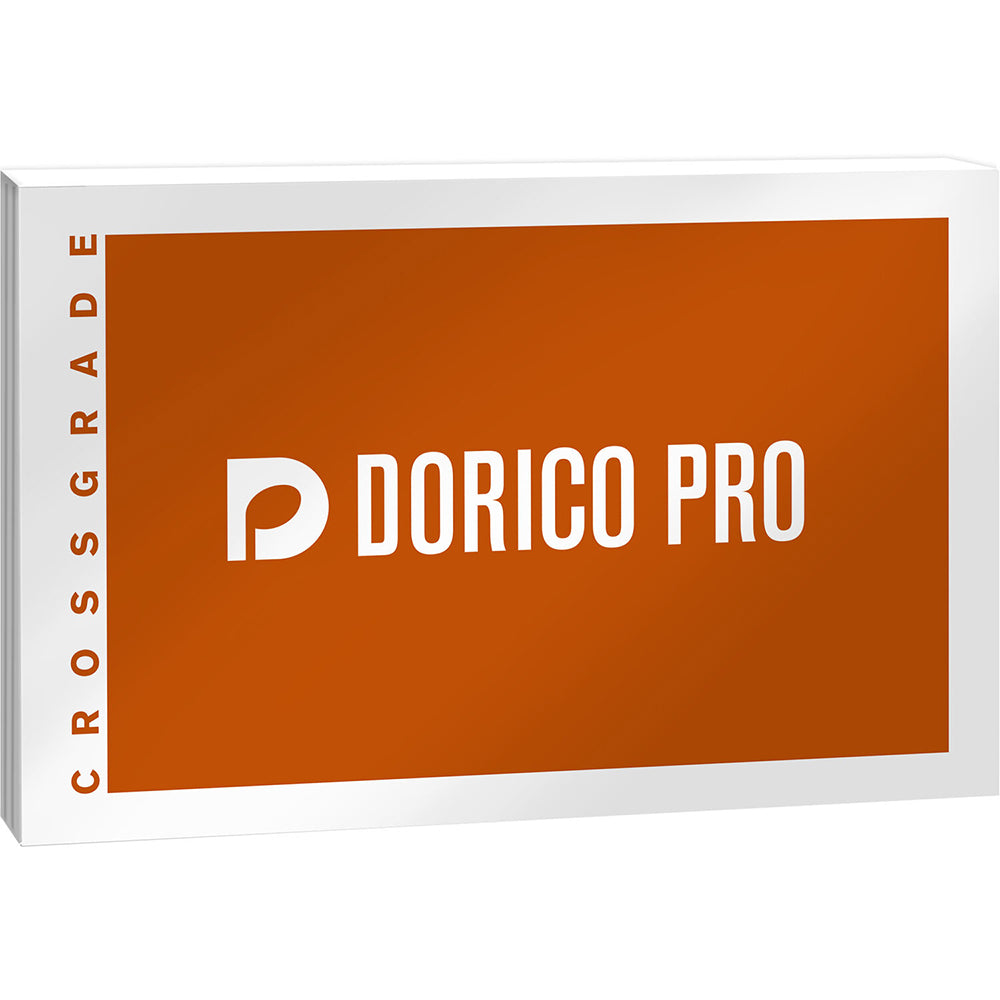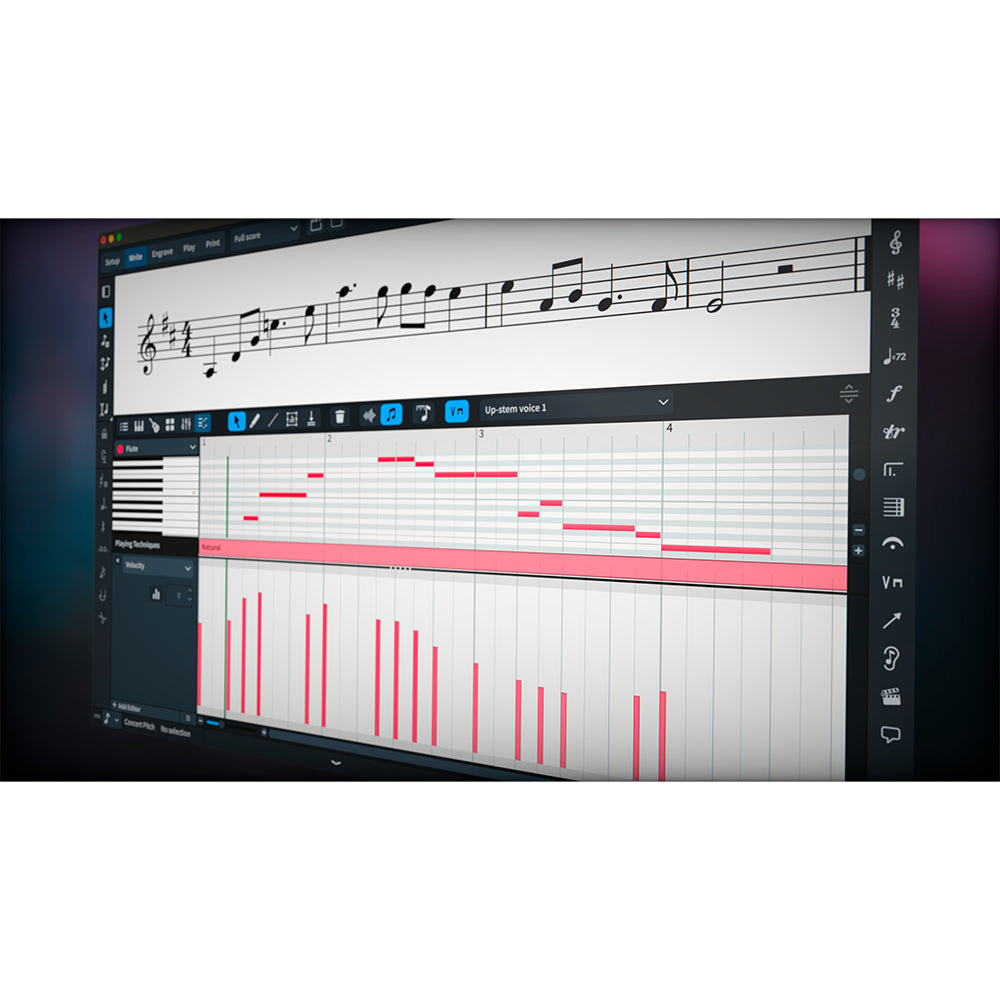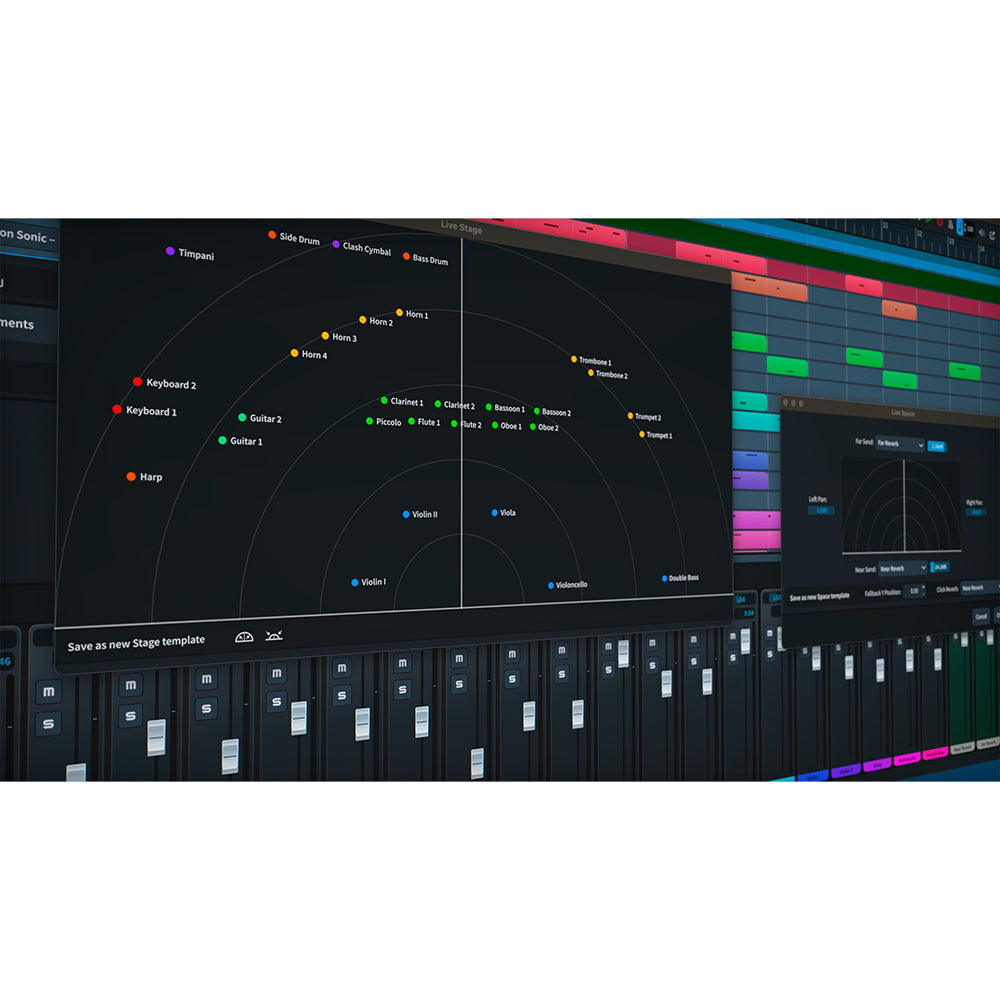 Crossgrade License for customers who hold a license for a single-user license of Sibelius Ultimate (version 2019.4 or later) or Sibelius (version 2019.1 or earlier) or Makemusic Finale. Note: Sibelius First or Finale PrintMusic do not qualify for the Crossgrade.
Steinberg's Dorico series has been setting the standard for what professional-level music notation software should be for years, and the comprehensive new upgrades within Dorico's fifth iteration manage to raise that bar even higher! Dorico Pro 5 builds upon its previous versions' world-class notation, printing, and incredibly realistic virtual instruments — combining these features with greatly enhanced workflow tools, refined MIDI functionalities, and an expanded selection of font families. Despite Dorico Pro 5's immense editing and compositional power, tools such as the new space and stage templates, expressive pitch contour playback, and live click-and-drag editing make it easier to use than ever.
Powerful features streamline your creative process
Dorico Pro 5 is a potent creative tool for modern composers. Automatically produce a conductor's score with a single click. Generate tablature for instruments with any number of strings. Employ templates to set up your playback preferences, combining sounds from any virtual instrument and sound library. Build compelling arrangements with gorgeous choir samples from Soundiron. Benefit from the automatic calculation of harp pedal changes. Group playing techniques to align them together and show transitions from one to another. You also get enhanced lyric editing, velocity and pitch bend editing, glissando playback, new tokens for music symbols, and automatic notation of harmonics. A revamped Project Info dialogue, VST Expression Maps, and refined user interface are also included.
Created by musicians for musicians
It's clear from Steinberg's hardware and software products that its developers are involved in music production themselves. Dorico Pro 5 is no exception. Its single-display layout and wizard-like composition process are a refreshing alternative to other notation software. You'll benefit from revisions that allow you to compose without barlines, play notes and chords not written in your score, and audition parts across the score in real time without altering your project. Dorico Pro 5 aims to let you, the composer, arrange music in an intuitive way that lets you see beyond the computer screen.
Hear your pieces played as you intended
Dorico Pro 5's included HALion instruments libraries give you real-time feedback on precisely which instruments your piece is calling for. The complete HALion Symphonic Orchestra library offers captivating percussion, horns, and strings perfect for traditional and modern works. Plus, Dorico Pro 5 allows you to create or modify definitions for over 600 pitched and unpitched instruments, so you can achieve your dream sound while you compose. Beyond that, Dorico Pro 5 supports third-party VST3-compatible virtual instruments and effects and includes a top-end compressor, brickwall limiter, and more.
Steinberg Dorico Pro 5 Key Features:
Video support using the same powerful engine as Cubase and Nuendo
Automatically produce a conductor's score with a single click
Generate tablature for instruments with any number of strings
Support for left- and right-hand guitar notation
Playback templates for quick setup of your playback preferences
Soundiron Olympus Choir Micro for building gorgeous choir arrangements
Benefit from the automatic calculation of harp pedal changes
Group playing techniques to align them together and show transitions from one to another
Leave reminders to yourself or for your collaborators
Enhanced lyrics editing with smart copy and paste to and from other software
Velocity and pitch bend editing provide richer controls for tweaking playback
Steinberg Dorico Pro 5 System Requirements:
Format: VST3, Standalone
Authorization Type: Steinberg ID (online activation)
Hardware Requirements - Mac: Intel Multi-core processor / Apple Silicon ARM processor or higher, 8GB RAM or more recommended, SSD Drive Recommended
Hardware Requirements - PC: Intel Core i5 / AMD Multi-core processor or higher, 8GB RAM or more recommended, SSD Drive Recommended
OS Requirements - Mac: macOS 10.14 or later
OS Requirements - PC: Windows 10 or later