Sale price
$287.99
Regular price
$359.99
Unit price
per
Sale
Sold out
Eligible for free shipping
View full details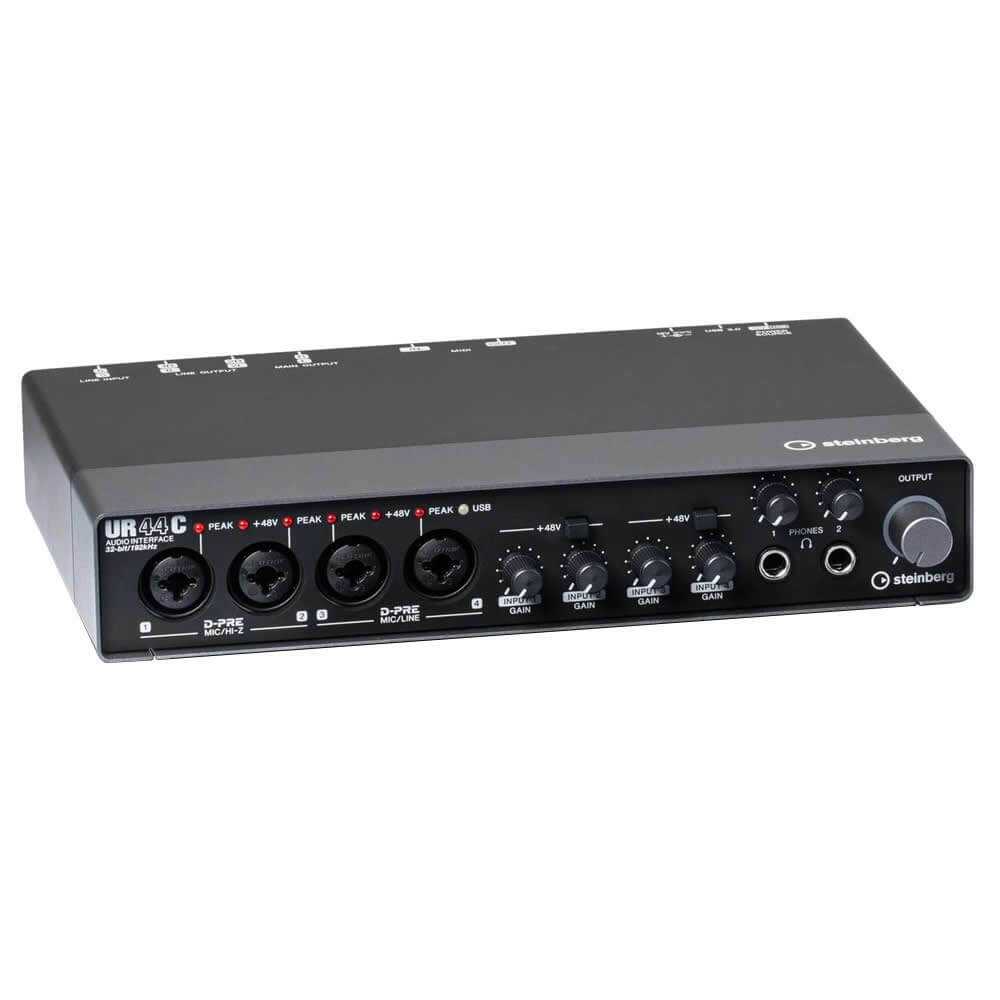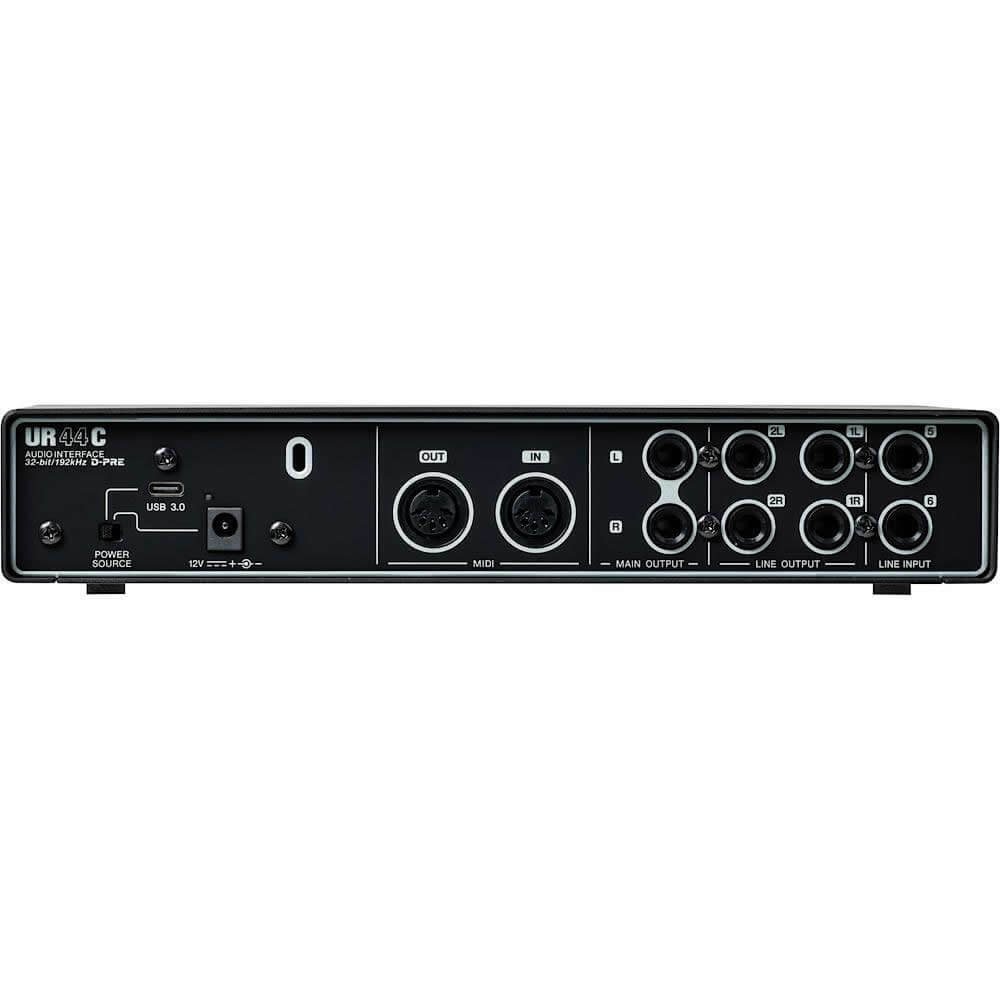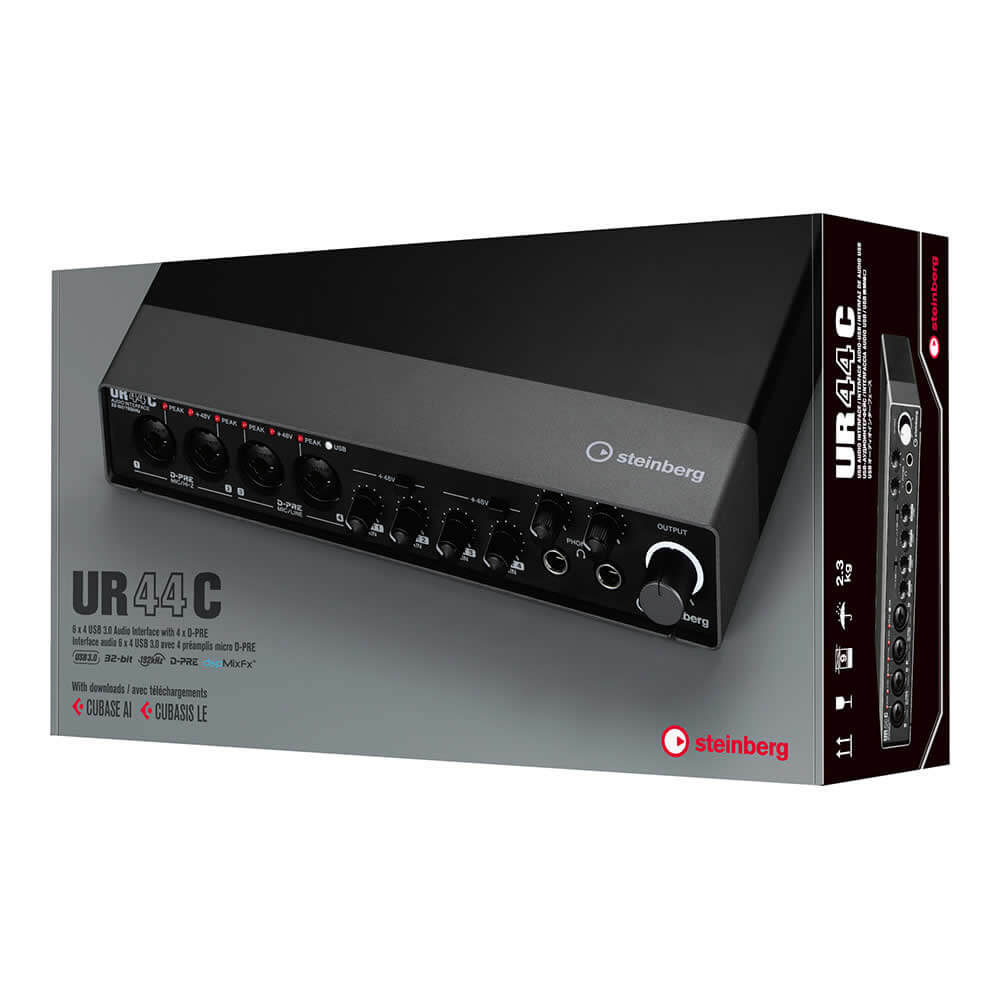 Now includes Steinberg Plus
Steinberg Plus is a real ƒ??plusƒ?? if you buy any Steinberg UR-C series audio interfaces. Why Plus? Because we give you a great selection of VST instruments and VST sound loop sets for free. It is our way of thanking you for your investment in the best interface family we've ever made. Steinberg Plus content changes regularly ƒ?? currently you will receive the Groove Agent SE, HALion Sonic SE, Anima and Retrologue instruments, as well as the Indie Rock, Ambient Lounge and Progressive House sound loop sets.
To get Steinberg Plus, download the Steinberg Download Assistant, create a MySteinberg account, enter the download access code included in the UR-C box and register for our newsletter to download your instruments and sound loop sets.
Steinberg UR44C 6-In 4-Out USB 3.0 Audio Interface ƒ?? make everywhere a recording studio.
Finding a location for making high quality band or ensemble recordings has got a whole lot easier with the UR44C. With multiple high-quality inputs/outputs, professional-grade components, DSP effects and flexible use with computer or iOS device, all wrapped up in a compact, roadworthy package, anywhere is now your recording studio.
Gather your friends to produce music in exceptional quality with the UR44C, a rugged, portable audio interface that features flexible inputs and professional-level 32-bit/192 kHz recording quality. Four state-of-the-art D-PRE microphone preamps will capture your vocals and acoustic instruments in stunning detail, while Hi-Z and line inputs, plus MIDI In/Out, allow an entire group to be recorded, capturing the unique vibe of an ensemble performance. With two independent headphone outputs, latency-free monitoring with effects and Cubase AI recording software included, the UR44C is your key to producing great grooves together.
Studio time is expensive, as all bands know, but with the UR44C you can record in your rehearsal space, on stage and indeed anywhere, while not compromising on audio quality. Its rugged but compact, lightweight construction mean it can be taken anywhere and you can use it with both Windows/Macintosh computers and iOS devices. It can even be powered by an iPad Pro or a pocket-sized USB power pack. With onboard DSP effects and plenty of outputs for re-amping, itƒ??s your perfect portable partner for recording on location, then mixing elsewhere.
The UR44C is a great onstage partner. As well as its rugged, road-ready construction and high-quality, reliable performance, you can use its multiple outputs for click and backing tracks. Mix your live input, via the UR44Cƒ??s mic, Hi-Z and line inputs, with playback from the included Cubase AI, another DAW or an iOS recording app and use the MIDI In/Out to incorporate a wide range of hardware and trigger sounds from your VST instruments. It all means you can deliver a full performance, no matter if youƒ??re a solo artist or the member of the band making sure that all backing tracks are played reliably.
Capture the subtlest nuance of every sound
Fast, reliable connectivity for maximum peace of mind
Easily record a complete band
Latency-free DSP effects
Steinberg UR44C 6-In 4-Out USB 3.0 Audio Interface ƒ?? Key Features:
32-bit/192 kHz audio resolution. The industry-leading converters used in the UR-C series deliver exceptional audio quality, thanks to a maximum sampling rate of 192 kHz with 32-bit resolution.
Class-A D-PRE mic preamps. The UR-C series features D-PRE preamps, offering stellar recording quality unmatched in this price class.
Compatible with all major audio software. Our UR-Cs are compatible with all major audio software supporting the ASIO, Core Audio or WDM standard, providing a fully integrated, DSP-based monitoring setup wherever you are and with whichever DAW you use.
Latency-free monitoring with DSP effects. With built-in DSPs, UR-C interfaces provide zero-latency monitoring with effects for every DAW, with straightforward control of all routings and settings.
Loopback function for streaming. The Loopback function of the UR-Cs offers an easy way of streaming performances live to the Internet.
MIDI input and output. All UR-C audio interfaces are equipped with a MIDI I/O port to connect any MIDI device, making them extremely flexible for studio recording.
Superspeed USB 3.1 with USB-C. UR-C interfaces feature the USB 3.1 Gen 1 SuperSpeed standard, which provides fast, reliable and seamless connectivity to Mac and PC computers, as well as iOS devices.
Ultra-rugged build. Built to the most exacting standards, with a robust metal casing, the UR-Cs are rugged enough to withstand all the rigors of the road.
dspMixFx Remote Bridge. dspMixFx Remote Bridge is a Windows/Macintosh computer application which allows you to control the DSP functions of a connected UR44C or UR816C wirelessly from an iOS device using dspMixFx iOS, when connected to the same wireless LAN.
iOS ready via CC Mode. Combining UR-C units with an iOS audio application such as Steinbergƒ??s Cubasis for iPad, provides you with a fully mobile audio recording solution.
Steinberg UR44C 6-In 4-Out USB 3.0 Audio Interface
Cubase AI. Based on Steinbergƒ??s award-winning advanced music production system Cubase Pro, Cubase AI is a powerful, one-stop music software solution for studio-quality recording.
Cubasis LE. UR-Cƒ??s seamless integration with iPad is enhanced by the inclusion of Cubasis LE, for creating professional music productions on your iPad.
dspMixFx mixing application. UR-C interfaces provide zero-latency monitoring with effects for every DAW, with straightforward control of all routings and settings, thanks to the built-in DSP chip and the dspMixFx UR-C software.
Steinberg UR44C 6-In 4-Out USB 3.0 Audio Interface
Bundled effects plug-in suite. The UR-Cs come with both VST 3 and AU versions of the onboard DSP plug-ins, providing additional useful sound-shaping and FX tools.
REV-X reverb. The REV-X built into UR-C interfaces is a complex reverb algorithm, renowned for its high-density, richly reverberant sound quality, with smooth attenuation, spread and depth that work together to enhance the original, dry sound.
Sweet Spot Morphing Channel Strip. Developed to deliver a highly musical result, the Sweet Spot Morphing Channel Strip combines a sidechain-enabled compressor and a three-band parametric equalizer.
Guitar Amp Classics. Guitar Amp Classics are guitar amplifier effects that make extensive use of advanced Yamaha modeling technology, delivering highly realistic and finely tuned emulations of classic tube and transistor amplifier tones.
Clean. Optimized for clean tones, this amp effectively simulates the tight brilliance of transistor amplifiers.
Crunch. This is the amp type to use when you want lightly overdriven crunch tones. It simulates the type of vintage tube amplifiers that are favored for classic blues, rock, soul, Rƒ??nƒ??B and similar styles.
Drive. The DRIVE amp type provides a selection of distortion sounds that simulate the tonal character of high-gain tube amplifiers.
Lead. This amp type simulates a high gain tube amp that is rich in overtones. Ideally suited to playing lead guitar lines that will fit well within an ensemble mix, it can also be set up for crisp accompaniment tones, making it a very versatile emulation.
Steinberg UR44C 6-In 4-Out USB 3.0 Audio Interface ƒ?? System Requirements:
Operating systems (Mac) - macOS Sierra, macOS High Sierra, macOS Mojave
Operating systems (Windows) - Windows 7 (64-bit), Windows 8.1 (64-bit), Windows 10 (64-bit)
Operating systems (iOS) - iOS 10, iOS 11, iOS 12
Port - USB Type-C, USB 3.0, USB 2.0
CPU minimum - Intel Core i-series multicore processor 2 GHz or faster, or AMD equivalent processor
RAM minimum - 2 GB
Hard disk free space - 1200 MB
Display resolution recommended - 1280 x 800
Internet connection for account sign up and product registration, additional downloads, driver and tools, manuals and instructions, license activation, installer download