Sale price
$899.95
Regular price
Unit price
per
Sale
Sold out
Eligible for free shipping
View full details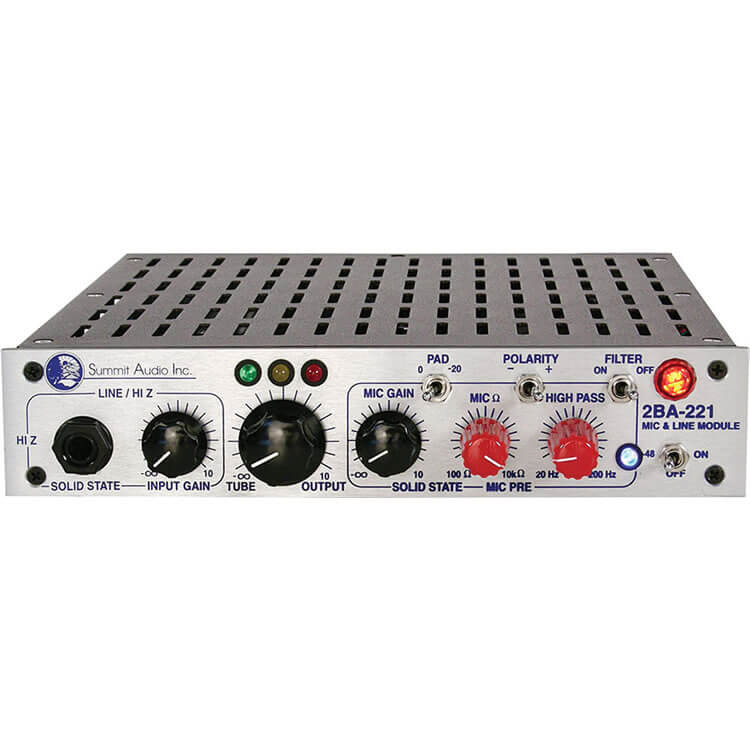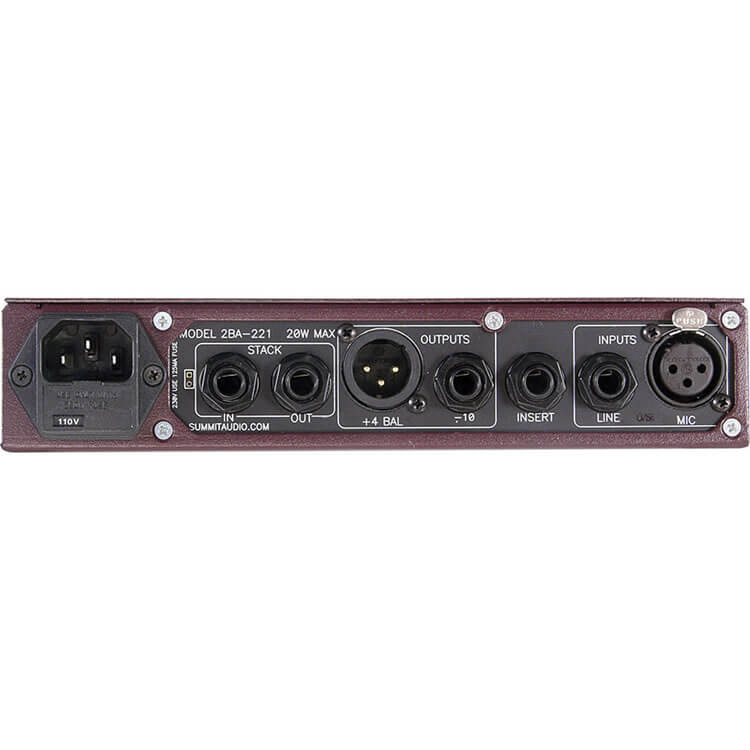 The Summit Audio Mic and Line Preamp (2BA-221) is a microphone/line preamplifier featuring continuously variable microphone impedance. The preamp utilizes separate and individually controlled solid state input controls to mix a microphone input with a Hi-Z or line input into a variable vacuum tube output. Using both the variable impedance and variable solid state and tube stages provides a high level of sonic control.
But this is only half the story. Along with the required I/O, the unit features an insert before the tube stage, a variable 20Hz to 200Hz high-pass filter, 20dB pad, 48V phantom and polarity reverse. The 2BA-221 also features a stackable input design allowing multiple 2BA-221's to be linked together to form a modular mixing device with individual outs, inserts per channel and a final vacuum tube gain stage.
The unit's versatility is further extended with the use of the multiple outputs. By plugging in a 1/4" cable into the insert jack and using the "stack output," the 2BA-221 can provide a total of four high quality outputs from one source. For example, the microphone source can be sent to a recorder from the +4dB balanced tube out, with a backup to another track from the -10dB tube output to avoid any "overs" and send the solid state '"stack" output to a compressor and then to yet another track.
On the input side one could plug an acoustic electric guitar into the Hi-Z input and place a microphone in front of it and use the separate line and microphone input controls to mix the signals into the one, perfect blend.
All of this functionality is packed into a very compact 1U half rack chassis with an internal power supply. The tube output utilizes a high voltage plate, not the starved plate compromises of lower cost units, but is still delivered at an exceeding favorable price considering the myriad features provided, along with the traditional sonic quality of a Summit Audio product.
Summit Audio Mic and Line Preamp (2BA-221) - Key Features:
Single channel microphone/line preamp with variable input impedance from 100?? to 10k??
Hi-Z instrument, line and microphone level input
Microphone and Hi-Z input available simultaneously with separate gain controls
Three variable, independent gain stages
Separate solid state and tube outputs
Variable high-pass filter, 20dB pad and polarity reverse switch
Insert jack for inputting an external processor
Stackable with more 2BA-221's to form a modular mixing device with individual outs, inserts per channel and a final vacuum tube gain stage