Sale price
$149.00
Regular price
Unit price
per
Sale
Sold out
Eligible for free shipping
View full details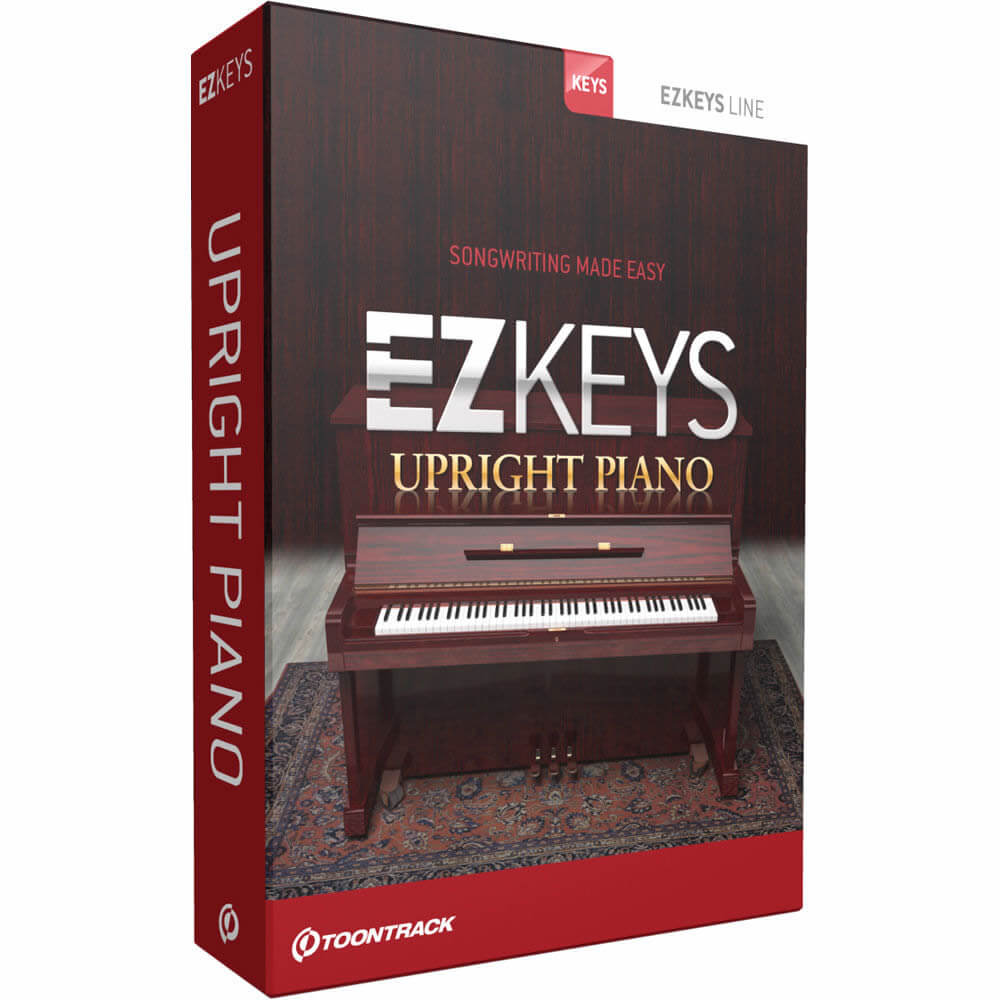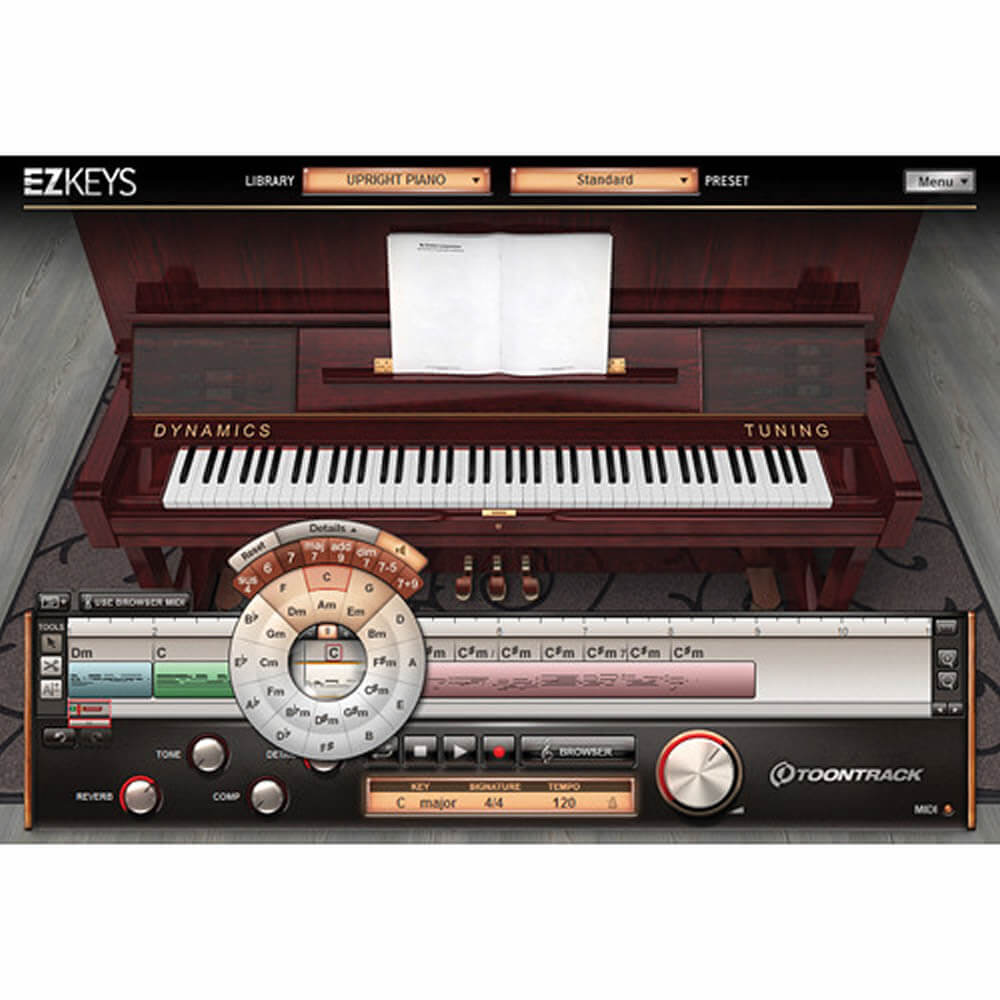 Electronic Software Download (ESD). This order will be delivered electronically. Customers ordering this item will receive an email message within a 24-48 hours of placement of their order with instructions on downloading the software.
Toontrack EZKeys Upright Piano meticulously samples the sound of an ??stlind & Almquist upright piano, down to its characteristic rich and warm tone. The piano was recorded at Studio 9, Sveriges Radio, Sweden, through high-grade modern and vintage equipment.
A bevy of preset signal chains are included to get you great sounds out of the box. These signal chains make use of processing and effects from Overloud. You can control each preset with a set of controls that will affect individual parameters.
This instrument can be used on Mac and Windows operating systems. It will work in AU, VST, AAX and RTAS plug-in formats. A standalone version is included, as is a selection of MIDI parts, patterns, and grooves played by a session pianist.
Toontrack EZKeys Upright Piano - Key Features:
A carefully sampled ??stlind & Almquist upright piano
Recorded at Studio 9, Sveriges Radio, Sweden using modern and vintage equipment
Mix-ready presets
True dynamic response for great playability
Sympathetic resonance based on real samples
Presets
Standard: The default and all-around sound brings out the best in the natural upright tone
Raw Tweaks: A true bypass preset that represents what the piano sounded like on the raw recording
Britpop 1: A contemporary pop sound involving EQ, reverb, and compression
Britpop 2: A slightly more reverberant take on a modern British pop sound
Living Room: Delicate use of the EQ and reverb gives this sound believable, subtle room ambience
Saloon: This Wild West preset features a room reverb, stereo and tone control, and detuning
70s Ballad: In this preset, tape simulation, room reverb, and slight phase cancellation give your upright piano a nice retro vibe
70s Epic: A chorused piano that will suit your rock anthems
80s Chorus: A huge sounding preset tweaked for big mixes, featuring reverb, tone, and compression control, as well as chorus
90s Dance: Heavy chorus, EQ, and delay make this preset the perfect starting point for any kind of dance song
Balladesque: Passing through both a tape delay and plate reverb, this ambient preset is best used for softer tunes
Southern Comfort: A round, warm, and intimate tone for any country, blues, or southern-spiced song
Swedish House Piano: Ambient and clear sounding preset, blended with chorus, exciter, delay, and reverb
Plate in the mix: A classic piano sound, featuring high and low frequency control, blended with a beautiful plate reverb
Filter Sweep: LFO-based preset that gives you control over waveform, frequency, resonance, and speed
EZKeys Features
32- and 64-bit AAX, VST, AU, and RTAS plug-in formats as well as a low latency standalone application
Drag and drop the included MIDI straight to the built-in song track
Drag and drop your own or third party MIDI straight into EZkeys
Drag and drop MIDI from the song track or directly from the song browser to your DAW or to your desktop
EZkeys will analyze and sort out the chord in any MIDI on the fly
Record or overdub MIDI directly in EZkeys
Use the included or any third party MIDI/chord progressions and transform them with playing styles found in other MIDI files
Quickly add basic chords to the timeline or drag and drop any chord from the Chord Wheel
Real-time chord display that enables you to instantly see what chords you are playing
Chord selector, based upon the circle of fifths, allowing you to change chords instantly
Presets for the most commonly used chord types
Customize the coloration of any chord by opening up the detailed view
Alter the voicing of a chord on the fly by clicking the ƒ?? or + buttons in the Chord Wheel
Humanize any prequantized MIDI upon import in EZkeys
Transpose individual song blocks or full songs
Export songs or files as wave files straight from the EZkeys interface
Comes with an easy to understand music theory document including MIDI examples
Possibility to tune the piano by octaves, semitones, or cents
Dynamics controls that let you adjust the velocity response to match your keyboard or playing style
Three pedals: sustain, sostenuto, and damping
MIDI learn and automation
Ready-made presets utilizing high-quality effects from Overloud; the presets range from raw and unprocessed to heavily distorted and tweaked
MIDI Overview
Extensive MIDI library played by a professional session pianist
Pop/Rock, Soul/RnB, Country, Gospel, Jazz, Blues, Boogie, and Funk styles
All songs performed in full 8 bar or longer blocks
All songs performed with increasing intensity as intro, verse, prechorus, chorus, and bridge variations
Single, rhythmical, and broken chords in different variations as well as FX and endings
Straight/swing variations in 4/4 and 6/8
Intuitive browser that lets you add you own favorites and arrange them in folders