Sale price
$179.00
Regular price
Unit price
per
Sale
Sold out
Eligible for free shipping
View full details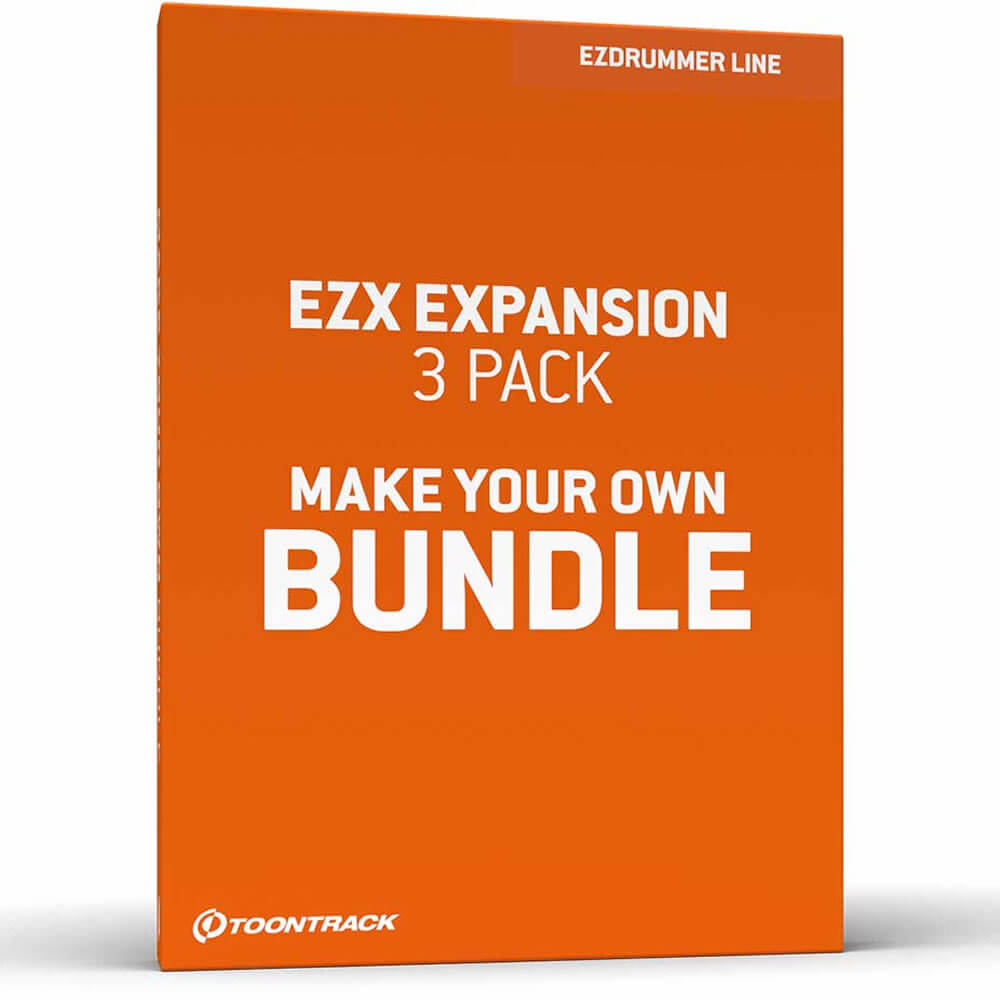 Electronic Software Download (ESD). This order will be delivered electronically. Customers ordering this item will receive an email message within 24-48 hours of placement of their order with instructions on downloading the software.
Create your own bundle! Pick three titles of your choice from our entire collection of EZXs.
Choose from ƒ??
Action! EZX - A seamless dissolve between fiction and reality, classic and modern, organic and electronic. Welcome to a bottomless...
Alt-Rock EZX - Drums recorded by the man who helped shape the sound of alternative rock: Steve Albini.
Americana EZX - The sound that rose out of rebelling mainstream country.
Big Band EZX - Two kits from the height of the golden swing and big band era.
Big Rock Drums EZX - Five kits, all capturing the raw, thunderous tone of classic ƒ??70s hard rock.
Big Stage EZX - Four kits recorded in a massive mid-1800s theater auditorium.
Classic Rock EZX - Classic rock drum gold ƒ?? the big, obnoxious and loud kind.
Claustrophobic EZX - Organic drums for any contemporary hip-hop, pop, dance or R&B track.
Custom Shop EZX - Some of the most rare, hard-to-come-by and unique handcrafted drums in the world.
Dance EZX - 15 mix-ready kits tailored for modern electronic dance music.
Dark Matter EZX - Complete and utter life-absorbing darkness, straight from the heart of Denmark.
Death Metal EZX - Two drum kits, tailored for modern death metal production of the highest order.
Dream Pop EZX - Nature meets technology in a truly unique sonic panorama, tailored for modern music production.
Drumkit From Hell EZX - The recording that set a new benchmark for sampled drums. A true legend and staple in any self-respecting metal...
Drums of Destruction EZX - Josh Wilbur and Chris Adler deliver a battery of drums, designed for complete and utter destruction.
Duality I EZX - Mix-ready sounds tailored for dark, warm and organic-sounding hard rock and metal.
Duality II EZX - Mix-ready sounds tailored for bright, metallic and progressive hard rock and metal.
EZdrummer 2 Core Library EZX - The full sound and MIDI libraries from EZdrummer 2. A true classic!
Electronic EZX - A mind-blowing collection of classic, circuit bent and resampled electronic drum sounds.
Electronic Edge EZX - A massive body of sound for modern music production.
Funkmasters EZX - Meet the drummers whose beats became the soundtrack of generations.
Gospel EZX - A journey in gospel drums ƒ?? from the ƒ??40s through to today.
Hard Rock EZX - Want Bob Rockƒ??s drum mix on your next song? Here you go.
Hip-Hop! EZX - The ultimate collection of acoustic drums, percussion and timeless machines.
In the Pocket EZX - Organic drums for hyper-modern productions from one of the worldƒ??s premier human beat machines: Ash Soan.
Indie Folk EZX - Drums with an incredible range. Three complete vintage kits sampled with both sticks and mallets, tailored for...
Into the Dark EZX - Mix-ready drums, tailored for post-punk, dark rock and goth.
Jazz EZX - Handpicked and pristine vintage drums, recorded with unparalleled detail at one of the finest studios in the world....
Kicks & Snares EZX - A massive collection of drums that zooms in on the two centerpieces in any mix: kicks and snares.
Latin Cuban Drums EZX - Drums tailored for Latin-flavored rhythms.
Latin Cuban Percussion EZX - The go-tos of Latin and Cuban percussion.
Latin Percussion EZX - The most essential percussion for any latin or contemporary track.
Made of Metal EZX - Utter drum perfection from the father of the modern metal sound, Colin Richardson.
Metal Machine EZX - An impressive collection of drums recorded by one of the most in demand metal producers of the last decade: Andy...
Metal! EZX - This is what happens when you put a massive, all-new drum recording in the hands of three of modern metal's most...
Metalheads EZX - Two of metal's titans come head to head in this ultimate showdown of sound and groove brilliance.
Modern Metal EZX - A five-headed behemoth of an EZX, straight from the hands and mind of Will Putney.
Nashville EZX - A library of round, warm and genuine sounds that takes the traditional country heart of Nashville but branches...
Number 1 Hits EZX - Timeless drum machine sounds remixed and boiled down to a unique blend of organic, electronic, high-tech and vintage.
Pop Punk EZX - Drums by the man who in many ways defined the genre.
Pop! EZX - Ten mixed and matched drum kits delicately intertwined with custom percussion pieces. A perfect blend of organic,...
Pop/Rock EZX - The classic sounds and MIDI groove content from the first generation of EZdrummer. Timeless drums spanning the...
Post-Rock EZX - Quality drums, tailored for post-rock, but reaching way beyond any genre.
Progressive EZX - Richly textured drum sounds tailored for metal or heavy rock. Start writing!
Reggae EZX - The unmistakable sound of reggae drums and percussion. Saturated, warm and rich tones that will fall seamlessly...
Rock Solid EZX - Randy Staub delivers a collection of drums that add a new dimension to the word heavy.
Rock! EZX - Four decades of engineering experience boiled down to eight tailor-made kits spanning the whole range of rock ƒ??...
Seventies Rock EZX - An unprecedented palette of drums to help craft your ƒ??70s-inspired rock for years to come.
Singer-Songwriter EZX - A broad collection of drums ƒ?? tailored for acoustic pop, Americana, folk and more.
Southern Soul EZX - Welcome to Muscle Shoals, Alabama and FAME Studios.
The Blues EZX - There's no fooling a blues lover. You know that it's all about the craft, the touch, the feel and the heart. That's...
The Classic EZX - Slamming '70s rock or slim and tight contemporary pop? The Classic EZX merges the best of the past and the present...
Traditional Country EZX - Before there was a Music City and a Music Row, there was the Quonset Hut. Welcome to the studio that helped shape...
Twisted Kit EZX - Hub caps, trashcans and rusty bicycle frames. This is nothing short of what its title suggests ƒ?? completely left...
UK Pop EZX - An exploration of the iconic UK pop sound.
Vintage Rock EZX - A cornerstone in rock through the ages and one of the most classic, timeless and famed drum kits ever: the legendary...