Sale price
$217.99
Regular price
$289.99
Unit price
per
Sale
Sold out
Eligible for free shipping
View full details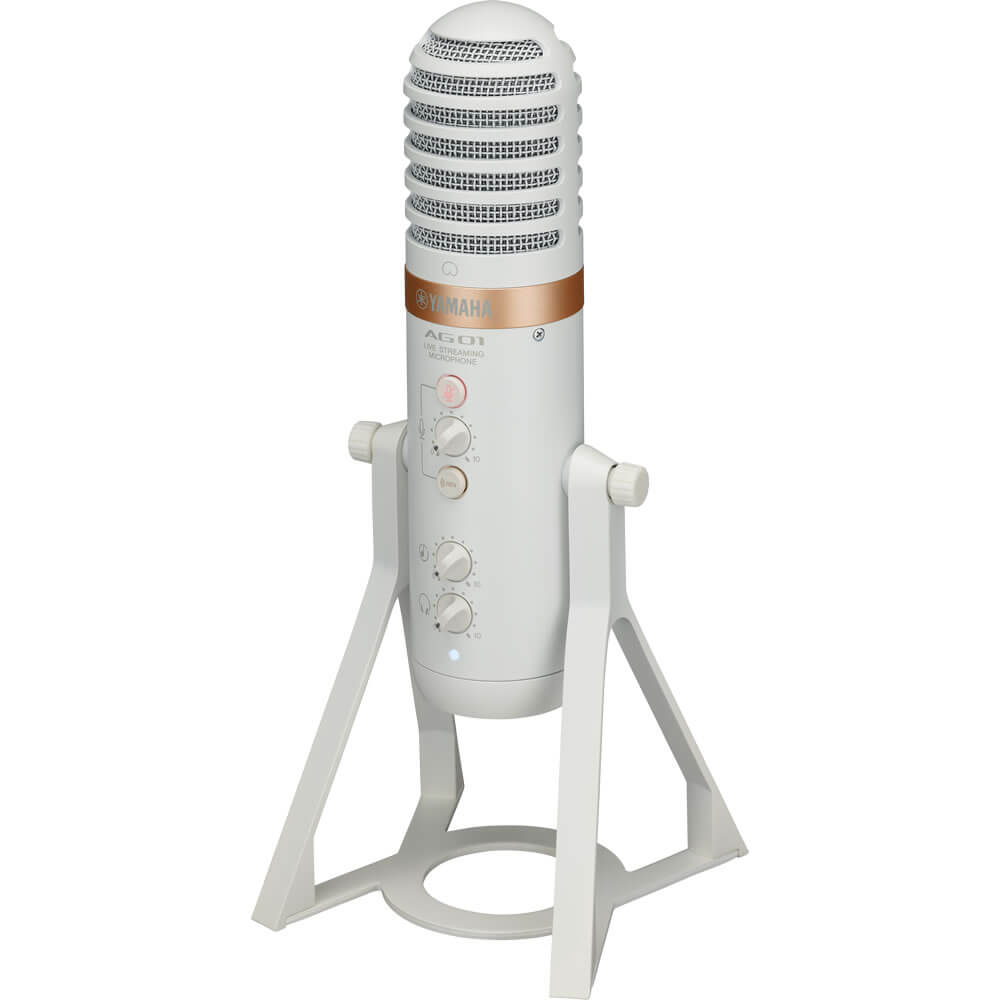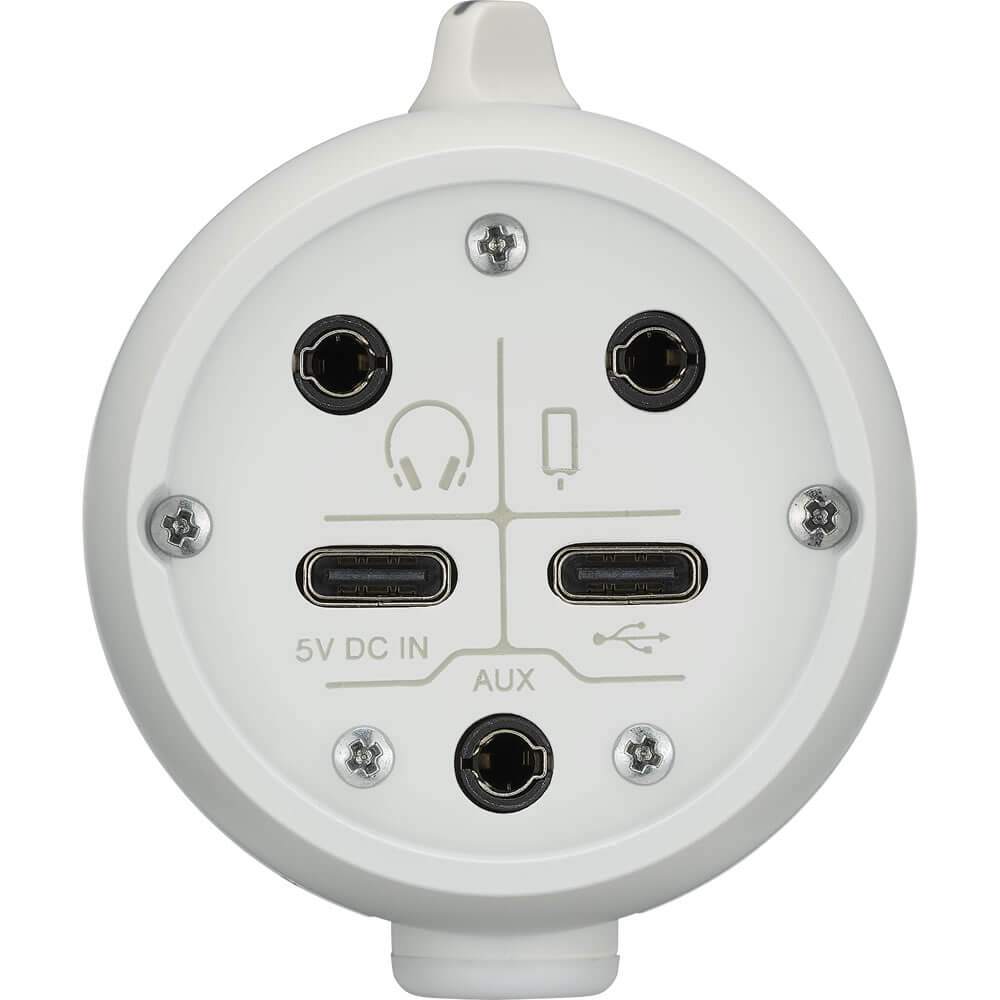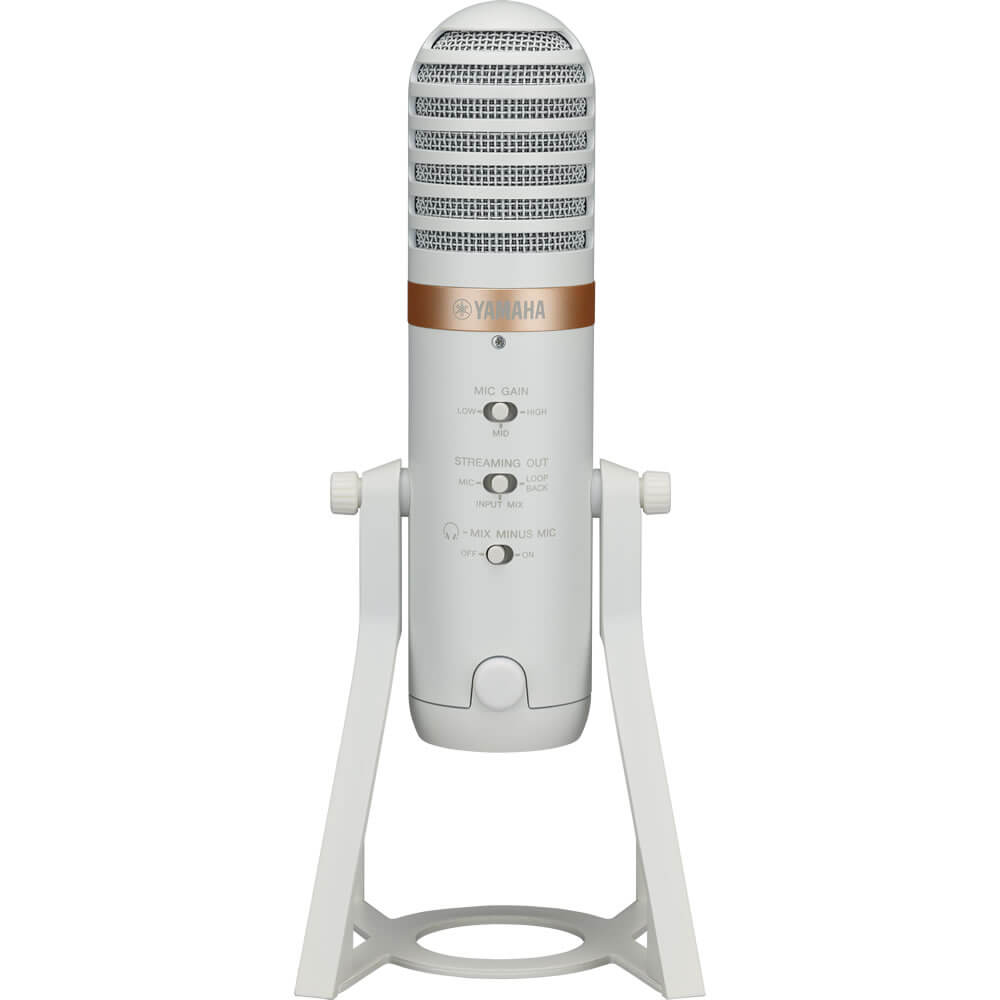 The Yamaha AG01 is a stylish microphone that operates on USB bus power and provides a feature set well suited for live streaming and podcasting applications. The mic offers a condenser mic capsule with a cardioid polar pattern that picks up less unwanted background sounds, along with built-in DSP effects, including EQ, compression, and reverb, that you can use to sculpt a more professional sound.
The AG01 can be used with computers, iPads, and smartphones to record audio at resolutions of up to 192 kHz / 24-bit. The mic offers a 3.5mm TRS auxiliary input along with a 3.5mm TRRS input/output jack for smartphones. The internal digital mixer lets you blend the mic with these external sources, while the loopback function lets you add audio from connected USB devices and simultaneously stream to them with incurring monitoring issues.
Studio-Quality Cardioid Condenser Microphone
The AG01's high-performance condenser microphone element utilizes a cardioid polar pattern that captures your voice or musical instrument performance precisely and converts it into high-resolution audio (192 kHz, 24-bit) while blocking out unwanted ambient noise from the rear or sides.
Flexible Connectivity and Loopback for Streaming
In addition to the condenser microphone audio input, the AG01 is equipped with a 3.5mm stereo line input jack, and an upgraded 3.5mm 4-pole jack (TRRS) for smartphones that allows input and output. You can also add audio from devices connected via USB in Loopback mode. Combined with these features, this microphone can cover a wide variety of streaming styles that could not be achieved in the past without a separate mixing device.
Modern Retro Design
In most streaming applications, your microphone is likely to be featured prominently on-screen. For this reason, it's crucial that your mic looks as good as it works. The AG01 offers a unique and iconic design that blends classic and contemporary aesthetics. You'll find both black and white-based models to suit your preference.
Zero-Latency DSP Effects
The AG01 features the same high-quality DSP effects as other AG series models, allowing you to easily add COMP/EQ and REVERB to color and hone your audio so you'll get the best sound possible. In addition, because these tools are processed by the internal DSP chip, there's no delay, making it particularly valuable for live streaming, when real-time accuracy is required. And when you want to capture pure, raw recordings through the AG01 and edit them later, you have the option to turn these effects off completely.
Simple and Intuitive Audio Control
There are many situations in live streaming where you may need to make audio adjustments on the fly. The carefully configured physical controls of the AG01 respond to these needs, providing a simple operating experience that won't detract from your live content or performances.
AG Controller Software for Precise Control
AG Controller offers two modes, Simple and Detail, which allow users with varying degrees of audio engineering experience to easily and precisely check and adjust the AG's DSP processing from any Windows/Mac or iOS device connected via USB.
Ready to Travel
The AG01 can be easily placed on a desk or any flat surface with its dedicated stand, or mounted on a desk arm, making it adaptable to almost any environment. It can also be used in combination with a mobile battery, allowing you to take your fully functioning streaming station anywhere you like.